Mercedes E430 Engine
© 2006 KenRockwell.com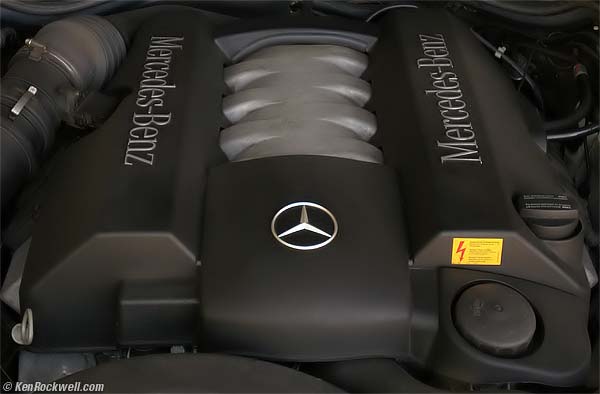 E430 4.3 Litre V8 (click to enlarge)
ENGINE
V8 4.3 litre.
Aluminum block and heads.
295 ft-lbs and 275 HP.
Sixteen (16) spark plugs: two per cylinder! They fire at different times to ensure optimum combustion. This is much more advanced than the old racing trick of installing dual plugs which fired at the same time.
Three valves per cylinder: Two intake and one exhaust.
One chain-driven overhead cam per cylinder bank.
Tuned intake automatically adjusts its length for optimum charge at different RPMs. This is the magnesium assembly you see on the top middle of the engine. An internal flue turns to allow airflow through either of a longer or shorter path.
This same V8 also powers the mighty and much larger S430.