Mercedes E430 Tires and Wheels
© 2006 KenRockwell.com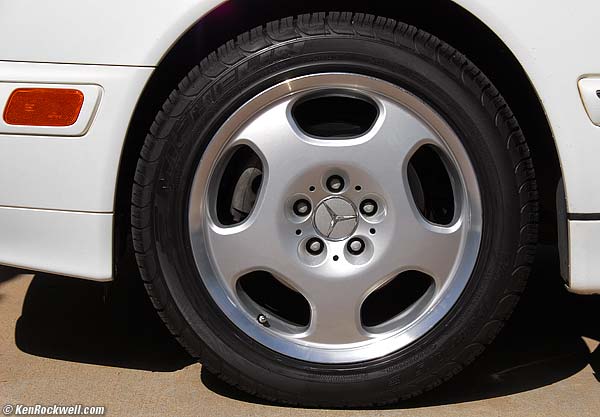 The Mercedes E430 in Nellie Gail Ranch, California, June, 2006
E430 Wheel and Tire
TIRES
235/45R17.
820 revs/mile (1,919 revs @ 60 MPH)
Full size, full-speed (168 MPH), full-service spare. See more on my Trunk page.
I use Michelin Pilot Sport A/S tires because they are M&S (mud and snow) rated, as well as Y speed rated for use up to 168 MPH.
I want to be safe for the once every couple of years I might get caught in snow in the mountains during a photo trip. These tires stick better than glue on the track, so except for the expense, nothing is lost. They ride, steer and track like a dream.
Inflation
I run about 40 PSI. I ran 45PSI on the track and had no issues at all with them rolling over in corners. I can run this same 40 - 45PSI and roll right from the street onto the track and not bother with changing tires or inflation.
WHEELS
5 spoke 7.5 x 17."
I love these wheels because they are very easy to clean. They have only five big holes and no hard edges. Make one continuous swipe along the inside of each hole with a towel and you're done!
I use Wheel Wax and the dirt doesn't stick. My wheels stay clean as I drive. One hit with a cheap power washer from Costco and the dirt flies right off! I never need to screw with wheel cleaners, which eat the paint off wheels.