Getting the Best Deal on a New Mercedes
© 2007 KenRockwell.com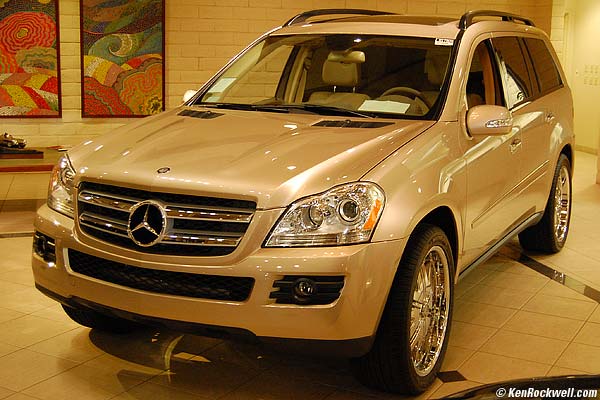 2007 Mercedes GL450 at Hoehn
Introduction
My wife and I had a baby. My wife wanted a bigger car than my Mercedes E430 , so we went shopping. This page is how we got a great deal; see also my separate review of the Mercedes GL450.
We were within a few minutes of inking the purchase order for a new GL450, but wound up dropping by the Porsche dealer. My wife fell in love with a close-out of an insane new 2006 Porsche Cayenne Turbo S. She got us $27,000 off the sticker of the Porsche ($12,000 below invoice), so we got that instead. My wife saves us so much money I couldn't afford not to have her.
We had already gotten a great price for the Mercedes, and thought all could benefit by sharing how we got such a great deal.
We'd use two-for-one coupons for hot dogs at Costco if we could find them. Getting a great deal is more important to us than what we're buying. We drove to the next county to save $75 on my wedding ring because we'd feel awful for the next 75 years if we'd paid full retail.
Getting the Best Deal
My wife and I are both experienced bargain shoppers with extensive sales and business experience. We get along with people and everyone comes out ahead. You may not want to put in the effort, but let me tell you how we do it.
We were going to pay about $1,000 below invoice, which is about $4,000 below sticker for this brand-new-for-2007 Mercedes GL450, and had many dealers wanting to order it for us for that. Invoice is what the dealer pays for the car, before the other kick-backs which provide their profit.
Invoice Price
Invoice price, according to Edmunds, AAA and KBB, is 7% below sticker (MSRP).
When shopping, don't simply work from "invoice," since each dealers' invoice prices vary.
The dealers with the deepest discounts from invoice quoted us higher invoice prices of about 5.5 - 6.0% below sticker. The places that wanted prices above invoice had invoice prices closer to 6.5% below MSRP.
The Fleet Department and the Bidding Process
Call and ask for the fleet department at any dealer. We used Costco and AAA to get us there first, and quickly learned that you can call any dealer, ask for the fleet department, and get the same deal. We'd call dealers not on the Costco or AAA programs, and they proceeded to beat the prices.
You need to have the mindset that you are putting your purchase out for bid to the dealer who can bid the lowest price. There are dozens of dealers, but only one of you.
By "bid" I mean that they told us a price; there isn't any formal auction going on.
AAA, Costco and other programs intend for you only to go to one dealer and take whatever generally good price they offer on the spot, but we contacted many dealers to see what they'd offer. The Costco and AAA prices varied from dealer to dealer. If you use these AAA and Costco programs, the dealer will only want to talk to you in person, and they will try to close you (sell you) on the spot. You of course need to walk away to consider other bids.
We phoned each dealer, emailed them our exact list of options, and got their bids. We didn't need a referral from Costco, credit union or AAA. In fact, the Costco and AAA programs are special and they don't intend for you to be dealer-hopping as we did to get the best deal. It's probably smoother not to go through Costco and AAA, if you're confident with all this, because those programs keep close tabs on how the dealer treats you, and the dealers need to file follow-up paperwork with those programs. It's more work for everyone and doesn't get you a better price.
Use Your Own Credit Union or Cash
We were talking cash prices. Don't be discussing financing or payments with a dealer; that only confuses the deal for you and lets the dealer snake a higher price into it. Do any financing at your bank or credit union and bring one check to the dealer. The dealer makes money by charging higher rates than your bank does. Your credit union works for you and your best finance interests, the dealer doesn't, but don't let me rain on your parade if the manufacturer is offering lease incentives which appeal to you.
Ultimately we were very happy that the dealer we prefer for great service, our local Hoehn Mercedes in Carlsbad, California, was able to meet the best price we were offered from lower-quality dealers in less savory areas. We really wanted to buy it from our favorite sales guy, Jim Waldruff (760) 815-6033, who has always been a great help with our other purchases over the years. When we were shopping for the car Jim assured us not to worry about price, and indeed he was able to offer us exactly what we wanted.
The Spirit of Cooperation
Everyone wins in a good negotiation. Negotiations are botched by amateurs who come in with an "I'm going to beat these guys" attitude. See Herb Cohen's "You Can Negotiate Anything." My wife and I have been doing this for decades. Everyone loves to help us, and we do everything we can to help others. It's not about us winning and others losing. Sadly, bad dealers take this attitude against their customers, and thankfully we don't deal with dealers like that.
When dealing with fleet departments and good salespeople like Jim Waldruff, you're dealing with professionals who are expecting to see you the next time you get a car. They're not going to feed you baloney to close you (sell you today) or make you sit in their office for an hour while they go to lunch, telling you they're seeing their manager to "see if they can get you that price." They are going to do the right thing today so you come back again tomorrow.
Even one of the Porsche salesman from whom we bought our Porsche tried to pull the "I have someone coming in tomorrow to lease this car if you don't take it now" scam. You're much less likely to get this abuse from a fleet department, and certainly not if you're special ordering one from them.
Fleet departments deal with businesses and professional fleet purchasers all day long, compared to car salesmen who deal with inexperienced car buyers. Please do the fleet department a favor and have your list of exactly what you want when you call or see them. The fleet department isn't there to waste your time like the floor salespeople of shoddy dealers will.
Fleet departments will take your request and get back to you fast with a quote.
When I bought another car off the lot from Jim Waldruff of Hoehn, we came up with the right price in about five minutes. If a dealer makes you wait around going back and forth over a price, like Irvine BMW did to me in 2005, you're dealing with scoundrels.
Everything is negotiable. If you want something, ask for it and be prepared to show why it's reasonable. You'll probably get it. We did.
It only took us a few hours of calling around to various dealers to see what price we could get, and then have our preferred dealer meet it with no problems. It only took as long as this because of all the phone calls and faxes which had to fly around; each dealer's fleet department was direct and to the point. I would tell each dealer the best deal I'd gotten so far, so they'd know the rung under which they needed to limbo.
My wife wanted the car pronto, so we might have gotten them to dance even lower if we tried. We didn't worry about the last few hundred bucks.
Which Dealer to Use
Use the dealer you want. Don't worry about small price differences, and if you do, your preferred dealer probably can meet that, too.
A good dealer is going to give you great delivery service, which means you'll get it when it's promised, get all the accessories that come with your car, a full tank of premium fuel and other little things that mean doing something right. When I used a bad dealer, Irvine BMW, my BMW 540 came missing all the manuals, spare keys, and a half-empty tank of gas.
Shop everywhere for price, but please try to use the dealer who gave you the help in selecting what car you want. If you're a good negotiator (a profession in itself) you'll be able to get the same price anywhere.
Always give your preferred dealer the chance to give you the best price. I prefer Hoehn because I've used them before for sales and service with great results.
When to do What
First shop for what you want. When you know exactly what you want, then you can shop for price.
We planned to special order exactly what we wanted. You often can get a better deal special ordering because the dealer hasn't been paying interest on a car sitting on their lot.
Dealer Hold-Back
How do dealers sell below invoice and make money? Easy: they get a lot of kick-backs from the car makers that don't appear on the invoice. Unlike the old days, everyone today knows about invoice prices. Sticker prices are meaningless, at least for people like yourself who are researching this before buying. Since everyone who's paying attention works from invoice, there has to be some way for the dealers to stay in business.
Hold-back is a quarterly (four times a year) kick-back to the dealers from the car maker. For Mercedes, I read it's 3% of the full MSRP. It varies from brand to brand.
This pays the dealer for spending the money to buy cars to put on his lot to show us. The dealer pays when the cars arrive; not when they're sold.
If a dealer orders you a car or sells one fast, they're 3% ahead. If they have to hold the car on their lot unsold for a few months, the 3% compensates them for the interest on their money.
Ordering a car, instead of taking one from the lot, gives the dealer more room to play.
Dealers don't like to talk about hold-back or other promotions they get from the car makers, so don't ask and don't push it. You don't have to. This is how the dealer makes enough to sell us a car under invoice and still pay our salesman a decent commission.
There are enough dealers willing to compete for your order that the details of how they get paid aren't important. It just helps to know how and why so many dealers are willing to sell under invoice, if you know how to ask. They get more than just this, depending on how many cars they sell and many other variables.
For all you know, the one car you buy might be enough to put the dealer into the next tier of some manufacturer promotion, or earn the dealer or salesman some sort of award. Top salespeople are always going on luxury vacations at company expense. Your one order could win him the trip to Tahiti instead of some other salesman or fleet manager.
Save Thousands with Car Club Loyalty Rebates
Join the club for the car you intend to buy. Join it today, even if you have no immediate plans to buy a car.
I belong to the Mercedes-Benz Club of America (MBCA), and would have gotten an additional $1,500 back from Mercedes USA as a thank-you.
It only costs about $45 a year to join, and I get more discounts on parts and service with my club membership card each year than the cost of membership. It's like a free membership, and comes with a great magazine and local club activities.
You have to be a club member for at least a year for the discounts to apply. Mercedes isn't going to let you buy a $45 membership the day you buy your car and give you a $1,500 discount.
See the rebate form from MBCA.
Other other Mercedes models have different discounts.
The BMW Car Club of America has a similar program, and also requires a year of membership prior to getting a discount. I have no BMWs today, and keep my club membership active in case I get one tomorrow.
These membership appreciation discounts are in addition to the best deal you can get from the dealer.
Executive Discounts
If you have a job (I don't) and are an executive or salesman, many car makers and employers offer additional incentives to people who have to drive on the job.
These extra rebates are offered primarily to people who have to buy their own car to use as a company car. Mercedes would rather you see clients in its cars instead of a Jaguar, and vice-versa. Likewise, your employer may offer you a rebate to have you seen in a decent car.
Ask your company, and ask your car dealer. These rebates are most often paid by your employer. Our dealer had a huge list of the corporate discounts, which vary by company and vehicle and change from month-to-month. These discounts tend to run about $500 - 3,000.
These rebates are on top of anything else you've managed to negotiate. When we saw all these deals, we couldn't have afforded not to buy a new car.
European Delivery
The Mercedes GL450 is made in Tuscaloosa County, Alabama. The BMW X5 is made in South Carolina. You can't pick these up in Germany.
If you're getting a German-made Mercedes, Porsche, BMW or Swedish Saab or Volvo, you often can order and pay for your car at your dealer here, and get a fat discount if you go drive it around Europe for vacation first. The discount usually pays for your luxury vacation, so you always should do this.
The car makers offer free insurance and some hotel nights and meals, and you get to drive your meisterstück around Germany instead of some dinky rental car. You're getting the same US-spec car you'd have gotten anyway, but get a discount, a royal factory tour and white-glove treatment if you'll go visit the factory to see it before it comes to the USA.
When you're done you drop off your new car in Europe. They ship it to your local dealer just as they would have if you had not gotten to drive it around in Europe, and you get it when it arrives. You often save the $775 delivery fee found on most new car stickers.
These programs often offer 8% discounts for starters, with deeper discounts available if you look. We didn't take advantage of this, although my dream is to buy a hot new car and fly it all over Germany.
I'll say it again: you get free stuff and get to drive your German hottie all over Europe for less than if you didn't have the vacation of a lifetime and waited to get your car in the USA. Go for it!
More Discounts
Most car makers have even more special discounts which may apply to you. Common ones are diplomatic discounts.
When you start digging into these it's common to find that some exclude other discounts.
Market Realities
We got lucky - the GL450 is brand new, top-rated truck and we still got a fat discount.
If there are more people willing to pay high prices than there are cars, then you're not likely to get a hot discount. Rare models with many interested buyers won't be as easy to get discounted.
On the other hand, what we actually bought, a Porsche, was a last-year's model (2006) that was going to be replaced by a next-year's model (2008) in about a month, so the manufacturer was giving fat rebates to the dealers to get these cars off the lots to make room for the new ones. We got $28,000 off the sticker for a car on the lot. I'll explain that one in another article.
Have Fun!
This is fun. The last time I bought a new car was over 20 years ago. God bless my wife, one of the world's best bargain hunters.
We would have bought used, except that the GL450 is brand new and far better than anything similar. In the case of the Porsche, we were given such a fat discount, and the model we got was so low production and only made for 2006 and had an unusual option my wife really wanted (pull-up manual sunshades, a $150 option), so again we didn't bother to try to find a used one just like we wanted it.
Thanks for reading!
Ken, Kim and baby Ryan.