Mercedes GL450
© 2007 KenRockwell.com

Don't read this yet. Sneak Preview: this is the best truck in it's class, but we got a Porsche Cayenne Turbo S instead as a 2006 close-out for almost $30,000 below sticker. We couldn't resist!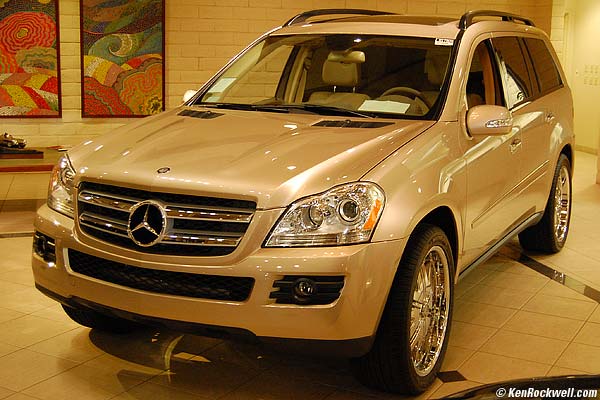 2007 Mercedes GL450
INTRODUCTION
My wife wanted something bigger than my Mercedes E430 for hauling around our baby, so we went shoppiung for these.
This review is based on my actual driving of the GL450.
Mercedes calls the GL450 Mercedes-Benz' biggest passenger vehicle ever. Mercedes also makes busses and military vehicles, and I suspect the Grosser 770K of 1939 was bigger, but the signs at US Mercedes dealers say it's the biggest; maybe by "ever" Mercedes means "ever" in terms of American's limited comprehension of history. Mercedes has been making cars for over 120 years.
0-60s 7.6s actual
shift paddles
dark glass
cargo: 40" wide x 48" deep x 32" tall
LIGHTS
Halogen
The standard halogen low-beam refractive projectors and reflective high-beams aren't as good as the base halogen lights on out 2006 Saab 9-3 or my 2002 E430. Pass on these.
Xenon
The Xenons, a $900 option (option #319, Lighting Package), are great. I'm a photographer, and have always been very sensittive to quality and quantity of light, so I notice these things.
The xenons bathe the entire road, from far left to far right, in an all-encompassing carpet of light.
Even the high beam is xenon, unlike cars from previous years. This is why it's called bi-xenon, meaning both the high and low beams are xenon. For the past ten years, the xenon options on Mercedes, BMW Audi and the rest have only been for the low beams.
Bi-xenons are simple: whern you tal the high beam, the internal beam-limiting shade moves out of the way and now everything is lit by xenon, not just the bottom half of the beam. Flick them when yoyu're against a wall and you'll see how the complete beam appears at high, and only the bottom half appears on low beam.
A huge advantage of bi-xenon is that the high beams come on immediately - as soon as the shade flicks out of the way. Conventional lights take a fraction of a second for the high beams to turn on, even if you had xenon low-beams.
Of course the xenons take several minutes to warm up; but the high/low switching is always instant.
Since the high and low xenon light projects from the same hole, the GL450 retains the halogen high beams of the base model and fires them off, too, alonmg with the xenon high beams.
The color of the xenons may not have been that good They seemed a bit greenish-blue; not white. This may of may not be the case; I dind't drive it for that long in dark enough conditons to get a good read on it. The best xenons are white; the crappy ones are blue.
The xenons steer like a Tucker. At slow speeds the inside light steers more into your turn.
They adjust as you drive. As you come to a stop and the GL450 lurched forward, the lights peek up to keep the same road distance illuminated. As you hammer it and haul off, the GL450 front end rises, and the lights automaticallty point down to the same point to avaoid blinding other drivers. This allows the GL450 xenon lights to illuminate further down the road and cast less glare, since they don't need to be pointed down to the lowest point needed to prevent glare on accelleration.
GETTING A GREAT DEAL
I put this as a separate page at Getting a Great Deal on a New Mercedes. We would have paid $1,000 below invoice, which is about $4,000 below sticker.
NAVIGATION
I didn't play with the nav system. I prefer the usability of my pocket GPS I take everywhere.
I'm told that the Mercedes GPS doesn't treat me like a moron as the nav systems of lesser marques do. The nav system of the Mercedes should work properly, including the ability to use it as you drive. Lesser marques like Jaguar have defective nav systems which ignore inpouts as you drive, making it impossible for me to navigate as co-pilot when driving with someone else.
God bless Mercedes for treating us like people, not idiots. The passanger cna run the nav while the driver pays attention to driving.
Cruise Control
As it has for decades, the cruise control is a simple stalk on the left of the wheel. It's always on - you don't have to turn it on as you do on lesser marques.
Tap it up or down to set and hold your current speed.
Then tapping or holding it up or down increases of decreases your speed.
Small taps work in 1 MPH increments.
New: Push it further up or down to lock-in speeds in exact 5 MPH increments. If you're doing 43 MPH, one big tap up gets you exactly 45MPH. Four more big taps up will lock in exactly 65MPH. If the speed limit drops to 50 MPH, give it three big taps down.
It shows the set speed digitally on the dash.
It's clever and appears to use the brakes to slow down, even on the base model. Tap it down to a slower speed and the GL450 smoothly decelerates to your selected speed.
Tap the brake or push it away from you (towards the pedals) to turn it off and drive yourself.
Once set, pull the stalk towards you to resume a previous speed.
I love this new cruise control. I dial in exact speeds of freeways. Want exactly 94 MPH for fuel economy? Give it a few big taps up to 95, and one small tap down to 94 MPH. Brilliant.
Engine and Transmission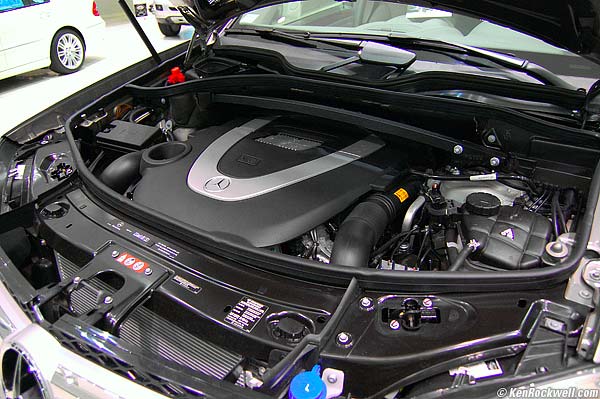 Mercedes GL450 Engine
Most of it is hidden under plastic vanity covers.
It has a 4-valve per cylinder 4.6L V8 rated 339 ft-lbs and 315 HP.
Premium fuel of course.
DOHC, variable valve timing on intake and exhaust.
EPA MPG is 15 city, 19 highway. The earliest production (oldest) GL450s, made in 2006, had a different VIN and were only rated at 14/18 MPG. Their VIN was 4JGBF71E27Axxxxxx. THe newer GL450s have VIN 4JGBF71E47Axxxxxx. The difference is in the 9th character, a 2 or a 4. No one has any idea what's changed, but it's on the window stickers.
It has a 7-speed automatic.
Interior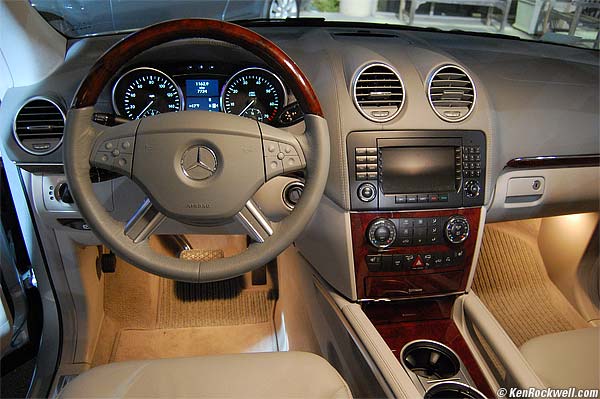 2007 Mercedes Gl450 Interior
Lighted cupholders
Huge cupholders - no shifter!
squeeky brakes
DSR mph adj. hit by acident
OTHERS CONSIDERED
BMW
The BMW X5 drove well, but was too small inside. The rear seats had only the legroom of a compact car, and the 3rd row seats, new in the 2007 X5, were strictly for lilliputians. Adults do not fit, and we would be seriously injured if we attempoted to ride in thise seats while being driven around.
We loved the BMW, until we saw the GL450.
Range Rover
The Range Rover LR3 may be nice, but my wife hated how it looked, and the interior parts were of rental-car quality. We passed - fast.
Lexus
My wife thought for years she wanted a Lexus RX350, since every other housewife has one, but on a test drive we felt like we were going to swerve, roll over and die in the Lexus. We're used to vehicles with decent handling; the Lexus felt, handled and sounded exactly like the Dodge Minivans I used to have as company cars.
My wife also disliked the primitive seating arrangements. The seats juat stood there, like in an old-style minivan.
Porsche
The Porsche Cayanne Turbo S, with a 520 HP / 530 Ft-lb turbo V8 and less weight, is a hoot! Even better, as a leftover 2006 model the dealer still can't give them away at $22,000 off.
I loved it. It won't haul as much cargo or people as the GL450 can, but the Porsche hauls. It's smaller, and handles and feels much more nimble that the GL450. The Turbo S is a butt-kicker, but it does have a load of turbo lag. Hammer it, and it takes a second to spool up if you're at rest.
Holy Crap! I showed my wife this little beast, and she loves it! She got it for $28,000 off the sticker price ($6,000 below the super closeout price and $12,000 below dealer invoice), so she bought it!
She's all about getting a deal. She got the Porsche for twelve times more below invoice than we could have ordered the GL450. She feels safer in the Porsche because it drives like an agile sports car, not a truck. She's far more comfortable being able to maneuver it around town.
I have a full report coming on the Porsche.
Toyota
Consumer Reports rated the Highlander Hybrid #1, two clicks above the GL450.
The Highlander has no rear row of seats, so we passed. (Neither does the Porsche, but the Porsche discount convinced us otherwise!) The Toyota has a rental-car grade interior.
Since I was at the Toyota dealer, I checked out the bigger Toyota truck which had a third row of seats. Nice, half the price of the Mercedes, but none of the finesse.
Honda
Consumer Reports rated the Honda Pilot as better than the GL450, and second only to the Toyota Highlander.
The Honda has three rows of seats, but none of the flexibility or finesse of the GL450.
It's nice at half the price for transportation, but not as nice if you actually drive because you enjoy the ride as we do.
Cadiliac Escalade
Who are they kidding? Middle America, that's who.
The Escalade costs more than the Mercedes, and was purely rental-car grade. The interior is right out of the 1995 Dodge minivan I had as a company car. The seats are cumbersome things that you have to haul out of the Cadilac and leave in your garage if you need extra cargo capacity. They don't evaporate into the floor with a touch of an electric button as do the GL450 rear seats.
The back of the Escalade was exactly like my old minivan: even after you haul out the heavy seats, the floor still had huge tracks in which the seats ran, and had huge holes in the floor into which those seats would latch. You don't have the smooth, flat floor of the GL450, so you can't use the Escalade for hauling anything of value. Valuables woudl be damages by all thhe junk protruding from the Escalade's floor.
Audi
The Audi Q7 is nice. Nice, but never quite as nice as the GL450, and since the Audi costs the same, why bother?
I wouldn't make the Q7 park outside, but I'd still rather have the Mercedes GL450.
The Audi treats you like an idiot: there are dangerous, insulting, demaning and distracting clicks through which you must go to get to the various computer and nav functions. I doubt the passanger can run the nav while someone else drives; it's probably locked out.

2006 Mercedes C230 Console
The cars I borrowed had vinyl seats. Mercedes calls this MB Tex, which historically has been a magic material more comfortable, and longer lasting, than leather. MB Tex is the cheaper option to leather. Even the $60,000 G-Klasse comes standard with vinyl, and unless people read the sticker, think it's leather. Again, if you want leather, you can pay for it. I found the seats of the C230 more comfortable for the short trips I used it for than the leather in my E and SL klasse cars.

C230 Instrument Cluster
Radio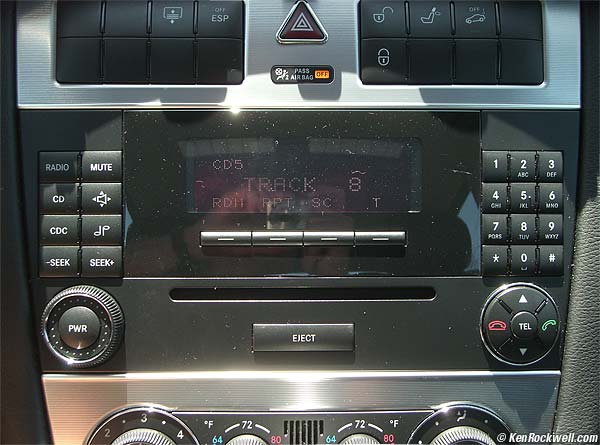 The sound system was great. There was a traditional six-CD changer in the glove box. It takes the standard Alpine CD magazines of other BMW and Mercedes models.
It was hard to read the dim display during the day. I prefer the LCDs of my 2002 E430 and older Mercedes.
Air Conditioning
Air Conditioning is fully automatic. Set your preferred temperature once and forget it.
It didn't have the capacity of my V8 cars. The little engine and A/C compressor had to work long and hard to cool things down.
I like things cold fast. I would consider a different engine or car based just on this. I suspect bigger engined C-Klasses might have more air conditioning capacity.
Quality Made in Germany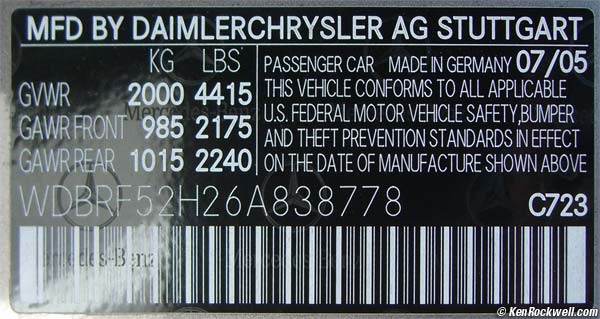 Unlike other inexpensive cars with German names like BMW (Z3 and SUVs made in Georgia, USA), VW (mostly made in Mexico) and Mercedes M and GL (made in Alabama, USA), the C - Klasse really is made in Germany.
Love Glove
Mercedes amused me: they include a pair of gloves with the tool kit! Even my SL500 doesn't have that. I always carry a few pairs of latex gloves anyway. I wear them when working with my cars so my hands never get dirty. Your woman will appreciate that more than your fancy car!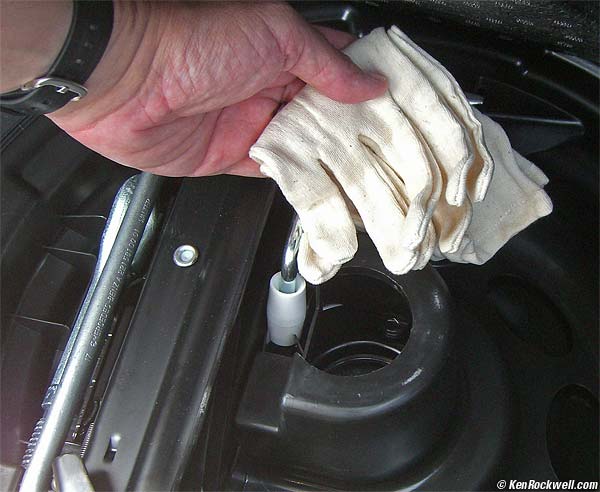 C230 tool kit gloves
Fuses
The C230 also has a spare set of fuses, including the giant ones. Cool! Usually makers hide them along the regular fuses in the fuse panel.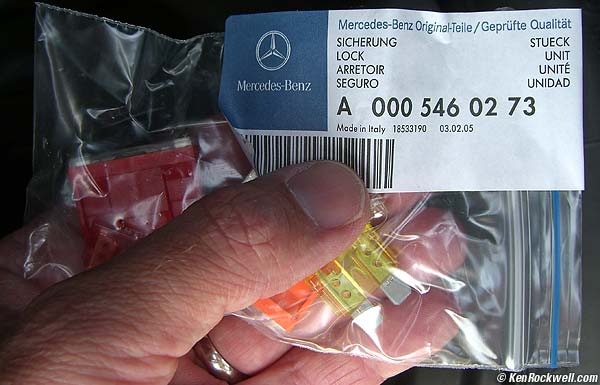 C230 Spare Fuse Kit
Free Roadside Service - Forever
Like all Mercedes, every C230 has eternal free roadside service. Just call (800) FOR-MERC anytime for help.
Summary
On paper I'd go for the C350 or C55 AMG, but to be honest, this basic economy Mercedes is competent, fully featured, and a hoot to drive. It has a nice, big trunk.
If this C230 is what fits your budget, I doubt you'd be sorry. It's a great little car.
We have a 2006 SAAB 9-3 2.0t, which sells for the same price, as a company car. We'd much rather we had this C230 instead, since they are both in the $30,000 range price.
The C230 is a car I looked forward to driving; the sort of car for which you make excuses to take the long way home.