Home Donate New Search Gallery How-To Books Links Workshops About Contact
Leica 18mm f/3.8 ASPH
Super-Elmar-M $2,895 (2009-today)
© 2009 KenRockwell.com. All rights reserved.
Intro Specs Finder Performance Compared Recommendations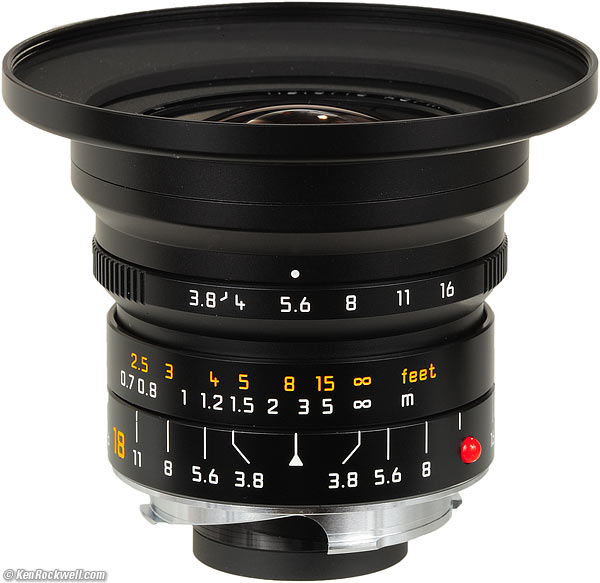 Leica Super-Elmar-M 18mm f/3.8 ASPH 11 649 and 77mm filter ring 14 484 (10.9oz/310g). enlarge. I'd get it at Adorama; you also can get it at Amazon. It helps me keep adding to this site when you use these links to get your goodies. Thanks! Ken.
June 2009 Leica Camera Reviews Lens Reviews Recommended Lenses
How to Use Ultra-Wide Lenses How to Afford Anything
Leica 18mm and Zeiss 18mm Comparison Test
Introduction top
Intro Specs Finder Performance Compared Recommendations
THis new Leica 18mm f/3.8 Super-Elmar-M is great. It's super-sharp, and at least as important, it feels great ot use. It's light and easy to hold and carry. It feels solid, but precise and light.
This new Leica 18mm f/3.8 ASPH is a landmark in Leica's lens line.
This is the first time in over 50 years that Leica has expanded its focal length range of fixed lenses for their M-line of rangefinder cameras.
21mm has been the widest fixed lens offered for Leica M since 1958. This 18mm is the first time that Leica has offered any fixed lens wider than 21mm for its cameras.
This 18mm is a welcome addition after over 50 years of waiting. (Leica offers a 16-21mm f/4 zoom, but it's a zoom, not a fixed lens, and it's not agile with filters.)
Leica chose the right date in history to announce its first 18mm lens ever. Not only is it announced on the 18th, it's announced in February 2009. 2 x 9 = 18, as does February (2) x 09. You've got to credit the Germans for being thorough; in fact, there is a word for German thoroughness: "Deutsche Gruendlichkeit."
Don't stay up late getting excited about f/3.8 being faster than f/4; it's less than one-sixth of a stop faster.
This 18mm takes 77mm filters for use with film, but only if you buy a special filter holder. For use with digital or color print film where you don't usually need filters, you'll do fine wiht the included dedicated hood and no filter holder.
Leica also introduced a new fixed 18mm finder to go with the new 18mm lens.
Compatibility
This new 18mm lens works flawlessly with every Leica M camera ever made, from the M3 of 1954 through today's Leica M7. Flawlessly means flawlessly: unlike Nikon, absolutely everything works as well as with any other Leica M lens or body made since 1954.
(The old half-frame M8 and M8.2 threw away half the image, so on the M8, this 18mm lens only gives an angle-of-view similar to what a 24mm lens sees on every other full-frame Leica.)
It works the same on the M3 as most newer cameras. You need to use the external finder with every Leica, so using an M3 from 1954 simply means you need to meter externally instead of through the lens.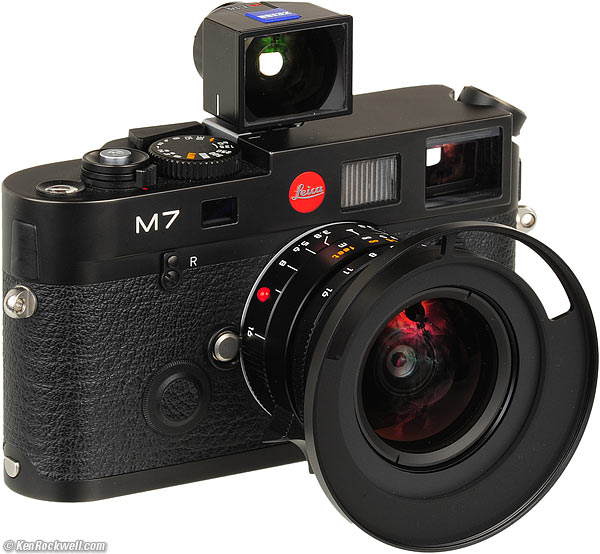 Leica 18mm and 77mm Filter Adapter 14 484 on an M7, with Zeiss 18mm finder. enlarge.
Specifications with commentary top
Intro Specs Finder Performance Compared Recommendations
Name
Leica calls this the LEICA SUPER-ELMARIT-M 18mm f/3.8 ASPH, product number 11649.
"Super-Elmarit" is just a marketing word that means "f/3.8."
Optics top
8 elements in 7 groups.
One aspheric element with two aspheric surfaces.
Focal Length top
18mm.
(Used on the old M8.2, its angle of view corresponds only to what a 24mm lens would see on a full-frame Leica.
Diaphragm top
Leica 18/3.8. enlarge.
9 blades, which is perfect.
It should give magnificent 18-pointed sunstars instead of the hokey 8-pointed stars of 8-bladed diaphragms.
Uniform half-stop clicks.
Stops down to f/16.
Close Focus top
2.3 feet (28" or 0.7 meters).
Maximum Reproduction Ratio top
1 : 34.6. (not very close at all, but duh, this isn't supposed to be a macro lens.)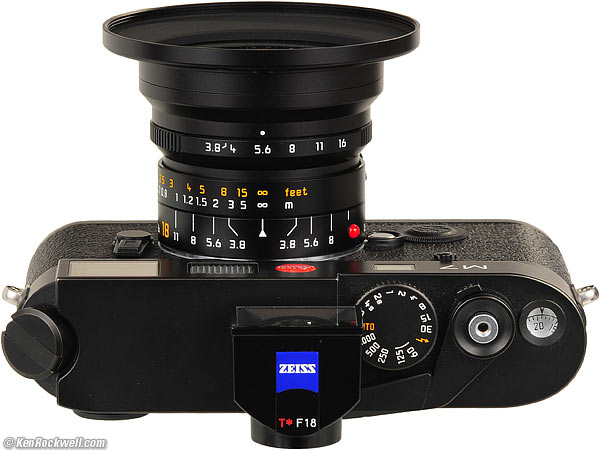 Leica 18mm and 77mm Filter Adapter 14 484 on an M7, with Zeiss 18mm finder. enlarge.
Filter Thread top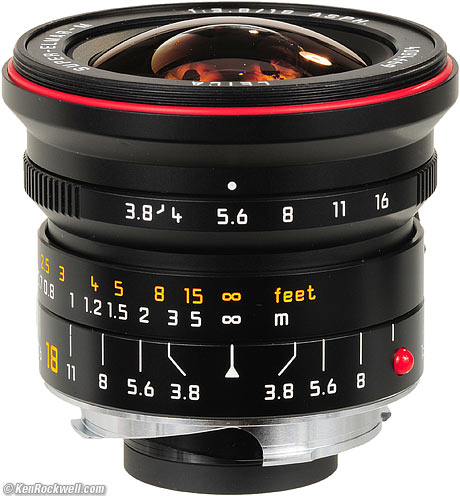 Naked Leica 18mm SUPER-ELMARIT-M (no hood). enlarge.
The Leica 18mm has no filter thread. There is only an external male thread onto which you screw either the included hood or the optional 77mm filter holder 14 484. You screw the filter holder onto the lens instead of the hood.
The filter holder employs the same "Deutsche Gruendlichkeit" that Leica used in crafting the announce date. It is stiffeer to screw on than a filter, so once attached, it's as if the lens was built with a 77mm thread. THe filter holder locks in the right position so that the cut-outs are on top as they belong so that finders are blocked as little as possible.
(For the old M8, there was a special UV/ IR Filter 13 422 that fits between the lens and the lens hood.)
Hood top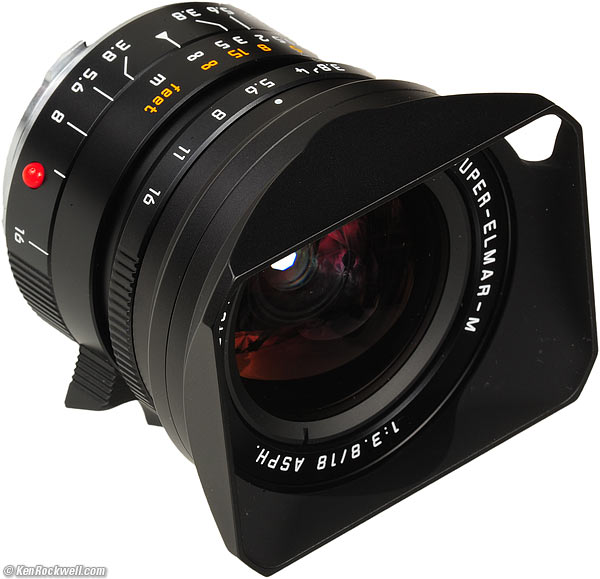 Leica 18mm with standard filterless hood. enlarge.
Included.
Patented rectangular screw-in. It's slick!
It has a cut-out to minimize (main) finder blockage.
Materials top
Black anodized aluminum.
Size top
1.92" (48.8mm) extension from flange, no hood.
2.27" (57.7mm) extension from flange, with hood.
2.40" (61mm) largest diameter.
Weight top
10.925 oz (309.7g), measured with 14 484 77mm Filter Ring.
10.900 oz (309.0g), measured with included 12 643 hood.
10.400 oz. (294.8g) measured naked (no hood or holder; front element completelty unprotected).
10.9 oz (310g) specified.
Yay! It's a hair lighter than the 21mm f/2.8 ASPH.
Leica Product Numbers top
18mm lens and dedicated 12 643 hood: 11 649 ($2,895).
Replacement hood: 12 463 ($220).
77mm filter holder: 14 484 ($100). The blackout band is plastic sheet and presumbaly removable.
Dedicated UV/ IR Filter: 13 422 ($220).
18mm Finder: 12 022 (black) ($760), 12 023 (silver) ($760).
Announced top
18 February 2009.
Shipping Since top
March 2009.
Price top
$2,895 USA.
18mm Finder top
Intro Specs Finder Performance Compared Recommendations
Leica's 18mm finder is quality incarnate. What would you expect from Leica?
Open the box, and out slides a custom dark foam holder, in which sits a genuine leather case. The case smells like the fine leather it is, and it is lined in fine velour.
Pop open the leather case, and inside sits your new finder in its own plastic bag.
Take out the finder, and its made like they used to be — but better because it's multicoated. It's all metal, with engraved engravings.
The 18mm finder is shorter than a classic Leica 21mm finder. Both the 18mm and 21mm finders show about the same sized image as you view through the finder, with the 18mm finder showing a larger picture angle at a correspondingly lower magnification.
The view is worse than the classic 21mm finders because it's littered with inner framelines for a 24mm lens, and the rectangles don't go all the way around. You get four big corners instead of a complete rectangular frame.
The view through the Leica 18mm finder is a rectangle in the middle of black, with the mirrored 18mm frame lines outlining the visible image. There isn't image beyond the mirrored framelines, but oddly, unlike the 21mm finders, there is lighter gray rectangle in which the active image sits.
All in all, it's a nice image, but the Zeiss 18mm finder is bigger, clearer and has less distractions.
Your choice will be clear: the Leica Man will accept nothing less than the Leica 18mm finder, while the practical photographer will opt for the bigger, clearer image of the Zeiss. The Zeiss shows a bigger image, and also suggests you'll get slightly less in your frame than the Leica 18mm finder (the Zeiss finder give more wiggle room for framing error while the Leica tries to show more of what should be in your frame). The Zeiss 18mm finder is also half the price, and made just as well sans leather case.
The Leica 18mm finder has a similar optical design to the 21mm finders, and has similar distortion: the middle bulges out, but the sides are straight again.
Weight: 1.225 oz. (35.7g), black model, which oddly is a little bit more than the slightly larger classic metal 21mm finder.
Leica 18mm finders in black (12 022) and silver (12 023). enlarge.
The Leica 18mm finder comes in chrome or black, both with rubber-bumpered eyepieces.
My only qualms are that it has half-frame graffiti (for half-frame shooters) littering the view for full-frame shooters. There are marks in the active image area to denote what little part of the image gets captured on an M8 or M8.2, but that junk disturbs the true (full-frame) Leica photographer.
If you settle for half-frame (M8 and M8.2), I'd give a serious look to Leica's 21-24-28mm Zoom Finder instead, which has a much bigger image than this fixed 18mm finder. If you're shooting half-frame, you don't get the 18mm field of view, you only get 24mm, and thus you'll want to leave the zoom finder set to 24mm for use with the 18mm lens on an M8.
For the true Leica photographer (full-frame), I find the dedicated Zeiss 18mm finder superior because it doesn't have half-frame scribbles in your view.
The Leica Man accepts nothing but the best. The Leicaman uses the Leica Universal Wide Finder, which has dedicated settings for 18mm (and 24mm, but Leica Men don't settle for half-frame), as well as an illuminated bubble level and discrete distance settings.
Performance top
Intro Specs Finder Performance Compared Recommendations
Ergonomics and Handling
This 18 looks like another great ergonomically-designed Leica lens.
It appears to have the trademark single-fingertip focus lever, and the aperture ring looks like it's perfectly positioned also to make it trivial to adjust with one fingertip.
We'll see. If Leica got the filter adapter right, we could have a real winner on our hands.
Sharpness
Critical analysis of Leica's Technical Data, tells us that this is going to be an exceedingly sharp lens, even wide-open. Wide-open isn't that big a deal, since f/3.8 (really f/4) is where you'll be shooting most of the time in anything but broad daylight.
The sharpness specifications (MTF curves) are quite amazing. This lens doesn't get any sharper stopped down, so to get the best results, be sure to follow my Optimum Aperture Suggestions to avoid the effects of diffraction.
Distortion
Distortion is marginal, rated at -1.8% maximum.
This is much worse than the Zeiss 18mm, which is rated at only -1.0% maximum, and the Leica 21mm f/2.8 ASPH which is rated at -1.5% maximum.
The Contax G 21mm lens is much better, rated at -0.5% maximum, and the very best lens of all is the Zeiss 21mm f/4.5, which has 0% distortion and can be used on Leica M.
Use with Filters
Leica makes a dedicated 13 422 UV/IR filter for M8 users; I'm not discussing that here.
To use real filters on film, like grads, warming filters and colored filters for shooting B&W film, you need the 14 484 77mm Filter Adapter as I've shown in most of my photos.
When you do this, it's tight. A standard filter with a 5mm-thick mounting ring (excluding rear threads) is the fattest thing what won't vignette.
A filter in a rotating mount 7mm or thicker, like a screw-in grad, will start to vignette slightly. With a filter this thick, you may see a slight vignette on raw film, but mounted slides won't have a problem.
Forget stacking two filters. Sorry.
Ghosts and Flare
I have no idea until I get one in my hands. These and other aspects are never covered in the specifications.
Use on Half-Frame (M8, M8.2) Cameras
It's silly to waste most of this lens by throwing away the best part of the image, the sides and corners, which is the whole point of an ultra-wide angle lens.
I shoot full-frame RealRaw digital for the best quality, and especially to get the wide angle for which I paid.
All you have to do to get full-frame digital images from this 18 is to have your lab scan everything as it's processed. I get files equivalent to full-frame 25MP sensors for a mere $11.95 per roll from NCPS, who does mail order from anyplace on Earth.
If you need a full-frame Leica M, any Leica M ever made, even the oldest M3 or very inexpensive finderless M1, MD or MDa work perfectly, since you need to use an external finder anyway. It's trivial to guess at the focus distance for ultrawide lenses if you cheap-out with a finderless camera, otherwise, the rangefinder couples even on the 1954 M3.
If you really want to deal with the expense and hassle of an M8 and the battery chargers and computers and losing most of your image, you'll also want to screw with the dedicated 13 422 UV/IR filter to make up for the inadequate internal filtering of the M8/8.2 to get your blacks ad colors to look right.
Since you'll only get the middle (24mm equivalent) section of the 18mm image on an M8, you don't need an 18mm finder. All you need is a 24mm finder, and for that, I'd suggest Leica's 21-24-28mm Zoom Finder, since it has the biggest, brightest image.
Compared top
Intro Specs Finder Performance Compared Recommendations
Let's compare it to Leica's own 16-21mm zoom, Leica's 21mm f/2.8 ASPH and Zeiss' made-in-Japan 18mm f/4.
Except for the Leica 21mm f/2.8 ASPH, these are read from manufacturers' published data and not confirmed.
| | | | | |
| --- | --- | --- | --- | --- |
| | Leica 18mm f/3.8 | | | |
| Made by | Leica | Leica | Cosina | Leica |
| Made in | Germany | Germany | Japan | Germany |
| Price (2/09) | | | | |
| | - | - | - | - |
| Optics | 8/7, 2 aspheric surfaces | 10/7, 2 aspheric surfaces. | 10/8 | 9/7, 1 aspheric surface |
| Rated Distortion | | | | |
| Rated Falloff, wide open | | | | |
| Rated Falloff, f/5.6 (f/8) | | | | |
| Maximum aperture | f/3.8 | f/4 | f/4 | f/2.8 |
| Minimum Aperture | f/16 | f/22 | f/22 | f/16 |
| Diaphragm Blades | 9 | 8? | 10 | 8 |
| | - | - | - | - |
| Focus by | 1-Finger Lever | 1-Finger Lever | 2-Finger Ring | 1-Finger Lever |
| Close Focus | 0.7m | 0.5m | 0.5m | 0.7m |
| | - | - | - | - |
| Filter Thread | None (77mm w/optional holder) | None (67mm w/optional holder) | 58mm | 55mm |
| Length | 49mm | 62mm | 46.3mm | 46mm |
| Diameter | 61mm max. | 54mm | 65mm | 58mm |
| Weight | 310g | 335g | 323g | 317.4g |
Recommendations top
Intro Specs Finder Performance Compared Recommendations
If you want ultra-
I can't say until I get one into my hot little hands. Based on what Leica tells us, I really want one of these for night shooting based on its 9-bladed diaphragm.
Coming from Leica, we can be assured that the optics are unsurpassed, but what really matters is:
1.) Whether or not we can see our composition out of either the Leica or Zeiss 18mm finder, or Leica's Universal Wide Finder.
I suspect that any of these lenses is long enough and fat enough that actual shooting may be a pain, because the lens will appear in the bottom of the finder image. It's a real problem with smaller, less wide 21mm lenses.
2.) Filters. If you're actually going to shoot this lens, and not just keep it locked in your collectors' glass case, you need to get filters on and off it fast, and need to get at least two filters on at the same time without vignetting.
The fact that I have to buy a special filter holder scares me.
On Leica's 21mm lens, I can use normal 55mm filters, and if I need to stack two, I can step it up to larger sizes. The 21mm hood drops right on top of any 55mm filter, protecting both it and the lens.
If filter use isn't fluid, then the 21mm will stay and the 18mm can go. If filters are a pain with this lens, the Zeiss 18mm would be a far better lens for actual photography.
If Leica designed the filter holder correctly, it could be a masterpiece. Unlike some overweight lenses introduced recently like the 50mm f/0.95, this 18mm is small enough and light enough to resonate with the spirit of the true Leica photographer.
For collectors as well as shooters, this 18mm lens is a milestone. It's the first time in over 50 years that Leica has expanded the range of the Leica M system.
Since size and weight are about the same as the perfectly reasonable 21mm f/2.8 ASPH, if the distortion is low enough and the finder blockage and filter issues are reasonable, I want one of these 18mm lenses pronto. I live for ultrawide angles, and if this lens is a winner, it will save me from disrespecting a Leica with a third-party Zeiss 18mm.
The only thing that matters in photography is being in the right place at the right time and knowing what you're doing. If you have that down, the Tokina 17mm f/3.5 lens I bought used for $150 back in 1984 will still give images largely indistinguishable from this new Leica lens.
More Information
Technical Data: MTF, Distortion and Illumination
Leica Glossy Illustrated Brochure (also in German)
The brochure and publicity photos are funny: they only show this glorious 18mm f/3.8 sitting on the M8 half-frame camera, on which 18mm is not an ultra-wide angle at all. The angles-of-view are quoted for (and all the example photos were shot on) a Leica MP full-frame film camera, not the runt-sensored M8. Hee hee! Marketing people should never try to hoodwink their potential customers.
PLUG
I support my growing family through this website.
If you find this as helpful as a book you might have had to buy or a workshop you may have had to take, feel free to help me continue helping everyone.
If you've gotten your gear through one of my links or helped otherwise, you're family. It's great people like you who allow me to keep adding to this site full-time. Thanks!
If you haven't helped yet, please do, and consider helping me with a gift of $5.00.
The biggest help is to use these links to Adorama, Amazon, B&H, Calumet, Ritz and J&R when you get your goodies. It costs you nothing and is a huge help. These places have the best prices and service, which is why I've used them since before this website existed. I recommend them all personally.
Thanks for reading!
Ken
Home Donate New Search Gallery How-To Books Links Workshops About Contact