Home Donate New Search Gallery How-To Books Links Workshops About Contact
Zeiss 18mm f/4 ZM
Distagon T* (LEICA M Mount, 2007 - )
© 2009 KenRockwell.com. All rights reserved.
Intro Specs Finder Performance Compared Recommendations

Zeiss 18mm f/4 ZM (Leica mount, 58mm filters, 11.395 oz/323.0g). enlarge. I'd get mine at this link to it at Adorama. It helps me keep adding to this site when you get anything through these links, thanks! Ken.
May 2009 Leica 18mm f/3.8 Review More Leica Reviews
NEW: Leica 18mm and Zeiss 18mm Comparison Test 17 June 2009
| | |
| --- | --- |
| Optics: | |
| Mechanics: | |
| Ergonomics: | |
| Usefulness: | |
| Availability: | |
| Overall: | |
Ideal Uses
Could be the only wide lens you need for your Leica.
Not for
58mm filter size matches no other Leica lenses, but Leica's 18mm lens is even worse. I'd suggest using this Zeiss 18mm along with the superb Leica 90mm f/2 APO ASPH, and using a step ring to bring the 90mm also to 58mm for sanity's sake.
Introduction top
Intro Specs Finder Performance Compared Recommendations
This Zeiss 18mm lens is perfect for use on any Leica. It's super-sharp, free from distortion and easy to shoot, especially with filters. It comes in silver or black and couples to the rangefinder of every Leica or similar rangefinder camera.
When I finally got one of these in my hands, it's much, much nicer than I had expected.
This Zeiss 18mm's optics are superb, and it takes normal 58mm filters. It's small enough so that there is very little blockage of the image in the 18mm finder, so it's easy to go shoot well.
This Zeiss lens feels great in hand, just like Leica lenses. Focus and aperture rings turn with the same smoothness and precision I expect from Leica, and even better than Leica's cheap new Summarit-M lenses.
By comparison, the new Leica 18mm f/3.8 ASPH is a dream lost. It's too big for practical use. The Leica 18mm is a poorer choice for photography because you have to use a special Leica 14 484 filter adapter to use filters, and then you have to use 77mm filters which will block your viewfinder. You can't compose well when you can't see what you're doing. Why bother?
The Leica Man demands the Leica 18mm for his collection, but for actual photographers, the Zeiss 18mm is a better lens because it shoots better.
I still need to have a shoot-out to compare optics; when I've had my hands on the Leica 18mm I wasn't at my optical test range. I'm unsure if the Leica will be as good optically as this Zeiss, but we'll see when I get a sample of the Leica 18mm with which to run a head-to-head shoot-out, hopefully in a few weeks.
The Leica man doesn't trifle the price, and at any price, the Zeiss makes more sense for its superlative optics and superior usability.
Photographers do consider price, and for them, this Zeiss costs less than half of the Leica 18mm.
How does Zeiss make such a great lens so inexpensively? Efficiency. Zeiss puts its brilliance in the design, as Mozart and Beethoven put theirs in their scores, and Zeiss then has the performance (manufacture) done efficiently by Cosina in Japan for these consumer lenses.
While Leica makes nothing optically more exotic than single-user camera lenses, survey equipment, instruments and scopes, Zeiss also makes enterprize-level optics used in cinematography, satellites and computer chip manufacturing. Zeiss Master Prime cine lenses, rented in Hollywood for $300 a day, sell for $20,000 - $25,000 each. The Zeiss lenses used in ASML steppers sell for close to seven figures each, and are made in the cleanest clean rooms in Germany.
Leica doesn't even make medium-format lenses, as Zeiss has been doing for Hasselblad since forever.
Whose lenses are used in spy satellites that can read the brand name off a golf ball — from space? Zeiss. What lenses did man take with him to record his most crowning achievement of all, the moon landings? Zeiss.
Zeiss tests every single one of these lenses, including the 18mm ZM reviewed here, for MTF before it's sold to us. The MTF Zeiss specifies are actual tested, typical MTFs from actual lenses, not the pie-in-the-sky computed MTFs that other companies parade around but can't necessarily manufacture.
With Zeiss, we the customers aren't paying for promotional cameras and lenses given away to celebrities every other month.
Zeiss is unsurpassed, but Zeiss doesn't attract the religious extremists that Leica does to tell you about it.
Format introduction top
I'm shooting and testing these on full-frame digital and film.
Full frame digital? Easy! I have my lab scan everything as they run my film, so I already have every shot backed up at high-resolution (50MB) on DVD when I pick up my film. They do this cheaply enough that I have everything scanned as I have it processed. They're more than happy to do your film, too, by mail.
I load these DVDs into my system faster than fiddling with memory cards, and I'm done, at far higher resolution than if I wasted my time with an M8.
I'm largely ignoring the half-frame M8, which should blow over as did Nikon's half-frame DX cameras like the D1X and D2Xs.
The M8 came out back in 2006 when people still settled for half-frame digital. I'm not going to bother reviewing lenses on the M8.2, since I don't feel like re-writing my reviews when Leica replaces the M8.2 with a full-frame M-Kamera and we can all pretend the M8.2 never happened.
Compatibility introduction top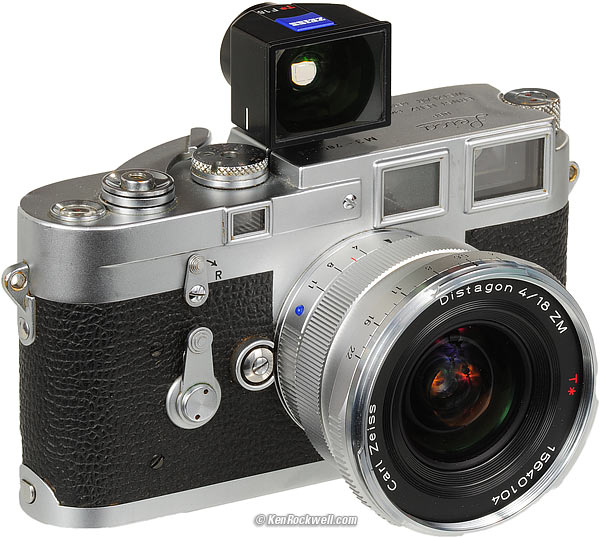 Zeiss 18mm on Leica M3. enlarge.
Like all Leica M lenses, the Zeiss 18mm f/4 ZM works on every Leica M camera, as well as the Minolta CLE, Voigtländers, Konica Hexar Ms and Zeiss Ikons.
TTL metering works great, if your camera has it.
Slide an 18mm finder in your shoe, and you're all set.
Actual Size introduction top
Presuming you have a standard 106 DPI monitor, this is its actual size, which is 2.34" (59.5mm) long overall by 2.260" (65.00mm) diameter: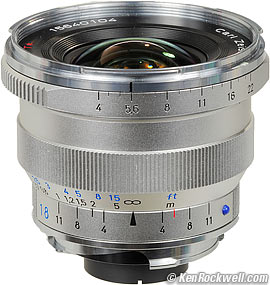 Zeiss 18mm f/4 (actual size at 106 DPI). enlarge.
The illustrations in this review have been enlarged to fit the page.
Specifications with commentary top
Intro Specs Finder Performance Compared Recommendations
Name Colors Focal Length Angle-of-View Optics
Diaphragm Filter Thread Close Focus Case Caps
Hood Size Weight Order Numbers Price
Name specifications top
Zeiss calls this the Zeiss Distagon T* 4/18 ZM.
"Distagon" is a trademark simply meaning "Zeiss retrofocus wide-angle lens;" it means nothing more specific about the design.
T* is a brand name for Zeiss' excellent multicoating.
ZM means it fits the eternal M series of Leica rangefinder cameras, as well as the Voigtländer Bessas, Zeiss Ikons and Minolta CLE.
Colors specifications top
Focal Length specifications top
35mm equivalent: 18mm. Duh, this is a full-frame 35mm lens.
Digital Equivalent: 18mm. Duh, I shoot full-frame have all my film scanned direct to digital.
Digital Resolution: 25MP when shot on film.
Equivalent on the Leica M8 (half-frame): 24mm.
Equivalent on the Epson R-D1x (half-frame): 27mm.
Angle of View (full-frame 35mm) specifications top
98º Diagonal.
87º Horizontal.
65º Vertical.
(less on lesser formats.)
Optics specifications top
10 elements in 8 groups.
Multicoated, which Zeiss brands as T*.
Diaphragm specifications top
10 blades.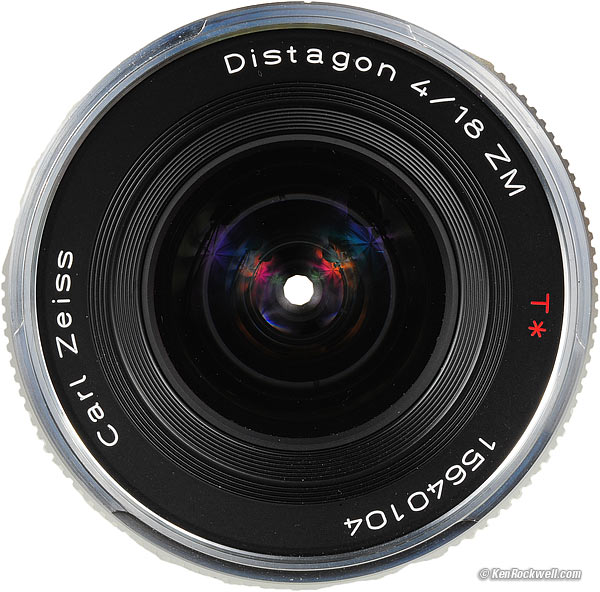 Zeiss 4/18 ZM at f/5.6. enlarge.
Stops down to f/22 with third-stop clicks.
Filter Thread specifications top
58mm. Germans call this E58 and 58E, and it's the same standard 58mm (0.75mm pitch) filter that's available everywhere.
58mm is a very popular size in medium format (Mamiya 6 and 7) and Canon SLRs, but not on Leica. If you're going to shoot other Leica lenses, it may help your sanity to use B+W stepping rings to step-up longer lenses to the same 58mm filter size.
Close Focus specifications top
1.65 feet (0.5 meters).
Maximum Reproduction Ratio specifications top
1:23.
Case specifications top
Unlike real Leica lenses, no case is included, but who cares?
No one uses the leather Leica cases; we put our lenses in camera bags or in our pockets.
Caps specifications top
Zeiss' front cap is OK, but no cap is as practical as Nikon's current 58mm cap.
I'd suggest keeping Zeiss' cap in the box for resale, and buying the Nikon cap for actual use.
The included Zeiss rear cap is fine, and you can use any current Leica 14 269 rear cap.
Older Leica rear caps for normal and long lenses aren't deep enough for the slightly extended rear elements. Use the current Leica 14 269 rear cap, or any of the older Leica caps intended for use with Leica's older, wider lenses.
Hood specifications top
Zeiss 18/4 with hood. enlarge.
A nice bayoneting metal hood is included.
It's so well made that it has springs incorporated in its design; it's not just one hunk of metal.
You have to remove the hood to change filters, unless you're really dextrous.
The hood's inside diameter is small enough that it will not fit over all filters. The only filters over which it won't go are my rotating filters, like many screw-in grad NDs. No big deal, skip the hood with these filters.
The hood is seen in the 18mm viewfinder, so I don't use it. The hood is cut for full-frame use, so it doesn't do much for half-frame (M8) shooters.
Size specifications top
1.717" (46.30mm) extension from flange.
2.34" (59.5mm) long overall.
2.260" (65.00mm) diameter. The widest thing is the aperture ring.
Weight specifications top
11.395 oz. (323.0g), measured, naked.
11.28 oz. (320g), specified.
Order Numbers specifications top
Distagon T* 4/18 ZM, silver: 000000-1440-731
Distagon T* 4/18 ZM, black: 000000-1440-733
Viewfinder 18mm ZI: 000000-1441-878
Price specifications top
2009, May, USA: $1,110 in black or silver.
The excellent 18mm finder sells for $370.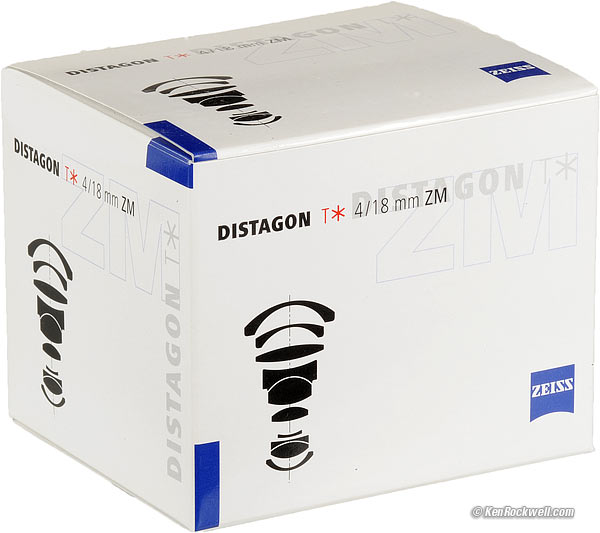 Box, Zeiss 18mm f/4 ZM.
Performance top
Intro Specs Finder Performance Compared Recommendations
Overall Aperture Ring Depth-of-Field Scale Diaphragm Linearity
Distortion Ergonomics Falloff Filters Finder Finder Blockage
Focus Lateral Color Mechanics Peripheral Color Sharpness Sunstars
Overall performance top
This Zeiss 18mm f/4 is wonderful. Optically it's superb, and its ergonomics are perfect as well.
Aperture Ring performance top
The aperture ring is perfect, like most current Leica lenses.
One fingertip is all you need to adjust it by feel.
Its big, bold, and easy to find in the dark.
It's click-stopped in more precise thirds, in keeping with modern exposure meters, than the old half-stops of Leica lenses. Be careful when counting clicks not to confuse the two.
Depth-of-Field Scale performance top

Depth of Field Scale, Zeiss 18/4 M. enlarge.
The depth of field scale is wonderful, but there's a catch: it only goes to 11, like on Spinal Tap.
If you want figures for f/16 and f/22, you'll have to tape them on yourself.
It's calculated using the same 1/30mm CoC as other Leica, Canon and Nikon lenses.
There is an IR index.
Diaphragm Linearity performance top
My M7 agreed exactly as I tried every full stop.
This shows a well-made lens.
It's not important when using TTL exposure meters, as with most modern cameras, but is important if you're using an external meter.
Distortion performance top
Distortion is invisible.
What little there is at 4 feet (1.25m) can be corrected with a value of +1.0 in Photoshop's Lens Distortion filter.
Ergonomics performance top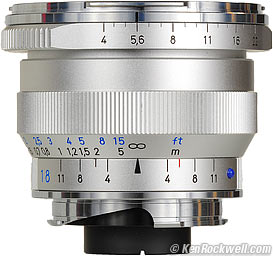 Zeiss 18mm f/4 ZM (actual size at 106 DPI). enlarge.
Ergonomics are perfect.
The aperture flicks with a fingertip, and the settings are obvious by feel.
Focus flicks with a fingertip, and it's easy to use two fingers for precise focus.
The only gotcha is, like all Leicas, when you look through the external 18mm finder with your right eye, the tip of your nose probably smears the camera's viewfinder.
Falloff (darkened corners) performance top
Falloff is moderately strong. It doesn't vary much by aperture.
This is as expected for an 18mm lens, which is more than a 21mm lens.
Per Zeiss' data, falloff is 2.3 stops at f/4 and -1.6 stops at f/8.
The Leica 18mm is rated the same wide open and -1.3 stops at f/5.6, which is slightly less at most shooting apertures.
Filters, use with performance top
Any 58mm filter, even a thick rotating-mount grad, works fine on full-frame.
A second filter will vignette on full-frame.
There are no problems on half-frame (M8.2) since half-frame only uses the middle half of the image.
Avoid polarizers on wide-angle lenses. The sky changes its polarization with angle and you'll get a dark band running across the sky!
18mm Finder performance top
Intro Specs Finder Performance Compared Recommendations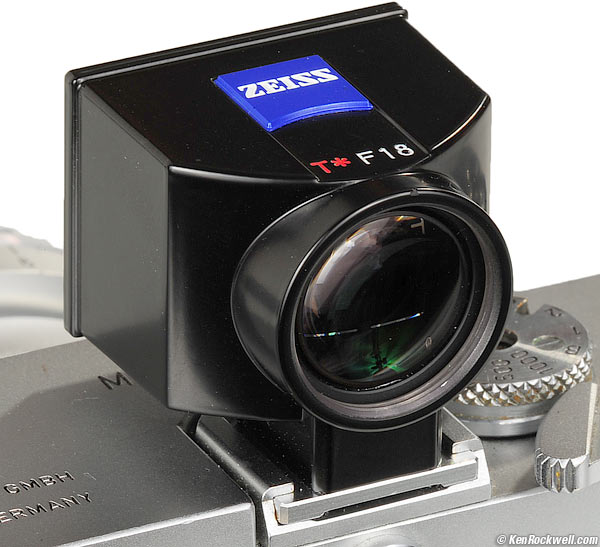 Zeiss 18mm finder on a Leica M3. enlarge.
Zeiss' 18mm finder is great (youy can get it here). I prefer it to Leica's 18mm finder. The Zeiss finder is bigger, brighter, less distorted and has no graffiti in it compared to the Leica 18mm finder.
The big, bright Zeiss 18mm finder is all metal and multicoated glass. Its markings are engraved and everything is well painted.
A nice touch is that there is a big white line drawn on the right side to replace the shutter-dial index that it may cover.
When looking through the Zeiss 18mm finder, all you see is a big, sharp, bright rectangular image with a silvered frame line around it. There is a dashed parallax guide at the top, too. There is less distortion than I expected.
I have to move my eye a little bit to see each side's frame line, but no big deal. I compose looking at how things arrange in the big picture, not looking for minute details.
The finder is calibrated as I want it: I get a somewhat more on film than it suggests. It is much "looser" than Leica finders, which give me closer to what I get on my mounted slides.
Zeiss' 18mm finder is only slightly wider than Leica's fixed 21mm finders. When compared to the Leica Universal Wide finder, the Zeiss 18mm finder is slightly tighter than the Leica Universal Wide Finder's 18mm setting.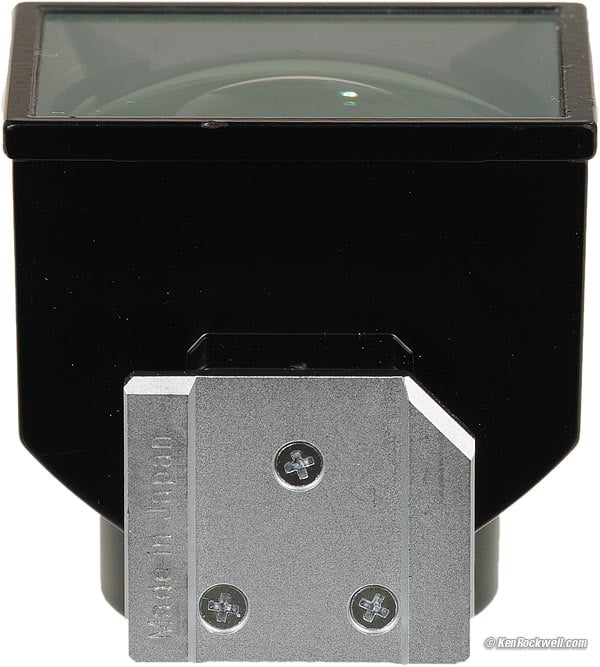 Bottom, Zeiss 18mm Finder.
The Zeiss finder is superior. The Zeiss 18mm finder is a clear, dedicated 18mm finder. There are no distracting marks for anything else inside it.
The Leica dedicated 18mm finder has idiot marks for the view of a 24mm lens drawn inside its 18mm frame lines. Leica must think its customers are dim-witted; Leica draws this graffiti inside their 18mm finder because Leica doesn't want to alert M8 users that 18mm lenses only work like 24mm lenses on the half-frame M8, so Leica doesn't want to suggest that M8 users buy a proper 24mm finder instead of an 18mm finder. Leica Men would never try to economize by swapping one finder between full-frame and half-frame cameras; the Leica Man acquires two finders, one optimized for each camera. The Leica man has no need for a cluttered finder for the wrong lens.
If you use an M8, use a dedicated Leica 24mm finder, not an 18mm finder. They are the same price. Even Leica's inexpensive 21-24-28mm zoom finder has a much bigger view than the 18mm Leica finder's 24mm cut-out.
The dedicated Zeiss 18mm finder is much better than the $1,000 Leica Universal Wide Finder. The Zeiss 18mm finder has a much bigger, much brighter and much less distorted view then the Leica Universal Wide Finder.
Finder Blockage performance top
There is only minimal blockage when the Zeiss 18mm finder is used.
Avoid using the hood, since you'll see it in the bottom of your finder.
Focus performance top
The focus ring feels great. One fingertip is all it takes to flick it.
Focus is very fast and sure. A small twist of the ring leads to a huge movement in the rangefinder. Focus is faster and less precise than Leica's standard.
The focus ring goes from infinity to 0.5 meters in just 100,º which is almost twice as fast as most Leica lenses.
There is no focus tab; just a knurled ring. You can use one or two fingers, unlike with Leica, where you have only the tab for focus.
Lateral Color Fringes performance top
I can't see anything worth mentioning at 40x magnification, although I might almost see some green.
Mechanics and Construction performance top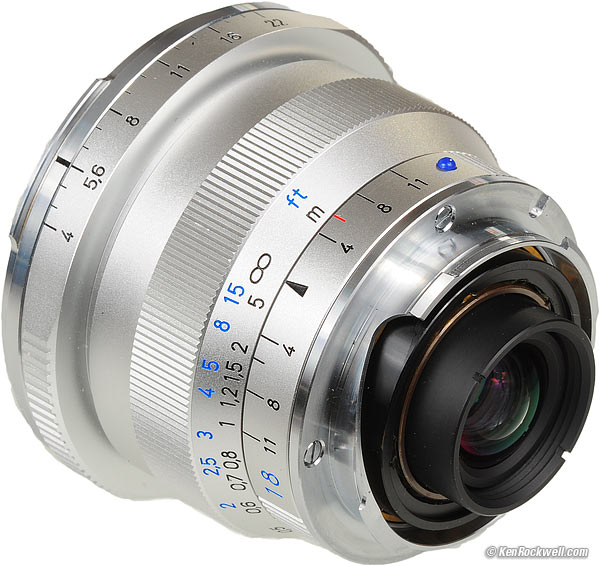 Rear, Zeiss 18 4 M. enlarge.
The Zeiss 18 4 is made very well, much better than Leica's Summarit M lenses.
Everything is tight, smooth and solid.
Unlike AF lenses, this lens feels like one solid ball of metal. Nothing wiggles, vibrates or clatters.
Hood: Anodized aluminum. Bayonets over front of lens.
Hood Bayonet Mount: Chromed metal.
Filter Threads: Chromed metal.
Barrel: Black or silver anodized aluminum.
Focus Ring: Anodized aluminum with triangular ribbing.
Focus Tab: None.
Aperture Ring: Anodized aluminum.
Focus Helicoids: Brass.
Other Internals: Metal.
Mount: Chromed brass.
Mounting Index Dot: Blue plastic ball.
Markings: Engraved and filled with paint.
Made in: Japan.
Peripheral Color Shift performance top
I see very little peripheral color shift, and what little there is is very gradual, which is good. It seems to shift towards green.
Peripheral color shift is common in ultra-wide lenses because the lens coatings become less efficient at weird angles in the corners, often causing a shift towards blue in the corners.
Sharpness performance top
This Zeiss 18mm f/4 lens is sharp!
It's sharp even at f/4, and even in the far corners of the full 35mm frame.
The half-frame M8's corners are still in the middle of this lens' image.
The only way to make this lens unsharp is to stop down too far, like f/22 if you don't need it, in which case diffraction limits performance as it does with every lens.
Sunstars performance top
The 10-bladed diaphragm begets sharp, 10-pointed sunstars.
Usage top
Intro Specs Finder Performance Compared Recommendations
Screw on your choice of filter and go.
The Zeiss finder is clear and uncluttered, and the focus and aperture are easy.
The process never gets in the way of a great image, as I fear it will with the Leica 18mm and its corny filter adapters.
Since 58mm is an odd filter size in Leica, you may want to use step-up rings for your other lenses to bring everything up to the same size.
On the M8
On the M8, this is only a 24mm lens.
Use a dedicated Leica 24mm finder, or the Leica Zoom Finder set to 24mm. Either gives a bigger, clearer image than Leica's 18mm finder and its 24mm cut-out.
Don't use Zeiss' or Leica's 18mm finder; these are for true Leica photographers shooting full-frame, not the M8, even though Leica shows this in the Leica 18mm brochure.
Compared top
Intro Specs Finder Performance Compared Recommendations
Let's compare the Zeiss 18mm to the Leica 18mm ASPH, the Leica 16-21mm zoom, and Leica's 21mm f/2.8 ASPH:
| | | | | |
| --- | --- | --- | --- | --- |
| | Zeiss 18mm | | | |
| Made by | Cosina | Leica | Leica | Leica |
| Made in | Japan | Germany | Germany | Germany |
| Price (2/09) | | | | |
| | - | - | - | - |
| Optics | 10/8 | 8/7, 2 aspheric surfaces | 10/7, 2 aspheric surfaces. | 9/7, 1 aspheric surface |
| Rated Distortion | | | | |
| Rated Falloff, wide open | | | | |
| Rated Falloff, f/5.6 (f/8) | | | | |
| Maximum aperture | f/4 | f/3.8 | f/4 | f/2.8 |
| Minimum Aperture | f/22 | f/16 | f/22 | f/16 |
| Diaphragm Blades | 10 | 9 | 8? | 8 |
| | - | - | - | - |
| Focus by | 2-Finger Ring | 1-Finger Lever | 1-Finger Lever | 1-Finger Lever |
| Close Focus | 0.5m | 0.7m | 0.5m | 0.7m |
| | - | - | - | - |
| Filter Thread | 58mm | None (77mm w/optional holder) | None (67mm w/optional holder) | 55mm |
| Length | 46.3mm | 49mm | 62mm | 46mm |
| Diameter | 65mm | 61mm | 54mm | 58mm |
| Weight | 323g | 310g | 335g | 317.4g |
Comparing rated MTFs, which is always dangerous since every maker measures or calculates them differently, the Zeiss and Leica 18mm lenses are identical in the center and throughout most of their images, with the Zeiss slightly behind at the corners wide-open. At f/8, they are the same throughout the entire image.
Recommendations top
Intro Specs Finder Performance Compared Recommendations
Want the best 18mm lens for your Leica? I suspect this is it. In a few weeks I ought to have a Leica 18mm here at the lab and be able to let you know for sure.
If you get this 18mm lens, don't try to shoot any other ultrawide at the same time. You'll go crazy swapping viewfinders. Shoot this 18mm, or a 15mm, or a 21mm, but don't carry more than one at a time, even if you have the Leica Universal Wide Finder.
Use a Nikon 58mm front cap because it's easier to use than Zeiss.'
I'd use a 58mm 81A B+W filter for slide film.
I'd use any 58mm B+W brand yellow filter for B&W film outdoors or a 58mm Hoya HMC UV filter indoors.
I'd use a 58mm Hoya HMC UV filter for color print film, but why would anyone shoot color print film with a Zeiss lens?
I wouldn't bother with a digital Leica until they come out with a full-frame body, and even then film is more fun, but that's just me. I'm told digital shooters today need to use a 58 mm UV/IR filter to correct for a design flaw in the M8.2's sensor system design.
More Information: Zeiss' Technical Data.
PLUG top
I support my growing family through this website.
If you find this as helpful as a book you might have had to buy or a workshop you may have had to take, feel free to help me continue helping everyone.
If you've gotten your gear through one of my links or helped otherwise, you're family. It's great people like you who allow me to keep adding to this site full-time. Thanks!
If you haven't helped yet, please do, and consider helping me with a gift of $5.00.
The biggest help is to use these links to Adorama, Amazon, B&H, Calumet, Ritz and J&R when you get your goodies. It costs you nothing and is a huge help. These places have the best prices and service, which is why I've used them since before this website existed. I recommend them all personally.
Thanks for reading!
Ken
Home Donate New Search Gallery How-To Books Links Workshops About Contact