Home Donate New Search Gallery Reviews How-To Books Links Workshops About Contact
Canon 135mm f/2 L
EF L USM (1996-today)
© 2011 KenRockwell.com. All rights reserved.
Intro Specs Performance Usage Compared Recommendations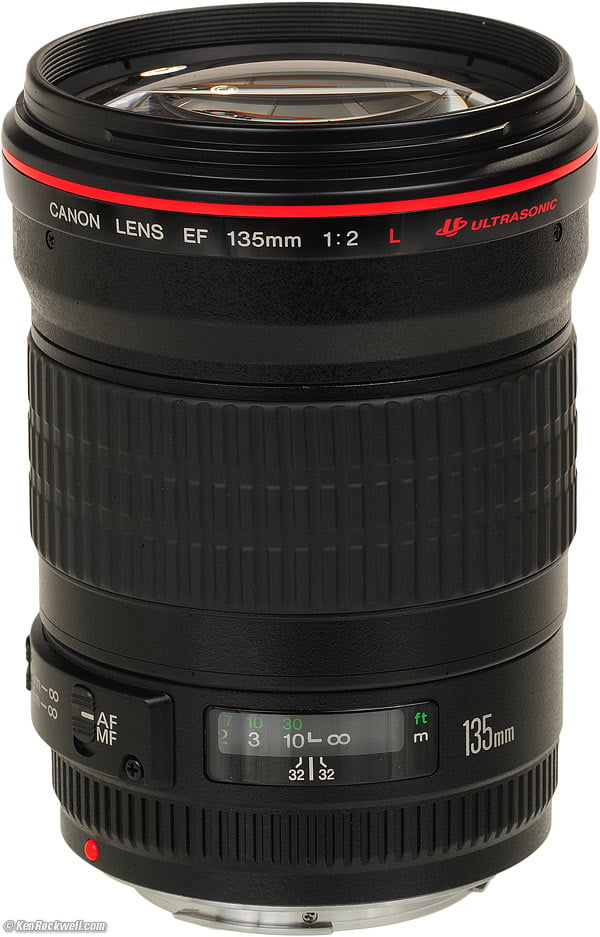 Canon EF 135mm f/2 L USM (72mm filters, 0.9m/3' close-focus, 25.0 oz./708g, about $1,035.) enlarge. This free website's biggest source of support is when you use these links, especially these directly to it at Adorama or at Amazon, when you get anything, regardless of the country in which you live. Since it's been made for 15 years, there are also plenty available used at eBay (see How to Win at eBay). Thanks! Ken.
January 2015 More Canon Reviews Canon Lenses All Reviews
Good
One of Canon's best lenses, the 135/2 L has superb optics in a compact package with great ergonomics and immediate autofocus. Lenses like these simply aren't available for Nikon, which is why so many professional photographers prefer Canon cameras. All of Nikon's 135mm lenses have goofy autofocus controls.
Bad
Plastic filter thread. Costs $1,035, but lens prices only go up over time. Get one now while you can and you'll be glad you did.
| | |
| --- | --- |
| Optics: | |
| Mechanics: | |
| Ergonomics: | |
| Usefulness: | |
| Availability: | |
| Overall: | |
Introduction top
Intro Specs Performance Usage Compared Recommendations
Don't take my word for it, ask anyone else who owns this lens and he'll tell you it's one of Canon's best lenses of all time. Great lenses like this are why so many people shoot Canon cameras; Nikon simply has nothing that competes with this.
The Canon 135mm f/2 L is extraordinarily good optically, and it's small and light, feels great in-hand, has great ergonomics, and autofocus is immediate regardless of how far the AF system needs to rack the lens in or out. Just like any other virtuoso, the Canon 135/2 L makes everything it does look easy, regardless of how hard it is for Canon to make this lens this good.
AF is almost silent as well as immediate, and you can grab the big manual focus ring for instant manual focus override at any time.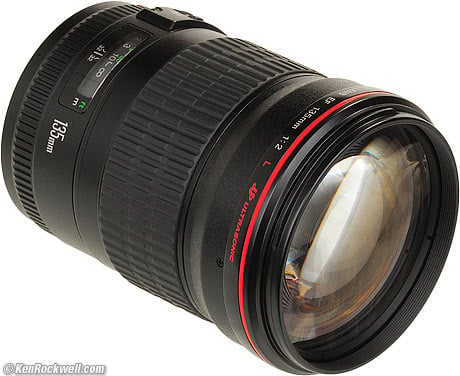 Canon 135mm f/2 L . enlarge.
Compatibility
This Canon EF EOS 135mm f/2 L works perfectly with every Canon EOS camera ever made, meaning every Canon DSLR and every Canon autofocus film camera made since 1987.
This means of course it works great on today's 5D Mark II and Canon 7D, but it works just as well on my original Canon EOS 620 from 1987! I know; I tried it, and autofocus, exposure automation, metering and depth-of-field preview all work perfectly.
Specifications top
Intro Specs Performance Usage Compared Recommendations
Name
Canon calls this the CANON LENS EF 135mm f/2 L ULTRASONIC.
EF means "electronic focus," meaning that there is an autofocus motor in the lens itself. All Canon lenses since 1987 have been EF.
L only means as expensive as L; it means nothing technically.
Ultrasonic means Ultra-Sonic Motor (USM). This means autofocus is almost silent, and you can grab the big focus ring for instant manual focus override at any time.
Optics top
10 elements in 8 groups.
Multicoated, mostly in amber.
Internal focus: nothing moves externally as autofocused.
Two UD glass elements.
Close Focus top
3 feet (0.9m), marked.
Maximum Reproduction Ratio top
1:5.26.
Extension Tubes
Use the Canon EF12 II to get close-ups to 0.69 meters or about 0.29x life-size at the image sensor.
Use the Canon EF25 II to get close-ups to 0.58 meters or about 0.41x life-size at the image sensor.
Close-up Lenses
Use the Canon 500D to get close-ups of about one-quarter to one-half life-size at the image sensor.


Angle of View (on 35mm and full-frame cameras)
18º diagonal.
15º horizontal.
10º vertical.
Teleconverters
The Canon EF 1.4x II makes this a 189mm f/2.8 lens with an 0.27x maximum reproduction ratio.
The Canon EF 2x II makes this a 270mm f/4 lens with an 0.38x maximum reproduction ratio.
Diaphragm top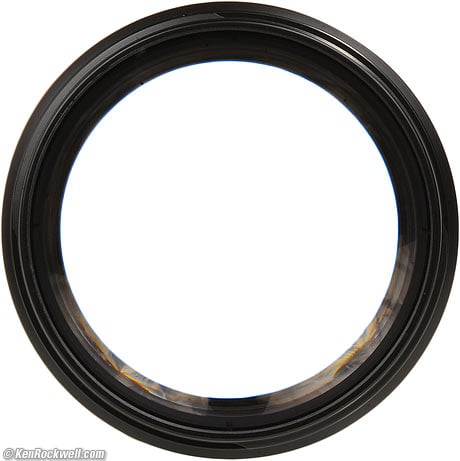 135mm f/2 wide-open at f/2. (EF diaphragm not visible). enlarge.
8 conventional blades.
Stops down to f/32.
Hard Infinity Focus Stop? top
No.
You have to let the AF system focus for you at infinity.
Focus Scale top
Yes.
The ring turns from near to far in about 120.º
Depth-of-Field Scale top
No, unless you consider two tiny ticks right next to each other for f/32 as a "scale."
Infra-Red Focus Index top
No.
Filter Thread top
72mm.
Plastic.
Does not move, ever.
Size top
Canon specifies 3.2" (82.5mm) diameter by 4.4" (112mm) long.
Weight top
24.960 oz. (707.6g), measured.
Canon specifies 26.5 oz. (750g).
Hood top

$40 plastic clip-on ET-78 II, included.
Case top
$33 LP1219 sack, included.
Caps top
Standard 72mm ET-72U front, included.
Standard EOS cap rear.
Tripod Collar top
There is no tripod collar available; it's not needed.
Introduced top
1996.
Quality top
Lens made in Japan.
Price, USA top
$999 after rebate, January 2015.
$1,035, September 2011.
128,000 Yen catalog price at introduction in 1996.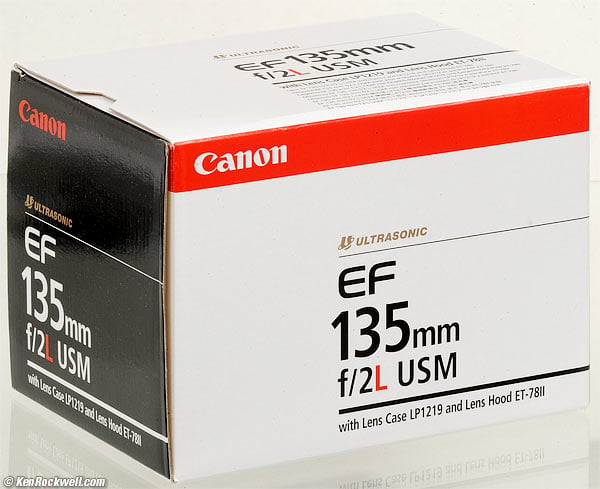 Box, Canon 135/2 L.

Performance top

Intro Specs Performance Usage Compared Recommendations

Overall Autofocus Bokeh Breathing Color Distortion

Ergonomics Falloff Filters Lateral Color Fringes

Mechanics Sharpness Spherochromatism Sunstars

Overall performance top

The Canon 135mm f/2 L is optically superb and handles great. I wish everything were this good.

Autofocus performance top

Autofocus is fast and silent, as we take for granted with Canon.

Auto/Manual Switching

Just grab the focus ring at any time if you want manual-focus override.

Only move the AF-MF switch if you want to disable the camera from auto focusing.

AF Speed

AF is fast!, as Canons always are.

The AF motor is silent. All you'll hear is some internal sliding.

AF Accuracy and Consistency

I saw no autofocus offset on my Canon 5D Mark II.

Especially at f/2, all my shots are dead-on.

Manual Focus

Manual focus is easy; just grab the ring.

It takes only 120º to go from end-to-end of the focus scale.

Bokeh performance top

Bokeh, the quality of out-of-focus areas as opposed to the degree of defocus, is superb. Backgrounds just melt away.

Out-of-focus backgrounds and foregrounds are soft and undistracting, which is much better than most LEICA lenses.

Here are full-frame (5D Mark II) images focused at 1.5 meters, with synthetic vegetation at 10 meters: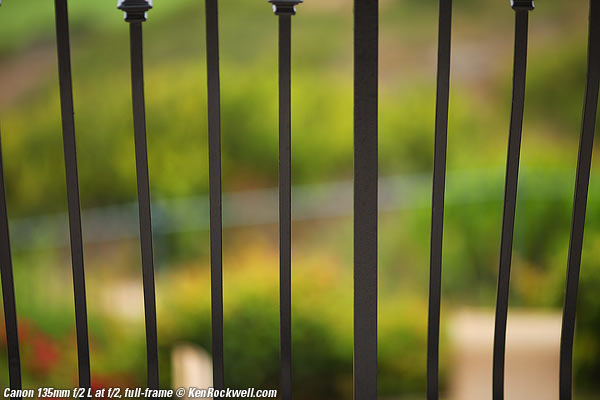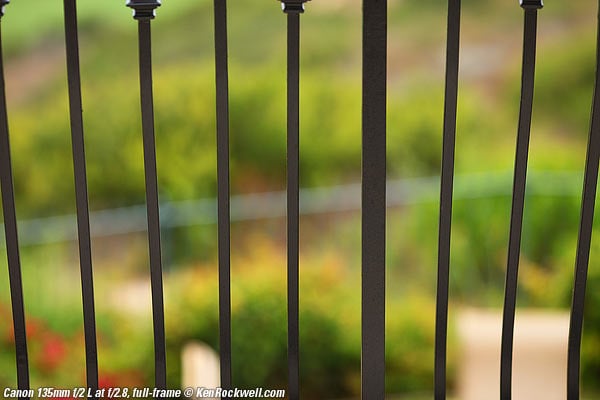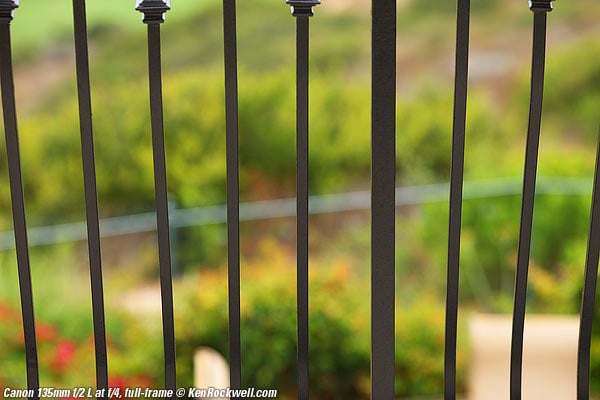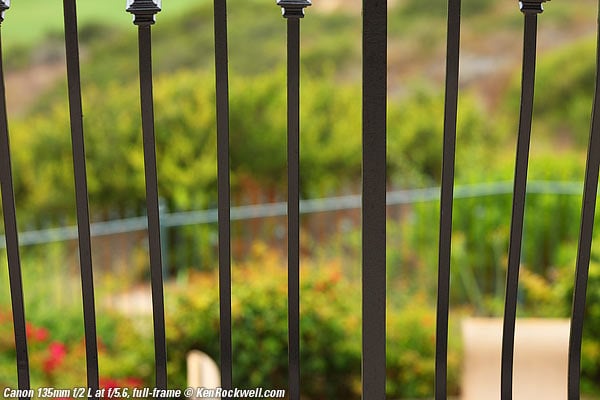 Not apparent in these small on-screen examples is that the backgrounds are always soft and undistracting, even at smaller apertures like f/5.6.
Focus Breathing performance top
Focus breathing, when the image changes size as focused, is mostly of interest to cinematographers who don't want the image changing size ("breathing") as the lens is focused among different subjects.
The image from the Canon 135mm f/2 L gets larger as focused more closely
Color Rendition performance top
The color balance of this 135mm f/2 L seems the same as my other Canon EF lenses.
Distortion performance top
The Canon 135mm f/2 USM has no visible distortion.
For more critical sceintific analysis, use these values in Photoshop's Lens Distortion tool to remove it completely:
© 2011 KenRockwell.com. All rights reserved.
Ergonomics performance top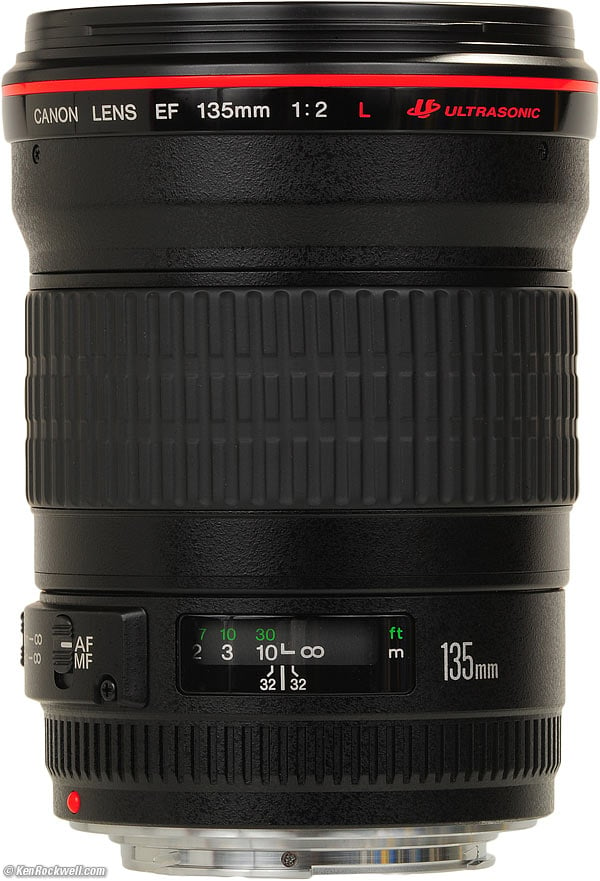 Canon 135/2 L. enlarge.
Ergonomics are perfect. I wish everything was this nice. Just shoot.
It feels great. Just grab the ring for manual focus, and the AF - MF switch falls right under your thumb.
Falloff (darkened corners) performance top
Falloff is visible at f/2, and gone by f/2.8.
My Canon 5D Mark II (at least as of firmware 2.0.4) doesn't have the data to correct this in its Peripheral Illumination Correction menu option, and I'm sure the data is available if you really cared. I don't care enough to stop shooting and fiddle with a computer to download anything.
I've greatly exaggerated this by shooting a flat gray target and presenting it against a gray background.
Canon 135mm f/2 falloff on full-frame, no correction.
© 2010 KenRockwell.com. All rights reserved.
Filters, Use with performance top
Filters are easy.
The threads don't move, and there isn't any problem with vignetting. Feel free to use thick rotating filters or stacked filters.
The threads are plastic, so be careful not to cross-thread anything.
Lateral Color Fringes performance top
Better than many Canon lenses, there are no lateral color fringes as seen on my Canon 5D Mark II.
Mechanics performance top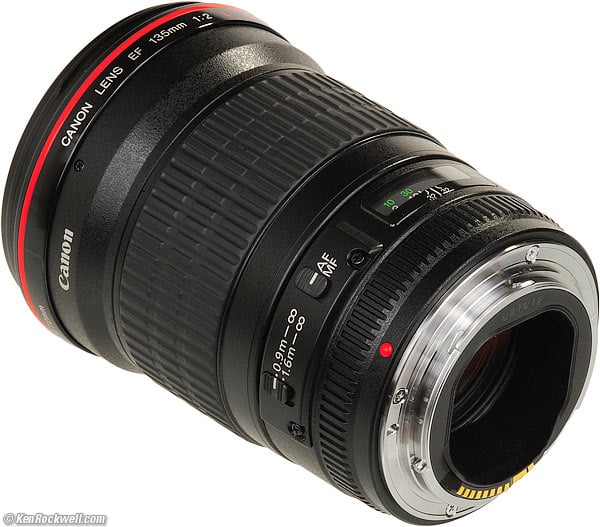 Rear, Canon 135 f/2 L. enlarge.
The Canon 135mm f/2 L is made as well as any Canon EF lens.
Filter Threads and Hood Mount
Plastic.
Forebarrel
Plastic.
Focus Ring
Metal, rubber-covered.
Rear barrel
Plastic.
Internals
Seem like metal.
Mount
Chromed metal.
Markings
Paint.
Serial Number
Engraved into the bottom rear of lens mount and filled with white paint.
Date Code
Yes, hot-stamped into the rear light shield.
Use the Canon Date Code Converter to find your lens' birthday.
This sample is stamped XA1012, meaning October 2009.
Moisture seal at mount
No.
Noises When Shaken
Minor clunking.
Made in
Japan.
Sharpness performance top
Lens sharpness doesn't matter much, but it sure distracts amateurs worrying about it.
As shot on the 5D Mark II under test conditions at infinity, the Canon 135mm f/2 L is super-sharp, even at f/2.
The sharpness of the 135mm f/2 L doesn't vary much except from diffraction at f/11 and smaller. It's just as sharp and contrasty at f/2 in the center as it is at f/8.
Depending on your particular sample, the sides at f/2 on full-frame can be slightly less sharp, but you'll never see this unless you're shooting flat subjects that are actually in perfect focus on the sides. If you're shooting test targets (or landscapes at infinity), the sides get sharper as stopped down; but they're still OK at f/2, and the 135/2's complete lack of lateral color fringes is far more important.
The biggest detriment to sharpness will be lack of proper focus, subject motion, and atmospheric thermal shimmer at long distances.
Here is Canon's claimed MTF curve: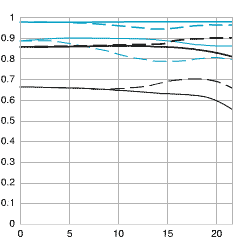 MTF Curve.
Spherochromatism performance top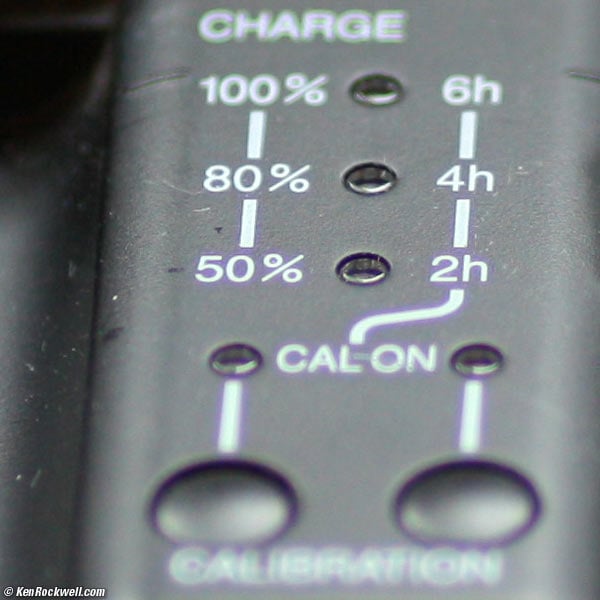 Crop from the center of a 100% 5D Mark II image at f/2.
As expected for a fast, long lens, there is some very minor spherochromatism.
Spherochromatism, also misnamed "color bokeh" by laymen, is when out-of-focus highlights take on color fringes. The Canon 135/2 L behaves as usual, with slight green fringes on background highlights, and slight magenta fringes on foreground highlights. This helps improve bokeh with foliage in the background.
Spherochromatism is a completely different aberration from lateral color fringes.
Sunstars performance top
With its conventional 8-bladed diaphragm, this Canon 135mm f/2 L will make sunstars on brilliant points of light.
Usage top
Intro Specs Performance Usage Compared Recommendations
Leave the AF - MF switch in AF. When set to MF, it disables the AF system. You always can get to MF in the AF position simply by grabbing the focus ring.
The "0.9 - ∞" and "1.6m - ∞" switch is a focus limiter.
Leave it at "0.9 - ∞" unless the focus is taking too long hunting for your subject. The "1.6m - ∞" position prevents the lens from focusing any closer than 1.6m (5 feet), so it can rack in and out a little faster since it skips the closer range. This switch is ignored in manual focus.
Compared top
Intro Specs Performance Usage Compared Recommendations
The Canon 100mm f/2 is smaller, lighter, focuses very slightly faster and sells for less than half the price. Compared head-to-head at the test range, the sharpness of the 100/2 USM is the same as this 135mm f/2 L lens. The less expensive 100/2 has metal filter threads, while this 135/2 L is the only lens compared here with plastic filter threads.
By paying more for this 135mm lens, you're getting more magnification (135mm versus 100mm), higher magnification at the closest focus distance, the ability to stop down to f/32 and better bokeh.
Canon 135/2 L

Anni

1996-

1991-

1990-

1975-2005

Autofocus

USM

USM

none

Manual Focus Override?

Yes

Yes

No, must unlock and rotate a control ring

always

Sharpness

Excellent

Excellent

Excellent

Softer at f/2

Diaphragm

8 blades

8 blades

9 rounded

9 blades

f/minimum

f/32

f/22

f/16

f/22

Distortion @ 3m

-0.5

0.0

0.0

-0.8

Falloff

Very good

Very good

Very good

Excellent

Bokeh

Excellent

Good

Excellent

Excellent

Filter Threads

72mm
Plastic

58mm
Metal

72mm
Metal

72mm
Metal

Barrel

Plastic and metal

Plastic and metal

Metal

Metal

Length

112mm

73.5mm

120mm

93.5mm

Diameter

82.5mm

75mm

79mm

81mm

Weight

25.0 oz.
708g

14.7 oz.
417g

28.9 oz.
818g

30.2 oz.
855 g

Close Focus

0.9m

0.9m

1.1m

1.3m

Price, 9/2011

$450-900(used)

Price, 01/2015

$450-900(used)
Recommendations
top
Intro Specs Performance Usage Compared Recommendations
The Canon 135mm f/2 L USM is a favorite lens on many professional photographers because of its fabulous optics, great ergonomics and small size. The Canon 135/2 is legendary.
If money matters, the Canon 100mm f/2 is also an extraordinary and very similar lens for less half the price.
More Information:
Canon's 135/2 L Instruction Manual.
Help me help you top
I support my growing family through this website, as crazy as it might seem.
The biggest help is when you use any of these links to Adorama, Amazon, eBay, Ritz, Calumet, J&R and ScanCafe when you get anything, regardless of the country in which you live. It costs you nothing, and is this site's, and thus my family's, biggest source of support. These places have the best prices and service, which is why I've used them since before this website existed. I recommend them all personally.
If you find this page as helpful as a book you might have had to buy or a workshop you may have had to take, feel free to help me continue helping everyone.
If you've gotten your gear through one of my links or helped otherwise, you're family. It's great people like you who allow me to keep adding to this site full-time. Thanks!
If you haven't helped yet, please do, and consider helping me with a gift of $5.00.
As this page is copyrighted and formally registered, it is unlawful to make copies, especially in the form of printouts for personal use. If you wish to make a printout for personal use, you are granted one-time permission only if you PayPal me $5.00 per printout or part thereof. Thank you!
Thanks for reading!
Mr. & Mrs. Ken Rockwell, Ryan and Katie.
Home Donate New Search Gallery Reviews How-To Books Links Workshops About Contact