Home Donate New Search Gallery Reviews How-To Books Links Workshops About Contact
Canon 100-300mm
Full-Frame EF USM (1990-2008)
© 2014 KenRockwell.com. All rights reserved.
Intro Specs Performance Compared Usage Recommendations More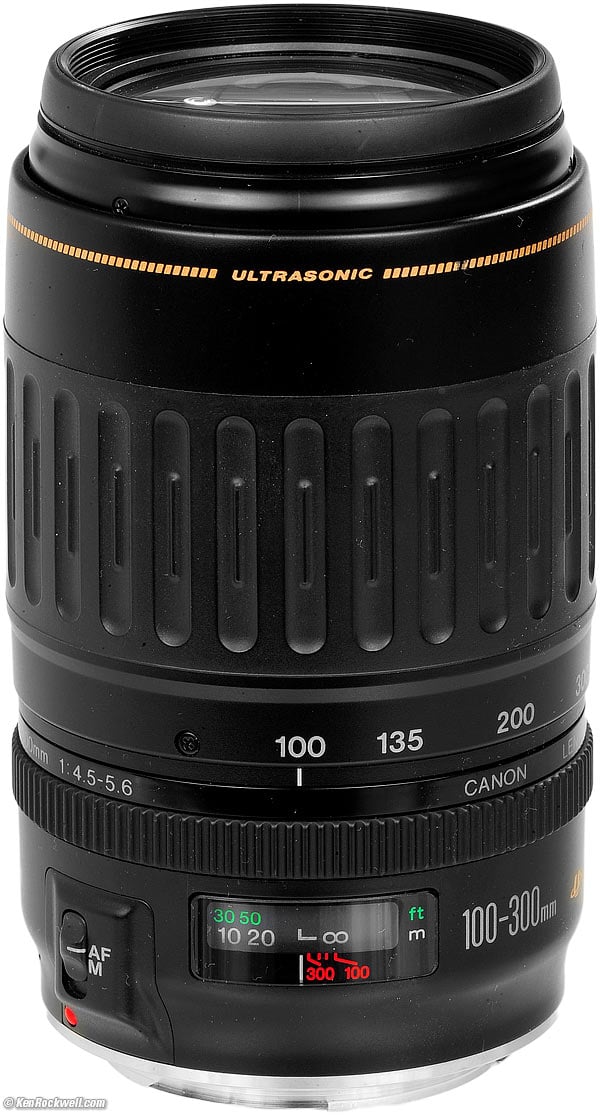 Canon EF 100-300mm f/4.5-5.6 USM (58mm filter thread, 17.8 oz./504g, 5'/1.5m close focus, about $75 used). enlarge. I'd get it at this link directly to them at eBay (see How to Win at eBay) or at this link to them at Amazon.
My biggest source of support for this free website is when you use those or any of these links when you get anything, regardless of the country in which you live. It helps me keep adding to this free website when you get your things through these links — but I receive nothing for these efforts if you buy elsewhere. Thanks for your support! Ken.
July 2014 Canon Reviews Canon Lenses All Reviews
Introduction top
Intro Specs Performance Compared Usage Recommendations More
The Canon 100-300mm USM is a sleeper full-frame telephoto zoom lens. With the automatic lens correction of today's full-frame digital cameras, this lens works far better today than it ever did on 35mm film — and for about $75 used, it's the steal of the century.
It's a fast-focussing, close-focusing, lightweight and long focal-length tele ideal for many things, especially where you need a long zoom and light weight, or a low price for a high-quality lens. Ideal for digital cinematography, it has no Focus Breathing.
It was an extremely popular lens in the 1990s for use with mid-range 35mm EOS SLRs. Most of you reading this today would have bought one of these new back then, which is why we have so manu available today the therefore why they are so inexpensive used. If you know How to Win at eBay, I only paid $51 for this sample, delivered to my door!
The 100-300mm is a mid-line lens. By "mid-line," it's a lens much better than the plastic-mount junk, and only a fraction the price of Canon's L lenses. Full-frame mid-line lenses aren't made anymore, so today we have little choice other than the L lenses or the junky 75-300mm lenses.
This lens has a metal mount and a mostly plastic barrel.
It has instant manual-focus override; just flick the focus ring with a fingertip for instant manual focus at any time — much better than today's inexpensive teles from Canon.
It works with all Canon EOS cameras, meaning every DSLR of any format, as well as every 35mm autofocus SLR from 1987's EOS 650 to today's EOS 1V, 6D and 5D Mark III.
Canon has made many other 100-300mm lenses before this one. This is the newest, with an 8-bladed diaphragm, USM focus motor and instant manual-focus override.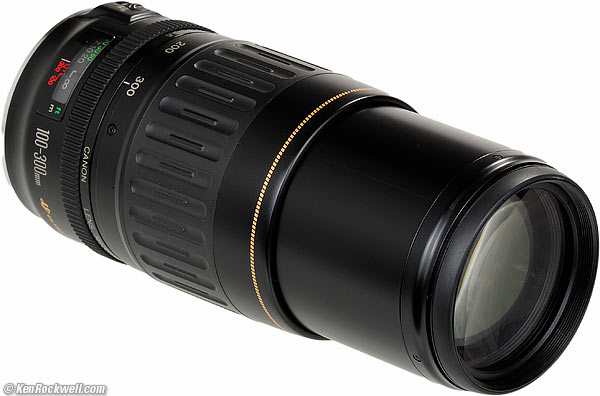 Canon EF 100-300mm USM zoomed to 300mm. bigger.
Specifications top
Intro Specs Performance Compared Usage Recommendations More
Name
Canon calls this the Canon Zoom Lens EF 100-300mm USM ULTRASONIC (USM).
EF: Electronic Focus. All modern Canon lenses focus with a motor in the lens.
ULTRASONIC (USM): UltraSonic focus Motor. The focus motor is silent.
Optics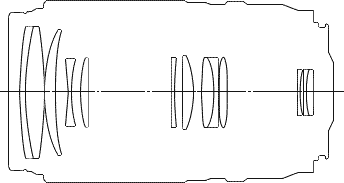 Canon EF 100-300mm USM internal diagram.
13 elements in 10 groups.
Internal focus, nothing moves externally as focussed.
Diaphragm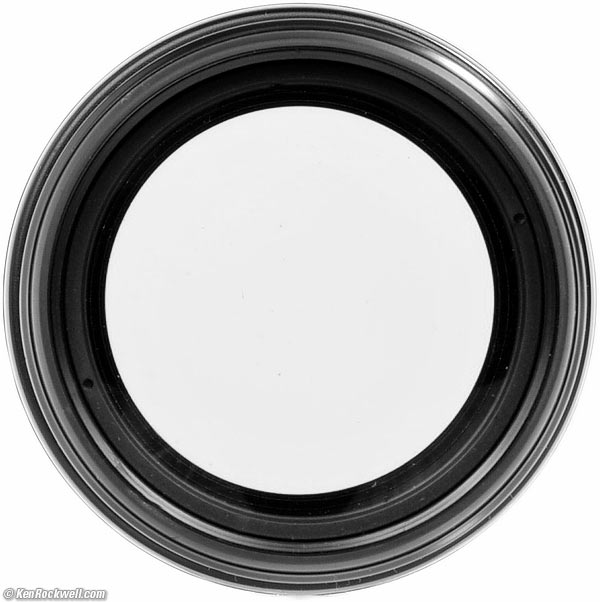 Front, Canon 100-300 USM at 300mmm (EF diaphragm not visible).
8 straight blades.
Stops down to f/32-40.
Close Focus
5 feet (1.5m).
Maximum Reproduction Ratio
1:3.8 (0.26x).
Focal Length
100-300mm.
On APS-C cameras, it gives angles of view similar to what an 150-450mm lens would give on a 35mm or full-frame camera. See also Crop Factor.
Angle of View
24 - 8.2º on full-frame.
Maximum Aperture
f/4.5-5.6.
Size
2.9" (73mm) diameter x 4.8" (121.5mm).
Weight
17.775 oz. (503.9g), actual measured.
Rated 19.0 oz. (540g).
Announced
June 1990.
Canon Item Code
2565A003, model 21496F.
Performance top
Intro Specs Performance Compared Usage Recommendations More
Overall Autofocus Bokeh Breathing Color
Distortion Ergonomics Falloff Filters
Lateral Color Fringes Macro Max & Min Apertures
Overall performance top
The Canon 100-300mm USM is optically wonderful in the center, while if you want to split hairs, it can be softer at the sides — but few things are in focus on the sides to worry about anyway.
Ergonomically it's a dream; just grab and go and and you've got 300mm in your hands.
It has no Image Stablization, so you'll want to be sure to shoto at at least 1/250 to 1/500 at the 300mm end.
Focus performance top
AF is fast, silent and accurate.
AF Speed
Autofocus is nearly instantaneous, as well as nearly silent.
Auto/Manual Switching
Just grab the focus ring anytime for instant manual-focus override.
To lock it into manual mode only, move the switch on the lens, by your thumb.
Bokeh performance top
Bokeh, the quality of out-of-focus areas as opposed to the degree of defocus, is quite good, especially at the 300mm end.
Focal length is far more important than aperture, so try your head shots at 300mm and you'll be quite pleasantly surprised compared to what you get on a 70-200 at 200mm and f/2.8.
Color Rendition performance top
The color balance of this 100-300 seems the same as my other Canon EF lenses.
Distortion performance top
The Canon 100-300 USM has minor barrel distortion:
For more critical use, use these values in Photoshop's Lens Distortion tool to remove the distortion. These aren't facts or specifications, they are the results of my research that requires hours of photography and calculations on the resulting data.
| | | |
| --- | --- | --- |
| | | at infinity |
| 100mm | -1.5 | -1.5 |
| 135mm | -2.5 | -2.5 |
| 200mm | -4.0 | -4.0 |
| 300mm | -4.0 | -4.0 |
© 2014 KenRockwell.com. All rights reserved.
As the table shares, the distortion doesn't change with distance.
Ergonomics performance top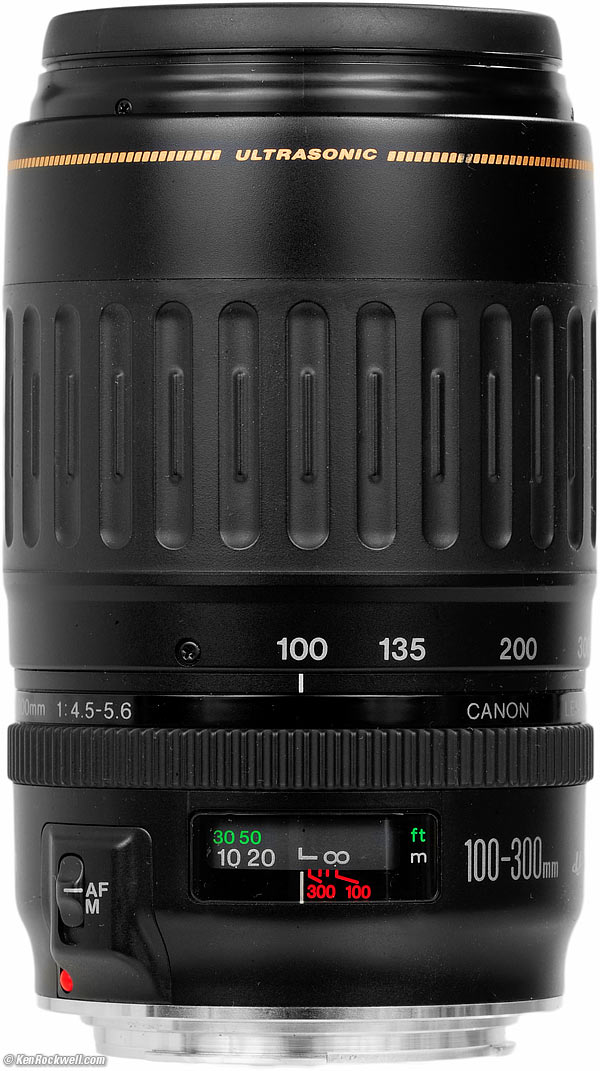 Canon EF 100-300mm USM. bigger.
Ergonomics are fantastic.
Most of the lens is the zoom ring; just grab and go. Zooming is more precise than it is fast.
The narrow ring towards the rear is the manual focus ring. It takes but a fingertip to slide it back and forth for manual focus.
I wish my more expensive L lenses handled this well!
Falloff (darkened corners) performance top
There is strong falloff wide-open. This was a problem on 35mm film, since we usually had to shoot wide open to hand-hold, and then we had no easy way to correct it.
On a DSLR with an automatic correction profile like the 6D, 5D Mk III and 1DX, the falloff goes away! This is one of ways that this lens works so much better today than it ever did when new.
I've greatly exaggerated the falloff by shooting a flat gray target and presenting it against a gray background:
Canon 100-300mm USM falloff on Full-Frame
Uncorrected
| | | | |
| --- | --- | --- | --- |
| | | f/5.6 | f/8 |
| 100mm | | | |
| 135mm | | | |
| 200mm | max. is f/5.6 -> | | |
| 300mm | max. is f/5.6 -> | | |
© 2014 KenRockwell.com. All rights reserved.
Corrected with profile in 5D Mk III
| | | | |
| --- | --- | --- | --- |
| | | f/5.6 | f/8 |
| 100mm | | | |
| 135mm | | | |
| 200mm | max. is f/5.6 -> | | |
| 300mm | max. is f/5.6 -> | | |
© 2014 KenRockwell.com. All rights reserved.
Filters, Use with performance top
There's no problem with vignetting even with a stack of several filters.
There's no need for thin filters; regular thick and rotating filters work great.
Focus Breathing performance top
Focus breathing (the image changing size as focused) is mostly of interest to cinematographers who don't want the image changing size ("breathing") as the lens is focused among different subjects.
More good news: I can't see any focus breathing in this lens!
Lateral Color Fringes performance top
The lens profile corrects this automatically.
On my 5D Mark III with a lens profile loaded, there is no lateral color fringing at 100mm.
There is a tiny bit of magenta-green at 200mm and 300mm.
Macro performance top
With a maximum repro ratio of just over 1/4 life-size, it gets very close at the 300mm setting.
Maximum and Minimum Apertures top
| | | |
| --- | --- | --- |
| | Maximum Aperture | Minimum Aperture |
| 100mm | f/4.5 | f/32 |
| 135mm | f/5 | f/36 |
| 200mm | f/5.6 | f/40 |
| 300mm | f/5.6 | f/40 |
Mechanics performance top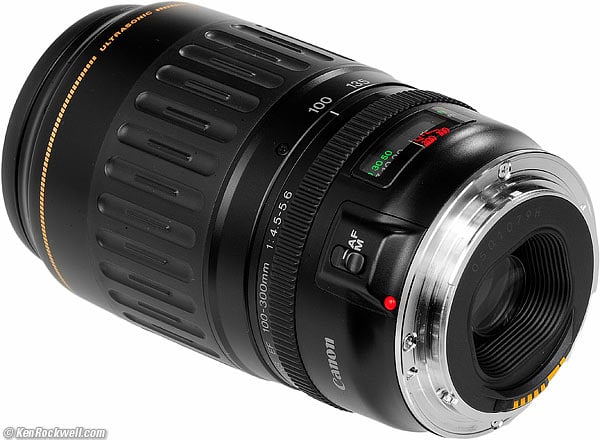 Rear, Canon 100-300 USM. enlarge.
The Canon 100-300 USM is mostly plastic, with a metal mount.
Filter Threads
Plastic.
Hood Mount
Plastic.
Identity Ring
Painted on plastic ring near the focus ring.
Focus Ring
Rubbery plastic.
Barrel
Plastic.
Moisture seal at mount
No.
Mount
Chromed metal.
Markings
Paint.
Serial Number
Hot-stamped into the rear black plastic light shield.
Date Code
None found.
Noises When Shaken
Mild clunking.
Made in
Made in Japan.
Sharpness performance top
Image sharpness depends more on you than your lens, and lens sharpness doesn't mean much to good photographers. It's the least skilled hobbyists who waste the most time blaming fuzzy pictures on their lenses, while real shooters know that few photos ever use all the sharpness of which their lenses are capable due to subject motion and the fact that real subjects are rarely perfectly flat.
This said, this Canon 100-300 is very sharp throughout most of the image at all apertures, but softer in the sides and corners at larger apertures. This will vary away from the center sample-to-sample and shot to shot.
If you want to impress people, sure, go ahead and buy the $2,500 70-200/2.8 IS L II to show me how smart you are, but for almost all practical purposes, the photos from this lens will be the same.
Canon's specified MTF curves:
| | |
| --- | --- |
| | |
| MTF at 100mm | MTF at 300mm |
Sunstars performance top
With its octagonal diaphragm, this Canon 100-300mm should make 8-pointed sunstars on brilliant points of light.
Compared top
Intro Specs Performance Compared Usage Recommendations More
This lens has much better ergonomics than most of the 75-300 and 70-300mm lenses which require moving a switch to get between auto and manual focus.
No, it's not as sharp as the L lenses if you're splitting hairs, but this 100-300 is smaller and lighter and much less expensive. My lightweight 70-200/4 L IS is my favorite, and this 100-300 still weighs only 2/3 as much.
Usage top
Intro Specs Performance Compared Usage Recommendations More
Prophylactic Filters
Seeing how inexpensive this lens is today, I'd use an inexpensive UV filter like the 58mm Multicoated Hoya Alpha UV.
I use a filter all the time to protect my lens against my own stupidity. I never know when something is going to hit me.
Sharpening
I shoot with JPG sharpening set to 7.


Lens Pairing
If you want historical relevance, this lens was often shot along with the 20-35mm USM, and either the 28-105 USM or 24-85mm USM midrange zooms.
See Assembling a System for more.
Recommendations top
Intro Specs Performance Compared Usage Recommendations More
This is a great little lens. It's easy to use, shoots fast and gives great results today. For under $100, you can't go wrong for use on a DSLR.
Oddly It's not that great for 35mm film, since it's slow and has no IS. For film I'd use an IS lens instead, since at 300mm you'll be at 1/250 on a good day with Velvia at f/5.6, which is the edge of where you can shoot without IS hand held.
With digital, no problem. Modern cameras update the optics of this 100-300mm and their higher ISOs eliminate the need for VR.
More Information top
Intro Specs Performance Compared Usage Recommendations More
Help me help you top
I support my growing family through this website, as crazy as it might seem.
The biggest help is when you use any of these links when you get anything, regardless of the country in which you live. It costs you nothing, and is this site's, and thus my family's, biggest source of support. These places have the best prices and service, which is why I've used them since before this website existed. I recommend them all personally.
If you find this page as helpful as a book you might have had to buy or a workshop you may have had to take, feel free to help me continue helping everyone.
If you've gotten your gear through one of my links or helped otherwise, you're family. It's great people like you who allow me to keep adding to this site full-time. Thanks!
If you haven't helped yet, please do, and consider helping me with a gift of $5.00.
As this page is copyrighted and formally registered, it is unlawful to make copies, especially in the form of printouts for personal use. If you wish to make a printout for personal use, you are granted one-time permission only if you PayPal me $5.00 per printout or part thereof. Thank you!
Thanks for reading!
Mr. & Mrs. Ken Rockwell, Ryan and Katie.
Home Donate New Search Gallery Reviews How-To Books Links Workshops About Contact