Home Donate New Search Gallery Reviews How-To Books Links Workshops About Contact
TDK A33
World's Best Bluetooth Speaker:
AC/DC, Waterproof with Microphone
© 2014 KenRockwell.com. All rights reserved.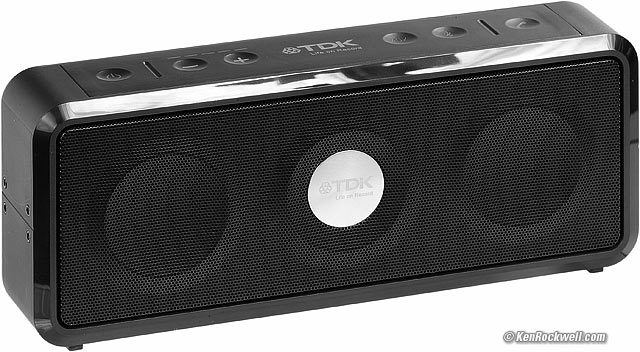 TDK A33 (40.8 oz./1,156g, 9.5 x 3.75 x 2", two 1.5" speakers each driven with 3 watts and one 2.5" woofer driven with 9 watts, as well as two 2.5" passive radiators, built-in rechargeble battery, AC or DC power, originally $150 but often about $100 or less today). enlarge. My biggest source of support is when you use this link directly to it at Amazon to get yours, or any of these links to approved sources when you get anything, regardless of the country in which you live. It helps me keep adding to this ad-free website when you get yours through these links — but I receive nothing for my efforts if you gamble and buy elsewhere. Thanks for your support! Ken.

Top, TDK A33.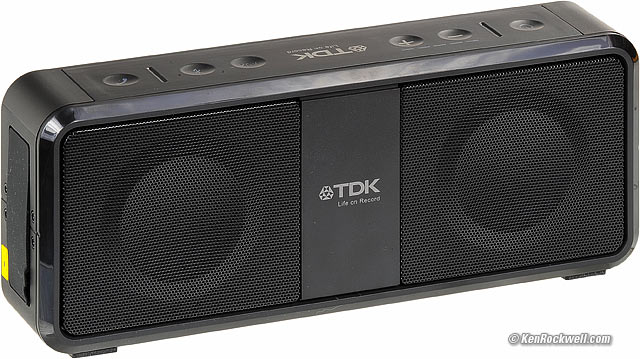 Rear, TDK A33. enlarge.
Christmas 2014 Audio Reviews All Reviews
Introduction top
The TDK A33 is the world's best Bluetooth speaker because it sounds at least as good as the $300 Bluetooth speakers I've heard, it runs on AC power as well as its own included recharagble battery, it's splash-resistant for use by your pool, it has a built-in mic for use as a speakerphone, it's super easy to use, and it's Bluetooth connection is the best ever. The TDK A33 is so smart that even after being turned off for months, just turn it on and it will reconnect all by itself and start your music playing without you having to make so much as one click. That's what music's all about!
The A33 is also the perfect size: small enough to go with you everywhere, and big enough to fill a large room with big sound at least as well as Bose.
This little thing sounds great, and is perfect for portable music from my iPhone, movie sound from my iPad, or even desktop sound from my Mac.
I bought one of these for myself when I saw it recommend in Consumer Reports' list of the 10 top electronic products of 2013. Out of the thousands of products tested by Consumer Reports, they chose just ten as the year's standouts. Along with TVs, phones and cameras was this TDK speaker, rated as one of the best they've tested, and it's priced at a fraction of those from more heavily advertised brands. For just $150 I couldn't resist, and boy, were they were right!
For $100 or less today, the A33 is an absolute no-brainer for you and everyone on your Christmas list.
It made Consumer Report's best-of again, on page 29 of the December 2014 issue.
This little A33 speaker sounds as good or better than any of the Bose or other bluetooth speakers I've heard, and costs nearly nothing. It's the steal of the year!
It sounds warm and smooth, just like a tube console radio or phonograph. Honest, I first played Christmas music on it, and it sounded just like the radio/phonograph at my mom's house with a 12" speaker and a 10 watt vacuum tube amplifier built by my dad back when he was a kid!
This speaker is all about clean, smooth and mellifluous sound. It's accurate; nothing is boosted to sell well at a retail store. If you want more bass, put it against a wall or in a corner, and for less bass, put it on a table away from any walls.
This TDK uses all the same tricks as Bose: loads of active bass equalization, efficient class-D amplification and tough little drivers and passive radiators in a tough, tight box. It's also got a microphone so you can use it as a speaker phone to receive calls.
It connects via Bluetooth in seconds, and immediately starts playing.
Playing from my iPhone 5, it plays for hours without skips so long as I stay within about 40 feet (12 meters). It's far better than Apple's AirPlay, which always cuts out for me. Connected to my iPod, iPhone or iPad, it's all good!
There is also a 3.5mm AUX input so you can play your TDK cassettes or play your 1/2" masters from your Studer A80 with the right adapters. TDK rates the maximum input of the 3.5mm jack as 2.5V RMS, meaning it's perfect for use with any CD player or other portable device.
It runs about 6 hours on its internal Ni-MH battery. It also runs and charges from AC power with the included 12 V DC adapter. There is a 1A USB outlet for charging other devices, so long as you're also plugged into charging power. TDK says use only their AC adapter, but I'll bet you any standard 12V center-positve AC adapter or car-battery cord work just fine, too.
There is a slide switch to turn off the speaker entirely, and it will charge regardless of the setting of the slide switch. The only reason to use the slide switch to turn it off is to prevent it from turning on accidentally.
No worries about turning off the power: just walk away, and it turns itself off after about 20 minutes idle. My only whine is that it beeps if it loses your bluetooth signal. It has a hissy fit, like leaving the cassette door open on a 1990s Mercedes. If you have anyone else in the room as you leave, you'll have to turn it off otherwise it will drive them crazy. The beeping is actually the "Hey, let's connect Bluetooth, dummy" alert, which is useful as you're setting up the first time, but unacceptable later.
If you leave the area, it restarts your music as soon as you get back within range. If it turned off, hit the power button to turn it back on, and it fires your music back up all by itself. Brilliant!
It's splash resistant. Everything is rubberized. Don't dunk it, but if it get splashed at the pool, no worries.
Just as if it ran on tubes, the top gets a little warm as it plays.
It's sturdy plastic, with metal grilles and sturdy rubber feet so it doesn't walk away while playing. If you touch it, you'll feel this little speaker vibrating like crazy cranking out big bass from a tiny box, just like the Bose speakers for double or triple the price. Someone has to pay for those fancy stores!
The volume setting is shown by a 5-segment LED bar graph, but it's more precise than that because the top LED on the bar varies its brightness as you set intermittent levels. I find that volume is slow to adjust on the speaker, but no big deal since we usually adjust the volume from our Bluetooth device. The volume LEDs are behind the buttons, so they tend to hide as you're adjusting the volume. Ditto for the Bluetooth light; it's in the button so you can't see if it's blinking or not as you press the button.
It uses powerful magnets to get all this sound out of such a tiny box — keep it away from your cassettes or CRTs. Measured at the outside of the speaker, I measure 5,000 µT (50 Gauss) maximum, 1,300 µT (13 Gauss) typical. This is about the same or more than a giant subwoofer like the 100-pound, 1 kilowatt, 15" B&W ASW 850 subwoofer, and is because with the A33 we can get so much closer to the magnets than we can with bigger speakers in bigger boxes.
It easily fills a big room with big sound, but as you'd expect from this single speaker, it's in mono. To hear stereo, your head needs to be within less than a foot of the front, as with all of these bluetooth speakers.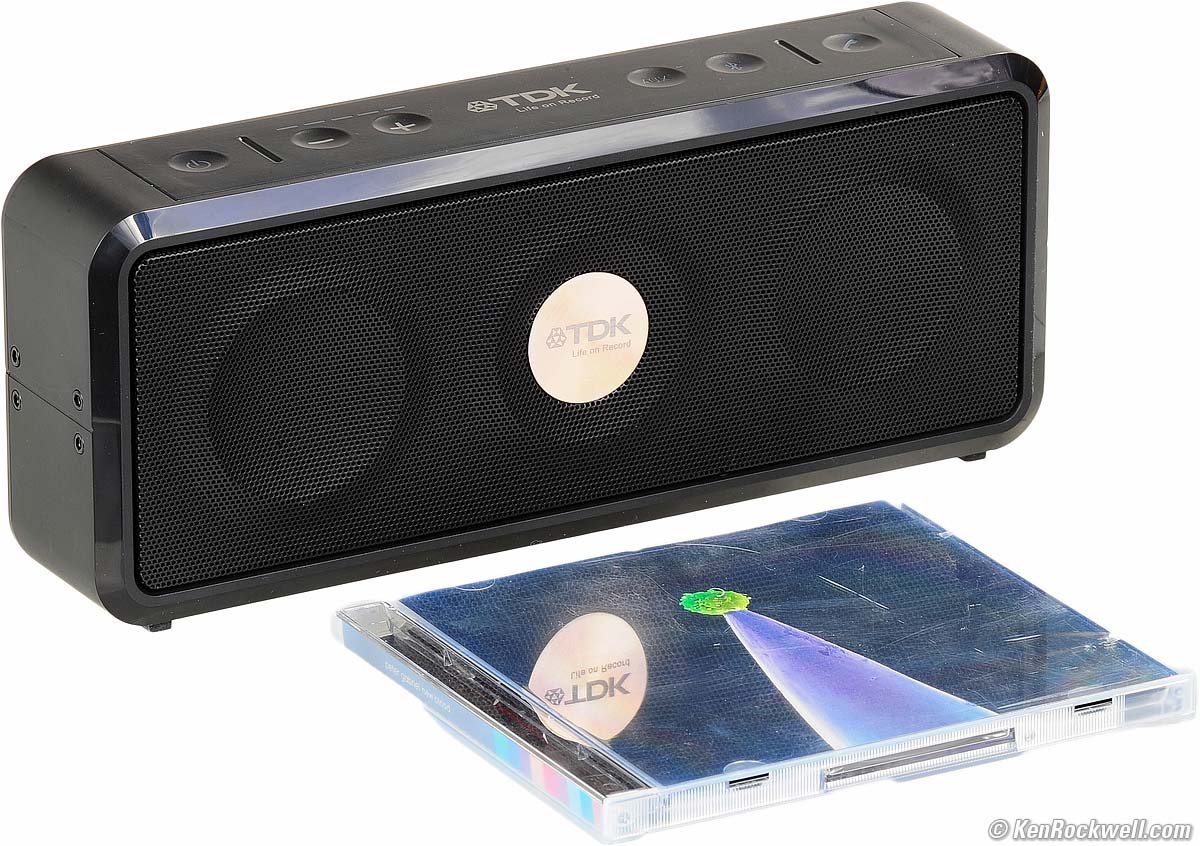 TDK A33 with CD.
Specifications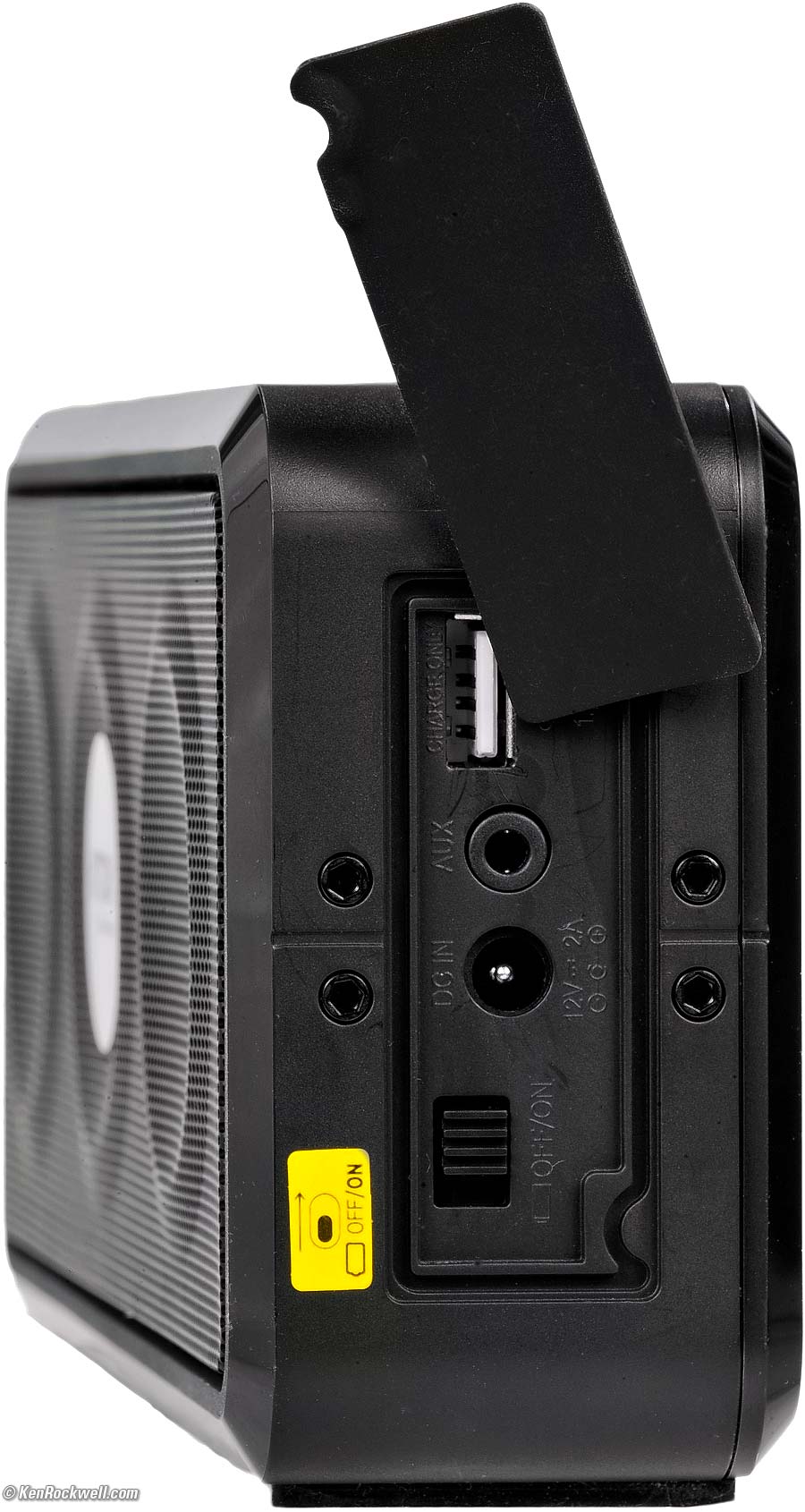 TDK A33 Connectors.
9.5" wide by 3.75" tall by 2" deep.
I measure it at 40.770 oz. (1,155.75g).
Two 1.5" speakers, each driven with 3 W.
One 2.5" woofer driven with 9 W
Two 2.5" passive radiators.
Built-in 7.2V 2,000 mAh Ni-MH battery (custom solder-tab 6-cell AA pack).
12V DC input from AC adapter, or DC cord if you're intrepid.
$120 for Christmas 2013.
$85 for Chrostmas 2014.
It's rated for Bluetooth version 2.1 with A2DP, HFP profiles with AAC codec.
Introduced about 2012.
Made in China.
Usage
To connect, make sure the Bluetooth light is flashing, which it will the first time you turn it on. Next time you need to connect it will remember your devices. To connect to a new device, just press the Bluetooth button for a few seconds to make it discoverable. If you need a code, use 0000.
There is no battery gauge, it just turns off all of a sudden when it's dead.
Full charge of a dead speaker takes 2.5 to 3 hours. Red power LED = charging, off is done. Yellow = playing.
To mute, press the power button to turn it off. Just use a light tap to turn it on or off; if you give a harder, longer press it will ignore you.
To charge from the USB port, you have to be connected to external power, and then turn on the slide switch and press the power button to wake up the speaker.
See TDK's A33 user manual, too.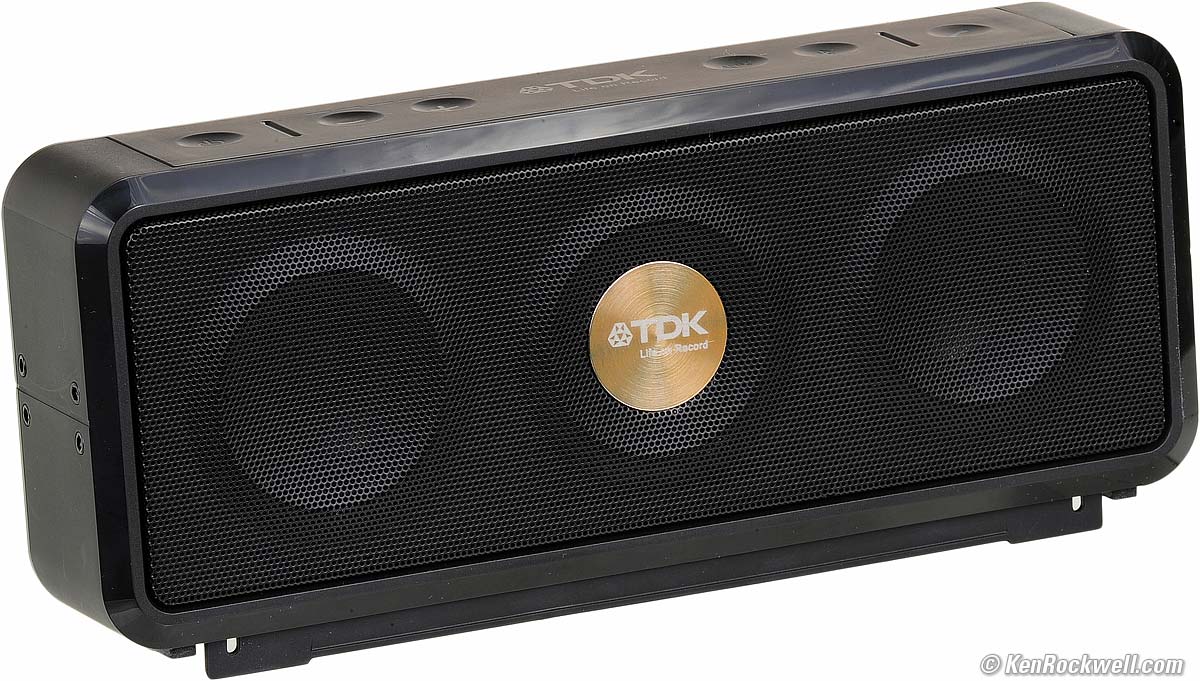 TDK A33 with stand lowered.
Help me help you top
I support my growing family through this website, as crazy as it might seem.
The biggest help is when you use any of these links when you get anything, regardless of the country in which you live. It costs you nothing, and is this site's, and thus my family's, biggest source of support. These places have the best prices and service, which is why I've used them since before this website existed. I recommend them all personally.
If you find this page as helpful as a book you might have had to buy or a workshop you may have had to take, feel free to help me continue helping everyone.
If you've gotten your gear through one of my links or helped otherwise, you're family. It's great people like you who allow me to keep adding to this site full-time. Thanks!
If you haven't helped yet, please do, and consider helping me with a gift of $5.00.
As this page is copyrighted and formally registered, it is unlawful to make copies, especially in the form of printouts for personal use. If you wish to make a printout for personal use, you are granted one-time permission only if you PayPal me $5.00 per printout or part thereof. Thank you!
Thanks for reading!
Mr. & Mrs. Ken Rockwell, Ryan and Katie.
Home Donate New Search Gallery Reviews How-To Books Links Workshops About Contact