Home Donate New Search Gallery Reviews How-To Books Links Workshops About Contact
NAMM Show 2012
Anaheim, California
© 2012 KenRockwell.com. All rights reserved.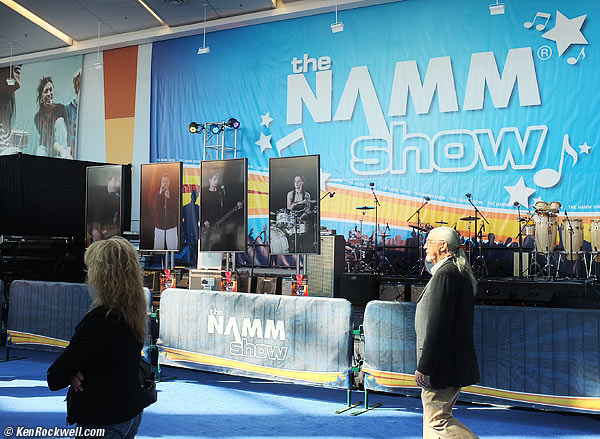 Lobby at the Anaheim Convention Center. This free website's biggest source of support is when you use these links when you get anything, regardless of the country in which you live. Thanks! Ken.
19- 22 January 2012 Audio Reviews All Reviews
Overview
The NAMM Show is the National Association of Music Merchants' annual trade show for NAMM members. NAMM members are organizations that manufacture, distribute or sell musical instruments and related pro audio equipment.
The NAMM show is all about those who make and sell the gear that makes great music. It is not open to the public, not open to musicians, not open to pro audio engineers and certainly not open any stinking audiophiles, unless of course they are NAMM members.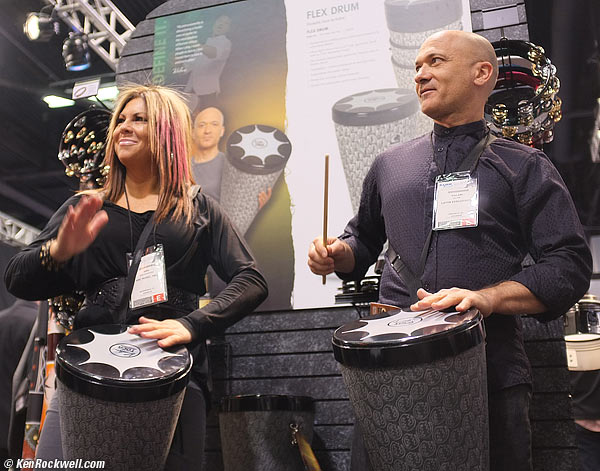 Flex Drums at the Latin Percussion booth.
The security at NAMM is so tight that even those who get badges have their drivers' licenses checked every time they attempt to enter the show floor. The NAMM show is trade-only. You will see plenty of musicians, as well as many big names, but usually because they are representing various manufacturers.
Unlike the CES Audio Show, the NAMM show is all about music, not audio, and loaded with live music. The gear shown is for pro audio, meaning recording and mastering, as well as live concert sound and DJ use.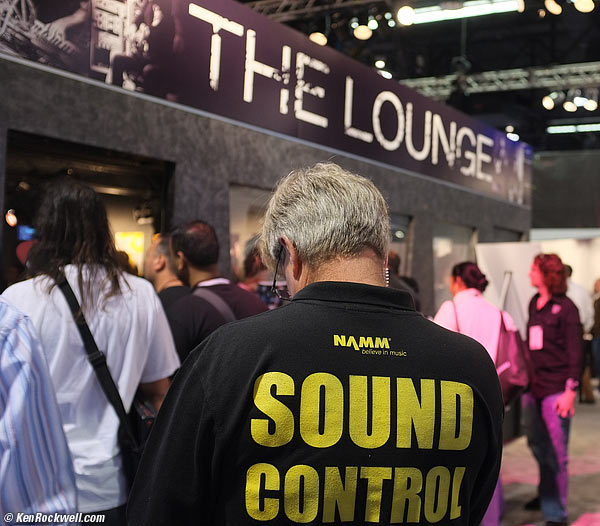 Sound Cops: Speed Limit 85 dBC SPL.
Since we have probably a greater concentration of pro musicians and pro stage gear than in any one place, it quickly would become an apocalyptic battle of the bands and exceed 140 dB SPL as everyone had to crank it a little more than the next guy to be heard. Thankfully, the sound police patrolled with SPL meters to enforce the 85 dBC SPL speed limit to save everyone's hearing.
The House Ear Institute was on hand offering free hearing tests. I was quite pleased, even with my kids screaming at 110 DB C SPL (actual measured) for the past 5 years, my hearing is still perfect, quite unlike many of the others as we all compared results. I was pleased as punch that I could hear anything: the music was leaking through the "sound proof" trailer in which the tests were given so that I could hear the outside music and feel the vibration just fine, so I was surprised that I could hear anything, much less down to 5 dB SPL just fine – unlike many other pros who have given their hearing in the service of loud music.
Photos
I made all these snaps with my Fuji X100 because it's super light to carry all day, gets super-close for macro shots of the gear, and has unmatched auto white balance and auto exposure so every shot is perfect the first time, critical for fast shooting from booth to booth.
Better than a point-and-shoot, the half-frame sensor of the X100 let the backgrounds go out of focus at f/2, making uncluttered product shots easy.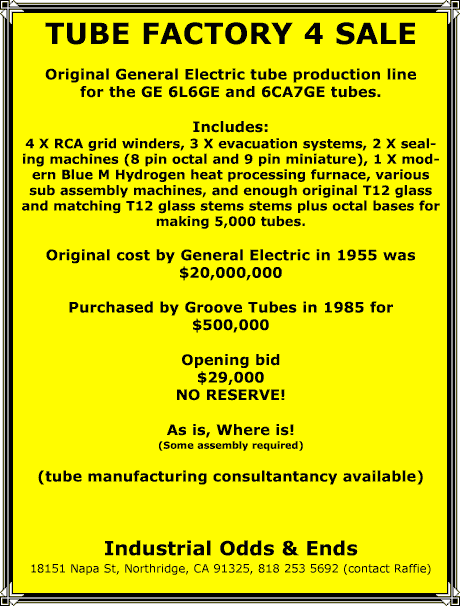 My buddy who founded and owned Groove Tubes retired, and had bought all the original GE production equipment used for certain kinds of audio vacuum tubes.
If you'd like to bring tube production back to the USA (or anywhere else), here's your chance to do it, with the original equipment!
Interested? Phone or email Raffie at Industrial Odds & Ends at (818) 253-5692.
Observations By Brand
AEA MADE IN CALIFORNIA, USA top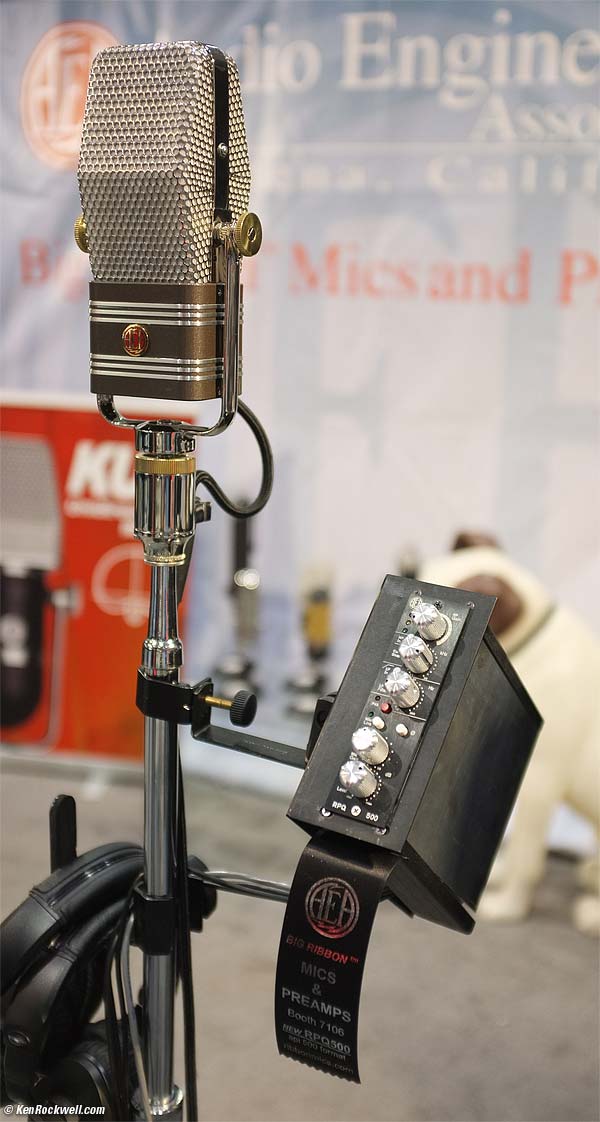 AEA A440 ribbon mic and and RPQ500 preamp/EQ.
AEA (Audio Engineering Associates) is now shipping their RPQ500 module (see front panel), which is their ultra-low noise JFET ribbon-mic preamp, now in a 500 series chassis.
ADAM top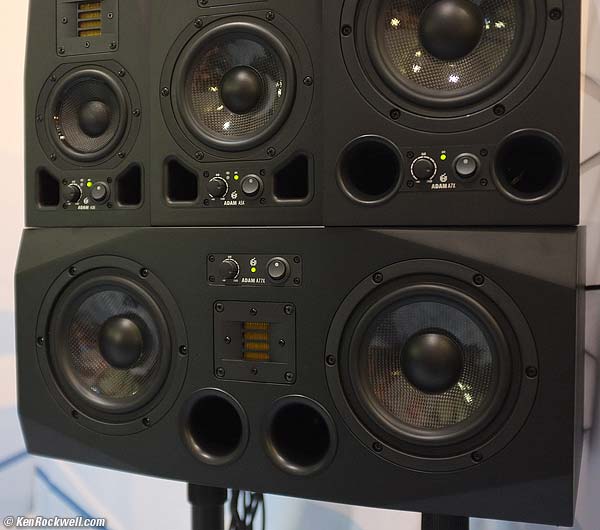 ADAM A77X, supporting the A3X, A5X and A7X.

ADAM's new A77X completes their nearfeild monitor line.
The A77X uses two 7.5" carbon fibre/rohacel/fiberglass woofers arranged horizontally, and cleverly drives both woofers only up to 150 Hz. Only one woofer operates above 150 Hz.
This way both drivers share the low bass, while above 150 Hz only one woofer is driven to eliminate directional problems.
The A77X has the same low-end extension as the 8" A8X ("38 Hz"), with a little more maximum output (122 vs. 120 dB SPL per pair).
ADAM tells me that they are made in Berlin, Germany, especially their signature AMT tweeters.
The ADAM A7X (7.5" woofer) is so popular they can't make enough of them, and the tiny ADAM A3X (4.5" woofer) is ideal for desktop use.
For home use, ADAM also showed two of their "ARTist" series speakers, which are the same as the AxX series, but with additional USB inputs, glossy cabinets, grills, front 3.5mm stereo input jacks, stereo linking and rear-firing ports: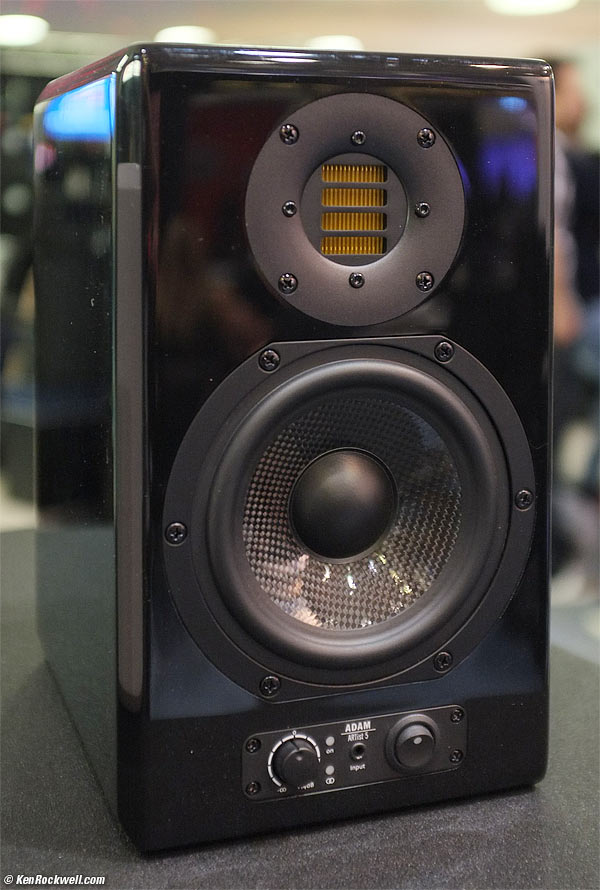 ADAM ARTist 5, without grill.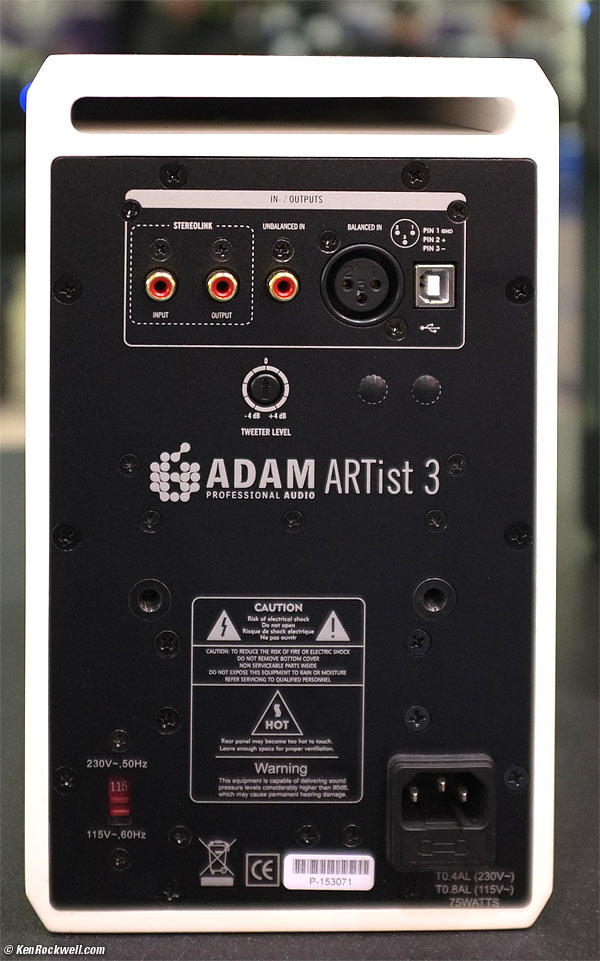 ADAM didn't bother to haul their main monitors, like their S7A Mk II, with over 1kW of internal amplification, rated response down to 20 Hz from its two 15" woofers, and rated 138 dB maximum music output.
Apogee MADE IN CALIFORNIA, USA top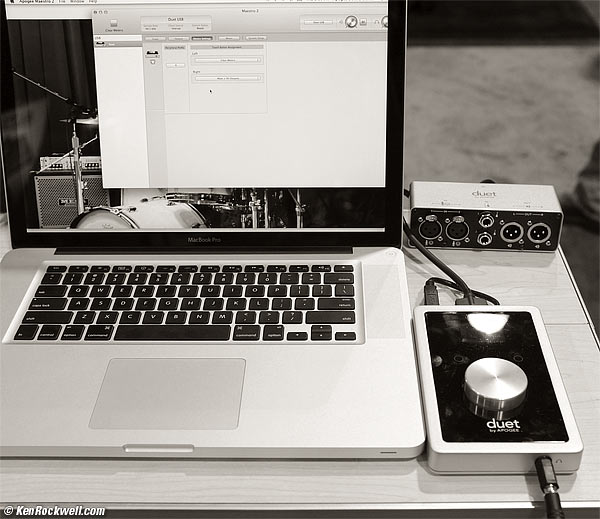 Apogee Duet 2 (on right).
The Apogee Duet 2, at only $595, was the most interesting thing at NAMM as far as I suspect you folks are concerned.
This little box is powered via USB, and offers A/D and D/A conversion for professional recording, playback and monitor control, as well as a great headphone amplifier and superb ergonomics from the big control dial and (invisible here) OLED color display with level meters just above the knob.
The Duet 2 strikes me as fantastic for getting audio out of a computer with ease and unbeaten sound quality, and for you video guys, an unbeaten way to get audio into your soundtracks. I've asked to borrow one for formal review.
I've known of Apogee for decades. Back in the 1990s, their UV22 was the hot setup for professional CD mastering because it encoded a claimed 22 bits of audible resolution into 16 bit files for CD release. Sony's SBM (super bit-mapping) was the same idea: using shaped ultrasonic dither instead of the usual random dither to push quantization noise out of the audible band, greatly reducing the audible noise floor, presuming your source is this clean.
Apogee tells me that the converters in the Duet today are the same awesome ones they have in their Symphony interface, which is even better than what pros used to consider among state-of the art. Not bad for what we can get for $595 today, compared to the much poorer attempts at DACs at much higher prices by newcomers.
Levels for inputs and outputs are controlled in clickless 1 dB steps over 75 dB, and most importantly, the ergonomics are fantastic; just tap and spin the big knob to do everything.
Inputs: 2 channels, 1/4" or XLR, phantom power if needed: Mic, Instrument and Line; 0-75 dB gain in continuous, clickless 1 dB steps with analog soft-limiting, too! These are connected via the included cable or optional breakout box.
It's quiet, rated -128 dB unweighted EIN from 150 Ω.
Outputs: 4 channels: speaker (two balanced 1/4" on included cable or optional breakout box) and headphone (one stereo 1/4") stereo pairs, separately controllable.
Outputs are rated 20 ~ 20,000 Hz ± 0.05 dB even at 44.1 kHz, and -113 dB THD + N at 96k. Headphone output is from 30 Ω source at a solid 19 dBu (6.9V), about 10 dB more than many headphone "amps," and 17 dB more than from an iPod.
± 0.05 dB frequency response. You have to like these guys!
More about the Duet 2 from Apogee.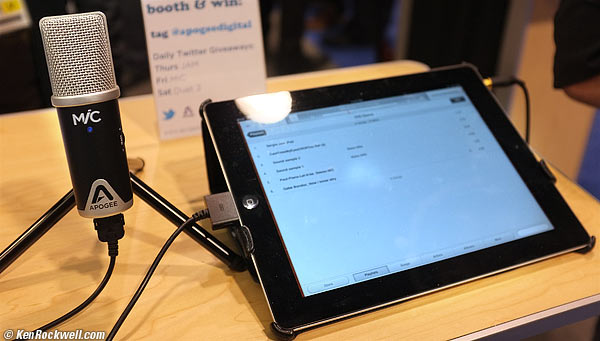 Apogee's MiC (sic).
New for the show was Apogee's MiC (sic), not available until February 2012.
It's a USB powered portable "studio quality" microphone intended only for use with iPods, iPhones and especially the iPad for remote recording with the appropriate software. Their website has no price, but I believe I was told it will be $199. For you video guys editing on your iPad and needing a VO (voice-over) mic, check it out.
Audio-Technica top
Audio-Technica showed a completely different range of products than they did at CES. In fact, Audio-Technica makes so many kinds of things, they showed completely different kinds of headphones, as well as professional microphones.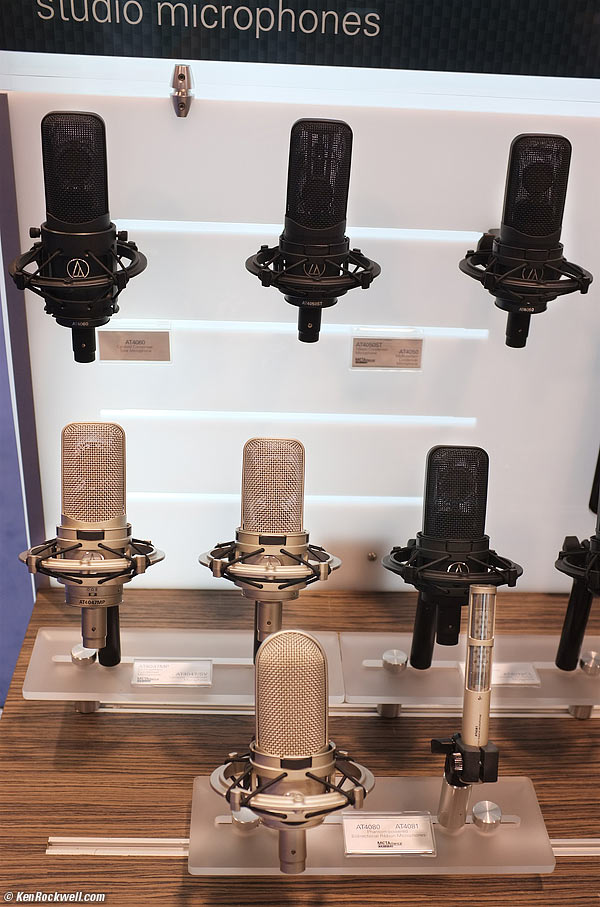 Some Audio-Technica mics.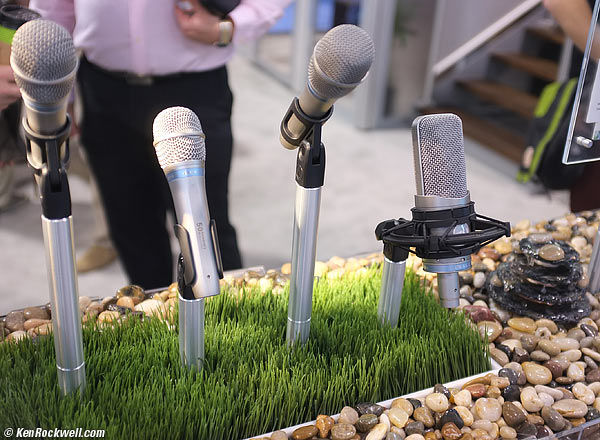 Audio-Technica's farm of 50th anniversary products.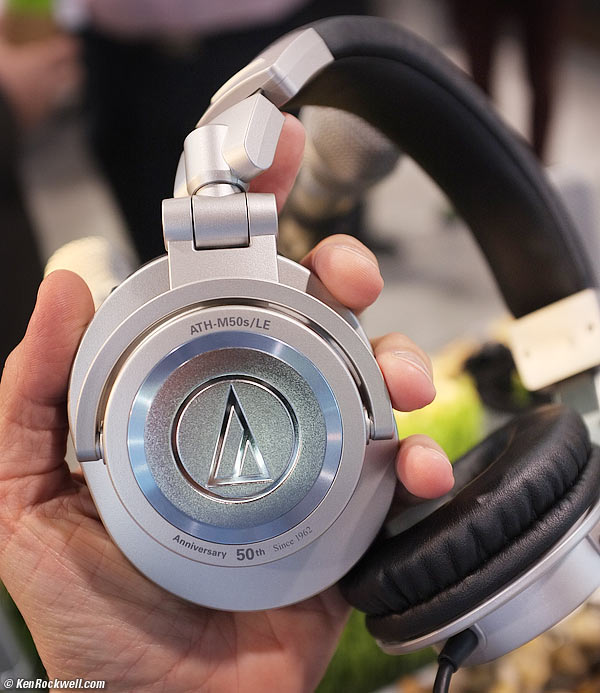 Audio-Technica 50th Anniversary ATH-M50s/LE.
All the variants of the closed-ear Audio-Technica ATM-M50 sounded great! They are a staple of pro recording studios, not just for the sound, but for their durability and the fact that they fold around so you can hold just one ear to your head. I've been meaning to get a set for review; I suspect they'll sound at least as good as the Ultrasone Edition 8 for one-tenth the price.
Avalon Design MADE IN CALIFORNIA, USA top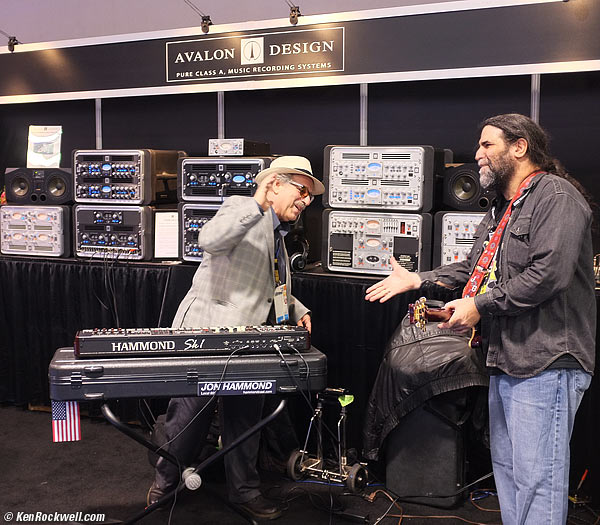 Avalon Design at NAMM 2012.
Avalon Design makes some of the best mic preamps on earth, but there was too much music going on for me to get any closer.
Note the new ADAM A77X on the left.
Bag End top
Bag End makes unique subwoofers, driving sealed boxes with 100 Hz cutoffs (12 dB/octave) through integrators with inverse 12 dB/octave responses to get flat response from 100 Hz down to 8 Hz.
They were on my list of top people to see, but they weren't at the booth number at which they were listed, and had no time to go find them. Oh well.
Behringer top
As expected, low-price innovator Behringer had a HUGE booth. Some people make fun of the sometimes copy-cat designs and low prices, while others love their gear. In any case, here's what's new from them: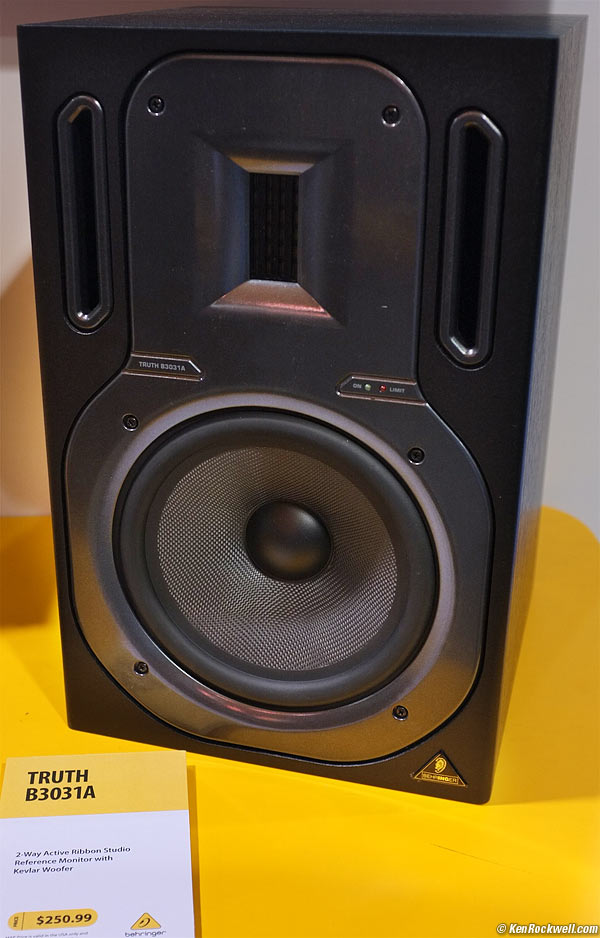 Behringer Truth B3031A: $250.
The B3031A is a copy of the ADAM monitors, at one-third the price. I certainly couldn't hear anything at the loud NAMM show, but the cabinets weren't that solid sounding when knocked, but hey — these ought to let you make music better than anything from Genelec for $250. Here's their back: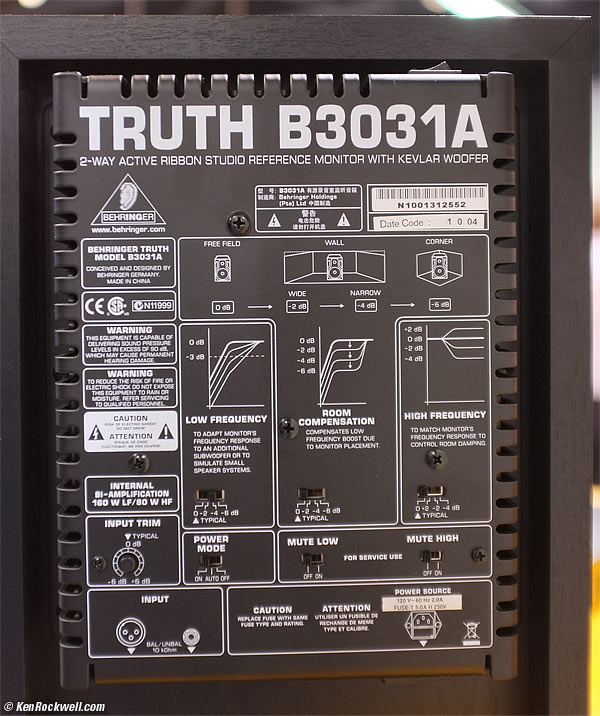 Behringer was also very proud of their new $800 XEYNX UFX1604 board.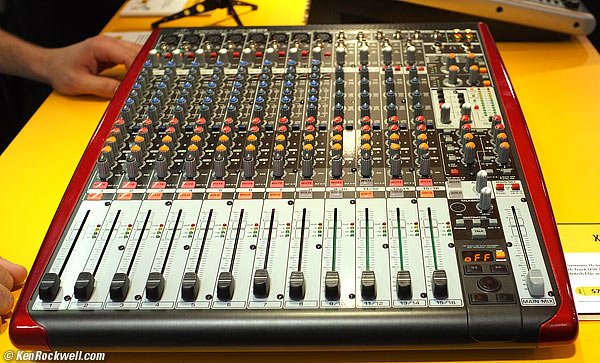 Behringer XENYX UFX1604 16-in board.
They were showing that every input could be optimized for Mic, line, or DI (instrument), and had built-in compressors on every channel so music can be made as lifeless as possible even while tracking: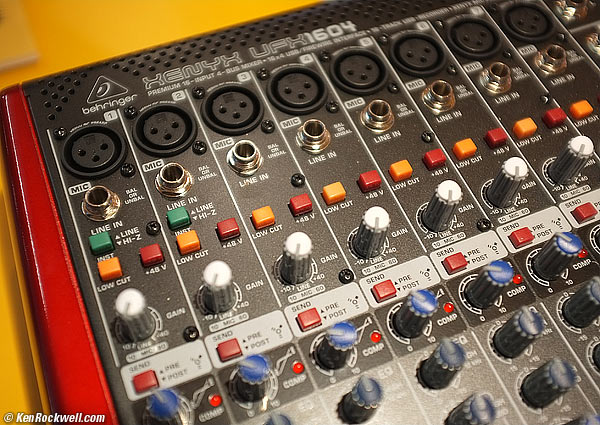 Behringer XENYX UFX1604 16-in board.
And lo and behold, in addition to built-in effects and EQ, USB and FireWire interfaces, you can control your DAW from it and there is a built-in 16-track recorder!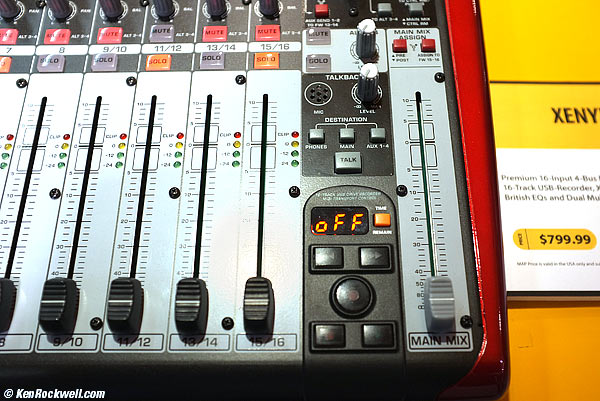 Behringer XENYX UFX1604 16-in board.
Make fun of the low $800 price, but if the Beatles had had one of these, God only knows how the world would have been different.
But wait: The Auratones live!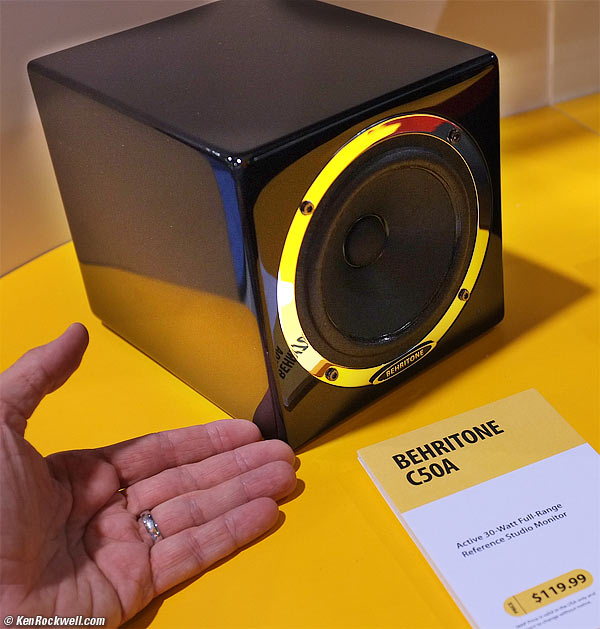 Behritone C50A.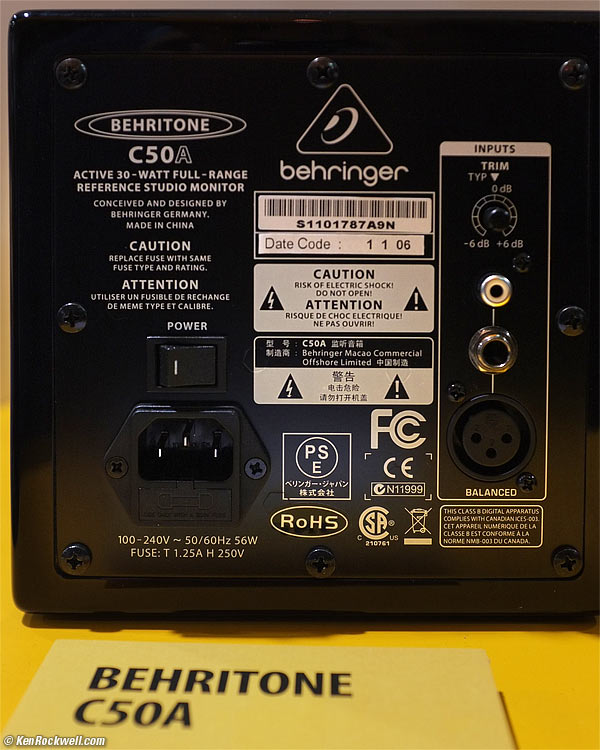 Behritone C50A.
As you all know, Coronado (San Diego, California) based Auratone monitors were found in every radio station and recording studio in the 1970s as a standard monitor through which we could hear what our mixes sounded like on crappy radios. Auratone is gone, and Behringer copied even the Auratone logos. The Behritones are active, and the original Auratones were passive.
If you want authentic cheap motel vinyl wood in a smaller cabinet, the C5A costs even less: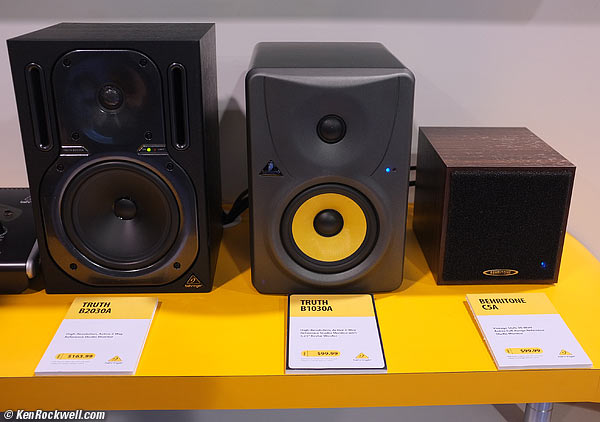 Behritone Monitors.
With all these monitors, Behringer also showed a new monitor controller with talkback, and a nice, big control knob: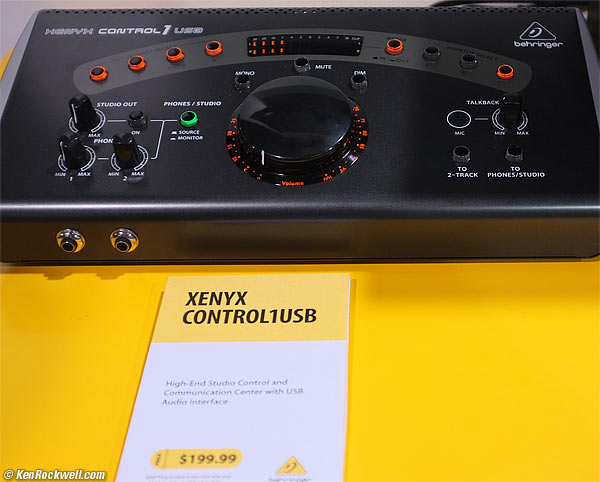 Behringer XENYX CONTROL1USB Monitor Controller.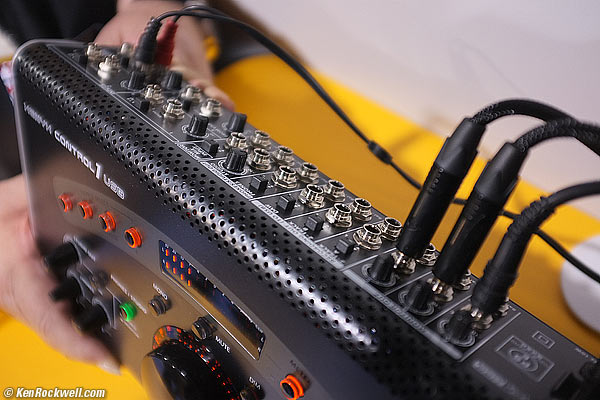 Behringer XENYX CONTROL1USB Monitor Controller.
Behringer also showed its mother of all FireWire and USB I/Os, the $200 FCA610:

Behringer FCA610.

Behringer FCA610.
The FCA610 is a 6-in, 10-out 24/96kHz USB and FireWire interface. If that's not enough I/O for you, the FCA1616 is the same thing, but wider and with 16-in and 16-out.
NEXT: brands B-L.
Help me help you top
I support my growing family through this website, as crazy as it might seem.
The biggest help is when you use any of these links to Adorama, Amazon, eBay, Ritz, Calumet, J&R and ScanCafe when you get anything, regardless of the country in which you live. It costs you nothing, and is this site's, and thus my family's, biggest source of support. These places have the best prices and service, which is why I've used them since before this website existed. I recommend them all personally.
If you find this page as helpful as a book you might have had to buy or a workshop you may have had to take, feel free to help me continue helping everyone.
If you've gotten your gear through one of my links or helped otherwise, you're family. It's great people like you who allow me to keep adding to this site full-time. Thanks!
If you haven't helped yet, please do, and consider helping me with a gift of $5.00.
As this page is copyrighted and formally registered, it is unlawful to make copies, especially in the form of printouts for personal use. If you wish to make a printout for personal use, you are granted one-time permission only if you PayPal me $5.00 per printout or part thereof. Thank you!
Thanks for reading!
Mr. & Mrs. Ken Rockwell, Ryan and Katie.
Home Donate New Search Gallery Reviews How-To Books Links Workshops About Contact