Home Donate New Search Gallery Reviews How-To Books Links Workshops About Contact
NAMM Show 2012
Brands B-L. (A-B B-L M-Z)
© 2012 KenRockwell.com. All rights reserved.

19- 22 January 2012 Audio Reviews All Reviews
Top of NAMM 2012 Report (A-B) B-L M-Z
Benchmark MADE IN NEW YORK, USA top
Benchmark has been making reference-grade ADCs for CD mastering for decades.
New from Benchmark is their DAC16, a 16-channel 24/192k D/A converter, a steal at about $4,000. It's at the bottom of this rack: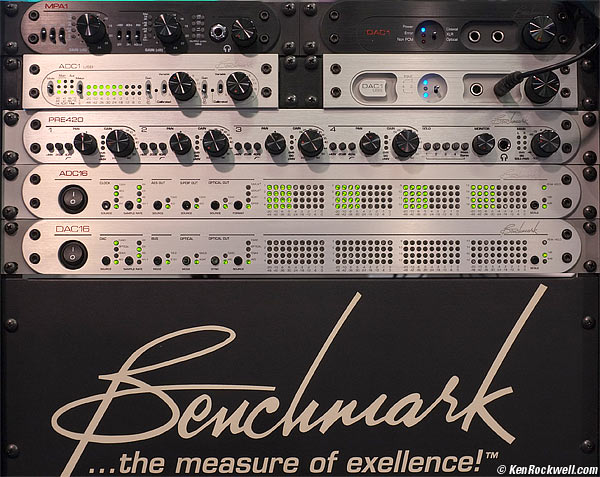 Benchmark goodies. Note the doubled-up half-rack units at the top. bigger.
Of interest to most of you readers are Benchmark's small, half-rack DAC/headphone amp combinations, all of which are called DAC1: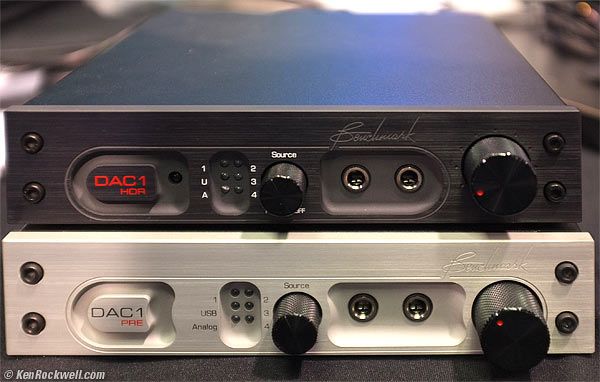 Benchmark DAC1 HDR (top) and DAC1 PRE (bottom).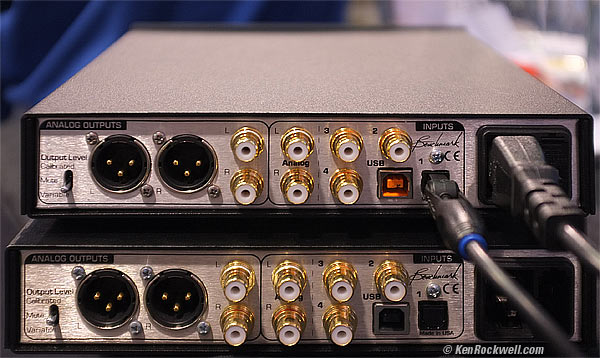 Benchmark DAC1 HDR (top) and DAC1 PRE (bottom).
The newest of these is the DAC1 HDR, which adds remote volume control with a custom motorized Alps pot, without clicks. It has better tracking than the older model with clicks; these clicks are just a detented pot, not a stepped attenuator.
I hope to get one of these in for review along with all the other headphone amp/DACs coming out from much less experienced companies.
Beyer top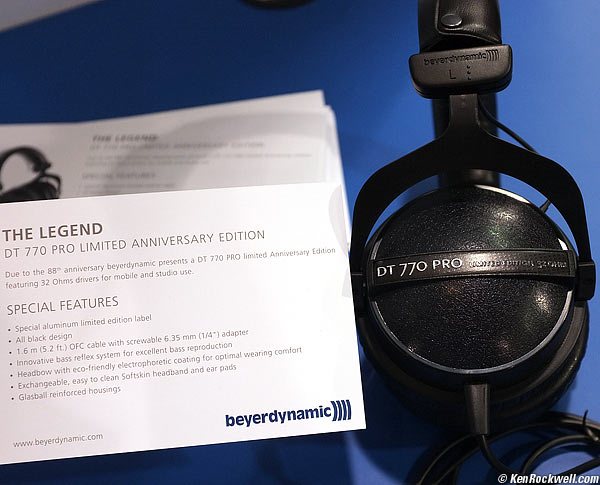 Beyer DT 770 Pro Anniversary.
I just reviewed the Beyer DT 770, DT 880 and DT 990, all of which come in many variants. New for the show was a commemorative version of the DT 770 in 32 Ω for use with iPods. I tried it in my iPod, and with all the noise at the show, it went loud, but not deafeningly so. It sounded swell.
Bourns top
Electronic circuit component maker Bourns showed all sorts of slide and rotary pots, mostly for being designed into guitars and guitar amps by NAMM member manufacturers.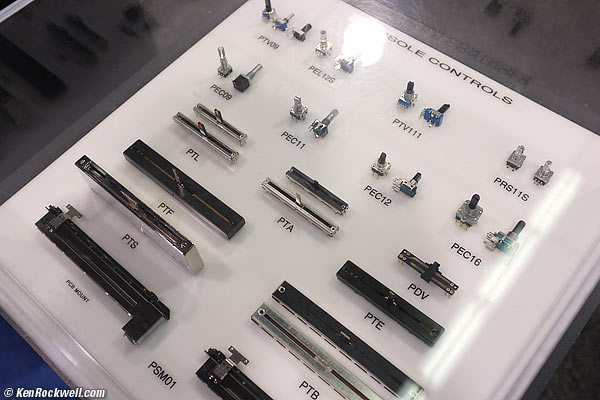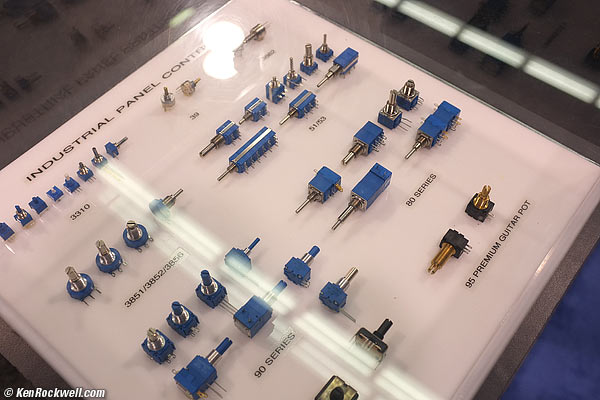 Bourns makes all sorts of pots, especially military and multi-turn trimmers, for every kind of use. They didn't bring the two-gang close-tracking audio-taper pots I never can find, usually made by Alps and Noble.
dbx top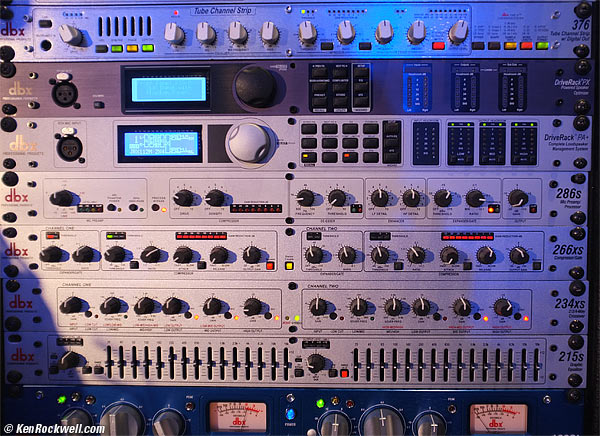 dbx rack products. bigger.
dbx recently repackaged the eternal dbx 234xs crossover (only $230) into chrome from black. It's an analog crossover, and that's it.
New, the $500 dbx DriveRack PA+ 2 x 6 PA Management Processor does crossover and just about everything else you'd want to do for monitor and PA speaker control. It does all this by modeling the crossover, feedback controller, ± 10 ms of delay for each driver, subharmonic synthesizer, RTA, driver thermal and excursion protection all into DSP. Today, with all this costing only clock cycles once modeled and with pretty much unlimited processing power, all this can fit into one box.
Unlike the analog 234xs, this DriveRack PA+ easily does non-symmetrical crossovers to take driver responses into account. In fact, for Harman speakers and amps (JBL, Crown, etc.), you can select the model numbers in the menus and the responses, sensitivities and power levels are all automatically optimized.
I have no idea if this is good enough for mastering, or mostly for concert sound as intended.
DigiCo top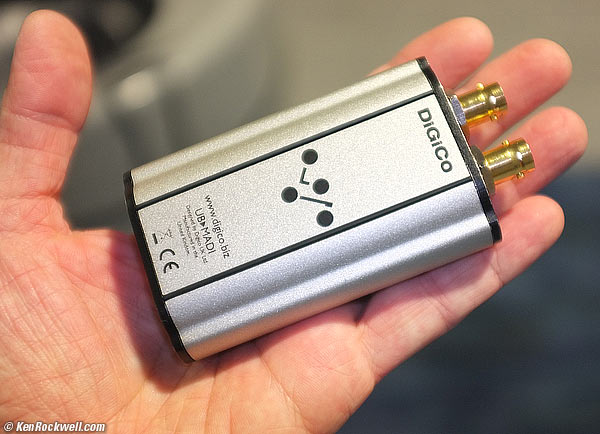 DigiCo UB>MADI.
DigiCo showed a 48-channel in- and out- MADI - USB interface for $1,395 USD. It uses USB instead of PCI like other interfaces, so it works great plug-and-play for laptops. It's made in in the UK.
Dynaudio top
Dynaudio was in the same booth as TC, a small, busy booth mostly showing effects boxes.
Eers top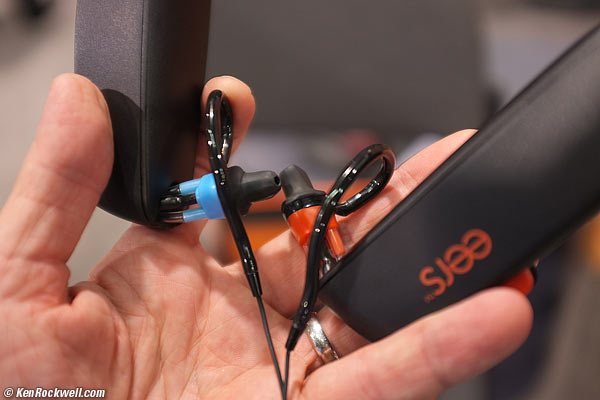 eers self-fitting machine and IEMs.
eers showed the "world's first self-fitted custom earphones."
What you do is pop these in your ears, and then the frame holding the little earbuds inflates the black flexible bladders with a liquid that later becomes a gel.
When the gel gels, you remove the little in-ear-monitors (IEMs) from the larger contraption holding them, and voilà, you've got custom-fitted little IEMs without ever having to visit an audiologist.
Focal FABRIQUÉ EN FRANCE top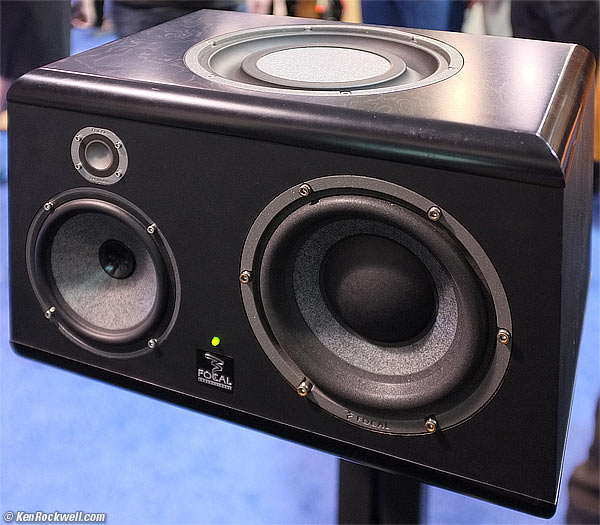 Focal, a real loudspeaker maker and not just a place that pops other people's drivers into boxes, showed the most interesting new speaker at the show: the SM9 studio monitor.
This black beauty is as solid as a block of granite; the cabinet walls are like rock, not hollow-sounding when rapped with a knuckle like Behringer's.
This monitor is a 3-way design with internal class A/B linear (analog) amplification, EQ and crossovers. The analog EQ can be bypassed, and the signal paths are DC.
The amps have 400W for the 8" woofer, and 100W each for the 6.5" midrange and 1" beryllium tweeter. On the top you'll see an 11" passive radiator, the back is a big heatsink and input and controls, and three switches are on one side.
These sounded great, with full bass, rated down to 30 Hz at -3 dB! As a monitor, it's rated as only ± 1dB from 40 ~ 20,000 Hz, which is spectacular.
They're rated at 116 dB SPL peak at 1 meter run full range, and there's a twist: there's a "focus" mode that turns off the woofer and uses the midrange as a woofer, too, turning these into 2-way monitors reaching only to 90 Hz at the push of a button. With this button (sorry, no remote), you now have the sonic equivalent of a compact monitor to guess how your mixes will sound on portables. Clever, eh? In the 2-way mode we're not using the 400 W woofer amplifier, and maximum output is rated at "only" 106 dB SPL peak.
They have a slew of adjustments on the back, come in mirrored Left and Right versions, and weigh 77 pounds (35 kg) each. They measure (HWD) 12.8 x 19.6 x 15.6 inches (320 x 490 x 390 mm).
The niftiest thing is just how handy these will be to get full range on a large desktop. The least nifty thing is that the woofer surround is foam. Salespeople are always telling me that today's foam won't rot like yesterday's, but since I expect my speakers to last at least 30-40 years and not rot out in 20, I'll have to ask some pals I know inside some other speaker makers and ask them if long-term foam rot has been cured.
A pair of these is only $7,120 (you can order them at B&H), and that includes all the internal optimized amplifiers, protection and crossovers, making these a steal at twice the price. Unlike digital cameras, analog audio gear lasts a lifetime, so you buy it once and enjoy it for decades.
More about the SM9 from Focal.
Fostex top
Fostex HP-P1 ($650)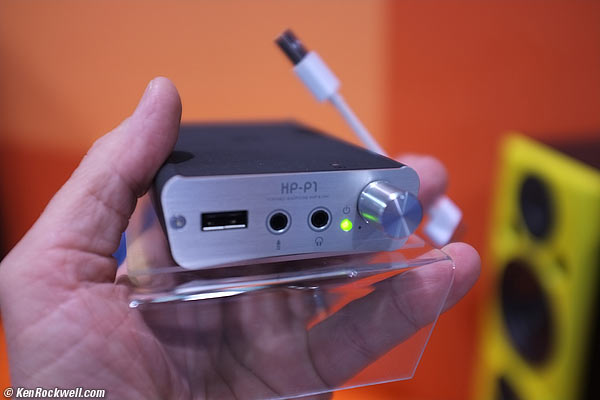 Fostex HP-P1.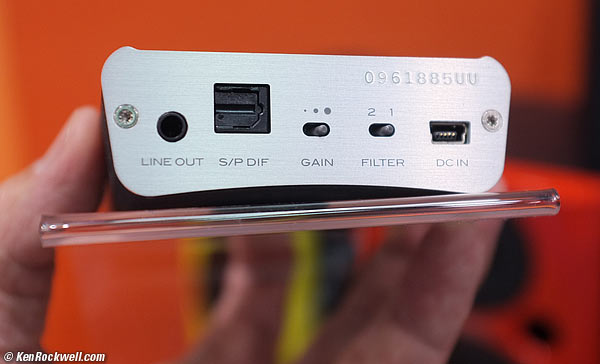 Rear, Fostex HP-P1.
Fostex' new HP-P1 portable iPod DAC and headphone amp is a compact all-metal metal gizmo. Fostex' amp gets audio from your iPod digitally, converting it to analog itself.
This uncomfortable-to-carry chunk of metal runs off its own internal rechargeable lithium battery, meaning for portable iPod use, you have two batteries to charge, and you're dead as soon as the first dies. It seems like a great idea for desktop use, but I certainly wouldn't want to carry it on my person.
I want to get one to review for you folks.
More about the HP-P1 directly from Fostex.
Fostex HPA8 ($2,000)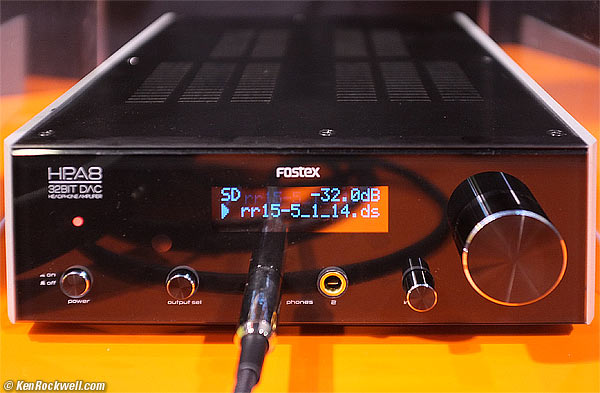 Fostex HPA8.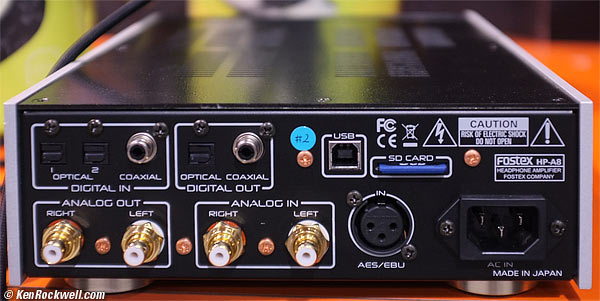 Rear, Fostex HP-P1.
Even newer from Fostex is their upcoming HPA8 headphone amp and DAC with DSD inputs, scheduled for February 2012 for $2,000.
It even has an SD card reader to play files from cards, and thankfully has four more kinds of digital inputs: AES/EBU, RCA coax, TOSLINK and USB (no FireWire).
Specs are:
32-bit DAC (Asahi Kasei AK4399, datasheet)
Discrete analog circuitry only for headphone amplifier
USB to 32bit/192kHz (only 24-bit if you're foolish enough to run windows)
Asynchronous USB
TCXO clock
Electronic 24-step volume control, which seems like way too few steps if I'm reading this right.
SD card reader for DSD (dsf) and WAV.
Internal or External Clock
Selectable 2x or 4x up-sampling
Two digital filters: sharp rolloff or short delay
Remote control included
I sort of had to laugh; why would I pay more for a casual product from Fostex than I could for a proven professional studio product like the Benchmark DAC1 HDR or Grace M903 ($1,800)? Bit widths and sample rates have almost nothing to do with sound quality, while basic circuit design know-how has everything to do with sound quality. Until I run all three of these through my lab, I'd stay with Benchmark and Grace. Adding DSD gets you nothing if the analog and DAC sections aren't top-notch, and 32 bit DACs mean nothing. Seriously, 32-bit DACs aren't; the datasheet for the AK4399 chip inside the Fostex is rated for -105 dB THD+N, which means only 17.1 effective bits. There is no such thing as a real 32-bit audio DAC, or even a true 24-bit (effective) audio DAC. Today's state-of-the-art is about 21.5 bits signal-to-noise out of an audio DAC.
In spite of my whining, I do look forward to auditioning a shipping model. The prototype on display wasn't ready yet for prime time.
More about the HPA8 from Fostex.
Fostex AR-4i ($120)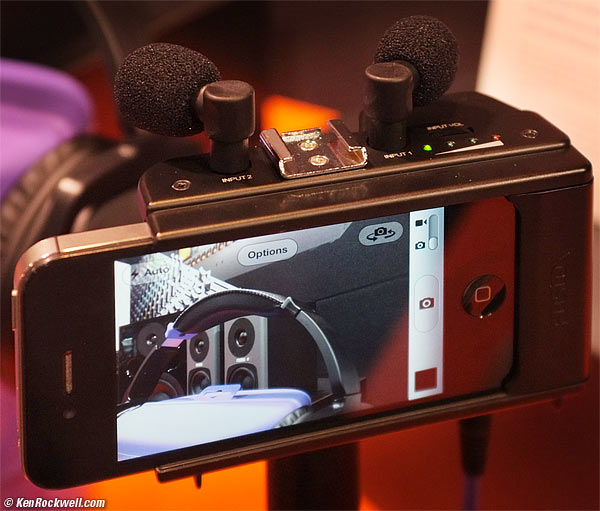 Rear, Fostex AR-4i (with iPhone attached).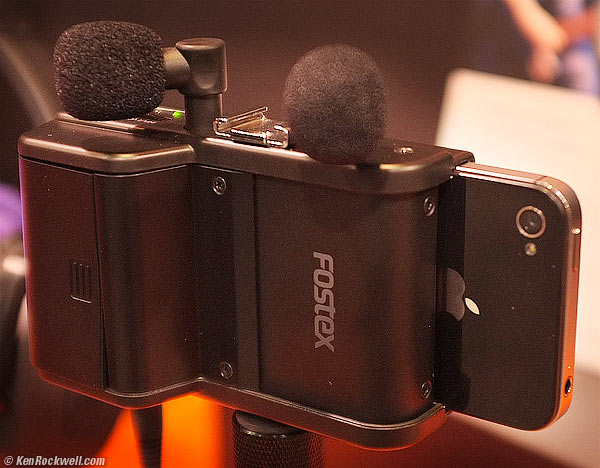 Front, Fostex AR-4i (with iPhone attached).
The Fostex AR-4i is a stereo mic into which you slide your iPhone or iPod Touch for recording stereo sound along with your HD movies. The AR-4i also has external mic inputs, manual level controls and meters, and even headphone outputs. Heck, for $120, it might be an awesome headphone amp even if you don't use the mics. It runs on two AAA cells.
More about the AR-4i from Fostex.
Fostex DC-R302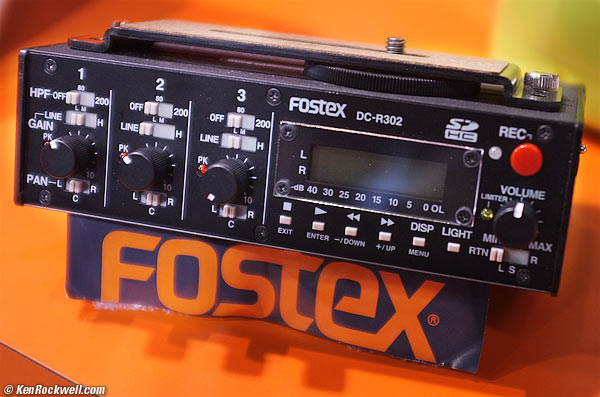 Fostex DC-R302.
The Fostex DC-R302 is ugly, but it's a handy little field recorder, preamp and 3-chanel mixer with a 1/4-20" screw to attach onto the bottom of your DSLR. Every surface is stuffed with inputs, outputs and switches.
More about the DC-R302 from Fostex.
Genelec top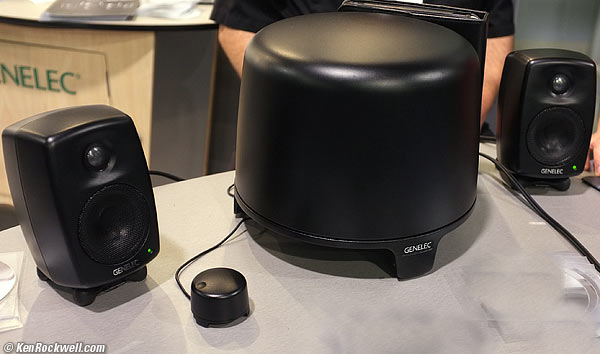 Genelec 6010 StereoPak 2.1 desktop monitors.
Genelec is among the world's top makers of professional monitors. Look at this 2004 photo from Steve Jobs' biography, and you'll see Genelecs on his desk, too.
Intriguing for desktop use is their 6010 StereoPak system, which are a pair of tiny 6010A self-powered monitors and a 5040A powered subwoofer. The 5040A includes the cleverest piece of the whole system, the hockey-puck 9000A desktop volume control. Just spin it to change the volume; everything should be this easy.
I'd love to get one to review, too. Since this is all modular, instead of ordering the StereoPak, you can order the desktop volume control, speakers and woofers of your choosing, too.
House Ear Institute top
The House Ear Institute is an organization dedicated to helping people save their hearing.
They had a booth where they were testing hearing. I was happy, mine tested perfectly, while others in this field have lost much of theirs.
Intriguing is that they pointed out that OSHA's limits are horrible, and allow for a lot of hearing loss. House Ear Institute suggested heeding the NIOSH's newest recommendations, which is that anything over 85 dB SPL is hazardous long term.
NEXT: brands M-Z.
Help me help you top
I support my growing family through this website, as crazy as it might seem.
The biggest help is when you use any of these links to Adorama, Amazon, eBay, Ritz, Calumet, J&R and ScanCafe when you get anything, regardless of the country in which you live. It costs you nothing, and is this site's, and thus my family's, biggest source of support. These places have the best prices and service, which is why I've used them since before this website existed. I recommend them all personally.
If you find this page as helpful as a book you might have had to buy or a workshop you may have had to take, feel free to help me continue helping everyone.
If you've gotten your gear through one of my links or helped otherwise, you're family. It's great people like you who allow me to keep adding to this site full-time. Thanks!
If you haven't helped yet, please do, and consider helping me with a gift of $5.00.
As this page is copyrighted and formally registered, it is unlawful to make copies, especially in the form of printouts for personal use. If you wish to make a printout for personal use, you are granted one-time permission only if you PayPal me $5.00 per printout or part thereof. Thank you!
Thanks for reading!
Mr. & Mrs. Ken Rockwell, Ryan and Katie.
Home Donate New Search Gallery Reviews How-To Books Links Workshops About Contact