Home Donate New Search Gallery Reviews How-To Books Links Workshops About Contact
Audeze EL-8
Planar Magnetic Headphones
Made in the United States of America
Intro Technology Specs Measurements Sound
Ergonomics Compared Usage Recommendations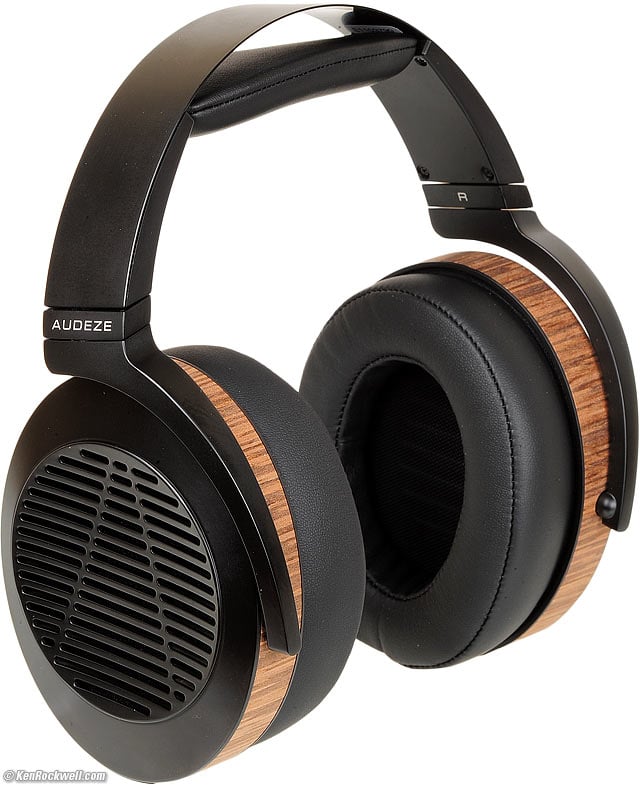 Audeze EL-8, open version (32 Ω, 3.5mm plug, 16.2 oz./460 g, about $699). enlarge. I'd get mine at B&H.
This ad-free website's biggest source of support is when you use that or any of these links to approved sources when you get anything, regardless of the country in which you live.
September 2015 Audeze reviews headphones tube amps audio all reviews
Introduction top
Intro Technology Specs Measurements Sound
Ergonomics Compared Usage Recommendations
The Audeze EL-8 have buttery smooth sound with extraordinarily well reproduced bass. The EL-8 will sound duller than most conventional headphones that tend to add glare; these are perfect if you want to get rid of excess harshness. The Audeze EL8 sound big, smooth and solid. They are somewhat recessed in the upper midrange — a hallmark of their smoothness. They have extremely solid and bottomless bass.
The Audeze EL-8 use planar magnetic technology, which is completely different from 99% of other headphones. These have much smoother sound than conventional headphones, and have much deeper bass as well.
The EL-8 come in both open and closed versions. I'm reviewing the open version.
These are sensitive enough to plug right in to your iPhone; there's no need for a separate amplifier as with Audeze' earlier models like the LCD-3.
The crazy thing about trying to review headphones is that they really do sound different to each person. Unlike speakers or pictures which sound or look the same to different people, headphones will sound very different to each individual. This is because our heads are different shapes. Notice how strongly different a headphone sounds as you move it around on your head, and realize that every head puts each of our differently shaped ears in different places inside a headphone, something that doesn't change with speakers or pictures.
Unfortunately on my head the EL-8 have a slight broad boost in the lower midrange around 800 Hz. On my head, they sound a bit "cuppy" due to this boost, and for me it degrades the otherwise extraordinary sound. I haven't heard anyone else notice this, so take all my comments in stride.
Oddly, these sound better on my head with my hands covering the open backs, so I suspect the closed-back model may sound even better for me.
These new EL-8 are much improved from earlier models like the LCD-3 and LCD-X because the EL-8 weigh much, much less. The originals are big, bulky, not that comfortable and fall off your head if you move around. These EL-8 cost only a fraction as much due to some very clever innovation, sound just as good, and are smaller, lighter and much more comfortable than the older models.
Yes, Audeze tells us that the LCD-3 and LCD-X are made without compromise for sound and might sound just a little better than these EL-8, but I'll take a manageable size that I can use and carry every day over the huge and more delicate earlier models that fell off my head if I moved too fast.
Styling and industrial design is by BMW Designworks, the same individuals who design BMW and Rolls-Royce automobiles. This is why these feel and handle so much better than the earlier models, in addition to a brilliant new and patented magnetic structure.
The EL-8 fold flat, and stay on your head as you move around, which the other models fall off. While the LCD-3 and LCD-X are giant headphones of interest only to the truly afflicted, the EL-8 are practical full-size around-the-ear headphones that everyone can enjoy.
The EL-8 are more accurate and smoother than my favorite beyerdynamic T51i. I still prefer the T51i for overall enjoyment and reproducing the elusive sound of the actual concert from what we actually get in recordings.
I don't know if it was needed, but I burnt these in at 103 dB C for about 4.5 hours before enjoying them.
Designed and Built in America
Audeze is a real American company. I've been lucky enough to visit their factory where the owner, founder and designer is right there along with the people assembling your headphones.
They don't even send them out to a contract manufacturer, they make them right in the same place their founder designs them and oversees production.
Audeze are a small and growing operation where the founder still has 100% control over everything — the way every great American company starts.
Innovation
Audeze is one of the few companies that really does improve its products continuously.
Their founder is unstoppable in his quest to make better headphones more efficiently. He's a real engineer, and I don't know that they even have anyone in charge of sales and marketing other then the founder.
While most companies repackage the same product with a new model name every few months to try to drive up sales, Audeze really does make huge improvements to its products, and is too busy innovating to spend time on conjuring new model numbers.
Therefore the product you buy may be much better than the one I auditioned in July 2015.
For instance, the LCD-3 sold today are much improved over the LCD-3 I reviewed several years ago. Most of the new technology, like the Fazor arrays, weren't even invented when I first reviewed the LCD-3.
Technology top
Intro Technology Specs Measurements Sound
Ergonomics Compared Usage Recommendations
Audeze use flat conductors on a plastic film placed in an extremely strong magnetic field.
Instead of using a coil of wire to honk a horn as in 99% of all other headphones, the conductors are part of the same diaphragm that makes the sound.
The magnetic field comes from a single layer of very cleverly arranged and manufactured magnets that place most of their flux on the side facing the diaphragm, not wasting it on the other side. This is a patented design branded as "Fluxor" magnets.
Specifications top
Intro Technology Specs Measurements Sound
Ergonomics Compared Usage Recommendations

Type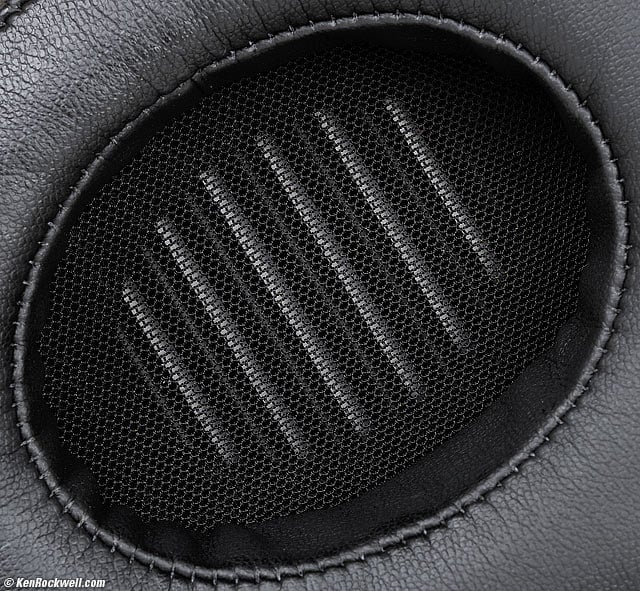 Audeze driver. bigger.
Open or closed-back (two models); open-back reviewed here.
Circumaural (around-the-ear).
100 mm planar magnetic drivers.
Neodymium magnets using a patented configuration to direct flux in one direction.
Impedance
30 Ω.
Plug & Cords
Plug
3.5mm.
¼" adapter included.
Cords
Audeze earpiece connectors. bigger.
There are at least four different cords available. All have 3.5mm plugs and the earpiece connectors shown above.
A.) A six-foot cable.
B.) A four-foot cable with a remote control& mic for Apple iOS.
C.) A balanced cable for Astell & Kern and similar players.
D.) A six-foot balanced cable for Pono and Sony PHA-3.
Sensitivity
102 dB SPL with 1mW input; frequency unspecified.
Recommended Amplifier Power
200mW ~ 4W into 30Ω.
(calculates as 2.5 ~ 11 V into 30Ω, or an amplifier rated about 1 ~ 15W into 8Ω.)
Power Dissipation
15W maximum for 200ms.
Continuous power not specified.
Maximum Output
>130 dB SPL.
Frequency Response
10 ~ 50,000 Hz, tolerance not specified.
Total Harmonic Distortion
< 0.1% at 1kHz at 1mW.
Weight
16.2 oz. (460 g).
Quality
Made in the United States of America.
Price
$699, July~September 2015.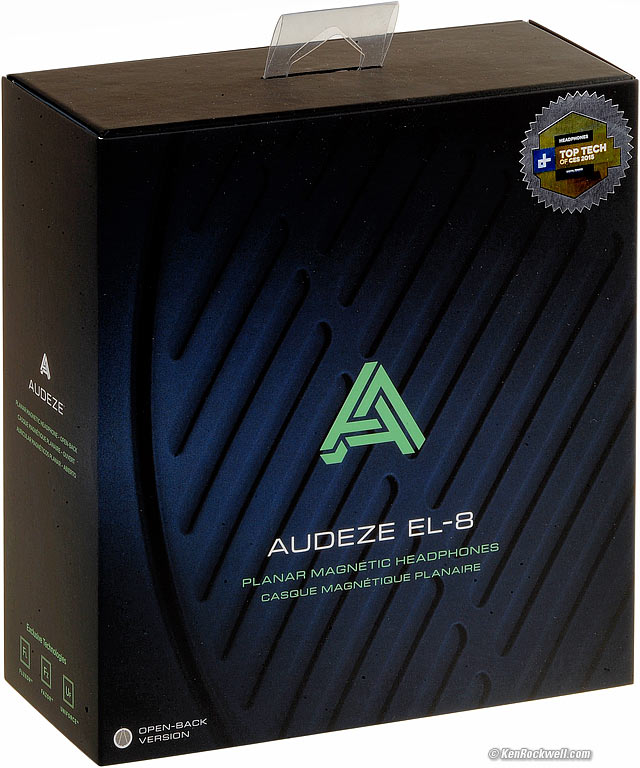 Box, Audeze EL-8.
Box Contents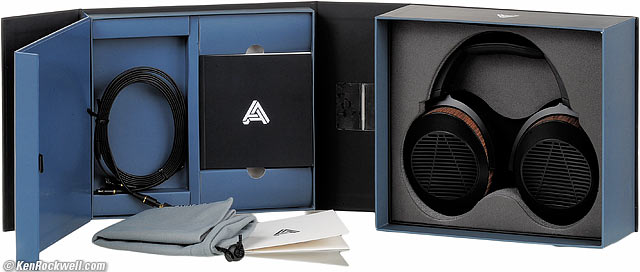 Audeze box contents. much bigger.
Measurements top
Intro Technology Specs Measurements Sound
Ergonomics Compared Usage Recommendations
Complex Impedance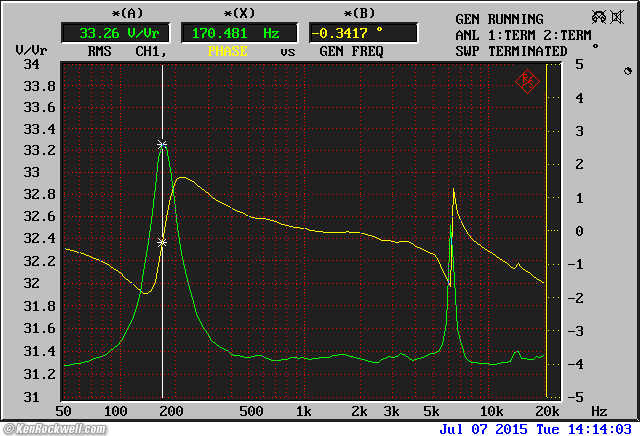 Audeze EL-8 measured Impedance magnitude (Ω=V/Vr) and phase angle versus frequency. (R&S UPL; +90º is capacitive, -90º is inductive.)
DC resistance measures 31.2 Ω.
I'm impressed. Speakers and headphones often claim "purely resistive impedance for easy amplifier loading," and those products have the same highly reactive curves as everything else.
These Audeze really do have a resistive impedance. I use an extremely expanded scale here and you'll see that the impedance varies by only ±3% over the range. Phase angle is within ±2º, which is pure resistance as far as audio design goes.
It's rated 30 Ω, and I read this as 31.6 Ω overall. Potato, potatoe.
This flat, nonreactive impedance implies that there probably won't be the usual strong rise in distortion at bass frequencies which plagues real-world nonzero output impedance headphone amplifiers. Most headphone amplifiers distort when driving real headphones, even though they don't with the resistive loads used in labs, and I suspect the resistive load of these headphones will contribute to greatly reduced real-world amplifier distortion. (I didn't measure induced distortion as I sometimes do when I have more time in the lab).
Residual Magnetic Field
I measured 2,400 µT (microteslas) maximum at the rear grills.
I measured 600 µT maximum at the ear.
This makes sense; the magnets are between your ear and the diaphragm and are designed to have much more flux on the side where you need it (the diaphragm), and less where you don't (your ear).
The magnetic field is highly focussed; it fades very quickly with distance, and at about only 6 inches (15 cm) away, the residual field has fallen to only about the same as the Earth's magnetic field (about 45 µT at my house).
Will the super magnets erase your hard drive? Nope, keep these a few inches away and there isn't any significant magnetic field
Thank goodness; at first I was afraid these would demagnetize my whole house. They have some very powerful magnets, but they are designed to focus the flux where we need it.
Sound top
Intro Technology Specs Measurements Sound
Ergonomics Compared Usage Recommendations
I've been talking about sound for three pages above.
A hallmark of great headphones, the sound changes drastically as you move your hands closer to the earpieces of the open headphones.
This is because sound comes out of the back of the headphones, it's reflected off your hands a few inches away, and comes back through the ultra-thin diaphragms and interferes with itself. This is normal, and tells us that the diaphragms and coils are relatively transparent.
Overall Balance
It's smooooth, sounding as if it's depressed in the presence range.
It's laid back and unclear. It makes you want to turn it up to hear what's going on.
It's perfect for people who prefer to sit farther back, or who enjoy less than perfect source material.
Bass
It has fantastic bass, and it isn't even boosted! It's big, deep, clean and tight. It's perfect.
With test tones, it's clean and solid down to 10 cycles, or well below the range of my hearing. At 10 cycles you don't hear any sound or distortion, what you hear is the level of the ambient noise modulating in amplitude due to intermodulation effects in your ears — not in the headphones.
Ergonomics top
Intro Technology Specs Measurements Sound
Ergonomics Compared Usage Recommendations
The EL-8 are much improved over the earlier models. The EL-8 are real headphones that are easy to wear, won't fall off your head as you move around, and fold flat for carrying.
The size adjustments stay locked and don't move around, thank goodness!
I have no idea why the only really good remote control is on Apple's own earphones. Like all other attempts at remotes, Audeze' remote is clunkier and harder to figure out by feel than the ones on Apple's EarPods.
Compared top
Intro Technology Specs Measurements Sound
Ergonomics Compared Usage Recommendations
I used the Benchmark DAC1 HDR to drive the EL-8 and the other headphones. The DAC1 has two output jacks so each is fed with the same signal.
I drove the STAX headphones with a STAX SRM-1/MK-2 Professional amplifier, fed directly from the DAC1 HDR, thus both are fed from the same source.
EL-8 versus the world
The EL-8 has more lower midrange around several hundred Hz and a depressed presence range, making for warmer sound.
The EL-8 are darker, with less presence than other headphones.
The EL-8 are best for people who like to sit father back in the concert hall, and who want smooth sound regardless of the source material.
The EL-8 have unbeaten deep bass: it's deep, smooth and tight. Nothing beats Audeze at bass.
Compared to the STAX SR-009 ($5,000 with special amplifier)
The SR-009 sound much, much better. Considering the SR-009 sell for at least $3,500 (originally $5,200) and require a special high-voltage amplifier to drive them, they should.
The SR-009 are far cleaner, clearer and more detailed.
The SR-009 are at least as smooth, and make the EL-8 sound muffled and cuppy by comparison. By "cuppy," the EL-8 sound as if they have a big, broad boost around several hundred cycles.
They have about the same upper and mid bass.
The EL-8 have much stronger deep bass.
The EL-8 are more reserved, without much detail by comparison.
The SR-009 are loaded with smooth, clean detail absent in the EL-8.
The EL-8 are warmer from the fat lower midrange, while the SR-009 are much closer to perfect.
The EL-8 sound like $25 headphones with $10,000 bass by comparison to the SR-009. The SR-009 are much cleaner, clearer, detailed and smoother. I'd hope this is the case; these STAX are seven times more expensive when you consider that the STAX need a special amplifier and the EL-8 do not.
Compared to the STAX SR-007 Mk II ($3,500 with special amplifier)
The SR-007 Mk II sell for about $1,800, and also need a special high-voltage amplifier to drive them.
Quite pleasantly, the EL-8 sounds similar! They have similar tonal balances, while the SR-007 is still much cleaner, clearer and more detailed. The SR-007 is much better overall, which makes sense as electrostatic headphones have many sonic advantages over magnetic headphones like these and regular dynamic headphones.
The EL-8 are a bit cuppier and more muffled. The EL-8 has plenty of coarse detail but less fine detail.
Again, the EL-8 sounds like it has a boost around a few hundred cycles compared to the SR-007.
Bass response is about the same, while the very deepest bass is better in the EL-8.
Compared to the STAX SR Lambda Professional
Compared to the classic SR-Lambda Professional (1982-1995), the EL-8 sound much duller and with much, much less detail. The EL-8 sound very muffled by comparison.
The EL-8 have a bit more deep bass, but it's no smoother than the STAX Lambda Professionals.
The STAX Lambda Professionals are much smoother and more detailed. The Lambda Professionals are so clean by comparison that they again make the EL-8 sound like a $25 headphone, which we would hope for a headphone that costs five times as much.
Compared to the Sennheiser HD 650 ($500)
The EL-8 sound darker, while the HD 650 are more present.
The EL-8 are cuppier and less detailed than the HD 650. The HD 650 have far more detail and are still very smooth.
They have about the same deep bass. There is maybe more bass detail in the HD 650 but more thud in the EL-8.
The EL-8 have more sensitivity when driven by the same voltage.
I prefer the sound of the HD 650.
Compared to the beyerdynamic T51i ($300)
The T51i is more sensitive, but surprisingly not that much more sensitive. They share the same impedance.
I prefer the sound of the T51i. With the T51i, I'm actually in the concert hall.
The T51i are more present, and in a good way, while the EL-8 are smoother.
The EL-8 sound cuppier and more muffled, but smoother.
Bass response is the same.
Deep bass is at least as good in the T51i, while the EL-8's bass is smoother and tighter.
Compared to the beyerdynamic DT 880 (600Ω) ($300)
The 32 Ω EL8 have much more sensitivity than the 600 Ω DT 880 when driven by the same voltage.
The DT 880 are more present; the EL-8 sound farther away.
The DT 880 have sparklier highs. The DT 880 sound lighter and are better for baroque music, like the Brandenburgs.
The EL-8 has more lower midrange for a warmer sound, but probably too much lower midrange that tends to bone-up the sound compared to the DT 880.
The DT880 also have great, smooth, tight and deep bass, just that the DT 880's overall response from low to high is tilted gradually upwards compared to the EL-8.
Usage top
Intro Technology Specs Measurements Sound
Ergonomics Compared Usage Recommendations
Opening the Box
It has stumped me twice.
It's easy to slide the insides out from the outer sleeve, but the inner section does not then slide out from the inner sleeve.
The trick to opening the rest of the box is that once slid out, the inner section has a hidden magnetic flap that flips open, revealing its insides.
You can use this as an IQ test. People are primed to expect the insides to slide out again after sliding out the first section, while in fact one needs to think flexibly to consider that the next section opens differently from the first. The panel that needs to be flipped out has its seam well hidden until after you realize the trick. You can't simply grab the edges at random, you have to grab the sides of that flap deliberately to open it.
Hee hee!
Cables and Plugs
The plugs pop into the bottom of the earpieces. Each goes in only one way, so don't force it.
You can reverse your channels. If you're not paying attention you can plug left into right, but you can't get the polarity wrong.
The thin 3.5mm plugs will push-in properly even if your iPhone is in a heavy case. Be careful, though, since the plugs are straight so it's easy to bend one of you pull it or knock it sideways.
Amplifiers
You don't need another amplifier; plug these into your iPhone and you're done.
If you have a player with balanced output, of course get a balanced cable for even more output.
The great news is that they sound the same regardless of what amplifier I used. My DAC1 HDR goes louder, but not any better than my iPhone.
I heard no problems with amplifiers with nonzero output source impedance; the genuinely resistive load of these headphones means that frequency response doesn't change with source impedance, and I suspect bass distortion stays low with amplifiers that would otherwise distort with the reactive loads of most other headphones.
For this same reason these play superbly with typical headphone jacks found on regular HiFi gear. For instance, my Sony SCD-XA777ES SACD player's headphone jack drives these much louder than an iPhone does. Heck, even my 1985 Sony D-5 portable CD player works great to drive these.
The Elekit TU-8200 tube amp's headphone jack sounded the same, too.
If you want to bang your head or be able to play wide-range classical music at realistic levels, you might want an amplifier with more output. The Sony SCD-XA777ES has more than enough oomph for the quietest classical selections, as do many decent (read classic) CD and SACD players and preamps and receivers.
An Apple iMac with 5K Retina Display's headphone jack also sounds swell with plenty of level, but be careful not to walk away with your headphones still connected — the jack is on the back of the iMac!
If you don't get enough volume for softer music on Apple devices, be sure to set Sound Check ON in iTunes or Music's preferences. This turns down the loud songs and turns up the quiet ones, but doesn't do anything to the dynamics as each song plays. This turns up the volume for the softer songs, possibly enough to save you from having to buy an amplifier just to hear the quietest movements.
If you really want to damage your hearing, I suggest a Crown D-75. The Crown D-75 is a professional loudspeaker monitor power amplifier, and its headphone jack just happens to be directly wired to its speaker outputs. It can melt these headphones with over 12 watts continuous RMS per channel into 32Ω, has a zero output impedance and no audible noise. For $100 used, the D-75 rocks.
Recommendations top
Intro Technology Specs Measurements Sound
Ergonomics Compared Usage Recommendations
These EL-8 are Audeze' best headphones yet because they sound as good as the others, and are so much more practical. I didn't have the LCD-3 or LCD-X here for direct comparison, but I can't hear anything much different with these EL-8.
The EL-8 cost a fraction of the LCD-3 and LCD-X and sound as good because the EL-8 use newer and more intelligent design that reduces cost and improves ergonomics, while leaving the sonics alone.
Unlike speakers, everyone's ears hear the same headphones differently because they sit on our heads differently and our ears are in different places. You may hear these quite differently.
Get yours at B&H and they have a 30-day full cash return policy if you don't love them.
If you find my work here helpful, my biggest source of support for this ad-free website is when you use that link or any of these links to approved sources when you get anything, regardless of the country in which you live, it helps me keep adding to this free website — but I receive nothing for these efforts if you take the chance of buying elsewhere. Unlike a bottle of milk, CD, DVD or SACD, headphone boxes aren't sealed so you have no idea if you're actually getting a used product if you risk buying at retail. The approved sources I use myself all ship from secure remote warehouses where no one gets to wear your new headphones before you do.
Thanks!
Ken.
© Ken Rockwell. All rights reserved. Tous droits réservés.
Help me help you top
I support my growing family through this website, as crazy as it might seem.
The biggest help is when you use any of these links to approved sources when you get anything, regardless of the country in which you live. It costs you nothing, and is this site's, and thus my family's, biggest source of support. These places have the best prices and service, which is why I've used them since before this website existed. I recommend them all personally.
If you find this page as helpful as a book you might have had to buy or a workshop you may have had to take, feel free to help me continue helping everyone.
If you've gotten your gear through one of my links or helped otherwise, you're family. It's great people like you who allow me to keep adding to this site full-time. Thanks!
If you haven't helped yet, please do, and consider helping me with a gift of $5.00.
As this page is copyrighted and formally registered, it is unlawful to make copies, especially in the form of printouts for personal use. If you wish to make a printout for personal use, you are granted one-time permission only if you PayPal me $5.00 per printout or part thereof. Thank you!
Thanks for reading!
Mr. & Mrs. Ken Rockwell, Ryan and Katie.
Home Donate New Search Gallery Reviews How-To Books Links Workshops About Contact