Home Donate New Search Gallery Reviews How-To Books Links Workshops About Contact
Beyerdynamic T51i
World's Best Portable Headphones
MADE IN GERMANY
Intro Specs Performance Compared Recommendations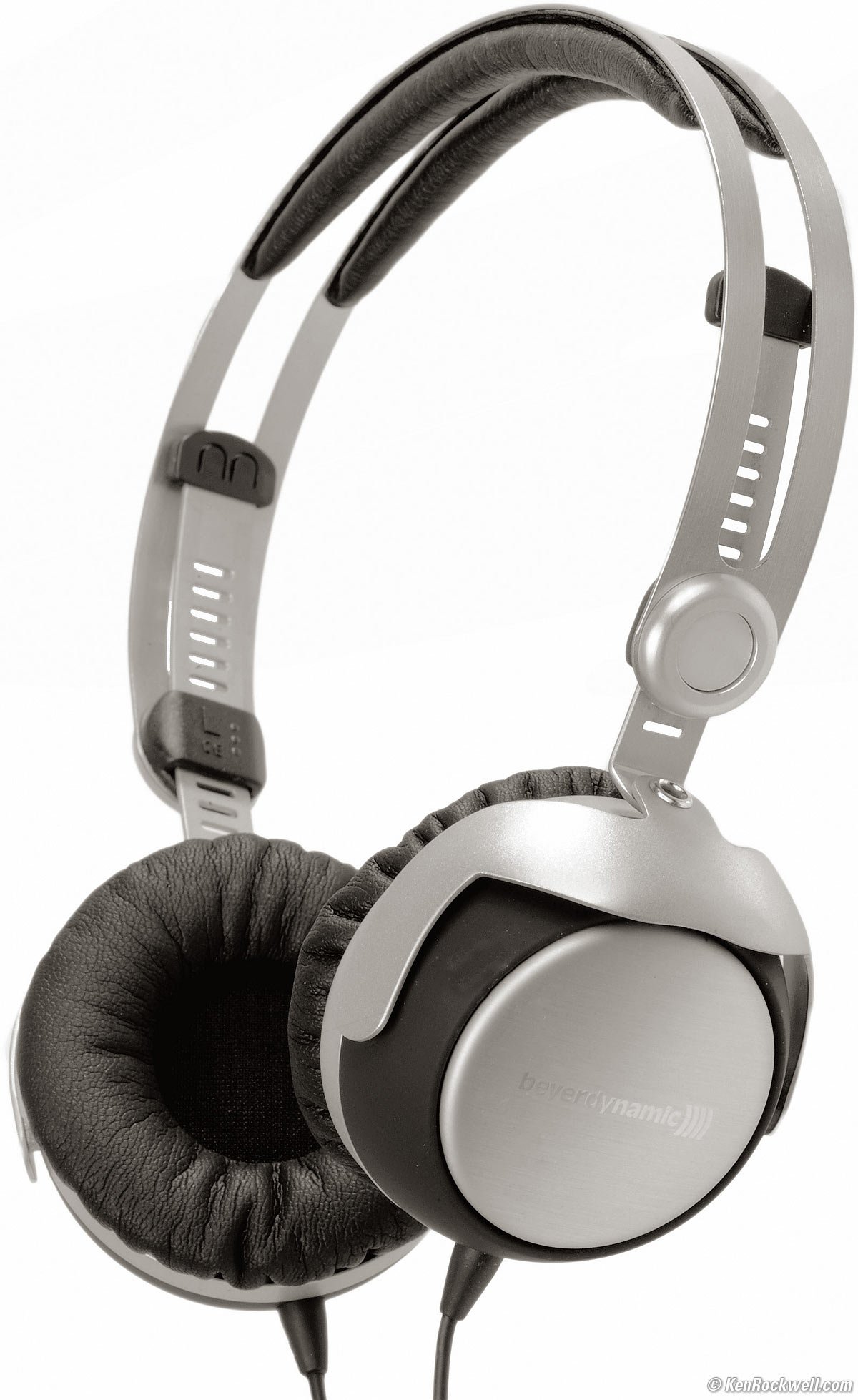 Beyerdynamic T 51i Tesla (closed back, 32 Ω, 6.12 oz./172g without cord, about $230). larger. I'd get it at Amazon or at eBay (How to Win at eBay).
This ad-free website's biggest source of support is when you use those or any of these links to approved sources when you get anything, regardless of the country in which you live. Buy only from the approved sources I use myself for the best prices, service, return policies and selection. Thanks for helping me help you! Ken.
February 2018 beyerdynamic Reviews Headphone Reviews Audio Reviews All Reviews
Introduction top
Intro Specs Performance Compared Recommendations
The Beyerdynamic T51i are the world's best portable headphones. By "portable," I mean headphones that fold and have a remote control.
These tough little Beyerdynamic T51i astonished me from the moment I opened them. I plugged them into my iPhone 6 Plus for a quick check, and I was instantly transported into the concert hall. It was as if I suddenly had changed into my suit and was sitting in Symphony Hall for the 8 PM downbeat. I popped on Pictures at an Exhibition and was astounded.
The T51i give about a 10th row perspective, while the bass sounds as if you're sitting in and playing. Goodness gracious, still after a few months of listening, these headphones capture the intangible warmth and smoothness of the concert hall like no other headphones I've heard. The T51i present the full symphony orchestra and chorus with a warm, enveloping sound, superb for large and complex works.
Everything sounds great. Classic rock sounds fuller than it ever has: it add all the bass back in and smooths out the roughness of earlier recordings. Choral, vocal work and voice isn't just lifelike, it's live.
The T51i aren't the most accurate headphones; more accurate headphones simply make recordings sound like recordings. What the T51i do is present recordings so they sound as if you're there. Close your eyes (as I do when I'm actually at concerts), and bingo, you're right there. It's uncanny. With eyes open working it's not as impressive as it is as when you close your eyes and you're suddenly transported there with the performers.
The sound is also dynamic; nothing is hidden from loud to soft and all the transients come out as they should.
All this, and I LOVE my Beyerdynamic T51i because they sound absolutely fantastic (better than most full-sized headphones), are super tough and super tiny, they fold flat for travel and they are extremely well made of metal in Germany. They feel great, always super comfortable and never fall off my head. They isolate very well against outside noise, and don't leak sound to the outside to annoy others. They are super-sensitive, so they always sound fantastic driven directly from my iPhone, iPad or iPod, and they have a remote control and mic for use with all these devices.
As closed headphones they isolate you from outside noise, and you can play them as loud as you want and no one else will hear you. These are perfect for travel, cubicle workers and commuting, as well as at-home listening.
They are supremely comfortable and ergonomically perfect. These tough little headphones fold and are easy to move around, and they stay on your head.
They are very sensitive. They need no extra amplification; any iPod, iPhone or iPad can drive them deafeningly loud. Half to 3/4 is more than enough level for anything.
These T51i really do sound much better than most full size headphones. I've compared them directly to the $1,500 AKG K812, and while the K812 are more accurate for creating music, the T51i are better for enjoying it because they are smoother and warmer. The K812 make recordings sound like recordings, while the T51i sound like the original performance.
Also astounding is that these T51i are closed headphones, and sound as marvelously open as open headphones.
The included tough, compact and well-designed case holds not just the T 51i securely, but also holds all the manuals and three included plug adapters for professional ¼", dual-3.5mm airline, and a 3.5mm non-remote cord.
Anyone who's worked in radio or recording knows Beyerdynamic microphones and headphones. I've been using them since the 1980s, and they've been around since the 1920s. The vocals on Billy Joel's classic album 52nd street were recorded with a Beyer 250 microphone. For all you know, maybe your favorite recording was made with a Beyer microphone, too!
I got these right before I left to travel around the country most of October 2014. I now look forward to delayed flights because I get to enjoy a few extra hours of fantastic music while in the terminal. These turn waiting into pleasure.
These are deliciously warm and reserved. If you want a more forward sound, no problem, just turn them up to live concert levels and you're there. These play that loud and louder from any of the Apple portables.
The T51i have an Apple remote and mic on the right side cord. The older Beyerdynamic T51p should be the same headphones, without the remote and mic.
These aren't just smooth and natural; they are also extremely detailed. I hear all the page turns, breathing and seat creaks of live performances through the T51i.
They work great for movies, too. They're so sensitive that only 1/2 to 3/4 is as much level as you need on Apple, and the sound is smooth, with lots of deep rumbling as needed. The remote also works on movies to advance and rewind playback.
Specifications top
Intro Specs Performance Compared Recommendations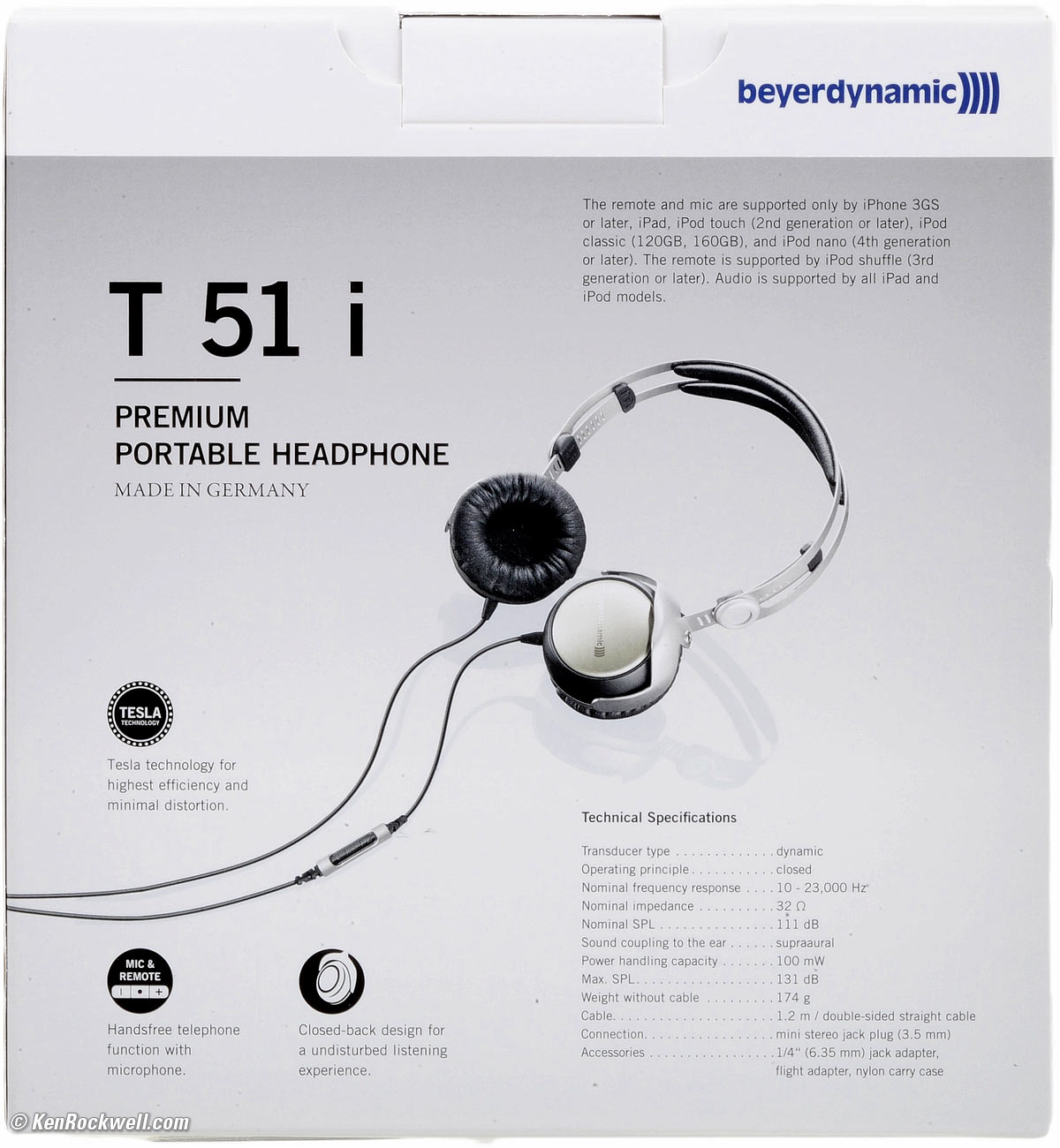 Beyer T 51i box back. bigger.
Type
Closed-back (isolating) dynamic stereo headphones.
Supraaural: sits on your ears.
Ear Pads
Synthetic leather with viscoelastic (memory foam) filling.
Plug and Cable
Fixed 1.2 meter (4 feet) thin straight cord — perfect for portable use!
Right-angle 3.5mm plug with a little extension that lets it plug-in through cases as much as 6mm (¼") thick.
3 plug adapters included: ¼", dual-airline and non-remote (CTIA to OMTP).
Frequency Response
10 ~ 23,000 Hz, no conditions specified.
Impedance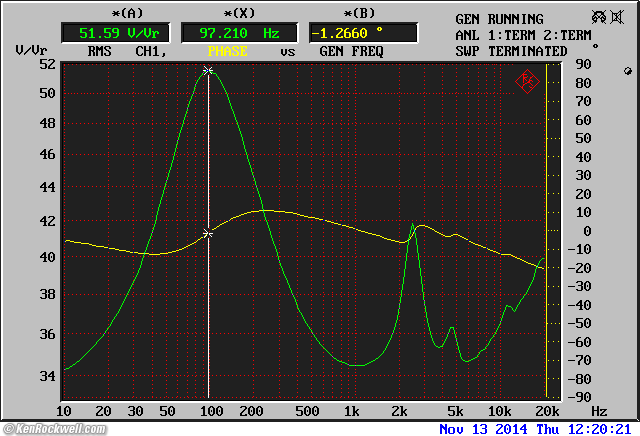 T 51i measured Impedance magnitude (Ω=V/Vr), and phase angle versus frequency. (R&S UPL; +90º is capacitive, -90º is inductive.)
Rated 32 Ω.
39 Ω actual measured impedance.
"Nominal SPL"
111 dB at 1 mW.
1 mW into 32 Ω is 179 mV, so 1 V should produce 126 dB SPL.
Power Handling and MOL
100 mW, which gives 131 dB SPL.
100 mW into 32 Ω is 1.79 V.
Maximum SPL
131 dB.
The case holds all the manuals, as well as the three cable and plug adapters.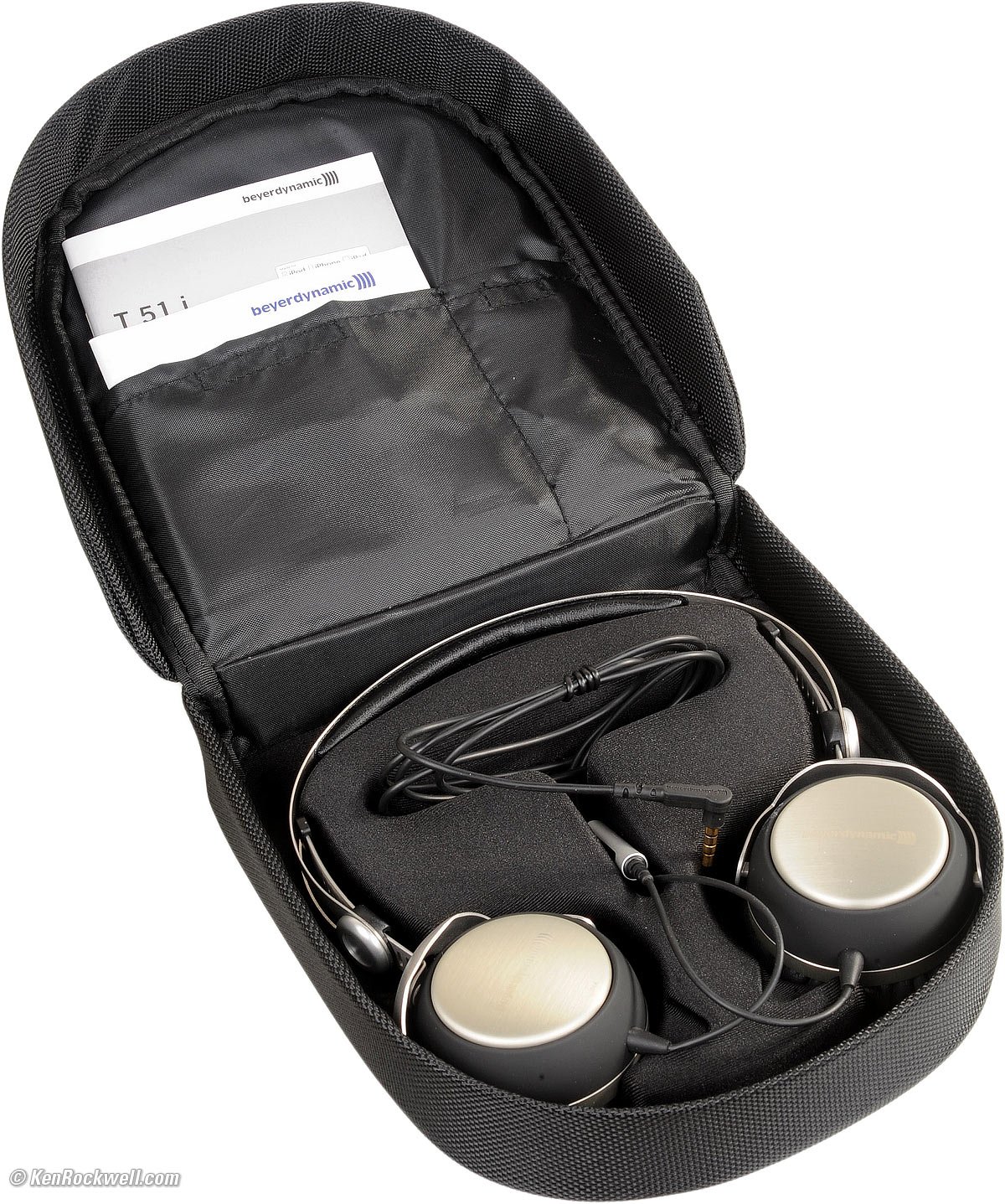 Free included case. enlarge.
Weight
6.12 oz. (172g) actual measured, headphones only without cord.
Rated 6.14 oz. (174g).
Included
T 51i headphones in nylon case.
Three plug adapters.
Manuals.
Price, USA
$230, February 2018.
$300, October - November 2014.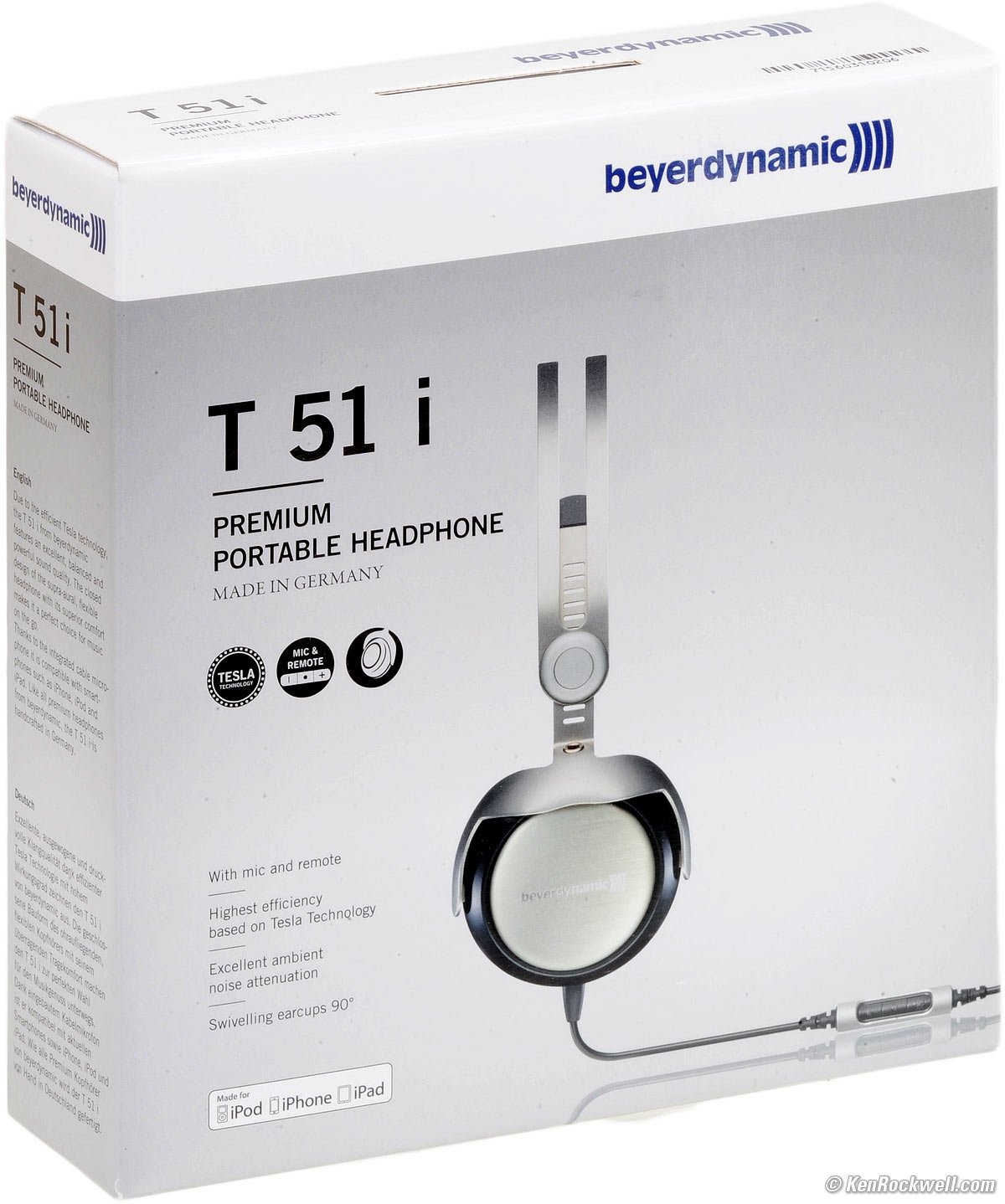 Beyer T 51i box. bigger.
Performance top
Intro Specs Performance Compared Recommendations
I've already covered most of this at the Introduction.
Break-in
These sounded fantastic right out of the box, and months later, still sound fantastic.
Sensitivity and Amplification
The T 51i are super-sensitive.
Half-up on the level control on Apple devices is about right.
There's no need for any extra amplifiers; these sound great direct from portable players and can easily go loud enough to deafen a heavy metal drummer.
Sound
Better than most closed headphones, it's not boxy or closed-sounding.
Vocals are exceptionally smooth.
The sound doesn't change as moved around my head.
Tonal Balance
It's smooth and warm, with strong, clean bass.
Bass
The T51i has big, strong, solid bass the way it should be. It's like sitting in with the bass section, or playing in front of the bassist's stack. Bass is just right, providing the fundamentals on which the entire harmonic chord structure is based, but never interfering.
Deep bass is very good.
Our ears hear more bass at louder levels; if you want less bass, play the T 51i more softly.
The T 51i correct (add to) the bass, so bass sounds as it should. Most headphone have too little, and don't make up for the fact that we hear bass with our entire body.
Imaging
Stereo imaging is normal: nice and wide and clear with some out-of-head sound.
There is plenty of stage depth.
Isolation
These isolate very well.
Leakage
The T51i don't leak sound to the outside world.
Residual Magnetic Field
I measured a maximum of about 4,000 µT (40 Gauss) at the open (ear) side of the drivers.
These are not shielded, so keep them away from sensitive magnetic material.
Ergonomics
These are tough and lightweight headphones, and they stay on my head since they don't need much pressure to hold on.
They fold easily and pop in and out of their case easily.
The T51i do this all as they should. It's sad that so few headphones get this right.
The gimbals work great. They always adjust themselves to fit my head, and they're easy to fold flat.
Once the harp is adjusted to fit your head, it stays that way.
The thin pads on the bottom of the harp are super comfortable. I wear these for hours and love it.
Materials
The T 51i are a first-class all-metal headphone. There are many more expensive headphones made much less well.
The only plastic are the dark earpiece surrounds.
Everything that looks like metal is metal.
The case is well made of nylon. It has a velco flap that holds it closed.
Remote and Mic
The control is on the right. It's not as easy to use by feel as Apple's remote, but nothing else is, either.
It uses the usual click structure to start, pause, stop, jump or run forward or back.
It doesn't control my 2nd generation iPod Nano from 2006, but it controls everything Apple has made since about 2007.
It works great with my 2009 iPhone 3GS, iPhone 5, iPhone 5S and 2014 iPhone 6 Plus.
It controls my 2009 MacBook Pro, my 6th generation iPod Nano from 2010 and my 4th generation iPod Touch from 2010.
It even controls my late-2013 Mac Pro, and controls video playback on iPhone.
It certainly controls all my newer iOS devices and all my iPads.
The phone works much better with the T51i than it does held to my head. The T51i makes phone calls sound much better.
If iPhone 6 Plus rings, music stops. Oddly the volume control controls music volume for when call is over, and not call volume.
Case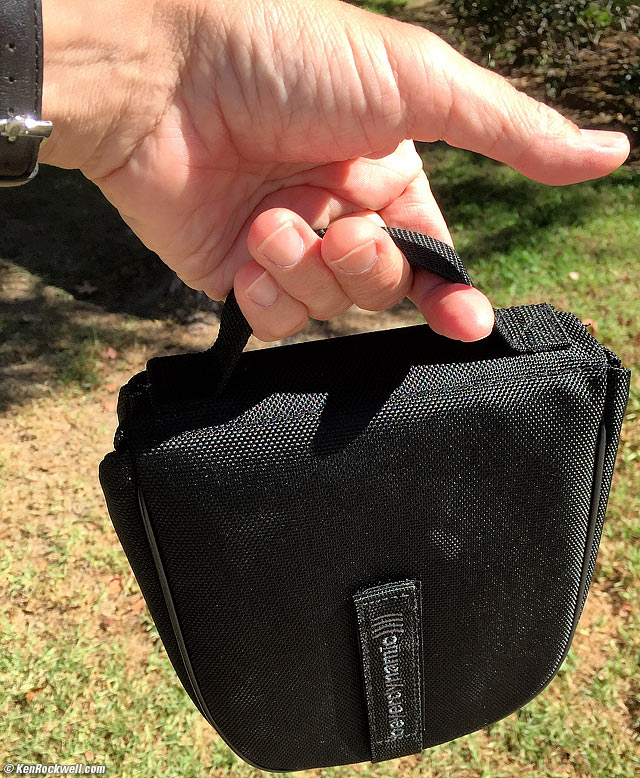 Even has a handle, and not much bigger than a CD carry case.
The tough, light case holds the flat-folded headphones, as well as all the adapters and manuals.
The case is well enough designed that the headphones go in and out without having to resize them. When you take them out, they're still adjusted to your head for immediate use.
It looks like a CD holder, just a little bigger.
Compared top
Intro Specs Performance Compared Recommendations
I drove all these from the Benchmark DAC1 HDR.
Compared to the Stax SR-007 Mk II ($2,350 + special high-voltage amplifier)
The Stax SR-007 Mk II (electrostatic as driven by SRM-T1 driven by the Benchmark DAC1 HDR) sound very similar, with these Beyerdynamics having a relatively small and narrow boost around 120 Hz. Overall balance and smoothness is astonishingly similar.
These Beyers sound closer to the Stax than just about any other headphone. These Beyers as well as the Stax bring me into the concert hall. I close my eyes, and I'm sitting front and center.
The Stax are very slightly clearer, while the Beyer are slightly warmer. Each is about as enjoyable as the original concert, which is saying a lot! These Beyer simply have you sitting a row or two back from where the SR-007 put you.
The T51i smooth-out the sound of an SM-58, although a U-87 doesn't sound as glorious as it sounds on the Stax.
Mechanically, the Stax are open and the Beyer are closed. The Beyer are tough and portable and plug right into anything, while the Stax need a dedicated high-voltage amp.
These Beyer cost only one-tenth of what the Stax and amplifier will cost you. The Stax sound better, but they don't travel well.
Compared to the AKG K812 ($1,500)
The AKG K812 are much less sensitive and harsher.
Overall balance is similar, but the AKG are rougher and less smooth.
The T51i sound the same as they're moved around my head, while the K812 sound very different with on-head position.
These Beyerdynamics bring me into the concert hall, while the AKG sound more like just a recording. The T51i are warmer than the slightly brighter AKG. The AKG are brighter and clearer which might sound good for a quick listen, but with these Beyer T 51i, I'm actually at the concert instead of just listening to it over headphones.
The K812 are more accurate, while these T51i make the music sound better.
The Beyers are smoother, while the AKG are brighter and a bit more forward. I enjoy the sound from these Beyers more than I do from the AKGs that cost five times as much. I sent the AKG back and I bought these T51i for myself!
Recommendations top
Intro Specs Performance Compared Recommendations
Nothing captures the magic of the concert hall like the T51i. Its subtle inaccuracies make my recordings sound as if I'm there, while most other great headphones are colder and drier, and just don't put me at the concert with the same smooth, detailed sound I get from the T51i.
These sound so good you just want to go listen to them forever. Even months later I can't wait to hear them again and again. They've caught that big, full, warm and detailed, smooth and solid concert-hall sound like no other headphones. The Audeze LCD-3 give an even warmer sound, but they make it sound like we're out in the hallway, not actually in the concert hall — and these Beyers are so much more practical, sensitive and comfortable.
These T 51 i are so tough I don't worry about breaking them, and if I did, they are a fraction of the price of headphones that still aren't as enjoyable.
These are for enjoyment and showing off the recordings you've made. They're not for mastering; your works would wind up too thin and brittle if you tried used these to create recordings.
If you find my efforts here helpful, this free website's biggest source of support is when you use these links, especially this link to it at Amazon or at eBay (How to Win at eBay) when you get anything, regardless of the country in which you live.
Thanks!
Ken.
© Ken Rockwell. All rights reserved. Tous droits réservés. Alle Rechte vorbehalten.
Help Me Help You
I support my growing family through this website, as crazy as it might seem.

The biggest help is when you use any of these links when you get anything. It costs you nothing, and is this site's, and thus my family's, biggest source of support. These places always have the best prices and service, which is why I've used them since before this website existed. I recommend them all personally.

If you find this page as helpful as a book you might have had to buy or a workshop you may have had to take, feel free to help me continue helping everyone.

If you've gotten your gear through one of my links or helped otherwise, you're family. It's great people like you who allow me to keep adding to this site full-time. Thanks!

If you haven't helped yet, please do, and consider helping me with a gift of $5.00.

As this page is copyrighted and formally registered, it is unlawful to make copies, especially in the form of printouts for personal use. If you wish to make a printout for personal use, you are granted one-time permission only if you PayPal me $5.00 per printout or part thereof. Thank you!

Thanks for reading!

Mr. & Mrs. Ken Rockwell, Ryan and Katie.