Home Donate New Search Gallery Reviews How-To Books Links Workshops About Contact
California's Central Coast
10 11 12 13 14 April 2013
These are snaps I made on Dave Wyman's photo trip to California's Central Coast.
I brought my Nikon EL2, Nikon D7100 and my iPhone 5. I used my Nikon 20mm f/2.8 AI-s, 35mm f/1.4 AI-s, 50mm f/1.4 AI-s, 85mm f/2 AI-s, 135mm f/2.8 AI-s and 180mm f/2.8 AF lenses on my EL2, and my Nikon 10-24mm G, 35/1.8 G and 55-200mm VR lenses on my D7100. I didn't waste much time with digital; I shot mostly with my EL2 shooting Fuji Velvia 50.
I usually shoot my Velvia through a Nikon A2 (81A) filter to get the color balance I prefer. I shoot my EL2 in its AUTO mode.
My D7100 is set to MEDIUM BASIC JPG, VIVID Picture Control with +3 Saturation and 7 Sharpening, and AUTO white balance with A2 trim. Feel free to use my D7100 Settings File (NCSETUPB.BIN). It won't do anything on your computer or by clicking it. If you'd like to use the same settings I do (U1 for scenics as shot here and U2 for family shots), click that to download my NCSETUPB.BIN file to your computer, copy it to a memory card, pop the card in your camera and go to MENU > SETUP > Save/load settings > Load settings > OK, your D7100 will be set up as mine.
I carry it all in a waist-pack so I can get to it instantly. I have no idea why otherwise intelligent people use backpacks, where there's no way to get anything without taking it off, or use shoulder bags, which fall off and require digging for buried treasure to find what you need. With this pack, it's stuck to me, and none of my hands are tied up. Too bad no one makes threse anymore; I bouoght this one used over eBay.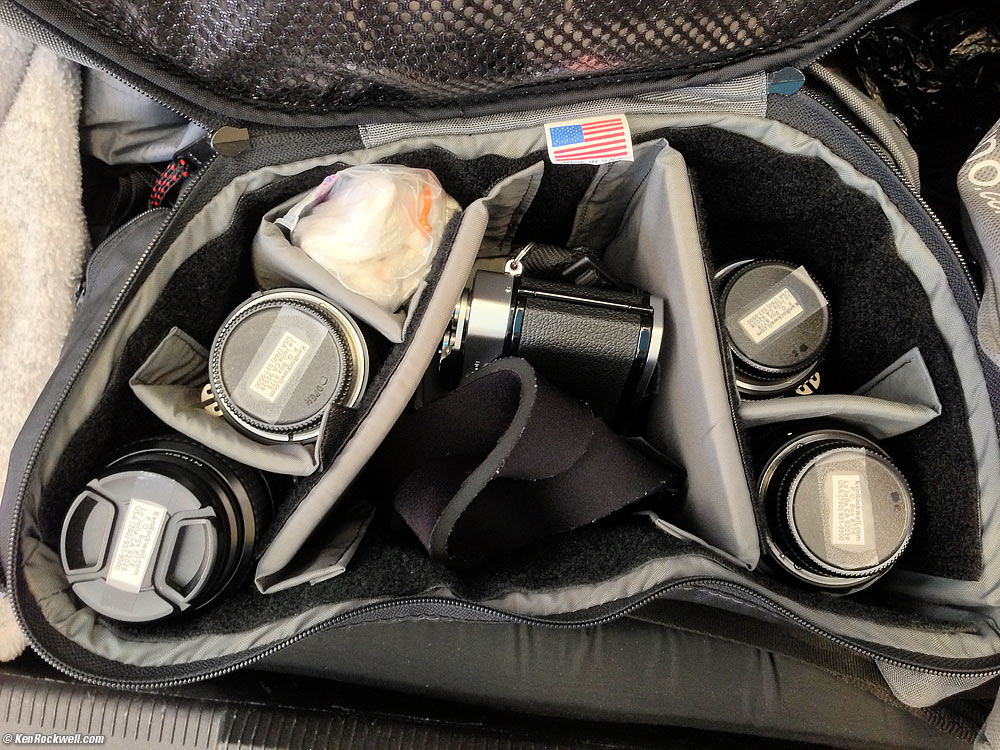 What's in my Tamrac waist-pack: all my gear at my fingertips.
Once processed and scanned at North Coast Photo, I used iView Media Pro 3.1.3 to identify and losslessly rotate all my JPGs from all sources. I then sorted the images in Phase One Media Pro. I would have rotated the images in Phase One Media Pro, but it's pretty flaky doing rotations, so I've given up and now do it in iView Media Pro 3.1.3 first. Once selected, I formatted the images for publication with Photoshop CS6. Most shots were processed with the Perfectly Clear plug-in at its default settings. The colors you see here are what came out of the cameras as JPGs and clicked-through the Perfectly Clear plug-in, no fiddling needed.
I then created these pages and uploaded it all in Macromedia Dreamweaver 8 from 2006 on Mac OS 10.6.8.
10 April 2013, Wednesday top
Today I drove to Arroyo Grande. First stop: Aldo's Italian Restaurant in Santa Barbara.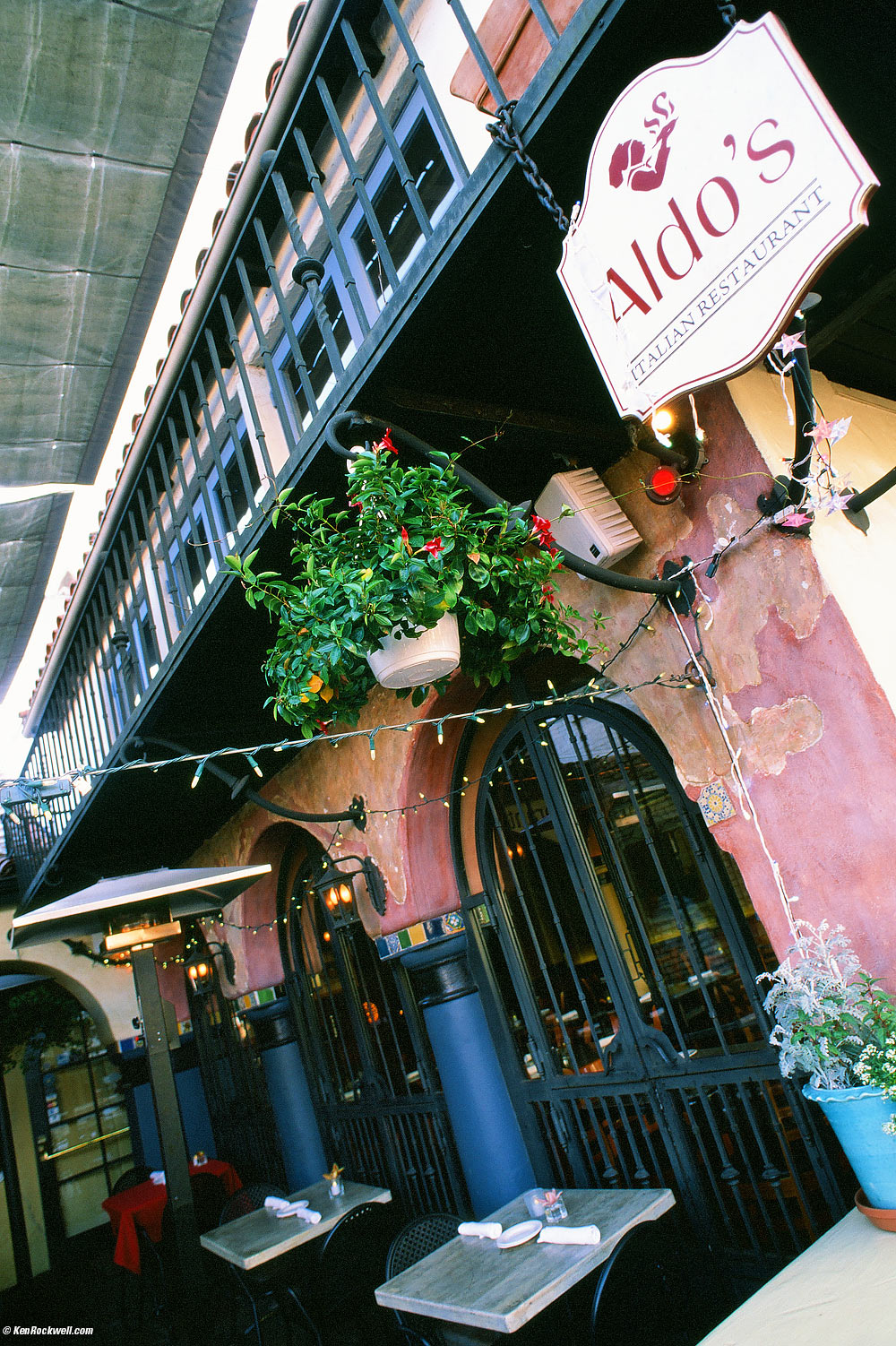 Aldo's Italian Restaurant, Santa Barbara. 6:16 PM. (1977 Nikon EL2, 1990 Nikon 20mm f/2.8 AI-s, Nikon A2 (81A) filter, Fuji Velvia 50, f/4 at 1/8 hand-held, process and scan at NCPS, Perfectly Clear.)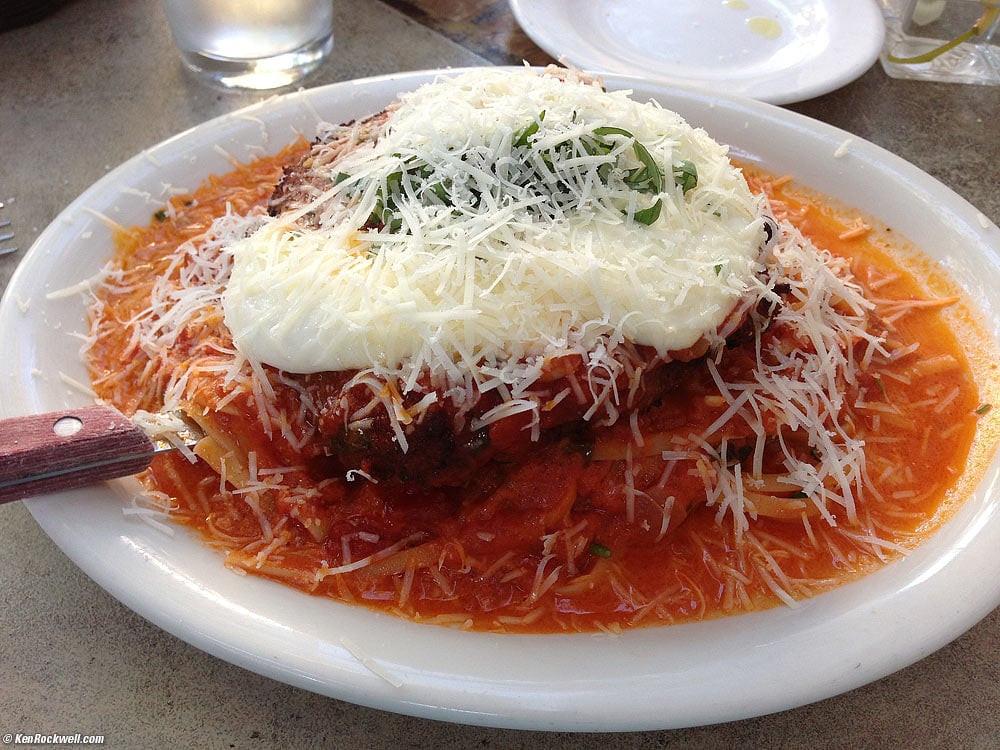 Yum!, Aldo's Italian Restaurant, Santa Barbara, 6:33 PM. (I don't use Facebook so you see it here, iPhone 5, ISO 64, f/2.4 at 1/40, Athentech Perfectly Clear.) original © file.
Shot in regular mode, I'd get this due to the lighting: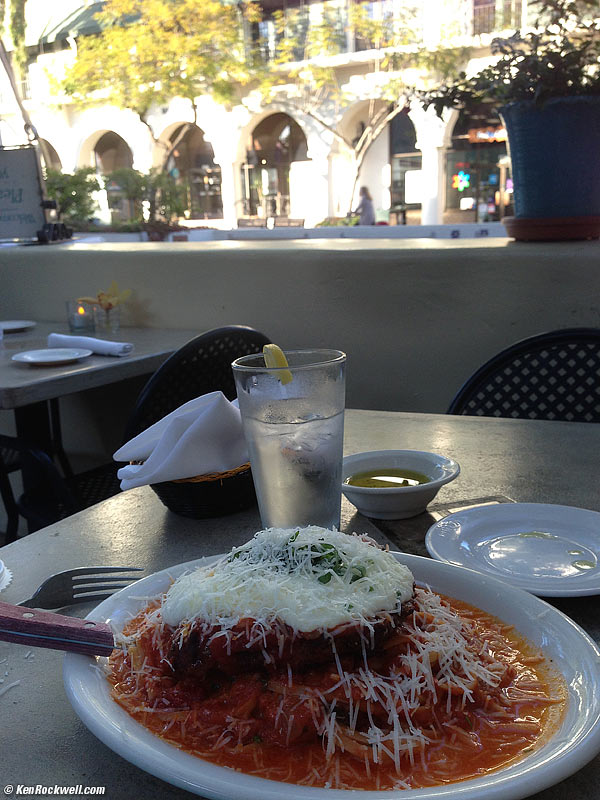 But use the HDR mode and add a ND split grad filter, and Voilà: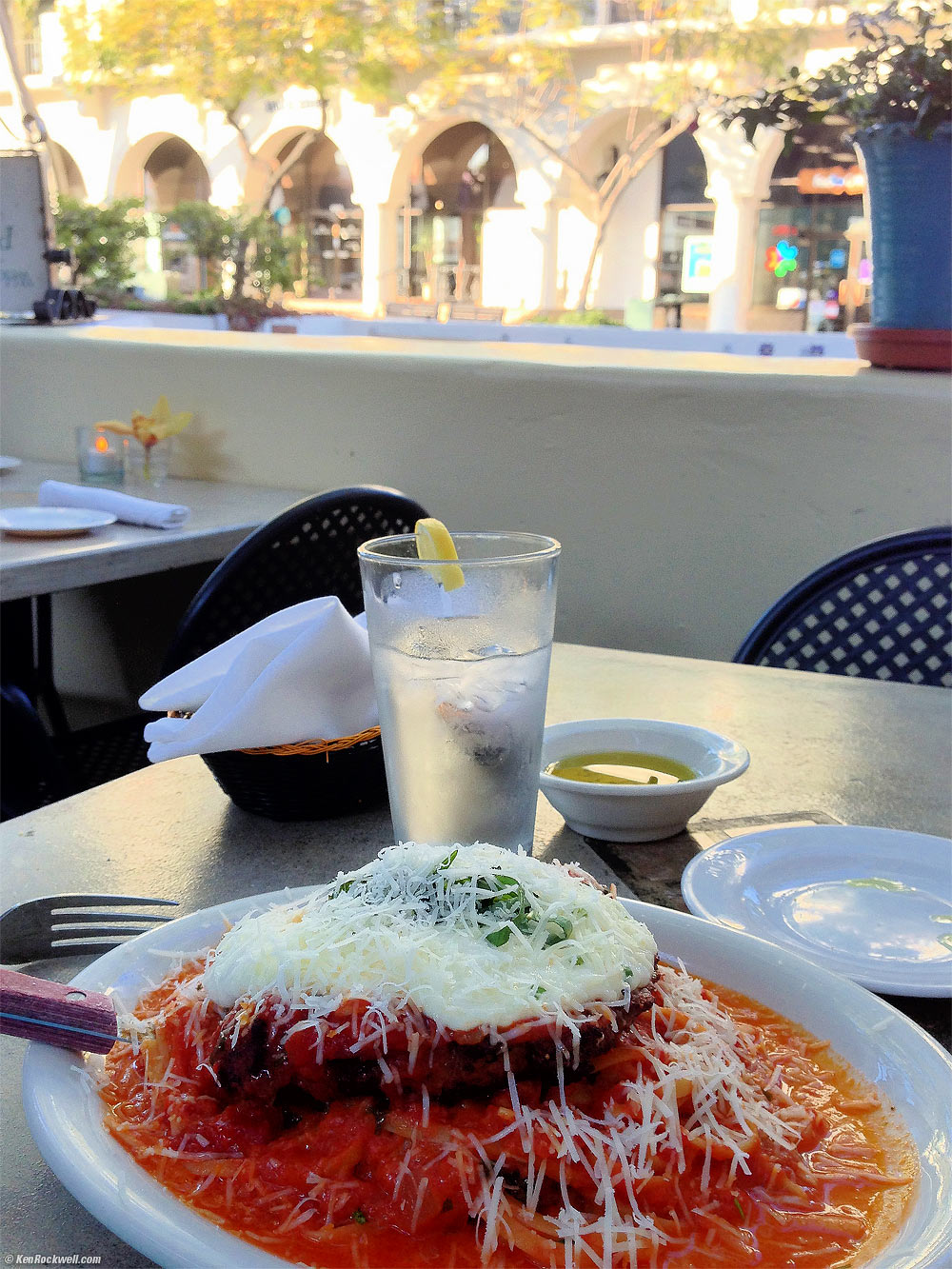 More yum!, Aldo's, Santa Barbara, 6:34 PM. (iPhone 5, HDR mode, ISO 50, f/2.4 at 1/60, ND split grad filter, Athentech Perfectly Clear.)
That's all for today. NEXT ->> Thursday
Home Donate New Search Gallery Reviews How-To Books Links Workshops About Contact