Home Donate New Search Gallery Reviews How-To Books Links Workshops About Contact
Fenix LD41
4-AA, 520 Lumen Flashlight
© 2012 KenRockwell.com. All rights reserved.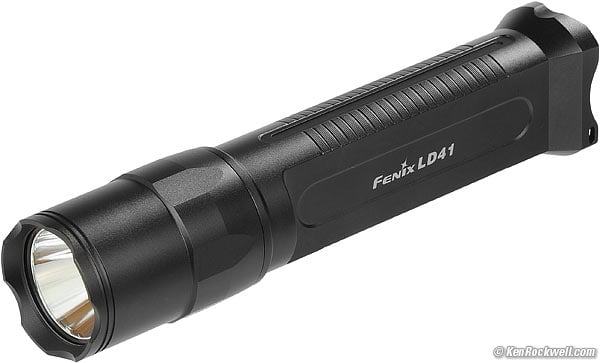 Fenix LD41 (4-AA, 9.465 oz./268.3g with four alkaline AA, about $76). bigger.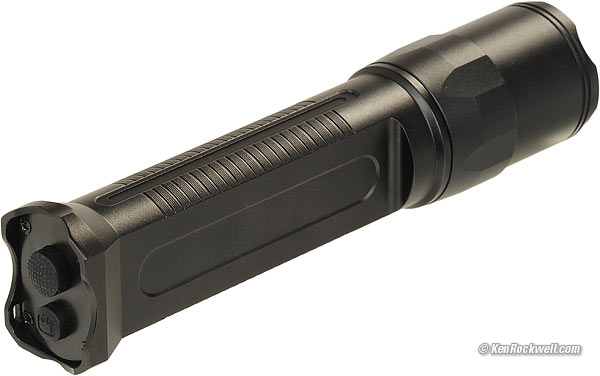 Rear, Fenix LD41. bigger. This free website's biggest source of support is when you use these links, especially this link directly to it at Amazon (also in in silver) or at eBay when you get anything, regardless of the country in which you live. Thank you! Ken. This sample came from Fenix Outfitters, a USA distributor.
October 2012 More Fenix Reviews Lupine Piko TL Mini Review All Reviews
I got this Fenix LD41 flashlight a month ago. Unlike the very practical E05 and E11 flashlights I carry everywhere, this big complicated thing seems like it would fit better in a cartoon.
Yes, it's very bright, but it has only a very narrow pencil beam best suited for impressing strangers at far it shines rather than lighting anything useful indoors or out.
The LD41 uses four AA cells that fit in a removable carrier.
The pushbutton on the back can be half-pressed just to blink, or pressed to lock on.
The bigger button is the off-on switch. The smaller button is the brightness switch. There are four brightness levels, as well as a foolish blinking death beam for killing cartoon characters. Keep pressing the little button to cycle around the different levels, or hold it for the death ray.
Specs
Digitally regulated constant output.
175mm x 40mm ∅.
180g rated empty. 9.465 oz. (268.3g) measured with 4-AA alkaline.
Recommended battery types: Alkaline, Ni-MH and Lithium. Since this light sucks so much current, Fenix suggests Ni-MH over alkalines for much better run times.
50,000 hr XM-L (U2) Cree LED: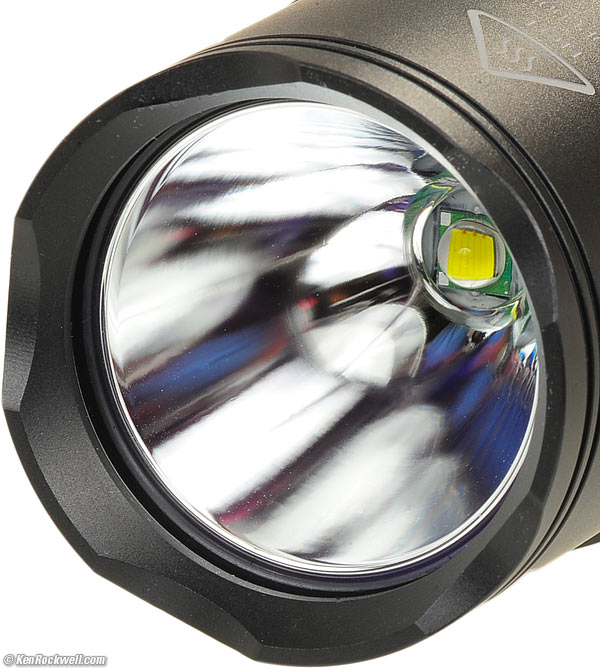 Front, Fenix LD41. bigger.
| | | | | |
| --- | --- | --- | --- | --- |
| | High | Medium 2 | Medium 1 | Dim |
| Brightness | 520 lumens | 190 lumens | 80 lumens | 5 lumens |
| Peak intensity | 10,000 candelas | 3,650 candelas | 1,540 candelas | 96 candelas |
| Run time, 2,500 mAh Ni-MH | 2.2 hours* | 7.5 hours | 20 hours | 160 hours |
| Distance | 200m | 121m | 78m | 20m |
* Not really: the flashlight switches down to Medium 2 (190 lumens) after a half hour at High so it doesn't burn up, and thus the 2.8 hours is really 0.5 hours at HIGH and 2.3 hours at Medium 2.
There is also a blinking death ray at 520 lumens and a slow 80 lumen "SOS" mode.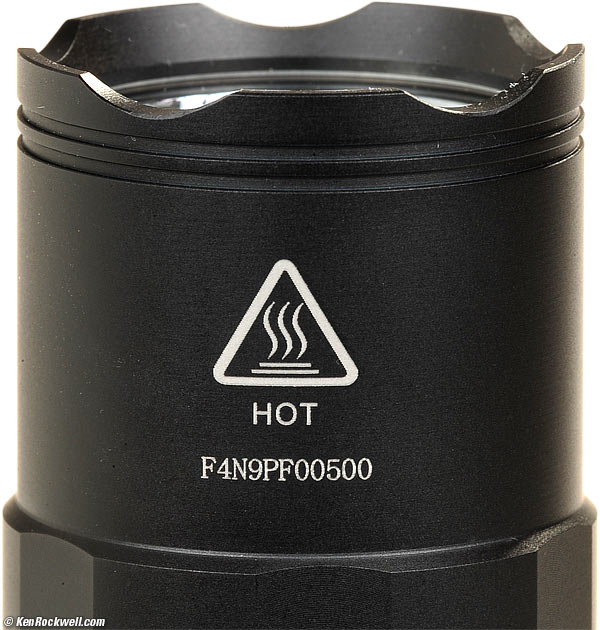 Heat warning , Fenix LD41.

Real anti-reflection coated glass lens.

Drop resistance: 1 meter.

Water resistance: IPX-8, 2 meters.

It includes a nylon belt holder, strap, a spare rear button cover and spare gasket.

Fenix is a Chinese company making these domestically in China.

Its packaging is much better than the E05 or E11; the LD41 comes in a regular box.

Performance

It's a very bright pencil-beam flashlight about the same size and weight as any other normal flashlight, except it's much brighter than even a huge multi-D-cell maglite.

The pencil beam is too narrow for me. Yes, the beam is blinding, but the beam is too narrow to be useful for me. I prefer the wider beam of the slightly brighter and even smaller Lupine Piko TL Mini. I prefer the wider beam of the Fenix E05 or even the E11. The LD41's narrow beam is nice for impressing nerdy friends, but not very useful for seeing in the dark.

I find the LD41 too complicated, always having to flick the mode button to go between the four brightness modes.

The blinking death ray hurts no one, and the SOS beam flickers too slowly to be recognized as a trouble signal.

To get the death ray, hold the mode button a second. To get SOS, hold it for three seconds.

Its always easy to press the button for a short blip or harder to lock it on, much easier than twist-lights, but it's unlikely that it will be at the brightness setting you want.

You almost can stand it up on end; the button pushes out just a little. It's not very stable, but in a pinch it ought to work.

It won't roll away if set on a table.

At each setting, the brightness never varies. The LD41 digitally regulates its own power supply so it's always the same brightness, even as the AA cells wear down, regardless of what sort of cell you use.

Most LED lights are too darn blue. The Fenix LD41 is as neutral white as an LED gets.

There is a low battery warning. First, the LD41 switches to a lower brightness level, and then blinks rapidly three times every five minutes until dead.

Compared top

This tiny thing is as bright as the Lupine Piko TL Mini, which is brighter than anything.

Lumens define how much light leaves a flashlight. How far it shines also depends on how tightly this light is formed into a beam, measured instead in candelas. Tighter beams shine farther, while broader beams make it easier to see what's around you. Lumens are the best measurement of total light output; while candlepower (not shown here) will vary as you focus a beam.

Here are lumen ratings of some other popular flashlights:

Lupine Piko TL Mini: 550 lumens.

Fenix LD41: 520 lumens.

Maglite 3-D LED: 131 lumens.

Fenix E11: 115 lumens.

Maglite XL50 3-AAA LED: 104 lumens.

Fenix E05: 29 lumens.

Maglite classic 2-D flashlight: 19 lumens.

All-time Classic 2-AA "Super-Bright Xenon" Mini-Maglite: 14 lumens. (3.870 oz./109.8g w/2-AA alkaline.)

Classic 1-AAA Maglite Solitaire: 2 lumens.

Recommendations

The Fenix LD41 is probably the brightest flashlight you can get for under $80, however I don't need such a thing; the E05 and E11 are more my style.

This LD41 seems more like a tough-looking doo-dad for comic-book collectors than for real people who just want to see what they're doing in the dark, but that's just me. It's a great flashlight, just too complicated and narrow-beamed for me — but that's why Fenix makes a zillion kinds of flashlights.

What's nice is that when throttled-back to dimmer levels is that the LD41 will run practically forever. At Dim, it's rated for 160 hours, which is 8 hours a night for three weeks straight! It is a very efficient light.

More Information top

Fenix Outfitters (USA).

Fenix (China, also in English).

Help me help you top

I support my growing family through this website, as crazy as it might seem.

The biggest help is when you use any of these links when you get anything, regardless of the country in which you live. It costs you nothing, and is this site's, and thus my family's, biggest source of support. These places have the best prices and service, which is why I've used them since before this website existed. I recommend them all personally.

If you find this page as helpful as a book you might have had to buy or a workshop you may have had to take, feel free to help me continue helping everyone.

If you've gotten your gear through one of my links or helped otherwise, you're family. It's great people like you who allow me to keep adding to this site full-time. Thanks!

If you haven't helped yet, please do, and consider helping me with a gift of $5.00.

As this page is copyrighted and formally registered, it is unlawful to make copies, especially in the form of printouts for personal use. If you wish to make a printout for personal use, you are granted one-time permission only if you PayPal me $5.00 per printout or part thereof. Thank you!

Thanks for reading!

Mr. & Mrs. Ken Rockwell, Ryan and Katie.

Home Donate New Search Gallery Reviews How-To Books Links Workshops About Contact