get it here or here for Nikon, also comes in Canon and other flavors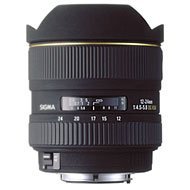 INTRODUCTION
This is an interesting lens for a 35mm film camera, since as of 2004 it holds the record for the world's widest rectilinear lens for a 35mm SLR. The previous record was held since the 1970s by Nikon's special order 13mm f/5.6 AI-s manual focus lens at about $15,000. That makes this Sigma a bargain at $670.
I'd pass on this Sigma lens for digital, since the Nikon 12 - 24 mm and Canon 10 - 22 mm are superior. See my explicit report on Wide Zooms for Digital.
The Nikon and Canon lenses are smaller, lighter, faster (f/4) and take real filters. The Canon additionally covers a wider angle and wider zoom range.
This Sigma is bigger, heavier, slower (f/5.6) and only takes gel filters attached to the rear. You can't rotate a polarizer while it's on the camera, nor can you use graduated filters with the Sigma.
I first shot with this huge Sigma lens in February 2004. I didn't like it. It feels cheap and heavy compared to the real lenses by Nikon and Canon for DSLRs. For a film camera it's fun being so wide! (The Nikon and Canon lenses only cover enough for digital cameras.)
SPECIFICATIONS
NO FRONT FILTER THREAD. The front elements are so highly curved that there's no way to attach a filter. There is a metal protective ring which is cut out to look like a small hood. You attach gel filters to the rear of the lens while it's removed from the camera. These filters are cut from sheets of flexible plastic. This is asking for trouble with dust with a digital camera.
16 elements in 12 groups, some are aspherical
Stops down to f/22
Focuses to 11" or 0.28m
3.9" (100 mm) long by a fat 3.4" (87 mm) around
Weighs 22 oz or 615g, heavy!
HSM is similar to Nikon AFS and Canon EF SWM
Nasty gray-black sparkle paint finish. Mostly metal underneath.
PERFORMANCE
Works OK. I didn't do a thorough evaluation since the ergonomics were so lackluster. The Nikon 12 - 24 mm is brilliantly sharp and nothing could better it on a digital camera.
RECOMMENDATIONS
I'm not a fan of Sigma. Get the Nikon or Canon for a digital camera. For a film camera by all means order one here or here and see if you like it. You can return it if you don't like it.