Nikon D80 Playback Menu
© 2007 KenRockwell.com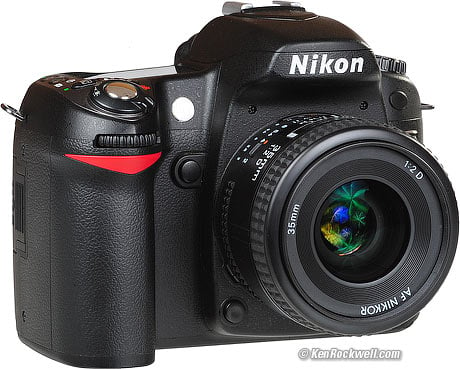 Nikon D80. enlarge
I bought mine here. Also see here (body only, about $999), here or here (with 18 - 55mm lens, about $1,099) or here or here (with new 18-135mm lens, about $1,299).
Back to top of D80 User's Guide.
Back to D80 User's Guide page index.
PLAYBACK MENU ("[ > ]" icon)
Want free live phone support? In the USA, call (800) NIKON-UX, 24 hours a day, 365 days a year.
---
How to Get Here
Press MENU, click to the left and then up to select the top "[ > ] " (play) icon. You'll then see PLAYBACK MENU at the top of the color LCD.
What it Does
It sets various playback options, including what data you see on playback.
What I Change
I leave it alone.
---
Delete
This is helpful if you want to delete all images while saving those for which you pressed the Key / WB / ? button to lock. I don't use this. I do all my editing and selection in my computer and I do my in-camera deletions one-by-one with the trash can key.
---
Playback Folder
The camera can record to and play back from different folders.
ALL shows you everything on the card. I leave my D80 set to ALL. It tends to reset itself to D80, meaning it won't play images made on a different camera if they are on your card.
CURRENT ignores photos in folders other than the one to which you're recording.
---
Rotate Tall
This is Japanese for rotating the vertical shots on playback, presuming you've set Auto Rotate to ON in the Setup Menu. It doesn't affect your images or files; it only changes how they are displayed on the D80.
---
Slide Show
This lets you amaze your friends with an exciting slide show on the tiny screen. I don't bother with this. I guess it's popular in Japan. Whoo hoo! Let's all watch a show on a 2.5" screen! You could plug the D80 into a TV or video projector, but video resolution is so bad everything will look awful.
---
Hide Image
This is used to hide embarrassing photos of your friends from playing back before you get to download them. The images are on the D80, however when marked this way they will be skipped on playback as if you deleted them.
Move the cursor left and right to select images, press the center to mark as Hide or Unhide, and press ENTER to save. Now the camera won't play these images, even though it still tallies them in it's counter on the top right that reads "34/284." You can detect a hidden image because this counter will skip.
---
Print Set
I never use this. I guess it's popular in Japan. This lets you mark images for printing if you sorted and then printed directly from your D80, and had a lab which could read this data.
---
PLUG
My D80 User's Guide continues below.
No one pays me anything to write all this. I do it because I love to help. If you find this as helpful as a book you might have had to buy or a workshop you might have had to take, please help me share more.
Thanks!
Ken
---
back to top of page back to top of Nikon D80 User's Guide
MENUS
SHOOTING MENU < NEXT
Caveat: The ads below come from a third party and I don't see or approve them. They are sent to your screen directly from a third party. They don't come from me or my site. See more at my Buying Advice page. Personally I get my goodies at Ritz, Amazon and Adorama.