Mercedes E320 and E55 AMG
© 2006 KenRockwell.com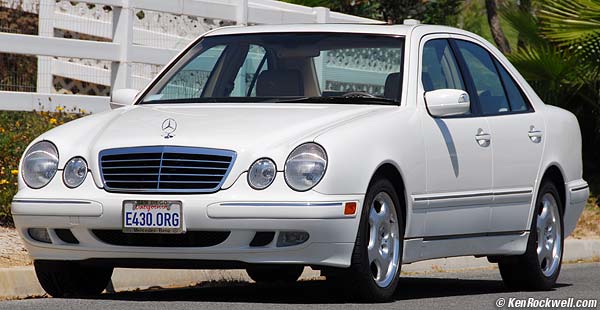 The Mercedes E430 in Olivenhain, California, June, 2006
2002 E430 (click to enlarge)
E320
The common E320 is a discount version of the E430 for commuters. The E320s only have six cylinders.
The first E320 had a wonderful inline six.
The later E320 downgraded to a V6. To save money in the first years of Daimler Chrysler, the E320's V6 engine was created simply by castrating two cylinders from the V8 instead of designing a separate V6. Because this left a 90 degree angle between cylinder banks, instead of 60 degrees as a in a proper V6, balance shafts had to be used to lessen vibration.
E55 AMG
The E55 AMG had a bored and stroked 5.5 litre AMG version of the E430 V8. The AMG really hauls with 391 ft-lbs of torque and 349 HP. The AMG versions came in far fewer color choices, so I didn't get one. Unlike the 2003 - 2006 E55 AMGs, these versions through 2002 have no blowers (kompressors).
The E55 AMG has different sized wheels and stiffer suspension and more sport plastic body parts. It also used fog lights which have to replaced in their entirety if you break a lens.