Mercedes E430
© 2006 KenRockwell.com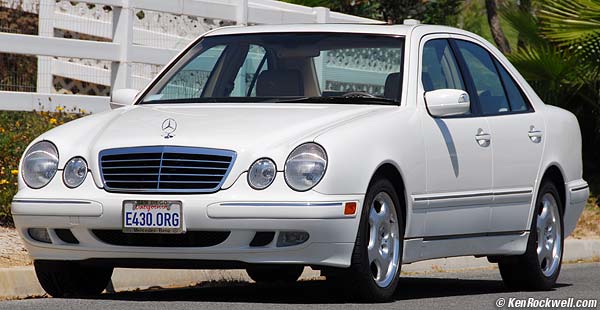 The Mercedes E430 in Olivenhain, California, June, 2006
Mercedes E430 (click to enlarge)
INTRODUCTION
The E430 is the premium version of Mercedes popular E320 mid-sized sedan. The E430 has a V8 engine with sixteen (16) spark plugs and rear-wheel drive. The E320 only has a six-cylinder engine. The E430's V8 engine gives it effortless power reserves with complete silence and smoothness. The E430 engine comes from Mercedes huge S430.
My E430 is powerful, comfortable, competent and silent. It rides like a cloud. It handles solidly on the racetrack. It carries four full sized adults in smooth comfort. Its silent engine has close to 300 horsepower; more than enough power to smoke the tires and get sideways. I've gotten over 30MPG on the highway. It's as perfect as a sedan can get. Your choice will depend more on personal taste than any imperfections in the E430.
At first I missed my BMW 540 when I replaced it with this E430. These two models compete directly against one another. (In 2007 the E550 and BMW 550i replace them.) I mistook the E430's comfort for a lack of control and handling. The E430 felt like a wallowy barge compared to the 540 Sport's go-cart handling. The 540 Sport feels as if you are directly connected to the road without any suspension, while the E430 feels like most cars with suspensions and air-filled tires. The 540 turns instantly even before you touch the wheel, while the E430 takes a moment to respond.
The E430 is as fast as the 540, but comfier by comparison. In fact, my E430 is as comfortable and quiet as the 1990 - 2006 S-Klasses I've driven, except the E430 is much easier to park and fits in my garage.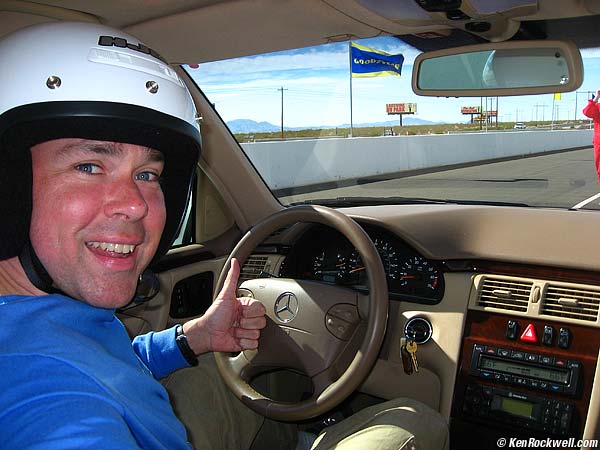 The E430 rides like a cloud, and it's race-ready, too!
After getting to know my E430 on the track I've come to realize that it offers the best of all worlds: luxo-barge comfort on the long haul, and solid handling when you really do take it on a race track. I still don't believe the photos, but the E430 corners flat without body roll! It danced all over the 2.2 mile road course in total control. Likewise, I made the the 5 hour trip to Las Vegas in one stretch (no pee or rest stops) and arrived as relaxed as I started. Just like the other Mercedes I've owned, the E430's superior seats and interior allow one to make long journeys without fatigue. I've never been able to make these long trips in other cars without the need to get out and stretch every few hours.
Mercedes calls this series of E-Klasse the W210 chassis, and calls the E430 the E430W internally. This series of E-Klasse were available for model years 1997 - 2002. It was the last Mercedes introduced before Mercedes bought Chrysler in 1998.
Most E-Klasse in the USA are the less expensive E320. E320s are castrated E430s with only six cylinders and fewer features. There also are E55 AMGs which are wonderful, except that they only came in boring colors like black and silver with black or gray inside. I'd buy an E55 if I could get it with a java (tan) interior.
This E class just happens to be the safest car in America, based on real-world accident rates. It has several kinds of cabin air filters, including dust, pollen and even foul smells.
Free Roadside Service - Forever
Like all Mercedes, every E430 has eternal free roadside service. Just call (800) FOR-MERC anytime for help.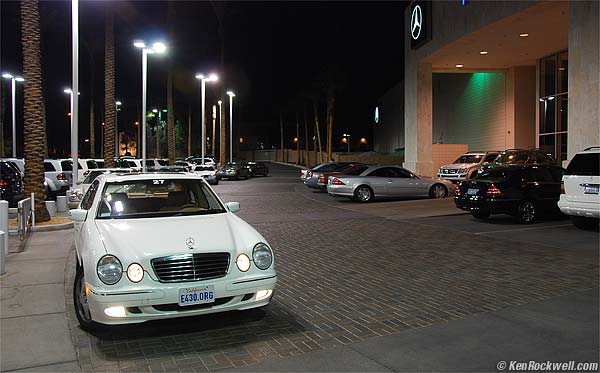 The E430 visits Fletcher-Jones in Las Vegas, after a day at the track.
(Race number and bugs are still on the windshield!)
Air Conditioning, Ventilation and Heating
Clock Setting and accuracy
Drivetrain Transmission and Rear Axle
Entertainment Radio, CD Changer and Phone
Exterior and sport package
History 1986 300E - 2007 E550
Interior Comfort, Materials, and Seats
Other Versions E320, E55 AMG
Petty Complaints Nit-Picking