Home Donate New Search Gallery Reviews How-To Books Links Workshops About Contact
Fuji XF 60mm f/2.4 ASPH
XF60mmF2.4 R (90mm equivalent)
© 2012 KenRockwell.com. This page best with Corporate S regular and bold activated.
Intro Specs Performance Recommendations More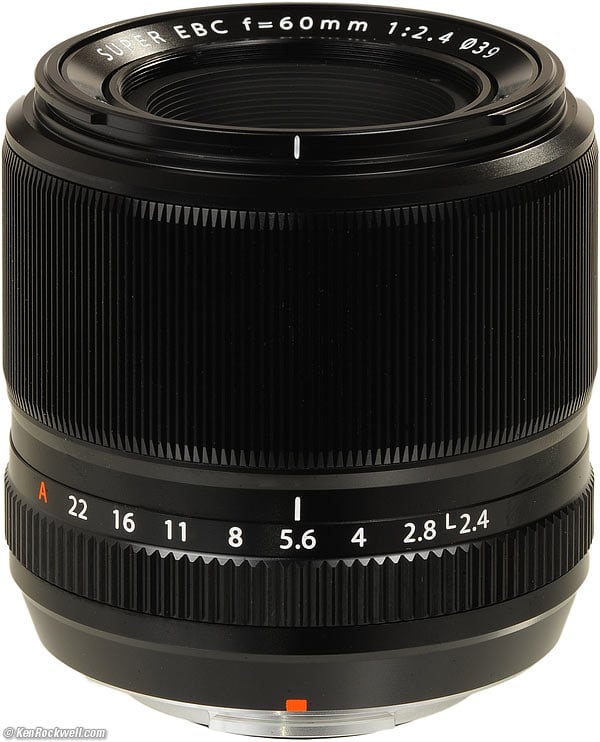 Fuji Fujinon XF 60mm f/2.4 for X-Pro1 and X-E1 (39x0.5mm filters, 7.7 oz./218g, 0.9'/0.27m close focus, about $650). enlarge. This free website's biggest source of support is when you use these links, especially these directly to it at Adorama, at Amazon, or at eBay (see How to Win at eBay) when you get anything, regardless of the country in which you live. Thanks! Ken.
September 2012 Fuji Reviews Fuji Lenses LEICA Reviews All Reviews
Why fixed lenses take better pictures
Introduction top
Intro Specs Performance Recommendations More
This Fuji XF 60mm f/2.4 is an aspherical 90mm-equivalant macro lens with superior optical performance.
This lightweight all-metal lens has no visible distortion, focuses super-close, is super-sharp right out to the edges at f/2.4, has no lateral color fringes, has no visible light falloff even at f/2.4 and has superb bokeh — and it focuses so close that a subject 31 x 47mm (about an inch tall) fills your screen.
This Fujinon XF 60/2.4 has all engraved markings and electronic auto and manual focus controlled by the camera.
Most of the lens is a big, fat manual-focus ring. The manual focus ring works slowly and precisely, which is better than the XF 18mm f/2 and XF 35mm f/1.4, whose manual focus rings are useless. Who cares: the camera provides immediate manual focus, complete with magnification, with the tap of a button.
The XF 60 also has an electronic diaphragm, set the 1/3-stop clicks of its real aperture ring.
It's a funny lens, with a smaller snout that pokes out from the rest of the lens as focused more closely.
Unlike the XF 18mm f/2 and XF 35mm f/1.4 that have 52mm filter threads, this 60 XF has LEICA-standard 39mm filter threads.
Compared to the comparable LEICA MACRO-ELMAR-M 90mm f/4, this Fujinon lens has the same filter size, weighs less, is a stop-and-a-half faster, and most importantly, provides through-the-lens viewing, composition and focus, while the primitive LEICA system and LEICA M9 expect us to try to do macro looking through a viewfinder window a few inches away from the lens!
This is a Fuji X-mount XF lens, and as of May 2012, only works on the Fuji X-Pro1.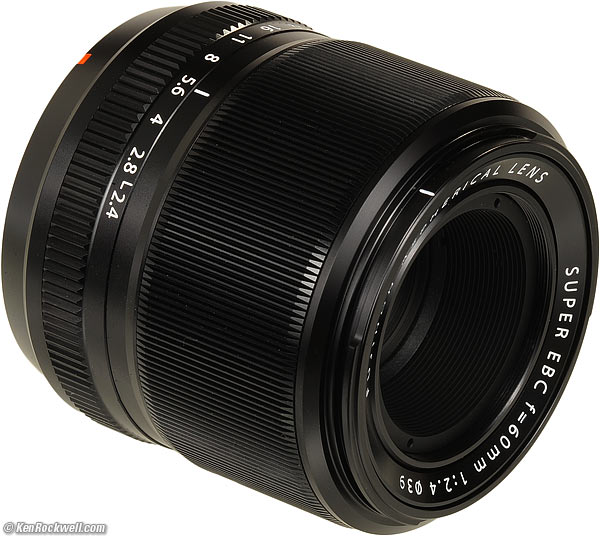 Fuji X-mount XF 60mm f/2.4 for X-Pro1. enlarge.
Specifications top
Intro Specs Performance Recommendations More
Name
Fuji calls this the XF60mmF2.4 R Macro.
Optics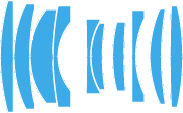 Fuji 60/2.4 internal diagram.
10 elements in 8 groups.
1 ED element (6th element, low-dispersion glass).
1 glass-molded aspheric (7th element).
Focal length
60mm
When used on the X-Pro1 with its 1.52x sensor, it sees the same angle of view as a 90mm lens sees when used on a 35mm camera.
Angle of view
26.6°
Diaphragm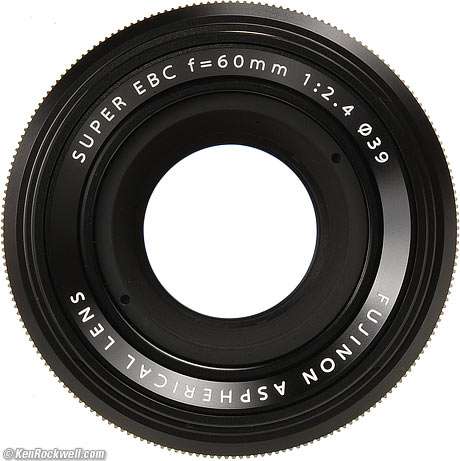 Fuji 60mm at f/2.4 (diaphragm not visible). enlarge.
9 rounded blades.
Stops down to f/22 in 1/3-stop clicks.
Close Focus
0.88 feet (0.267 meters).
Maximum Reproduction Ratio
1:2 (0.5x).
Minimum Subject Area
31 x 47mm.
Filters
LEICA-standard 39mm x 0.5mm thread pitch.
Hood
Metal hood with plastic bayonet, included.
Size
2.52" diameter x 2.79" long.
64.1 mm diameter x 70.9 mm long.
Weight
7.695 oz. (218.15g), measured.
Fuji rates it as 7.6 oz. (215g).
Announced
January 2012.
Shipping
Since the beginning of May 2012.
Included
Lens.
Front and rear caps.
"Lens wrapping cloth."
Hood.
Paperwork.
Packaging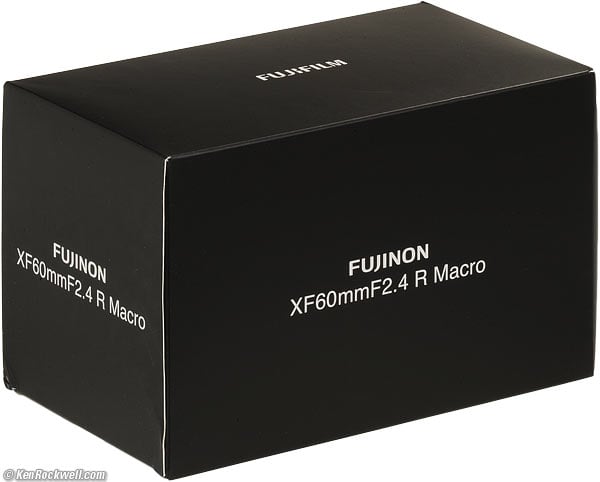 Box, Fuji XF 60mm f/2.4.
Inside the box are two boxes: one large black one with the lens, and a black cardboard sleeve with the "lens wrapping cloth" and the paperwork.
The lens box is marvelous: it's got a magnetic closure. Inside are custom-cut foam holding your lens, hood and all three caps.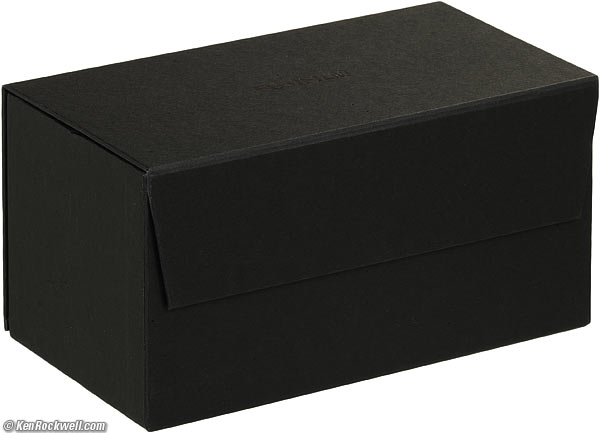 Box insert, Fuji XF 60mm f/2.4.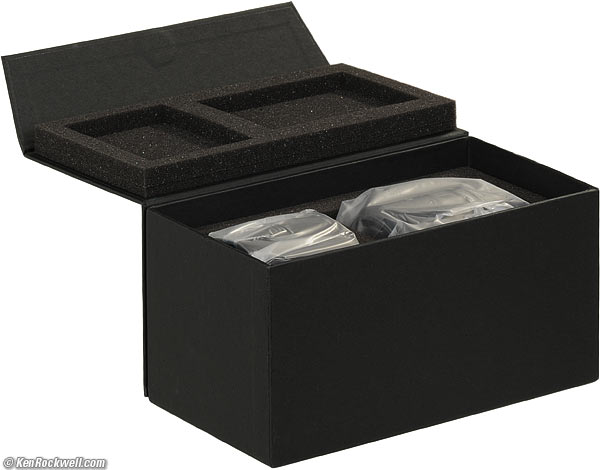 Insides of box insert. bigger.
Price
$650, Jan-May 2012.
MTF Curves (rated)
at 15 cyc/mm

(= 10 cyc/mm on full-frame)

at 45 cyc/mm

(= 30 cyc/mm on full-frame)
Performance top
Intro Specs Performance Recommendations More
Overall Auto and Manual Focus Bokeh Distortion
Ergonomics Falloff Filters Color Fringes Macro
Mechanics Sharpness Spherochromatism Sunstars
Overall performance top
The Fuji XF 60mm f/2.4 ASPH is optically just about perfect, excelling at sharpness, falloff and distortion, as well as bokeh.
Auto and Manual Focus performance top
Auto and manual focus is closed-loop, read directly from the image sensor. Therefore there are none of the mechanical errors present in rangefinder (LEICA) or SLR cameras.
Autofocus is always in perfect focus, something we almost never get with any LEICA's open-loop mechanical rangefinder system and 90mm lenses.
Autofocus is slow, trading precision and huge focus range for speed.
Manual focus is slow and precise, asking for a few turns of the big focus ring to get one end to the other. Unlike the XF 18mm f/2 and XF 35mm f/1.4, this XF 60's manual focus ring may be useful to some.
Bokeh performance top
Bokeh, the character of out of focus areas, not simply how far out of focus they are, is wonderful.
Backgrounds are soft and undistracting.
Distortion performance top
Distortion is completely invisible, whoo hoo!
For critical scientific use, plug this figure into Photoshop's lens distortion filter. These aren't facts or specifications, they are the results of my research that requires hours of photography and calculations on the resulting data.
| | |
| --- | --- |
| Distance | Factor |
| 10' (3m) | -0.35 |
© 2012 KenRockwell.com. All rights reserved.
Ergonomics performance top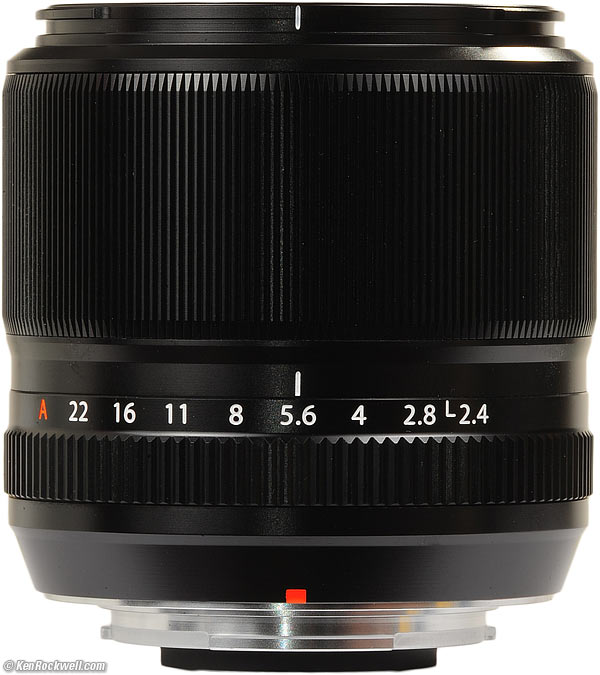 Fuji XF 60mm f/2.4 for X-Pro1. enlarge.
It feels like any other real metal bayonet lens.
Most of the lens is the big manual focus ring. Grab and go!
The aperture detents are a bit light, but the ring flips with a fingertip, even as you're shooting with one hand, bravo!
When used with the Fuji X-Pro1's optical finder, the frame is a small rectangle in the middle of a larger viewfinder which also covers the XF 35mm f/1.4 lens.
Falloff (darkened corners) performance top
Light falloff is completely invisible, even at f/2.4.
I've greatly exaggerated it by shooting a gray field and presenting it against another gray field:
Fujinon XF 60mm f/2.4 ASPH light falloff on X-Pro1 at infinity:
© 2012 KenRockwell.com. All rights reserved.
Filters, Use with performance top
There's no problem with vignetting, even with combinations of thick filters.
The filter ring doesn't rotate, but does move in and out with focus.
Lateral Color Fringes performance top
There are no lateral color fringes on the X-Pro1.
Spherochromatism is a different aberration.
Macro performance top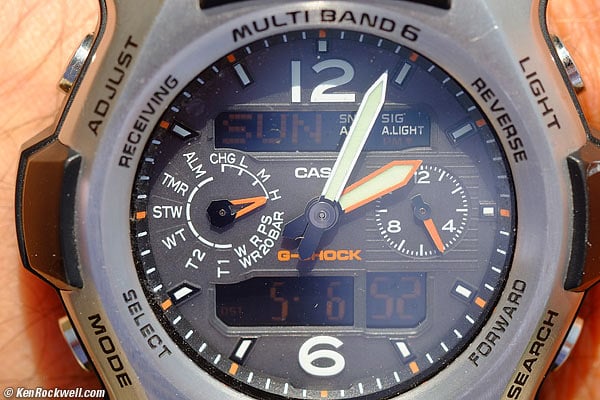 Rockwell's Watch at close-focus distance. f/6.4 at 1/350 on X-Pro1 at AUTO ISO 800.
As with all macro shooting, there is no depth-of-field. One paper-thin plane is in focus, and that's it. In this sloppy hand-held shot of my watch, the center post is in focus, while the watch face and dust on the plastic crystal are out of focus. It's also a bit blurred from my own hand movement; this is a telephoto lens and both my camera and my watch on my other arm are moving around in the breeze, made obvious at this high magnification: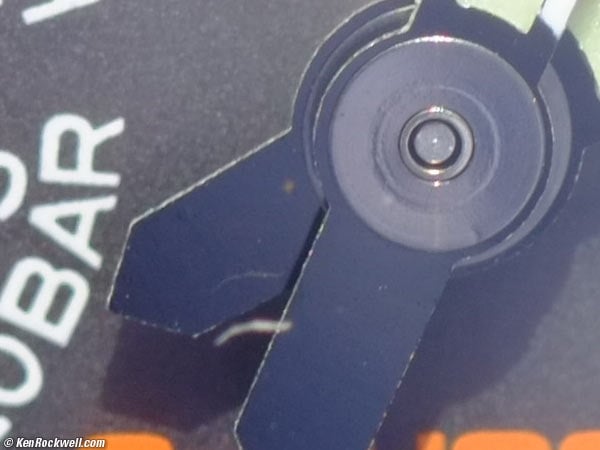 Crop from above image in 50 x 33" (1.5 x 1m) print (100% pixel-to-pixel).
Mechanics performance top
Rear, Fuji X-mount XF 60mm f/2.4 for X-Pro1. enlarge.
The Fuji XF 60 2.4 is built much better than anything from Nikon or Canon today. It's built as well as LEICA lenses, with much newer technology to boot.
Hood
Anodized aluminum with plastic bayonet.
Filter Threads
Anodized aluminum.
Hood Bayonet
Anodized aluminum.
Fore Barrel
Anodized aluminum.
Barrel Exterior
Anodized aluminum.
Focus Ring
Anodized aluminum.
Depth-of-Field Scale
Yes, in camera.
Internals
Metal.
Aperture Ring
Anodized aluminum.
Markings engraved and filled with paint.
Third-stop clicks.
Mount
Dull-chromed metal.
Markings
All engraved.
All engraved and filled with paint, except for laser-engraved certifications on bottom of lens.
Identity Ring
Front ring.
Engraved and filled with paint.
Serial Number
Laser engraved on rear of lens barrel.
Rain seal at mount
No.
Noises When Shaken
Mild clunking.
Made in
Japan.
Sharpness performance top
Warning 1: Image sharpness depends more on you than your lens.
Warning 2: Lens sharpness doesn't mean much to good photographers.
With those caveats, the Fuji XF 60/2.4 is super-sharp edge-to-edge.
If you get out the microscope, it's a tiny but less sharp in the corners at f/2.4, but that's only in comparison to how super-sharp is everything else.
Spherochromatism performance top
As expected for a fast long lens this sharp, there is a tiny bit of spherochromatism, called color bokeh by hobbyists. This means that out-of-focus highlights can taker on slight color fringes, green in the background and magenta in the foreground. It's slightly visible in the crop of the macro shot above.
Sunstars performance top
The rounded 9-blade diaphragm rarely makes sunstars.
Recommendations top
Intro Specs Performance Recommendations More
The Fuji XF 60mm f/2.4 ASPH is an extraordinary lens. When a lens is just about optically perfect, there isn't much to say.
If you have an X-Pro1, you need one for general telephoto use. Forget slumming with LEICA or other off-brand lenses; you can't get anything sharper and any other lens won't autofocus or autoexpose or log data, and no other tele lens will have a diaphragm that opens and closes automatically as needed for focus and shooting.
More Information top
Intro Specs Performance Recommendations More
Fuji X-Pro1 XF 18mm f/2 XF 35mm f/1.4 XF 60mm f/2.4 Macro
Help me help you top
I support my growing family through this website, as crazy as it might seem.
The biggest help is when you use any of these links to Adorama, Amazon, eBay, B&H, Ritz, Calumet, J&R and ScanCafe when you get anything, regardless of the country in which you live. It costs you nothing, and is this site's, and thus my family's, biggest source of support. These places have the best prices and service, which is why I've used them since before this website existed. I recommend them all personally.
If you find this page as helpful as a book you might have had to buy or a workshop you may have had to take, feel free to help me continue helping everyone.
If you've gotten your gear through one of my links or helped otherwise, you're family. It's great people like you who allow me to keep adding to this site full-time. Thanks!
If you haven't helped yet, please do, and consider helping me with a gift of $5.00.
As this page is copyrighted and formally registered, it is unlawful to make copies, especially in the form of printouts for personal use. If you wish to make a printout for personal use, you are granted one-time permission only if you PayPal me $5.00 per printout or part thereof. Thank you!
Thanks for reading!
Mr. & Mrs. Ken Rockwell, Ryan and Katie.
Home Donate New Search Gallery Reviews How-To Books Links Workshops About Contact