Casio EX-S100 Test Review and User Guide
© 2005 KenRockwell.com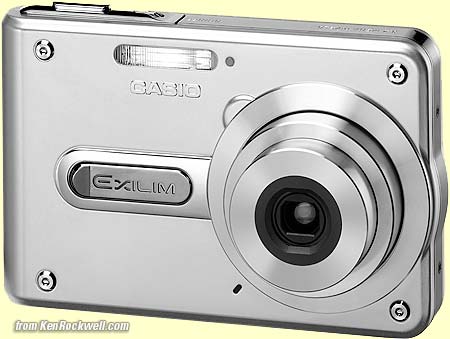 SUMMARY return to top of review
The Casio EX-S100 is a great camera that also happens to be tiny.
Don't let the girlie size fool you. It's a masterpiece of miniaturization and functionality I prefer to Canon and Nikon compacts.
I'd suggest it for anyone, especially a knowledgeable photographer, who wants a solid and basic take-everywhere camera.
The S100 provides fantastic flexibility for those who know how to use it. For a non-photographer the Olympus Verve is also a great choice. The Verve offers tiny size and ease of use, but lacks the adjustability of the S100.
For a serious photographer who wants to take this as a primary camera I'd suggest the newer, higher resolution and even more flexible Casio EX-Z750 which I hope to review soon.
I suggest the EX-Z750 over Casio's bigger cameras called professional since I love the Lilliputian size. I see little benefit to the larger Casio cameras in exchange for the extra weight. For more serious work of course a full fledged DSLR like the Nikon D70 is a better choice.
These EXILIM cameras seem to be the very best camera for a professional to put in his pocket, keep as a spare in his bag or to use as a light meter for a film camera. More about using this as a light meter here.
That's it! return to top of review