Olympus Stylus Verve (µ-mini Digital, mju-II)
© 2005 KenRockwell.com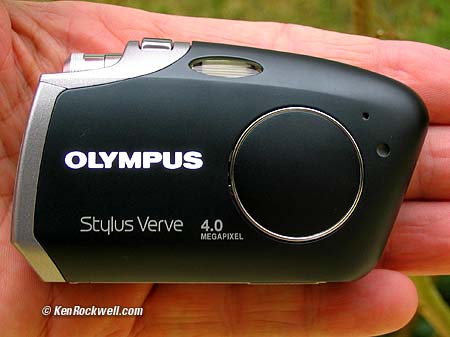 Tinier than the palm of my hand!
INTRODUCTION
The Olympus Verve is an excellent camera for any normal person who wants good photos and always wants to take a camera along. It's easy to handle for actual shooting, but so small that it doesn't balance well and often falls over if you put it down on a table.
Image quality is as good or better than larger digital cameras.
This tiny little digital camera was introduced in the winter of 2004. It's called the Verve in the USA, the mju-ii (mju-2) in Europe and the µ-mini Digital in other places, or something like that. It's all the same camera, the names are just changed to allow Olympus more control over who sells what where. The photo above is larger than life. Like every other Stylus camera in the past three decades it's a landmark in compactness. It has rounded edges everywhere and is perfect for dropping in a pocket.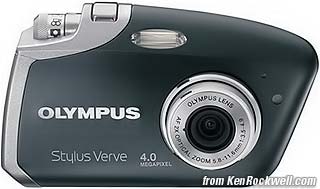 This is how it looks when the teeny lens peeks out.
This is actual size at a typical monitor's 85 DPI
This is the best made and most solid tiny digital camera I've ever used. It's all anodized aluminum, except for the flimsy battery door. It's splashproof. It's also inexpensive. It's less than $300 in January of 2005. Look for rebates, too. Everything: the camera, the battery, the charger, the box, the manuals and even the CD ROMs are made in China. (OK, the throw-away 16 MB xD memory card is made in Japan by Toshiba.) As of 2005 China makes great stuff, even the Contax digital cameras I've seen are made there today. My Canon A70 sounds like a toy when it opens and closes, the Verve sounds like the precision instrument it is.
It comes in professional black, red, blue, copper, white, and the usual ugly silver. I prefer professional black and get a kick out of the all the other fun fruity colors at no extra charge. Silver bugs me since everything silver looks like a toy, and of course you can get it in silver if you want.
It's a fantastic camera that consistently makes great images for normal people. It's designed to do just what you need automatically so you don't have to change seven settings every time you make a photo. It's a great camera for normal people who want great photos. It's not a good camera for serious use by professional photographers or photo hobbyists because we actually want to change all those settings deliberately. Many of the settings are bundled inside the scene modes, making this perfect for normal people but frustrating for pros.
Image quality is as great as any other digital camera. Like most cameras, your images will be limited by your photographic ability more than by the camera. If this is a new concept to you be sure to read my page here about that.
You can get an even more water resistant housing rated to 9 feet which is great for surfing, skiing but not scuba for $64 here.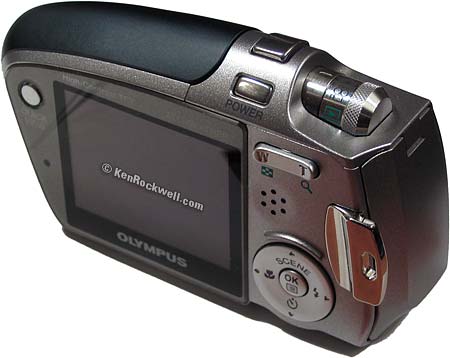 Note the unusual milled metal knob on top for selecting play,
record and movie modes. Shutter is just ahead of power button.
(Larger than actual size)
SPECIFICATIONS
Tiny: 3.7" (95mm) wide by 2.2" (56mm) tall by 1.1" (27mm) deep.
Weighs 4.6 oz (130g) including battery. The tiny battery is only 0.6 oz (16g) and the empty camera is 4 oz (115 g).
Tiny charger, battery and throw-away memory card compared to a US quarter.
The battery charger is tiny, the battery is minute and the memory cards are microscopic. The battery charger is a gem: it's tiny, the plug folds into the unit for travel (no cords) and it runs on power worldwide: 100 - 240 Volts, 50 - 60 Hz. In some parts of the world you might get the much less desirable charger with the cord. All you need to trot the globe are inexpensive passive adaptors to plug into odd wall sockets.
1.8" LCD, which is big and also about as big as you could possibly fit on this tiny camera.
Splash resistant. OK to spray it, but don't drop it in water.
Operating temp 32 to 104Å F (0 to 40Å C). Storage: -4 to 140Å F (-20 to 60Å C)
2x optical zoom: 5.8 - 11.6 mm f/3.5 - 4.9. (similar to a 35 - 70mm lens on a 35mm camera)
4 megapixels: 2,272 x 1,704 pixels, also 2,048 x 1536, 1,600 x 1,200, 1,280 x960, 1,024 x 768 and 640 x 480.
ISO 64, 100, 200, 400. It also has a better than average AUTO ISO mode which works with and without flash.
No shade or custom white balance setting. The Verve has the usual sun, cloud, tungsten and fluorescent settings. My favorite Canon A-series adds a second fluorescent and a custom setting, a big help.
Takes tiny xD memory cards. These teeny-weeny cards cost twice as much as the standard professional compact flash cards for a given capacity. Supposedly the panoramic mode only works with Olympus brand memory cards, and since they are the same price as anything else I'd go with them. The specs list that cards from 16 to 512MB are OK. I have no idea if this means that 1GB cards aren't OK. Considering the small battery you won't be able to fill even a 512MB card on a charge, so don't worry.
Tiny, low capacity Li-Ion battery and excellent charger included.
Video resolution 320 x 240 and 160 x 120 pixels, standard Quicktime (.MOV) format.
Much nicer than usual metal body, not painted plastic like everything else. Gasketed for resistance to splashes. Only weak point is the flimsy plastic battery door. The good news is if you break off this door the camera still works fine and you can replace it with duct tape. Very slick Star-Trek style metal door slides over and covers the hole into which the lens retracts.
PERFORMANCE
Olympus has a history of introducing innovative tiny cameras and this lives up to the reputation.
The photos look great; although of course it's up to you to make them.
Battery
Battery life is poor compared to a larger pro cameras. I only got 150 shots over a period of about 1 - 1/4 hours on a charge. That's better than the specified 100 shots per the instruction manual on CD ROM. This is the penalty for such a tiny battery. By comparison my larger Canon A70 runs for five hours or 300 shots on a charge of four AA Ni-MH batteries. The tiny Olympus LI-30B battery is 3.6V 645 mAh. For serious use I'd always carry a spare or two, since they only cost $33 here. This camera is designed for normal people instead of professional photographers, so 150 shots is usually plenty and most people will prefer the tiny size instead of getting 500 shots on a charge.
Charging takes 1.5 hours for a dead battery, less if the battery is partly charged. Feel free to charge it any time, like right before you need it. Li-Ion batteries are happiest if charged when only partly discharged. More about batteries here.
Speed
The teeny lens pokes out and pops back in very fast, faster than larger cameras. The Verve turns on and off right away. You can snap a new picture pretty much right after the previous one. This is a bit better than most compact digital cameras.
The only thing that takes a few seconds is for the flash to recharge.
Image Quality
Image quality is great. It's sharp, colorful and well exposed. It's as good as any other digicam; don't let the diminutive size fool you.
For those of you used to looking at a lot of images the Verve tends to sharpen more than other cameras at middle and high spatial frequencies. If you look too closely on your computer the images can take on a rougher look compared to other cameras which will look smoother. You always can soften the image later. The sharpening at mid frequencies means the images have some ringing (shadows or halos) on sharp edges. The high frequency sharpening exaggerates roughness on edges. These are subtle image personality effects that the Verve's intended user will never notice.
Rotation
Like most digicams, it does not rotate images automatically, so you have to do that manually for vertical shots. You can do this manually in-camera. I find it handier to do it in iView.
Lens
The teensy lens is very sharp at every setting, better than most digicam lenses.
It has the usual barrel distortion at wide and no distortion at tele. This stays the same regardless of distance.
White Balance
The AUTO setting is unusually good in being able to adjust well even in incandescent light indoors. Most AUTO settings deliberately leave indoor shots without flash way too orange. The Verve's AUTO setting is better than most, although if you want to eliminate all the orange cast use the incandescent setting.
It lacks a Shade setting and lacks any ability for custom settings. This will only annoy the serious photographers for whom this camera was not designed. The Canon A75 series has more options here.
Flash
The flash is surprisingly good. It's exposure is always right on unless you're closer than a foot or so, even when balancing with ambient light.
For macro shots I get better (not washed out) results at the tele setting than the wide. This is because you don't have to be as close at tele and because the lens becomes slower.
The Verve does an extraordinarily good job of balancing with ambient light indoors even in its default modes. Because of this most people are going to be much happier than usual with flash photos indoors.
You should have red eye problems since the flash is next to the lens, and thankfully I didn't have any. I never use the redeye reduction modes; they just annoy people.
Coverage, evenness and power are just fine, which is impressive seeing how the flash is microscopic.
The camera automatically increases the ISO to get more flash reach when you need it. This is most of the time since the flash has little power.
The flash takes a few seconds to recharge after each use. You'll notice a blinking red lightning bolt on the screen while this happens during which time the camera won't fire.
LCD
The LCD is excellent. It's bright, sharp, crisp, colorful and big.
Even better, unlike other mini digicams it's properly protected behind heavy clear plastic. This is unlike many (or all) Canon EPLHs and the Casio Exilms which have nothing protecting the bare glass LCD. If you put one of these other micro mini cameras in your pocket it will be easy to crack the glass of the LCD with your keys. With this Verve the real LCD is protected. Yes, you can scratch the plastic, and if you damage it it's easier to replace and also likely you could polish it with plastic polish.
For some reason on playback I have never figured out how to remove all the data from the screen to get a clear picture by itself. I suspect that this may be a big flaw in the Verve, although it's so bone-headed I hope it's just my own ineptitude. Even worse, unlike Canon and Nikon who have very small easy to read numbers on their LCDs which you can turn off, the always present numbers on the Olympus are huge.
File Sizes, Image Sizes and Quality
Unlike my Canon A series, the compression level is fixed for each image size. In the Canon A70 you can set image size and compression level separately. This is no big deal, but what does bother me is that the Verve does not show the number of images left on the card as you adjust the file quality settings. You have to get out of the setting mode to see images remaining, unlike the Canon A70 and brethren which shows you how many shots remain as you adjust.
File size is the same for each quality setting, similar to Nikon. It does not vary with image complexity as Canon does. File sizes will only vary about 5% from these values:
HQ normal setting: 2,272 x 1,704 pixels, 875 kB
SHQ - less compression for slightly higher quality: 2,272 x 1,704 pixels, 2.6MB
SQ1: 2,056 x 1,536 pixels, 725 kB
SQ2: 640 x 480 pixels, 150 kB
or also in SQ2 setting:
1,600 x 1,200 pixels, 575 kB
1,280 x 960 pixels, 375 kB
1,024 x 768 pixels, 250 kB
The camera always resets to the normal (HQ) setting when turned on. Likewise, the SQ2 setting resets to 640 x 480 each time. To get the 1600 x 1,200, 1,280 x 960 or 1,024 x 768 sizes you need to tweak the SQ2 setting and select the SQ2 setting at each power-on.
I disagree with the manual: the SHQ and HQ modes give the same quality for any size print. I can't see any visible difference. The SHQ data files are three times as big, however the image is the same size. I can't see any difference between them, so don't go wasting bits with the SHQ mode except in rare circumstances. Those rare circumstances are where you may be expecting only to make a few shots and intend to do extensive editing to them. Otherwise the HQ mode has no degradation or artifacts that I can see.
Available Light
The Verve does a great job balancing flash and ambient light automatically in all sorts of lighting.
In dim light, like outdoors at night on a tripod, you have to use the "Night Scene" trick mode. Used in its standard program mode the Verve only goes to 1/2 second and may underexpose. In the Night Scene mode it allows up to a 4 second exposure and will increase the ISO if it has to to get a good exposure. Also the Verve pauses with a flickering red light for several seconds after the exposure while it does some noise reduction tricks.
The tiny Verve is so small that it's difficult to find something against which to rest it for long exposures without a tripod. Also the rounded case makes it nearly impossible to cheat by pressing the camera against light poles and buildings.
Indoors try the "indoors" scene mode. It increases the ISO to 500 and applies some noise reduction. It also limits the maximum image size since the noise otherwise would be most of what you'd see at the larger image size.
Data
Normally I read data by removing the card from the camera and using an external reader, but my reader wouldn't take the xD format card. I used Olympus' cable to plug into my Apple iBook laptop and, just as Olympus promised, the camera just appeared as another hard drive, no installation required.
It's smooth: even if the camera is on you can just jam in the USB cord and it converts to data mode. If the camera's off it turns on automatically when you jam in the connector. Bravo. You have to hit the camera's OK button to confirm the PC mode each time.
The camera's connection to USB is an odd micro connector I've not seen before. I'm unsure if this is a cable you'd ever be able to buy in a computer store in the field if you lost the cable included with the camera. It's about the same size but different from the mini USB connectors on my Canon A70 and GPS devices.
File Numbering
File Numbering is brilliant. The first letter is always P, presumably for "Pentax." (I have no idea why they're named after Pentax. This is an Olympus camera.) The next three digits are the month and date. Through this brilliant scheme you may make 10,000 shots each and every day for a year and not have to do anything more to catalog them!
Thus each file has the name format:
Pmdd####.JPG where
P is always P (a waste of a digit; they should have used the last digit of the year)
m is month: 1 - 9 for January - September, A for October, B for November and C for December (OK, why not O for October, N for November and C for December? That plays in many languages just not in Japanese.)
dd is date, for instance, 05 means the 5th of the month
#### are sequential numbers from 0000 to 9999 as you make more shots each day. These numbers do not reset each day. The next day's file numbers start where you left off, just with a new date in the file name.
This is literally 1,000 times better than Canon or Nikon because each of Canon and Nikon waste four places with three idiotic identical letters and an underscore. Canon wastes these first four places with "IMG_" signifying "image" (duh) and Nikon wastes information naming these four digits as "DSC_" after a great girlfriend I had in the 1980s, Diana Sue Coffin. I loved Diana and I suggested we use those letters just in kidding when I consulted with Nikon on the initial architecture for digital cameras back in the 1980s, but today, with all respect to Diana, I think we could have made better use of them. Back with 1980s technology we had all we could do just to get the files to number properly without also thinking about dating them, too. Let me know if you ever run into Diana, I've lost track of her.
Folder numbering is complete mystery and never explained for the Verve. They run from 100 through 999, but we're never told how they change or how we can change them. The last five places of the folder are also wasted with "OLYMP" instead of something meaningful like the year.
Macro
The normal mode focuses as close as 1.6 feet.
The regular macro mode focuses as close as 8" and still can focus to infinity. Unlike my Canon, even in Macro mode one can focus out to infinity. I often got blown-out shots with flash at close distances, try the tele setting to reduce this. This mode and performance is similar to most digicams.
The Super Macro mode is a pleasant surprise. It zooms all the way out to the longest focal length and allows continuous focusing from infinity down to 3 inches! This is much better than most digicams. A subject only about an inch across fills the frame! The flash is disabled in this mode unfortunately. Some places the the manual says it only focuses out to 18" in this mode, other places it just warns that it may take longer to focus. When I tried it it worked fine out to infinity.
Speed and Ease of Use
Pretty good! It's easy to figure out and even with few buttons easy to set things fast.
Each time you turn on the camera it resets everything to normal. That means White Balance, ISO, exposure compensation and file and image size all reset to default settings. This idiot proofing is good; even I often forget and shoot half a day at the wrong ISO the morning after shooting at night. There is a way to retain these settings with power off if you really want to.
The "Quick View" button recalls the last shot, good. It could also be called a play mode button, since when you hit it you can look at the other images. As soon as you tap the shutter it returns to picture taking mode.
No aperture/ shutter indication when shooting, also no manual adjustments to aperture or shutter priority settings. This camera is designed for normal people, not photographers.
I had the clock reset on me after a short period of use with the battery out. That tells me that there is an internal battery or capacitor which stores enough power to keep the clock going with the battery removed and that this needs to charge itself by having the battery in for a while. If you have a new camera, put in the battery, set the clock, and then take out the battery right away it will forget your clock setting.
I could not figure out how to get the text completely off of the playback screen. This makes it awful for showing and reviewing your images. The Canon A75 lets you turn off all the data, most of the data, of show it all. The Olympus is bad since it completely or partially covers up your image with numbers!
The fast continuous drive mode isn't very exciting: it doesn't refocus for each shot and it's not very fast.
Manuals
The manuals are poor.
There are three different manuals included with three levels of detail.
The quick start guide is all you really need to know and very good.
The manual itself is weak. It's the size of a normal one-language manual but only has very basic info repeated in six languages. By comparison my Canon manual is the same size but just for English and loaded with details. Unfortunately nothing is covered in Olympus' regular manual: it only covers basics covered in the quick start guide like how to put in the battery and wastes its extra space with many pages of idiotic warnings. It's a fast read and does have a point or two, so read it too.
There is a CD ROM with a the real manual in PDF format. Olympus did this to save them the expense of printing it for you. If you're not put off by having to find a computer just to read the manual then these manuals rate OK. Olympus hides the fact that the real manual isn't included in print by euphemizing the CD ROM as the "advanced" manual.
Olympus should have included the full printed manual in English and not bothered with the CD or multi language manual. They did this to save them from having to produce, box, inventory and ship several different language versions of the camera. Actually I prefer that the six SKUs are six different colors with the same bogus manual instead of six different language versions all in silver.
Like most Oriental camera products the CD ROM manual was written by someone who didn't speak English. I love this; you still get a tiny bit of the old Japan when reading these manuals. Please to read manual before the photo which is to be made with the happy feeling! This is just like it was 30 years ago. It's a fine manual, I just look for these little quirks. Normal people who split infinitives and apostrophize plurals will never notice.
Korny Special Effects
You can set your own image to display on start up. (Read the CD ROM manual under "Power On Screen.") I set mine to a photo of a piece of paper that says "PROPERTY OF KEN ROCKWELL" with my contact information.
There are a couple of special effect modes: soft focus, B/W, sepia, resize and fisheye. Unfortunately unlike most cameras you can't make photos directly with these effects. Instead you have to shoot a photo and then use the camera to apply these effects later. Good luck! The camera takes the original file and records an additional file with the effect. This preserves your original shot but also takes time and clogs up your card. Personally I prefer to do this in Photoshop or just to set the camera to record B/W in the first place. The Verve cannot make B/W images as you shoot.
The fisheye mode just bulges out the center of the image and ultimately gives a narrower angle of view, similar to Photoshop's Spherize filter.
The soft focus filter is excellent. It is the same as blurring a new layer in Photoshop and then adding it back in with some transparency.
The resize tricks are useless. Yes, you can make a new 640 x 480 or 320 x 240 size image and record it to the card ostensibly for emailing, but unfortunately the resulting images have such large file sizes (300kB and 100KB) that they are useless for this. A 640 x 320 image for emailing or a web page ought to be closer to 40 kB, and the 320 x 240 image more like 15kB.
You can chose all sorts of idiotic operational sounds and change screen colors. You can turn these idiotic sounds off, thank goodness.
Software
Like all basic digital cameras this Olympus comes with software for editing and organizing photos. I have not tried it, since I already use professional software like PhotoShop and iView which costs three times what this camera does. The included software is for normal people who may not already own professional tools as photographers do.
RECOMMENDATIONS
I love this little camera. I strongly suggest it for any normal person who just wants good photos and always wants to take a camera along. It's easy to handle for actual shooting, but so small that it doesn't balance well and falls over if you put it down on a table.
Image quality is as good or better than larger digital cameras.
Image quality is far superior to any other digital camera that you left at home because it was too big.
I don't suggest it as a primary camera for a serious photographer. You won't find the controls you want. For you I suggest the Canon Powershot series which provides all these adjustments. (Hint: this Verve is sharper than my A70!)
Have fun!