Casio EX-S100 Test Review and User Guide
© 2005 KenRockwell.com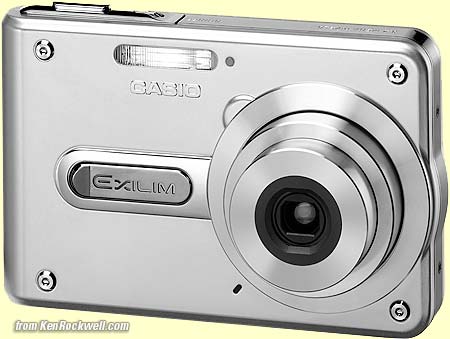 FILES, MEMORY and COMPUTATIONAL TRICKS top of review
Formats
File Sizes
Folders and File Names
Memory and Formatting
Data Transfer
In-Camera Image Tricks
Clocks and Calendars
In-Camera Web Galleries
Best Shot Hacking
Raw Data Hacking
File Formats back to top of page back to top of review
JPG only for still images, which is all I want.
You have a full range of adjustments for image size in pixels (2,048 x 1,536, 2,048 x 1,360, 1,600 x 1,200, 1,280 x 960 and 640 x 480) and well as the compression and quality levels (Fine, Normal and Economy).
Audio is 4kB/s WAV and video is 300 kB/s AVI.
EXIF Data
The files as they come from the camera have most of the data, but lack the ISO settings.
Oddly in iView Media Pro shots made with manual (gray card) white balance read as "auto."
I have only copied the files straight from the camera or with a card reader. I have not transferred them using Casio's software. Most times when I see anything lacking in the EXIF it's all fixed when read through the manufacturer's software.
File Sizes back to top of page back to top of review
Normal JPG images are 1.1MB at 2,048 x 1,526 resolution. Here's the rest of the details:
| | | | |
| --- | --- | --- | --- |
| | High | Normal | Economy |
| 2,048 x 1,536 | 1.6 MB | 1.1 MB | 560 kB |
| 2,048 x 1,360 | 1.5 MB | 1.1 MB | 545 kB |
| 1,600 x 1,200 | 1.0 MB | 660 kB | 350 kB |
| 1,280 x 960 | 666 kB | 440 kB | 247 kB |
| 640 x 460 | 183 kB | 131 kB | 83 kB |
These values are almost constant for each shot with very little variation scene-to-scene. Even the Economy setting looks swell, in fact, I would suggest using the economy setting all the time if you're frugal with data as I am.
JPG files need to be bigger (more kB) to retain the same quality as a subject becomes more complex. A blank sky requires few bits in a JPG to look good, and a busy subject with a lot of edges like a shot of a barren forest requires a lot more kB to look good at the same resolution.
Casio as well as Nikon tend to write the same file size each time so you always get the same number of files on your card. Unfortunately this also gives a slightly lower quality for complex subjects and uses more bits than necessary for softer or mostly blank shots. This is a matter of opinion among math teachers and I consider this a suboptimal use of data.
I prefer the way Canon and Sony vary the file size with the subject, retaining the same quality in each image but varying the number of files you can get on a card.
With constant file size cameras like Casio and Nikon I'm tempted to turn up the quality for very busy subjects and turn it down for flat ones to make the best use of space. No big deal, I can't really see any difference.
Folder Conventions and File Names back to top of page
The files are named "CIMGxxxx.yyy" I always wonder why manufacturers waste the first several characters with trivial stuff like "CIMG." It would be nice to have the ability to program our own file names such as XXXXxxxx.jpg
The images are in the folder ---/DCIM/100CASIO.
The S100 will cram up to 10,000 images in the same folder. This is similar to Nikon and much superior to Canon. Canon by comparison starts a new folder every hundred images, which means almost every time I shoot my Canon camera I have to transfer files from several folders since I always shoot hundreds of images. Even if you only shoot a few images if you go from image number 598 to 601 on a Canon camera it puts them in two different folders requiring two separate copy operations. By comparison this Casio S100 puts them all in the same folder so you can copy them all at once.
After CIMG9999.jpg it starts a new folder called 101CASIO and starts again at CIMG0001.JPG.
Memory back to top of page back to top of review
There is 9.3 MB of permanent built-in erasable memory. This is much handier than a throw-away memory card included with other cameras.
You can record and play and download with no card at all. This is very handy in hostile areas since you can surrender your memory cards to hostile authorities and still make your photos and recordings. Spies have never had it this good.
It's easy to transfer images from built in memory to your computer.
Without a computer it's easy to insert an SD card later and transfer the images from the camera's fixed internal memory.
The S100 writes to internal memory if you have no card. It writes to your SD card if it's inserted.
The S100 always stores certain user data, like camera presets, favorite, startup and shutdown images, in built in memory.
The USB link connects to the SD card if it's inserted. To address the built in memory you have to remove the SD card before connecting the camera to your computer.
SD Memory Cards
My S100 works great with my 1 GB 32x Lexar SD card that bought here.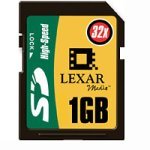 These SD cards are new for me since I usually shoot the larger CF cards. SD cards are teeny!
I don't know if there's a limit to maximum card capacity when 2GB and bigger cards come out. Since 1GB stores between 550 and 10,000 still images or close to an hour of video or three days of audio I don't think it's an issue. Your battery will die long before you can fill up a gig card.
Formatting
Standard professional practice is to reformat a card anytime it's put in a camera. This is not required; it's just good practice since anytime you connect the card to a computer it usually rearranges things or adds its own files. In rare cases these might make the camera do something funny or lose data. Pros reformat each time out of habit since they have no sense of humor when funny things happen to their images.
Unfortunately the S100 can take too long to format.
Formatting the S100's 9.3MB internal memory takes thirty seconds (0:30). I had a defective 1GB SD card which took two minutes and twenty seconds (2:20), which is way too long to do every time. It turns my 1 Gig card was defective and also took that long to format in my EX-Z750; the replacement 1 Gig card only takes 10 seconds to format in my EX-Z750. I have not tried my card in an S100, and I presume it should be fine.
Data Transfer back to top of page back to top of review
Using the cradle it takes about 1.5 seconds per normal resolution photo to copy to my OS 10.3 Mac via USB-2. Pressing the USB button on the cradle places the camera in my finder, but pressing the cradle's USB button again to remove it resulted in a scolding from my Mac for not properly removing it. Thus I suggest using your finder's eject button to unmount the camera.
Using a USB-1 card reader it took 1.4s/image.
Using the same USB-1 card reader it took 2.75s/image through iView 2.5, including cataloging.
I did not load and of Casio's software on my computer to do this; it just works.
Sorry if you're on windows; I haven't bothered to try it. Problems on windows are usually due to the problems inherent in windows itself, not so much what you try to run on it. If you are having problems with your windows computer the best way to fix them is to make the ultimate upgrade and get an Apple Mac mini for $499 and start getting work done like the pros.
Image Rotation back to top of page back to top of review
There is no autorotation.
In playback you can assign rotation flags to vertical or even upside-down images so they play correctly on most software. This is very easy to do. Since the Casio EX-S100 allows instant scrolling through all the recorded images you just click through everything you shot and flip those that need it.
Pressing the rotation control flips the image 90º clockwise each press. I wish it was the other direction. Holding the camera vertically so the flash is above the subject as shown in the manual and as I hold it requires three quick presses to rotate 270º, since you really want to rotate 90º counter-clockwise. Having the rotation button go the other way might save a little time.
In any case this is the easiest manual image rotation I've used in any camera because it's so easy to find in the menus and scroll quickly through the images.
Startup and Closedown Images
It's easy to select an image or sound or obnoxious home movie to play every time you turn the camera on or off.
Selecting this will slow down the camera, since otherwise it start and stops almost immediately.
The only advantage to selecting one of these is that on my slower cameras I have the startup image set to a photo of big letters saying "PROPERTY OF KEN ROCKWELL" with all my contact information in case the camera is lost.
I can make a shot 2 seconds after pressing the power button. It slows to four seconds if you choose a still image, since the still shows for two seconds. This slows down further if you choose an obnoxiously long movie.
I don't use a startup on mine since I don't want to slow it down. The best thing to do with this mode is to record an obnoxious movie on a friend's, spouse's or your boss' camera and set it so they have to look at you talking to them each time they turn on their camera.
To set this choose "start up" in the play menu and select the file you want with the left and right navigation keys.
These images are all deleted if you format the camera's built in memory without an SD card inserted.
Favorite Images
You may copy favorite images to a "favorites" folder in the cameras' internal memory. It resizes them to 320 x 240 and saves them even when you format or erase the SD card.
This feature lets you always have a slide show ready for passers by.
To show or save them go to "Favorites" in the play menu.
To read these in your computer first remove the SD card, in which case the USB connects to the camera's internal memory. Remember they are only 320 x 240 pixels images stored for in-camera display.
In-Camera Image Resizing
It's easy in the Play menu to resize images down to 640 x 480 or 1,280 x 960. Just select it and hit OK. It stores a new smaller image with the same date and time as the original with a new file number. The original file is left unchanged.
In-Camera Image Cropping
It's also easy in the Play menu to crop an image. Casio calls this "trimming." Just select an image, choose how much to crop with the zoom keys, choose where to crop with the navigation keys and hit OK. It stores a new smaller image with the same date and time as the original with a new file number. The original file is left unchanged.
The options all have the same 4:3 aspect ratio and are in the standard sizes of 1,600 x 1,200, 1,280 x 960, 1,024 x 768, 640 x 480 and 32o x 240 pixels. The cropped image doesn't change pixels, it just trims off pixels outside of the chosen resolution's border.
You have plenty of flexibility to choose the location of the crop, however the size only goes in those broad steps.
Alarm Clocks back to top of page back to top of review
There are three alarms. The S100 beeps and also can show an image or sound recording or movie of your choice. You could record yourself a spoken note about the alarm or play a movie of a greeting from your wife. You could also program a friend's' camera to go off every day at 3AM with a movie of you singing the theme from the "Beverly Hillbillies." There is no way to password protect the camera from this foolishness; just as well since the forces of silliness could password protect you out of your own camera this way.
If you choose an image with sound it plays the sound repeatedly until turned off.
The alarm only goes off if the camera is off.
Each of the three separate alarms may be set to go off just once or every day at the same time.
These are set in the Alarm menu in the Play menu.
Calendar and World Time
Would you expect anything less from Casio? The S100 has a perpetual calendar, alarm clock and world time clock built in. Thus it can wake you at 3AM so you can hike out to catch the sunrise on photo trips. Even better, you can set it to play a sound you've recorded or a picture or movie you've recorded at the chosen time.
You can call up calendars for any month on the LCD. The camera inserts the first shot made on each day into the days of the calendar! Of course there's only one day to show if you erase your card each day, but for my mom who shoots for weeks before downloading it's very cute.
Likewise you can get it to display the time anywhere on earth, and all this is easy to do.
Maybe someday they'll add sunset and astronomical calculations!
Stopwatch
There is no stopwatch, however if you start recording an audio file you can read the elapsed time on the LCD.
Clock Accuracy
It's fine. Mine was within a few seconds over a few weeks. This is far better than any mechanical COSC Rolex, Zenith, IWC, Breitling, Vacheron Constantin, Ulysse Nardin or Patek Philippe, etc., and these watches cost ten to a hundred times more than this camera.
Web Galleries back to top of page back to top of review
The S100 can create web pages and galleries, right inside the camera! You need no software or a computer to do this. You just copy the "ALBUM" folder from the camera or memory card and you're done.
Here's what one looks like. I set it to open in a new page.
The Casio makes framed pages with links back to the original files. I haven't posed the original files here due to space constraints so you'll get errors if clicking on them. Please just close that window when you're done to return here.
You have 10 layouts from which to choose, three background colors (white, gray or black) and normal or detailed info pages including all the shooting data. That makes 60 combinations! You also have choices for functionality and purpose. For instance, you can make a gallery for the web or just to see the images on your computer or optimized for printing. That must make about 180 different ways to set these up.
Oddly when using the camera to create its own web galleries it's not smart enough to rotate the images you marked for rotation above.
If you like these you can set the camera to create these automatically every time you turn the camera off and on.
These are easy to make. Just go to "Create Album" in the play menu. I'll repeat: the camera does these all by itself, no computer or software required.
Best Shot Mode Hacking back to top of page back to top of review
A utility here claims to allow you to do all sorts of under-the-hood stuff to make your own Best Shot modes as well as alter the ones in the camera. You people who want to do this know who you are; for normal people as well as my self you may safely ignoire this.
Raw Data Hacking back to top of page back to top of review
Somehow wasting hours in front of a computer masturbating raw data just to get the exact same result as shooting a nice, normal JPG doesn't make sense to me with this cute, perky, responsive and excellent camera.
If you insist, look here for possible instructions. Caution: the S100 doesn't work in RAW; you have to be a hacker and computer programmer to make this work the very hard way using secret menus to record just one raw image at a time and do a lot of conversion manually in your computer. Bon Chance!
Last Page: Summary