Casio EX-Z750 Test Review and User Guide
© 2006 KenRockwell.com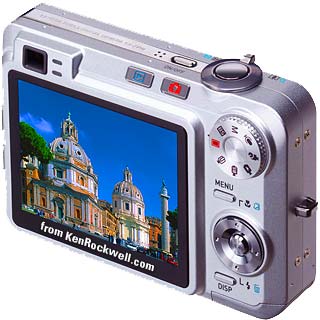 MOVIES AND SOUND RECORDING return to top of review
MOVIES and VIDEO
There are three quality settings: HQ, Normal and LP. They are recorded as files suffixed with .AVI.
HQ is 640 x 480, 30 FPS, 3.9 megabits per second, M4S2, Millions of colors, DVI ADPCM, Mono, 44.100 kHz audio. My camera says a little over half an hour (34:12) will fit on a one gig card.
Normal is 640 x 480, 30 FPS, 2 Megabits per second, M4S2, Millions of colors, DVI ADPCM, Mono, 22.050 kHz audio. My camera says a little over an hour (1:04:59) will fit on a one gig card.
LP is 320 x 240, 15 FPS, 740 kbits/second, M4S2, Millions of colors, DVI ADPCM, Mono, 11.025 kHz audio. My camera says a little over three hours (3:01:25) will fit on a one gig memory card.
Look out for the ahead-of-the-curve MPEG-4 format: these can't be played or read on many computers including mine unless you load special software. The Z750 has no ability to record more conventional format video or movies.
Casio has a QuickTime component here for Mac.
There is also QuickTime component here which lets these play in Quicktime and also which lets them be cataloged and play in iView.
With this quicktime plugin I was able to import the HQ and normal movie files into iMovie HD, edit them and record them on a DVD to play on my TV. THey looked fine, the HQ mode seems just like a camcorder and the Normal mode seems just like digital cable TV or DirecTV quality. If you want to make serious video with this tiny camera try this yourself.
Also to play these I use the VLC player you can get free here, and you can get a utility called ffmpegx here that you can use to convert these files to a standard format for use anywhere. The good news is the movies look great if you go find the correct software. They won't play in Quicktime or iMovie unless you convert them first. Casio is too honest: the manual says it won't work at all on Mac, but of course it does with the software to which I just linked.
Recording time is limited only by battery and memory.
Optical zoom doesn't work in video mode because if it did you'd hear the tiny motors in the soundtrack. Digital zoom works but looks awful if you zoom too far, just like all digital zooms.
Auto WB doesn't change either while rolling. Exposure does change while rolling and of course you may set any and all of this between takes. The lack of optical zoom is simple: you'd hear the zoom motors in the audio if the camera let you.
The camera defaults to the hyperfocal distance ("Pan Focus" or PF mode). You may set autofocus or macrofocus before you start the scene, in which case focus is pulled automatically, unlike my Canon A70 camera. Don't do this, because unless it's a pretty loud environment you'll hear the AF stepper motor pulling focus in the recorded sound. Avoid the AF mode unless you really need it and don't mind shooting MOS or at least doing a lot of ADR. (MOS: Hollywood lingo for filming without sound. ADR: re-recording and dubbing in the sound later.)
Keep your finger off the microphone hole just to the left of the power switch.
Be sure also to turn off any stupid beeps since otherwise you'll record them. Out of common courtesy I always have all the sounds turned off on all my cameras. For most people who leave the camera in it's default mode the camera will beep an AF confirmation if you turn on AF for a movie.
Trick Buffered Movie Modes
There are two trick modes in addition the regular movie mode. The camera makes use of it's internal memory actually to be recording video and sound as long as the camera is turned on in that mode. When you press the button it then records several seconds of what was going on BEFORE you actually pressed the shutter. This isn't predicting the future, remember that you have to have the camera turned on and it's simply remembering everything that happened and if and when you press the shutter it then records the few seconds of video in it's buffer to your card. This is very handy for recording things that are fast and hard to catch, like a gopher sneaking out of his hole after watching him for an hour.
The two trick video modes are confusingly called "Short Movie" mode and "Past Movie" mode.
"Short Movie" mode records a video with sound several seconds long. You set the length beforehand. You may set the number of seconds which will be recorded both before and after the pressing of your shutter.
"Past Movie" mode is fixed and records the five seconds before you pressed the shutter and keeps recording for as long as you like afterwards. This results in a single file.
Movie Playback and Editing
The camera plays them back great. The camera can even play fast, slow and frame by frame. Yes, it also can zoom in on playback, something my camcorder can't do!
Lookout if you try to play them on a computer as I warned above.
Even crazier, you can edit movies in-camera. Well, not actually edit clips together into a finished motion picture, but you can trim clips. Read the manual for this one.
Still Frame Extraction
(30 Frames per Second with a 60,000 Frame Buffer!)
Once you've recorded video you may extract and save individual frames right in the camera. Select the movie from which you want to extract frames. (Don't play it; just select it.) Press Menu, select MOTION PRINT. Now you use the left and right buttons to select the frame. Hit SET after you've selected one or nine frames and the EX-Z750 creates and saves a new file with either one extracted frame, or if you chose "nine frame," a cute composite image with your selected frame in the middle and a row of four little other frames along both the top and bottom set into phone perforated film strips. Cute.
The extracted frame is saved as 640 x 480 Fine and the extracted nine frame composite is saved at 1,600 x 1,200 Fine regardless of the movie quality setting.
The images don't look that bad considering they come from video. They are softer than still images shot at 640, but hey, since you get 30 of these per second I'm not complaining. Here are examples direct from the camera (400 kB total)
In HQ mode you'll get over 30 minutes of video on a 1 gig card. 30 FPS x 60 seconds per minute x 34 minutes = 61,560 frames. Use the Normal mode and you get 116,970 frames. Use LP mode and you get 15 FPS x 3 hours x 3600 seconds per hour = 163,260 frames on my gig card.
See page 140 of the manual for details.
Use as a Remote Video Camera
The cradle comes with a video cable for playing back video through a TV. This won't work for making the camera a remote camera since you need to keep the camera in the cradle and can't set it to record.
An optional EMC-2A cable pokes up the camera's butt connector next to the tripod socket and lets you get video and audio out of the camera. I don't know if it also can provide power. In any case the camera will most likely turn off in a few minutes, so maybe this isn't the most clever idea for you to try to use as a video camera.
SOUND RECORDING return to top of review
5.5 kB/s .WAV monaural files. More formally, DVI ADPCM, Mono, 11.025 kHz at 44 kilobits (5.5 kiloBytes) per second. The camera is smart enough to retract the lens and turn off the LCD as soon as you select audio recording. It can record continuously for days on a gig card if you have enough batteries. The gauge, presuming you turn on the LCD to read it, says over 51 hours with a one gig card.
Turn the LCD on and off with the DISP button for longer battery life and better stealth. The bright green light next to the finder blinks while recording. Cover this and the camera looks like it's off.
The battery runs long enough for over TWENTY - EIGHT hours of continuous sound recording, so long as you remember to turn off the LCD. This makes a 538 MB audio file. Actually I made one recording of 13:57:40.11 (266.4 MB, 34.06 kbits/sec, 16 bit, 11.025 kHz) and then stopped it to make 26 photos (half with flash) and then let it make another recording of 14:16:44.22 (272.10 MB, 34.83 kbits/sec). The battery died and it turned itself off during the second recording, and it correctly left a recorded file on my card. Thus it works perfectly to leave this camera someplace sneaky, like under your wife's bed while you're away or forget it one day in your boss's office or forget it with someone with whom you're involved in a critical negotiation, and come back a day later to see what you may have recorded. No one knows cameras can record audio for over a day! Just tape over the blinking green LED on the back if your mark will see the camera during your surveillance. Some quick math implies that if I didn't stop to make some photos that I would have gotten thirty hours of continuous audio. I'll let you know when I can put this gem down for over a day to find out.
Even sneakier, it doesn't look like a recorder. Sneak it into a meeting or secret or highly sensitive discussion you're not supposed to record and leave it in your pocket. Leave it recording and you'll get it all.
One can mark index points while recording. I wasn't able to figure out how to get to them when playing back. Micro audio isn't really that interesting to me. For spies you can use it to mark highlights in a long file while it's in your pocket to save you time finding them later.
The 5.3 kByte/s rate is more than the S100's 4 kB/s rate. I haven't done a fidelity sound-off between them.
Adding Audio Notes to Images
This is easy. You can do it automatically as you shoot or add and change them later.
To do it automatically set "audio snap" to ON in the REC mode. Take the shot and it then prompts you to press the shutter again to start and end the recording for the image you just made.
After you've made images choose "Dubbing" in the playback menu to record a note for any image.
The audio .WAV files have the same name as the image except for the .WAV extension. They're in the same folder as the images. If you goof you can record again and it deletes the first audio file.
These notes are any length up to 30 seconds and take up 5.3 kB/second. Thus 5 seconds of notes are only 30 kB, negligible compared to the size of the image file.
Next Page: Files, Data and Computational Tricks