Home Donate New Search Gallery Reviews How-To Books Links Workshops About Contact
Canon 5D Mark III
Optional Accessories
© 2012 KenRockwell.com. All rights reserved.
5D Mk III Review: Specs Acc'ys Performance Recommendations More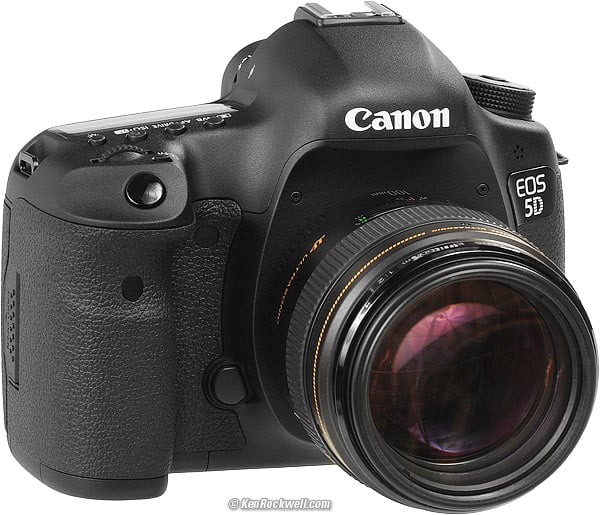 Canon 5D Mark III (33.5 oz./950g) and 100mm f/2 USM. enlarge. I've already ordered mine from Adorama, have you got yours? Adorama also offers a kit with the 24-105 IS for $4,299. B&H is also accepting hard orders for the Mark III body as well as this kit, as is Amazon, who also sells the kit, and Ritz. Using those and these links to get yours, regardless of the country in which you live, is this free website's biggest source of support.
02 March 2012 Canon 5D Mark III Review Canon Reviews Other reviews
WFT-E7A Wireless File Transmitter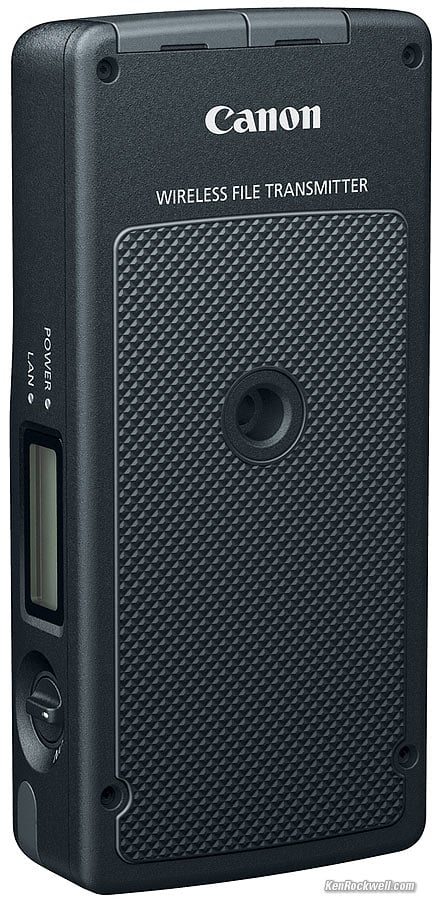 WFT-E7A Wireless File Transmitter.

The WFT-E7A Wi-Fi transmitter connects to the 5D Mk III via USB and includes built-in gigabit Ethernet, time syncing for multiple cameras, FTP mode, EOS Utility mode, WFT Server mode and Media Server mode.
One also can synchronize shooting multiple cameras, and Bluetooth works, too.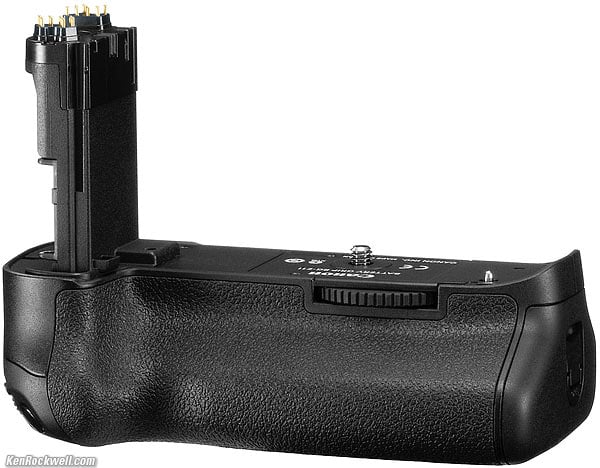 The BG-E11 accepts one or two LP-E6 lithium-ion batteries, or six AA cells.
It has a multicontroller and a multifunction (M.Fn) button and more.
The BG-E11 is made from magnesium alloy and has the same degree of weather resistance as the EOS 5D Mark III.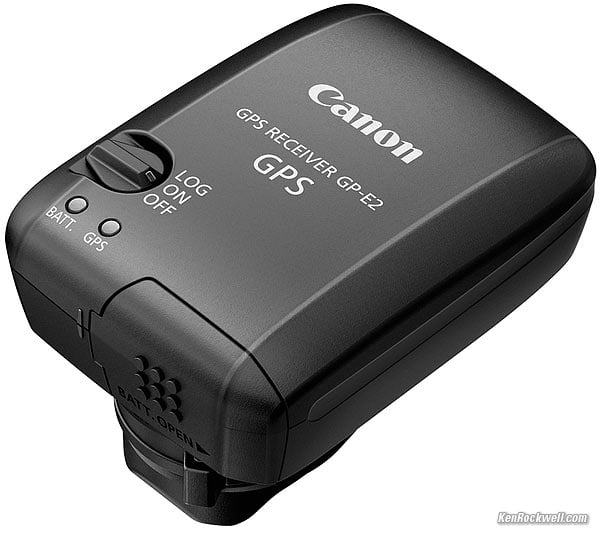 The optional Canon GPS Receiver GP-E2 is connected via the accessory shoe or a USB cable.
With a GPS logging function built-in, the GP-E2 will log latitude, longitude, elevation, and UTC time, and allow viewing of camera movement on a PC after shooting.
With its built-in compass, the GP-E2 receiver will also record camera direction when shooting, even when shooting vertically!
The Canon GPS Receiver GP-E2 is compatible with the EOS-1D X and EOS 7Di as well as the EOS 5D Mark III.
A compact LORAN receiver is under development.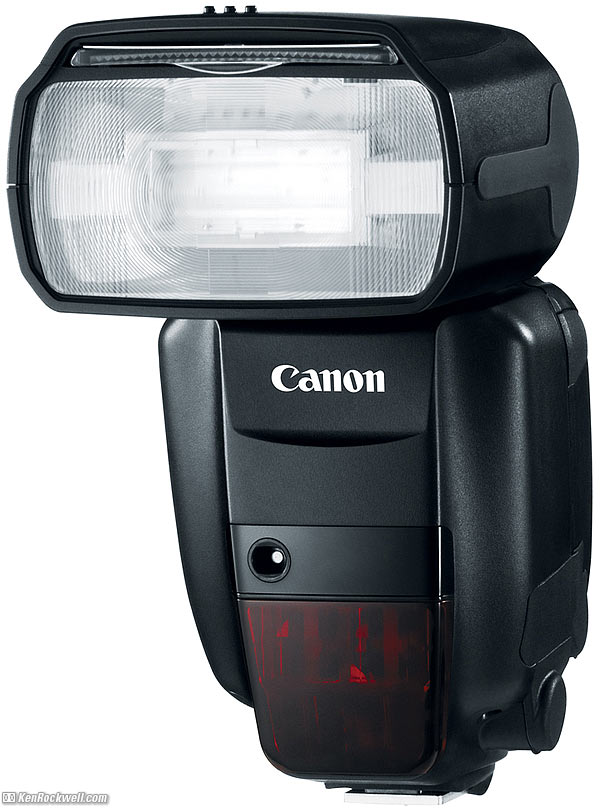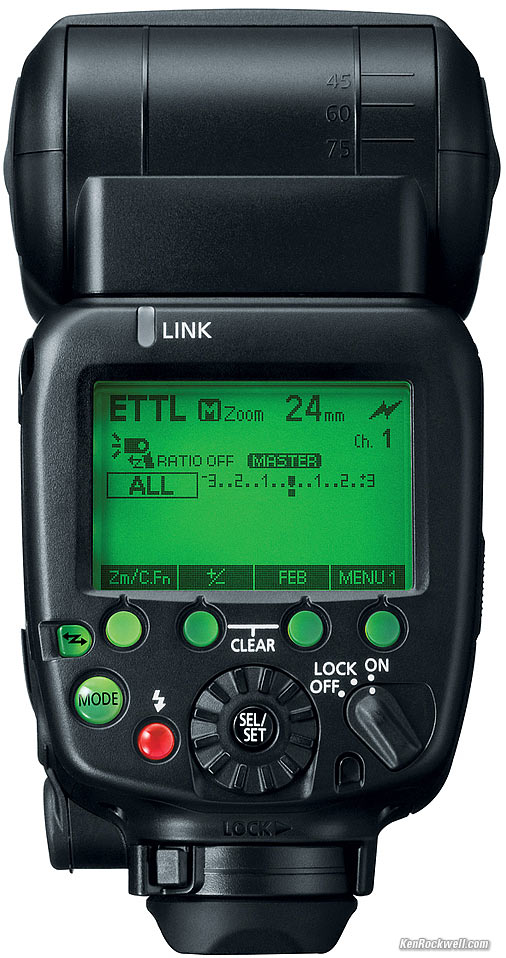 The new flagship 600EX-RT is first professional flash with a built-in wireless radio transmitter.
It eliminates the need for accessory radio slaves.
It features Master-Slave two-way transmission, letting the photographer control the remote flash settings directly from the camera.
Radio-based Wireless E-TTL can be performed with up to 15 (!) 600EX-RT slaves, used off-camera up to 100 feet (30m) away, and triggered by either a Master 600EX-RT on-camera, or the optional new Remote Flash Control Transmitter ST-E3-RT.
Used with the EOS 5D Mark III or EOS-1D X, up to five groups of flashes can be completely controlled, independently, off-camera. And, it remains fully compatible with Canon's legacy optical-based Wireless E-TTL technology, for users already committed to existing EOS Speedlites.
The flash is weather-resistant to match the 1D X, and a more reliable electrical contact.
The flash head zoom range now reaches from 20mm to 200mm, and also allows remote shutter release of a single EOS camera, or simultaneous shooting of up to 15 cameras, when one Master camera is fired.
It includes gelatin filters and a dedicated filter holder to match ambient light. Nikon's SB-910 already uses much tougher hard plastic filters, and Canon's next flash probably will, too.
Flash Control Transmitter ST-E3-RT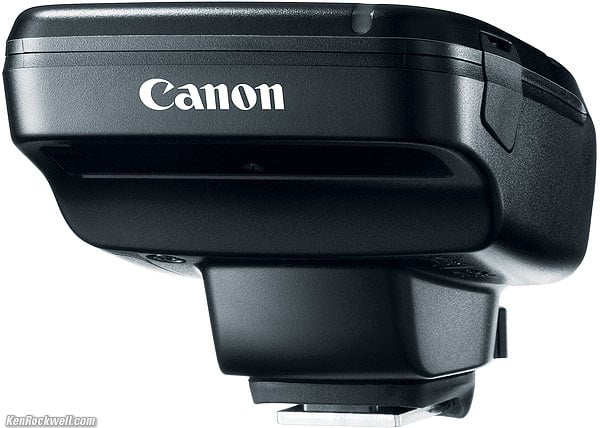 Canon ST-E3-RT flash-control transmitter.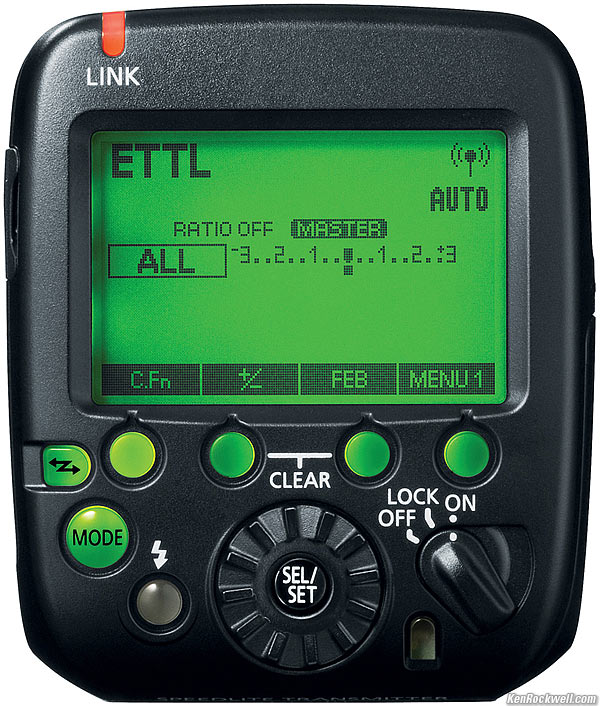 Top, Canon ST-E3-RT flash-control transmitter.
The Remote Flash Control Transmitter ST-E3-RT provides full support of Canon's new radio-based wireless flash technology.
The new ST-E3-RT can control up to five groups of flashes, up to 100 feet (30m) away.
Remote shutter release enables lets you fire a single camera remotely by pressing a button on the ST-E3-RT, or to fire up to 15 EOS cameras with Canon's Linked Shooting feature.
All of the Speedlite Transmitter features are accessible through the Flash control menu of the EOS-1D X and EOS 5D Mark III cameras.
< < Back to Canon 5D Mark III Review.
Help me help you top
I support my growing family through this website, as crazy as it might seem.
The biggest help is when you use any of these links when you get anything. It costs you nothing, and is this site's, and thus my family's, biggest source of support. eBay is always a gamble, but all the other places always have the best prices and service, which is why I've used them since before this website existed. I recommend them all personally.
If you find this page as helpful as a book you might have had to buy or a workshop you may have had to take, feel free to help me continue helping everyone.
If you've gotten your gear through one of my links or helped otherwise, you're family. It's great people like you who allow me to keep adding to this site full-time. Thanks!
If you haven't helped yet, please do, and consider helping me with a gift of $5.00.
As this page is copyrighted and formally registered, it is unlawful to make copies, especially in the form of printouts for personal use. If you wish to make a printout for personal use, you are granted one-time permission only if you PayPal me $5.00 per printout or part thereof. Thank you!
Thanks for reading!
Mr. & Mrs. Ken Rockwell, Ryan and Katie.
Home Donate New Search Gallery Reviews How-To Books Links Workshops About Contact