Home Donate New Search Gallery Reviews How-To Books Links Workshops About Contact
Nikon SB-910
© 2012 KenRockwell.com. All rights reserved.
Intro Specs Performance Recommendations More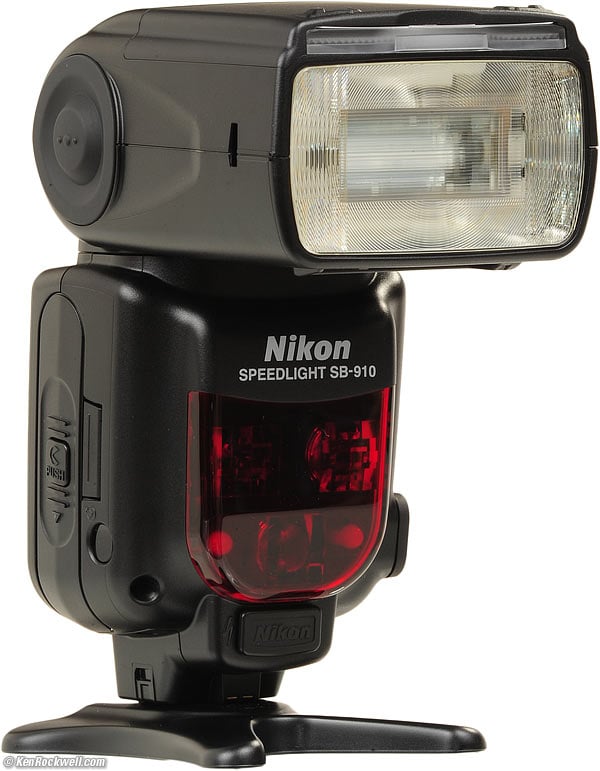 Nikon SB-910 (18.4 oz./522 g. with 4-AA cells, 2.1s measured recycle time, measured GN 95'/34m at ISO 100 and 35mm, about $550) with included AS-21 stand . enlarge. This free website's biggest source of support is when you use these links, especially this link directly to it at Adorama or directly to it at Amazon, when you get anything, regardless of the country in which you live. Thank you! Ken.
February 2012 More Nikon Reviews Nikon Lenses All Reviews
How to Use Wireless Flash Control.
Introduction top
Intro Specs Performance Recommendations More
Introduced November 2011, the SB-910 is Nikon's top professional flash. It is the biggest, fastest, brightest and most feature-laden flash they make. The SB-910 is an update to the short-lived SB-900, and adds hard plastic color-correction filters to replace the wimpy gels of the SB-900.
The SB-910's color correction filters are critical to get the color of the flash to match indoor lighting; without these filters, the flash light would look too blue indoors at home or in good restaurants, and too purple under fluorescent lights. Under Auto or Flash White Balance, most Nikons are smart enough to set the WB appropriately when you use the green filter under fluorescent light and the orange filter under normal tungsten and halogen light; there are little tabs on the filters that key a sensor on the flash that talks to your digital camera.
Impressive about the SB-910 are its prodigious power output and super-fast recycling: 2 seconds at full power as actually measured with Sanyo eneloop cells taken right out of the package as delivered (not charged by me). Power isn't that important today with high ISOs; you only need the full power of the SB-910 if you're 80 feet (24 meters) away at ISO 100 at f/1.4, or 450 feet (140 meters) away at ISO 3,200.
The reason the power of the SB-910 is useful to everyone who doesn't need it is that the SB-910 packs a big enough power inverter to recharge from a full-power blast in just two seconds, so at normal or even relatively high power levels, the SB-910 will always be ready to fire with no waiting.
The SB-910 also has a huge zoom head range: 17mm to 200mm on FX, as well as a 14mm diffuser. This means that you'll never have to worry about using the diffuser, even with the 16-35mm zoom on FX. (These aren't exact, I'd shoot my 14mm lens without worrying about the diffuser indoors, too.)
This professional SB-910 is aimed at full-time sports and news shooters who need as much power as fast as possible, and are bouncing it, using diffusers, and shooting at much longer distances than the rest of us shoot our family photos. Personally, I prefer the tiny Nikon SB-400 since I want a small flash for use as fill-flash, and velcro my own gels over the flash as needed.
Unimpressive is how incredibly complex it is to try to use the SB-910's obtuse menu system. I mean, holy guacamole, a menu system in a flash? How stupid is this? All we need is a power switch (good), a mode slide switch (not a single button to have to hit seven times to try not to miss the one mode we need), and a compensation control (not a three-click menu system). When Nikon piles on the features, they sure aren't Apple when it comes to designing it well enough so that anyone can hope to figure it out. This is why I'm sticking with my SB-600 any time I need a big flash — but I'm no longer a news pro or event shooter. If the SB-910 was available back when I shot for newspapers, I'd have bought two!
Nikon pitches that the firmware of the SB-910 can be updated, as if that's a good thing. To update firmware, you copy it from the Internet to a memory card, and then putting this card in only one of the newest DSLRs and copying to the flash! If you love gadgets, you'll love the SB-910, but if you just want to light your picture and want a large, powerful, feature loaded flash, also consider the marvelous Nikon SB-700 ($327) or a used SB-600 ($220 used).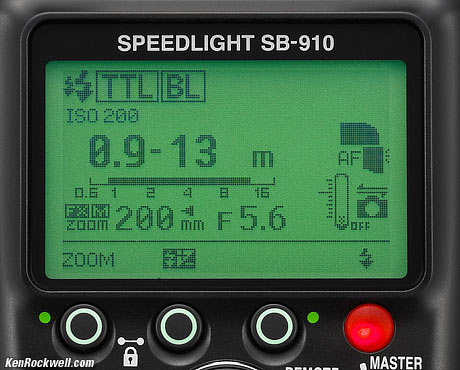 Nikon SB-910 Backlit LCD.
I miss the dedicated LCDs of flashes like the SB-600, which are much sharper, cleaner and clearer than the less-legible dot-matrix displays of newer flashes like this SB-910 and the SB-700.
The SB-910 is a big flash. Here it is trying to topple a D7000: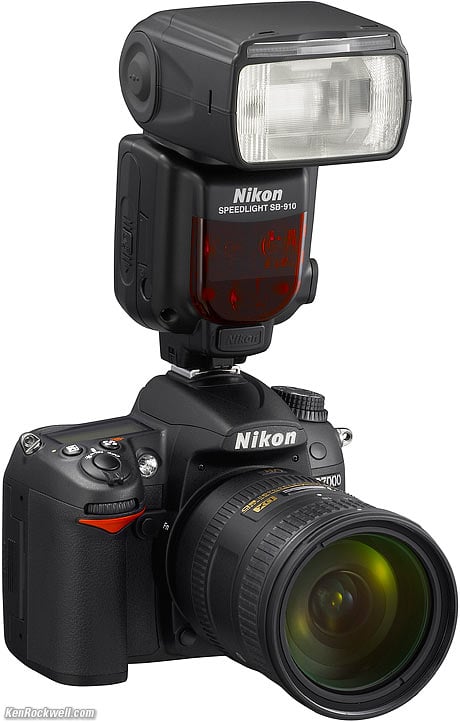 Nikon SB-910 on a D7000.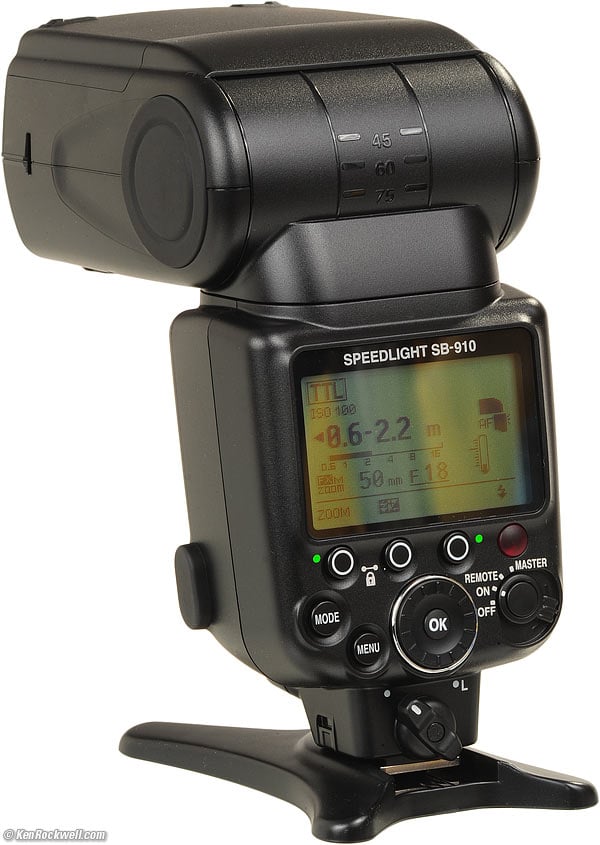 Nikon SB-910 with included AS-21 stand. enlarge.
Specifications top
Intro Specs Performance Recommendations More
Compatibility
Works properly only with most Nikon DSLRs and the F6 (and some Coolpix).
Does not work properly with any other 35mm camera or any D1-series or the D100.
With all other cameras, there will be no proper (TTL) auto exposure control. For compatibility with all cameras, use the SB-600, or you'll have to use the SB-910 in one of its less fashionable work-around modes.
Circuitry
Automatic Insulated Gate Bipolar Transistor (IGBT), series circuit.
Guide number (rated)
At ISO 100, 35mm FX zoom setting, standard illumination pattern, 20°C/68°F:
111.5 feet, rated (95 actual measured).
34 meters, rated (29 actual measured).
Recycling Time (rated)
2.3 sec. with Ni-MH (2600 mAh) batteries.
3.0 sec. with Oxyride™ (1.5V) batteries.
4.0 sec. with Alkaline-manganese (1.5V) batteries.
4.5 sec. with Lithium (1.5V) batteries.
Battery Life
These are the number of full-power dumps Nikon claims you can get if you wait as long as 30 seconds for it to recycle. In actual automatic use, you'll get thousands of flashes depending on your distance, since less power is used for each pop.
110 shots with throw-away Alkaline.
165 shots with 2,000 mAh eneloop.
190 with 2,600mAh Ni-MH, the kind that run down in a week if you don't use them.
230 with AA Lithium, but only that much if you give the SB-910 as much as two minutes to recycle at the end!
I hope someone out there in an Attorney General's office is reading this, and can give Nikon the hard time it deserves: on page B-7 in the large Nikon SB-910 User's Manual, you'll see that Nikon suggests that you change the batteries when they take more than 10 seconds to recycle (20 seconds with Alkalines), while Nikon's published battery life numbers are made while waiting about three times longer to recycle. Scam!
If Nikon was honest here, they'd rate battery life only to the number of shots you get when the recycling time goes to 10 seconds as recommended in the instructions.
In all practicality, the SB-910 runs a long time and recycles immediately as it's actually used in its automatic modes. Almost no one buys SB-910s to run at full-power in manual mode all the time, but I still feel scammed.
Flash duration
1/880 sec. at full output.
1/1,100 sec. at M 1/2 output.
1/2,550 sec. at M 1/4 output.
1/5,000 sec. at M 1/8 output.
1/10,000 sec. at M 1/16 output.
1/20,000 sec. at M 1/32 output.
1/35,700 sec. at M 1/64 output.
1/38,500 sec. at M 1/128 output.
Zoom Range
17 - 200mm, FX.
12 - 200mm, DX.
Wide diffuser: 14mm FX (10mm DX).
The zoom automatically adjusts to your lens, and smarter than earlier flashes, also adjusts for FX or DX.
Illumination pattern
There are three illumination patterns: standard, even and center-weighted.
This baloney means that you can set an offset in the zoom head so that it tends to focus the light more tightly towards the center, or spread it out more than usual.
Maximum flash range
2 to 66 feet (0.6 m to 20 m), in i-TTL, auto aperture flash or non-TTL auto flash modes.
This will vary depending on ISO sensitivity, zoom head position, and lens aperture.
Flash modes
i-TTL only (no D-TTL as in the SB-600 for use with D1 series, D100 or 35mm cameras other than the F6).
Non-TTL auto flash (A) for use with all cameras.
Manual for use with all cameras.
Non-TTL "Auto aperture" Auto mode: the SB-910 is smart enough to read the ISO and set aperture from your camera, and then uses its own sensor to set the exposure.
Distance-priority manual flash: you tell the SB-910 the distance (it reads ISO and aperture from your camera), and it calculates and sets the manual power level to use before you shoot.
Repeating flash for special effects (or signaling rescue crews).
More
Bounce card.
FP (focal-plane high-shutter-speed) mode.
Test firing.
Monitor pre-flashes in i-TTL.
AF-assist illumination for multi-point AF.
Modeling illumination.
Mounting foot lock lever.
Multiple flash-unit photography operation
Advanced Wireless Lighting.
SU-4 type wireless multiple flash-unit photography.
Bounce Angles
Flash head tilts down to 7° or up to 90° with click-stops at -7°, 0°, 45°, 60°, 75°, 90.°
Flash head rotates horizontally 180° to the left and right with click-stops at 0°, 30°, 60°, 75°, 90°, 120°, 150°, 180.° In other words, it rotates fully ±180.
Batteries
Four AA-size:
1.25 V HR6 (AA-size) rechargeable Ni-MH (I prefer the Sanyo eneloop).
1.5 V LR6 (AA-size) alkaline.
1.5 V FR6 (AA-size) lithium.
Size
5.7 x 3.1 x 4.4 inches, HWD.
145 x 78.5 x 113 millimeters, HWD.
Weight
18.410 oz. (521.9 g), actual measured with 4 AA eneloop cells.
Rated 510 g (18 oz) with four 1.5 V LR6 (AA-size) alkaline batteries.
Rated 420 g (14.8 oz) empty.
Quality
Made in Japan.
Announced
30 November 2011.
Included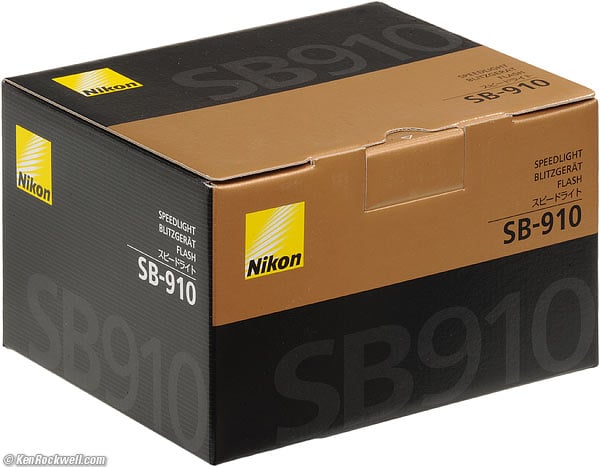 Box, Nikon SB-910.
The box merely covers the case: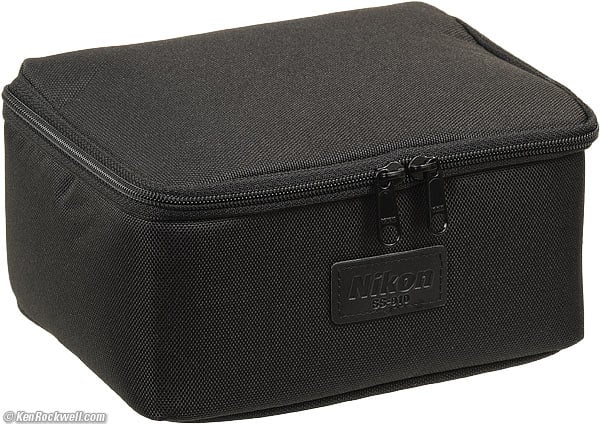 Included SS-910 Soft Case. enlarge.
And the case holds everything: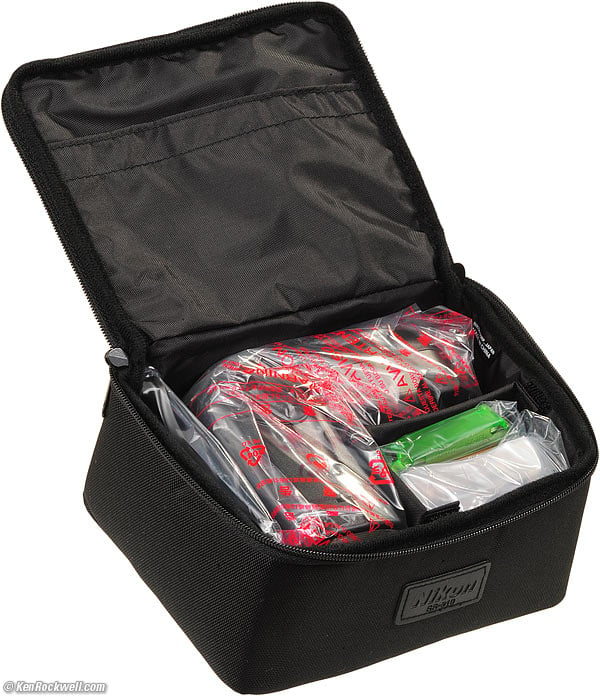 What's in the SS-910 Soft Case: Flash, stand, filters and diffuser. enlarge.
SB-910 flash.
AS-21 flash foot (table stand).
SW-13H Nikon Diffusion Dome.
SZ-2FL Fluorescent Filter.
SZ-2TN Incandescent Filter.
SS-910 Soft Case.
Four manuals: a very helpful basic guide and big ugly manual, two copies each in English and Spanish.
NCR warranty form.
Price, USA
February 2012: $550.
Optional
SD-9 High-Performance Battery Pack. With this pack and 8 AA eneloop, full-power recycling is rated at only 800 mS (0.8 seconds)!
SD-8A High-Performance Battery Pack.
SD-7 DC Power Unit.
WG-AS1, WG-AS2 and WG-AS3 water guards. Depending on which camera you're using, these things try to seal the camera's hot shoe from water when using this flash.
Performance top
Intro Specs Performance Recommendations More
If you can get past all the fluff features and set it the way you want, which isn't that difficult, it works great. It just keeps pumping out the power and recycles fast. The biggest limitation is heating it up too far, and something new about the SB-910 is that if it overheats because you've been shooting too hard, instead of simply dying for ten minutes while it cools off, it will gradually increase the recycle time to throttle you back. You really have to be hitting it hard for this to happen; I've never seen this.
Exposure accuracy comes from your camera and your own technique; it's not a function of the flash. The camera controls the flash in i-TTL mode.
There is almost no audible noise from the inverter as it recycles; just a light noise if you used much power and then it goes silent.
The inverter (power supply) for the cyan-green electroluminescent (EL) LCD backlight always makes a bit of a whistle when lit.
The Mode, Menu and the first three buttons below the LCD are lit along with the LCD. The power and OK buttons are never lit.
Guide Numbers (Output Power)
Measured GN at ISO 100, zoom settings at normal light distribution:
| | | |
| --- | --- | --- |
| | GN, feet | GN, meters |
| 35mm | 95 (80 + ½ stop) | 29 |
| 50mm | 110 | 33.5 |
This is a half-stop less than advertised, which ia actually quite impressive, as all previous Japanese flashes have measured a full stop less than advertised, so the SB-910 actually has a half-stop more power than I expected.
Recycle time
2.1 seconds, actual measured, with 4 AA eneloop cells, full-power dump to Ready light ON.
This was with new eneloop right out of the package without any charging.
Users Manuals
There are four printed manuals included.
There is an excellent basic guide of how to take various kinds of pictures, as well as the larger manual that's mostly legal notices.
Both of these are included in English as well as Spanish, for a total of four booklets.
I like the basic manual: it has pictures showing examples of what you're trying to do, and how to set the camera and flash to do it. I also dig the fact that one of the photo examples shows a black Nikon SP as the photo subject, yes!
Recommendations top
Intro Specs Performance Recommendations More
If you're a sports, news or events pro or shoot hard, hot and heavy, you'll love the Nikon SB-910. The SB910 keeps belting out loads of light quickly. This isn't a classic Vivitar 285; the SB-910 recycles fast even at full power from 4 AAs.
I also like the solid-plastic color-conversion filters that can be jammed in a pocket and popped on and off. Color-conversion filters are mandatory for shooting flash indoors if you're shooting in color, and saves me from having to fiddle with gels and self-stick velcro.
Then again, the SB-700 does all this and has similar filters, for $225 less. The SB-700 is easier to carry, and really only differs in having slightly less maximum flash range, which I doubt anyone will ever notice unless you're a very hard shooter.
If you've found my research and measurements helpful, this free website's biggest source of support is when you use these links, especially this link directly to it at Adorama or directly to it at Amazon, when you get anything, regardless of the country in which you live. Thank you! Ken.
More top
Intro Specs Performance Recommendations More
Nikon's very helpful quick guide
Nikon SB-910 Manual del Usuario
Nikon's SB-910 Recopilación de fotografias de ejemplo
Help me help you top
I support my growing family through this website, as crazy as it might seem.
The biggest help is when you use any of these links to Adorama, Amazon, eBay, Ritz, Calumet, J&R and ScanCafe when you get anything, regardless of the country in which you live. It costs you nothing, and is this site's, and thus my family's, biggest source of support. These places have the best prices and service, which is why I've used them since before this website existed. I recommend them all personally.
If you find this page as helpful as a book you might have had to buy or a workshop you may have had to take, feel free to help me continue helping everyone.
If you've gotten your gear through one of my links or helped otherwise, you're family. It's great people like you who allow me to keep adding to this site full-time. Thanks!
If you haven't helped yet, please do, and consider helping me with a gift of $5.00.
As this page is copyrighted and formally registered, it is unlawful to make copies, especially in the form of printouts for personal use. If you wish to make a printout for personal use, you are granted one-time permission only if you PayPal me $5.00 per printout or part thereof. Thank you!
Thanks for reading!
Mr. & Mrs. Ken Rockwell, Ryan and Katie.
Home Donate New Search Gallery Reviews How-To Books Links Workshops About Contact