Home Donate New Search Gallery Reviews How-To Books Links Workshops About Contact
Sony RDP-X500iP
iPod, iPad and iPhone Dock Speaker
© 2011 KenRockwell.com. All rights reserved.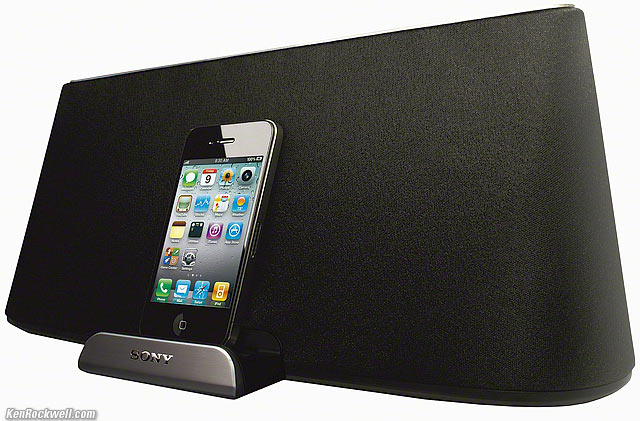 Sony RDP-X500iP (just under $300 including remote control). enlarge. This free website's biggest source of support is when you use these links, especially this link to it at Adorama or at Amazon, when you get anything, regardless of the country in which you live. Thank you! Ken.
December 2011 All Reviews > Audio Reviews > Sony Audio Reviews
The Sony RDP-X500iP is a surprisingly great-sounding iPod speaker system. Depending on your personal tastes, it could be the best sounding iPod dock made.
It was just introduced in November, 2011, and is far better than anything Sony has ever offered for iPod. Few people know about it, much less have heard it, compared to the Bose SoundDocks most people think of when they want a first-rate iPod speaker system. This RDP-X500iS offers sound far bigger than seems possible from its little size — and it wouldn't be possible except for Sony's expertise in digital signal processing and some very powerful amplifiers and special speaker drivers.
The RDP-X500iP has no radio and no clock (you can get free apps for that), and offers nothing but absolutely fantastic sound in a reasonably-sized wall-powered compact speaker system. With this Sony, all of your money is going towards great sound, not for flashy marketing or features we won't use.
It's bigger than a good clock radio dock, but still much smaller than the B&W Zeppelin or most Bose SoundDocks, and sounds much better than the Bose docks. I haven't bothered to listen to the B&W Zeppelin; if my wife wanted something that big and ugly she'd be using real B&W speakers and not a dock. I bought this RDP-X500iP for my wife for Christmas precisely because she hates big speakers.
What really grabbed me when I walked past one of these elegant Sony docks was just how clean and natural was its sound, as well as the prodigious amount of deeper bass coming out of this little thing. I bought this RDP-X500iP online so I could give it a proper audition at home, and I was right: the sound is fantastic for everything from Metallica to Mozart's Requiem to the Annie Lennox and Alanis Morissette to which my wife listens. Whatever's on the recording is what you're going to hear. Sit within a few feet of this Sony, and you can see the orchestra.
This amazing little Sony uses a rated 60 watts of total amplifier power, a built-in subwoofer and a lot of clever DSP (digital signal processing) to get solid and natural bass down to a measured 40-50 Hz. This is about an octave or more deeper than most docks.
This Sony sounds great precisely because nothing is emphasized or removed. Absent is Bose's boosted, boomy bass and emphasized midrange. Bose does this to sell well with thumpy bass and clear vocals, while this Sony has much smoother and more natural sound for more serious listening.
Yes, the Bose can go louder, but played at the levels you'll actually use once you get it home, this Sony sounds much better because its sound is cleaner, clearer and more natural, and its bass is much tighter and better defined without the boominess of Bose's tuned cavities. The Sony's bass is particularly good (as a bass player I pay particular attention here): each note is different through this Sony, while the Bose's resonant bass tends to make all the bass notes and drums sound the same.
The Bose sound is relatively boxy and dry with thumpy bass, lacking the overall depth, clarity and bass definition of the RDP-X500iP for careful music listening. The Bose is better for impressing the innocent with Bose's three-instrument in-store demos and background party music, while the RDP-X500iP is better for careful listening.
Measured in the lab, the Sony RDP-X500iS is amazingly flat down to 50 Hz, fades away smoothly below that, and has little output below 40 Hz. Even with test tones, the bass is undistorted, without any buzzing or whooshing. Most of the whimpy little $5,000 excuses for speakers that audiophiles put on stands today aren't flat all the way down to 50 Hz because they lack the dedicated DSP to correct their response as do these little Sonys. This little Sony RDP-X500iP has deeper bass than small passive speakers simply because this Sony's internal electronics compensate for its speakers response to give the flat, unboomy and tight bass response we really want. Yes, wimpy little $5,000 speakers on stands will go louder, have more output below 45 Hz and actually make stereo from across a room, but they'll probably cut-off around 80Hz and not 50 Hz.
Touch this little dock and you'll feel how hard it's working to pump out the bass, but it doesn't sound strained. Its bass is astonishingly flat, tight and unboosted, completely free from the usual boomy sounds that come out of other iPod speakers. While this dock vibrates like crazy pumping out the bass, nothing buzzes. It's probably a good idea to keep it away from things that rattle. Sony cautions that these speakers use big magnets, so keep this away from your credit-card stripes, your cassette tapes and your Rolex.
I don't know if the bass compensation is dynamic or static, meaning I don't know if the bass becomes more extended at softer levels. It probably is; dynamic bass control, as implemented in internal DSP, allows deeper bass extension at soft levels and prevents distortion at loud levels.
The second and more important thing that jumped out at me is how the Sony RDP-X500iP has such little sound coloration that its sound stage, at least listened to closely, actually has some depth. I can actually hear into the ensemble, and not hear it simply as a flat wall of sound. For real symphonic music, this is quite stunning to hear from an iPod dock.
The RDP-X500iP plays some tricks with the stereo image, so when listened to at arm's length, the stereo image spreads out far beyond the dock itself. (Of course when heard from across the room, it still sounds like mono as does every other sound dock.) The electroacoustic tricks played inside this Sony expand the stereo image when you're up close, but no single dock can make real stereo when you're 10 meters (30 feet) away.
A big Bose SoundDock goes louder, but the RDP-X500iP sounds better and can be turned up all the way and not distort. This Sony is designed intelligently enough so that it can handle running at full crank and not distort. This Sony will fill a room to a reasonable sound level. This Sony is certainly much bigger and better-sounding than the Bose Wave Radios.
This is an elegant speaker system. The chrome parts on the top and sliding bottom-center dock connector feel like solid metal. Everything else is black, with no logos or other visual distractions.
When first turned on, the sound fades up from zero automatically as not to startle anyone.
The are only six buttons along the top:
Power, iPod select or Line input select on the top left, and
Play/Pause (one button) and the Up and Down volume controls on the top right.
There are no other controls anywhere. This is all you need. It's simple, like a Bang & Olufsen used to be.
There are no audio tweaks or adjustments: the RDP-X500iP is set properly as is comes out of the box. If you must screw up your audio, Sony's free d-sappli app adds an equalizer as well as a clock, and there are no shortage of other equalizers out there. My favorite is the Equalizer app, which is a fully parametric seven-band two-channel EQ — but I never use it.
There's no radio, no clock and no alarm: the RDP-X500iP is all about the music. No problem, d-sappli adds an alarm clock, as do a hundred other free apps. There are a zillion radio apps that get better reception than any real radio. I use TuneIn Radio and Pandora, and you can use any other app like Bang & Olufsen's BeoPlayer if you want classy.
The Sony RDP-X500iP charges and powers your iPod, iPhone or iPad, but you cannot sync from it. There is no audio or USB output from this dock; it's just a high-performance amplified speaker system.
It includes a remote control. If you'd rather keep your iPod, iPhone or iPad in your hands and play it from the RDP-X500iP remotely, use an Airport Express and plug it into the rear audio input.
My excitement about the RDP-X500iP stems from how great it sounds as a compact iPod dock I can give my wife. It's not going to sound as good as a dedicated pair of real hi-fi speakers, but it sure sounds better than anything else my wife will allow in her kitchen.
Specifications top
Inputs
iPod Docking connector, 30-pin (no adapters needed).
3.5mm stereo input jack.
Hidden infra-red remote control receiver.
Outputs
15 watts to each of two 2" internal speakers at 10% THD, which means about 10 real watts per channel.
30 watts to internal 3-5/8" subwoofer at 10% THD, which means about 20 real watts. Sony and laymen call this a "subwoofer," but I just call it a woofer. Real subwoofers don't start working until below 50Hz, but that's a different story.
This is 60 watts total if you play it too loud (10% THD), which means nothing since Sony doesn't specify the speakers' sensitivity.
Two internal passive radiators.
No external audio outputs.
No external sync or USB connector.
Power Input
100-240 VAC, 50-60 Hz to a power adapter, which outputs 19.5 VDC at several amperes to the dock.
With the appropriate power cord, the AC adapter works world-wide without needing to switch anything.
The remote control works with one included CR2025 lithium cell.
Size
7 x 15-7/8 x 6 3/8 inches HWD.
176 x 401 x 160 millimeters HWD.
Weight
6 pounds, 15 ounces.
3.15 kg.
Included
Speaker dock.
AC to 19.5 VDC power adapter.
Power cord for power adapter.
Tiny remote control.
Printed instructions.
Packed wrapped in Sony's gray foam paper, kept closed with Sony's yellow tape, nestled inside two custom foam inserts inside a corrugated cardboard box.
Price
$299.99 list as of December 2011.
Expect to pay about $279.99 or less at Adorama or at Amazon.
Introduced
November 2011.
More Information
Sony's RDP-X500iP User's Manual.
Help me help you top
I support my growing family through this website, as crazy as it might seem.
The biggest help is when you use any of these links to Adorama, Amazon, eBay, Ritz, Calumet, J&R and ScanCafe when you get anything, regardless of the country in which you live. It costs you nothing, and is this site's, and thus my family's, biggest source of support. These places have the best prices and service, which is why I've used them since before this website existed. I recommend them all personally.
If you find this page as helpful as a book you might have had to buy or a workshop you may have had to take, feel free to help me continue helping everyone.
If you've gotten your gear through one of my links or helped otherwise, you're family. It's great people like you who allow me to keep adding to this site full-time. Thanks!
If you haven't helped yet, please do, and consider helping me with a gift of $5.00.
As this page is copyrighted and formally registered, it is unlawful to make copies, especially in the form of printouts for personal use. If you wish to make a printout for personal use, you are granted one-time permission only if you PayPal me $5.00 per printout or part thereof. Thank you!
Thanks for reading!
Mr. & Mrs. Ken Rockwell, Ryan and Katie.
Home Donate New Search Gallery Reviews How-To Books Links Workshops About Contact