Home Donate New Search Gallery Reviews How-To Books Links Workshops About Contact
RHA SA950i Headphones
© 2013 KenRockwell.com. All rights reserved.
Intro Specs Performance Compared Recommendations More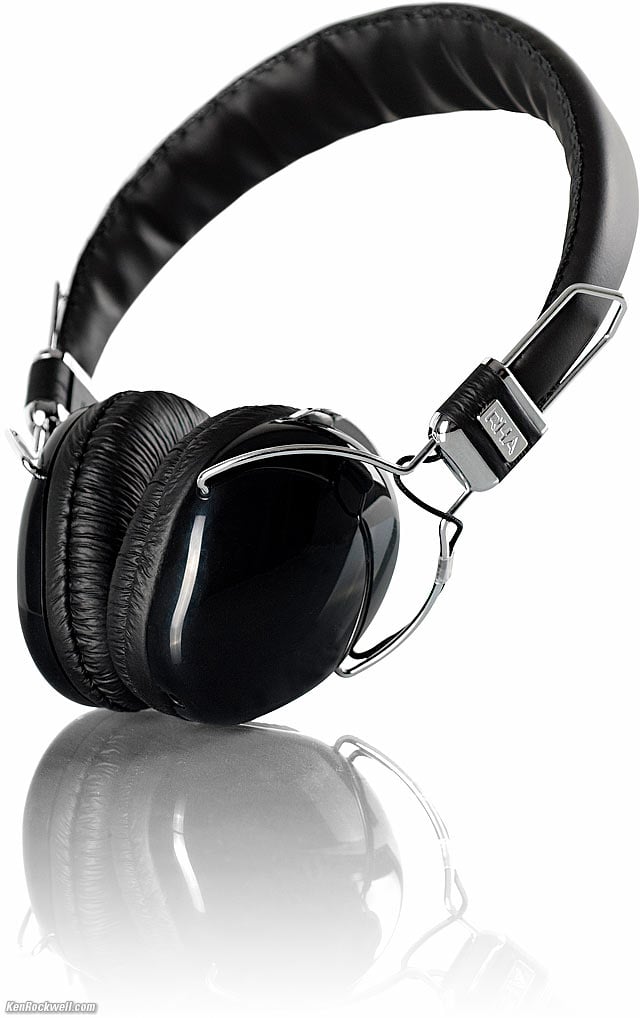 RHA SA950i (32 Ω, 3.845 oz./109.1g without cord, 4.205 oz./119.2g with cord, about $60). This free website's biggest source of support is when you use these links, especially this link to them at Amazon, when you get anything, regardless of the country in which you live. It helps me keep adding to this free website when you get yours through these links — but I receive nothing for my efforts if you buy elsewhere. Thanks for your support! Ken.
May 2013 Headphone Reviews Audio Reviews All Reviews
Introduction top
Intro Specs Performance Compared Recommendations More
These inexpensive RHA SA950i headphones are ultra lightweight over-the-ear closed-back isolating headphones with much better sound than I was expecting. The don't fold, but they do have an on-cord iPhone, iPod and iPad remote and mic. They are much lighter than any other isolating headphone I've used.
These are so good for most use in the field that my wife stole them from me and I can't get them back. All the other headphones I offered her for use with her iPad were too heavy or too ugly for her.
The cord is flyweight, too. It's a thin cloth-covered cord that feels like a thin shoelace. The connectors are almost as tiny as Apple's. This is important because most headphones have connectors so big that when you drop your device, you break-off the plug and damage your iPad's innards.
The SA950i weigh nothing, but have a warm solid sound with great bass. Overall response is tilted in favour of the low end. Favoured? RHA is based in Glasgow, Scotland. Its funny that RHA pitches themselves as from the "UK;" heck, Glasgow is where Linn is based, and Linn is one of the last remaining great Hi-Fi companies left in the industry. (Don't get too excited; these are made in China.) If I were RHA, I'd be pitching bonnie Scotland over the generic "UK."
These RHA headphones have far more solid bass than I'd ever expect from such delicate lightweight headphones. In fact, don't tell Velodyne, but I prefer the bass and the overall clarity of these $60 RHA headphones to the sound from Velodyne's $399 vTrue! These RHA are much cleaner sounding, and yes, have better bass, too, than the huge vTrue.
The professional-standards Audio-Technica ATH-M50 ($120) and Sony MDR-V6 ($72) each have more neutral sound and are much more durable, but they are also much heavier. My wife, a normal person, wanted nothing of them. What's neutral for professional use is quite different than the warmer sound of these RHAs, which many people will prefer for enjoying music, as opposed to recording where you want to hear everything that's wrong with your sound while you can still do something about it.
The sound from these tiny RHAs will vary greatly with how you put them over your ears. You'll lose deep bass if they're not square on top of your ears, and if they are further forward of back, you'll lose the highs since they'll miss going directly into your ear canal. Because we all have differently shaped-ears, the same headphones will sound vastly different to each of us.
My biggest concern for these travel-ready headphones is that they don't fold flat to sit on top of my iPad in my backpack, as do the Focal Spirit One and ATH-M50. The shiny black plastic will scratch, and the wonderfully thin cord is easy to knot — but so what, my wife won't give these back.
The SA950i box is pretty flashy. It has a magnetically-latched cover, and when opened, shows the headphones through a plastic window. This was great for the days of the old "retail" stores, but since we all buy online today, I'd rather that that money was put into something we could use — or give us a lower price — in a plain white box.
Specifications top
Intro Specs Performance Compared Recommendations More
Technology
On-the-ear isolating closed headphones.
Plastic exterior.
40mm ∅ titanium-coated Mylar drivers.
Neodymium magnets.
CCAW coils.
Impedance
32 Ω, rated. I measure about 35 Ω: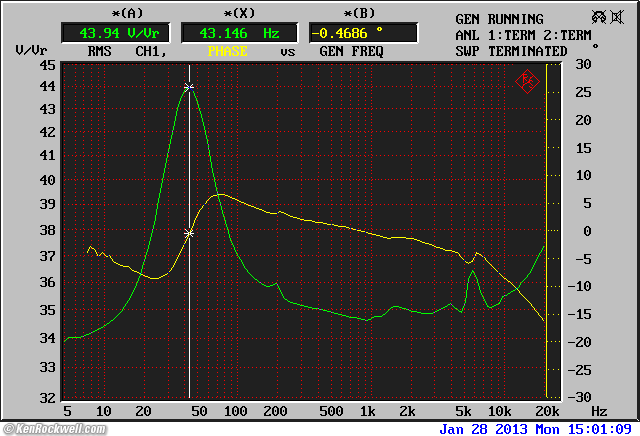 RHA SA950i impedance magnitude and phase angle versus frequency. (R&S UPL, +90º is capacitive, -90º is inductive.)
This graph is for electronic engineers with a BSEE minimum, only. This impedance curve has nothing to do with frequency response.
Sensitivity
Rated "113 dB," no conditions mentioned, making this a completely meaningless number.
I measure about this SPL with about 1 VRMS applied, so that's possibly what they mean.
It's a little less sensitive than the Ultrasone Edition 8, which measures in the same ballpark for sensitivity.
Power Handling
30 mW (about 1 V) rated.
100mW (about 1.8 V) max.
Neither of these are qualified, so they don't mean anything either.
Frequency Range
16 ~ 22,000 Hz, no conditions specified, so again, a waste of printed space.
Cord and Plug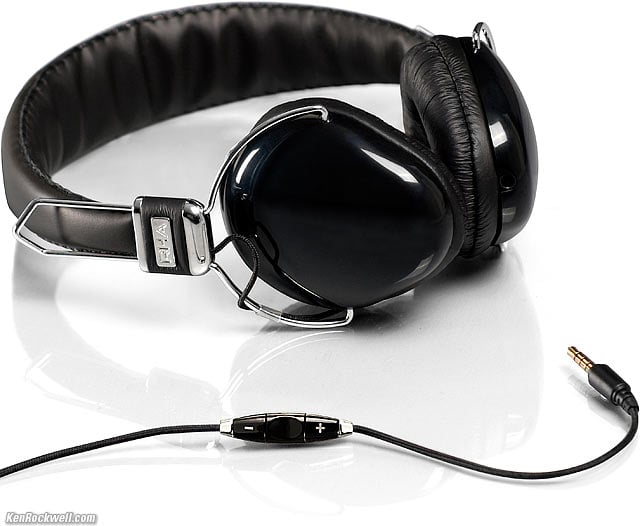 RHA SA950i with cord and remote. bigger.
Thin cloth-covered cord, a very nice touch. It feels like a piece of twine or a very supple thin shoelace, quite unlike any other cord.
The cord detaches from the headphones.
3.5mm gold-plated plug.
Molded plastic grip and strain relief.
No ¼" adapter included.
Size
185 x 145 x 65 millimeters HWD.
Weight
3.845 oz. (109.1g) measured without cord.
4.205 oz. (119.2g) measured with cord.
3.7 oz. (105g), rated.
Quality
Made in China.
Performance top
Intro Specs Performance Compared Recommendations More
Sound
The SA950i are warm, with more bass and less treble than "flat" headphones. This makes them sound big and smooth!
Isolation
The SA950i offers more isolation than I'd expect for something sitting on top of my ears.
Leakage
The SA950i leak relatively little sound to the outside world; they are closed.
Bass
The SA950i's bass is smooth and solid. It also goes much deeper than most generic headphones. It's not as good as the ATH-M50 and Sony MDR-V6 which apply a boost to the deep bass; the RHA just give lots of tight, solid bass.
If you're not getting good bass, keep adjusting them for a better seal on your ears. If you lose the seal, the bass slips out the crack.
Treble
As covered before, the treble is slightly depressed. This is good, because as is typical in even in the best headphones that cost twice as much (the ATH-M50) the highs are a bit rough. You need Stax or Audeze to get away from this, and I like that the treble roughness is attenuated in these.
In other words, the always rough treble response range from 3 kc ~ 10 kc is shelved down so the roughness doesn't grate on you.
The highs are smooth because they are somewhat subdued overall.
Movies
For enjoying movies on your iPad, the SA950i are clean and solid, with plenty of bass and plenty of sensitivity
Sensitivity
The SA950i are plenty sensitive, able to play very loudly very easily on any portable device, be it a DSLR, iPod, iPhone, iPad or whatever.
Materials and Mechanics
It's all plastic, except for the harp and sliders.
Its very light weight and I presume also delicate. I'd be careful not to beat on these too much. If you want beat-around headphones, the ATH-M50 are built to take a beating from pro studio musicians, but they weigh almost three times as much as these RHA SA950i.
Ergonomics
The SA950i have little earpads and little driver housings. They are almost like kid's headphones — but that's what makes them so great. They are tiny, and sound better than many much bigger headphones like the gigantic vTrue.
They can be fidgety for the first few minutes getting on your head the first time. When I first got them, I didn't know where on my ear to put them!
The detachable cord works either way, so you can have the remote up by your head or down by your device.
L and R are almost unmarked and I couldn't find any Braille dots; just know that LEFT is the side with the cord.
Compared top
Intro Specs Performance Compared Recommendations More
The Audio-Technica ATH-M50 ($120) are the world's recording studio standard. The ATH-M50 are bigger and tougher, and fold for travel. They have a brighter sound than these darker-sounding RHA, but no remote.
The Sony MDR-V6 ($72) are also a professional audio standard, and also built bigger and tougher than these RHA. The MDR-V6, like the ATH-M50 have a brighter and more forward sound than these more reserved RHA. These Sonys have no remote.
Recommendations top
Intro Specs Performance Compared Recommendations More
Want tiny, inexpensive headphones with smooth, warm sound and great bass — and offer isolation and a remote control and don't need them to fold? Bingo!, here you go.
I drove them from iPhones, iPad and iPods, as well as the Benchmark DAC1 HDR. They work great with anything.
For $60, you can't go wrong if you want deep, solid sound from flyweight headphones.
If you've found my efforts reviewing these helpful, my biggest source of support is when you use these links, especially this link to them at Amazon when you get anything, regardless of the country in which you live. Thanks! Ken.
More Information top
Intro Specs Performance Compared Recommendations More
Help me help you top
I support my growing family through this website, as crazy as it might seem.
If you find this page as helpful as a book you might have had to buy or a workshop you may have had to take, feel free to help me continue helping everyone.
If you've gotten your gear through one of my links or helped otherwise, you're family. It's great people like you who allow me to keep adding to this site full-time. Thanks!
If you haven't helped yet, please do, and consider helping me with a gift of $5.00.
As this page is copyrighted and formally registered, it is unlawful to make copies, especially in the form of printouts for personal use. If you wish to make a printout for personal use, you are granted one-time permission only if you PayPal me $5.00 per printout or part thereof. Thank you!
Thanks for reading!
Mr. & Mrs. Ken Rockwell, Ryan and Katie.
Home Donate New Search Gallery Reviews How-To Books Links Workshops About Contact