Home Donate New Search Gallery Reviews How-To Books Links Workshops About Contact
Beyer T70p
32 Ω MADE IN GERMANY
© 2012 KenRockwell.com. All rights reserved.
Intro Specs Performance Recommendations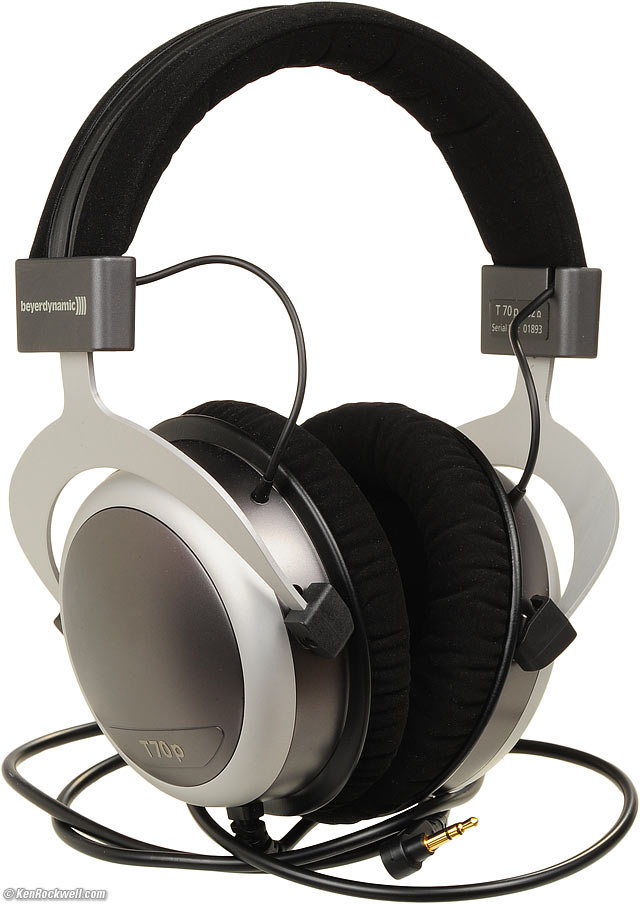 Beyer T70p (11.6 oz./330g, about $510). larger. This free website's biggest source of support is when you use these links, especially this link to them at Amazon or at B&H Photo-Video when you get anything, regardless of the country in which you live. Thanks! Ken.
March 2012 Beyer Reviews Headphone Reviews Audio Reviews All Reviews
Introduction top
Intro Specs Performance Recommendations
The T70p are closed-back, isolating headphones. Their 32 Ω impedance is optimum for use with portable equipment.
The Beyer T70p have the cleanest and most open sound I've ever heard from a closed headphone.
The T70p is also the most sensitive hi-fi headphone I've ever used. They can deafen you even with just an iPod. That's the main advantage of their "Tesla" technology: you can forget outboard amplifiers.
You don't need and don't want to use these with an amplifier, which would probably just add more noise and distortion instead of just plugging them directly into your player.
For use with the higher output levels of studio and home equipment, the higher-impedance 250 Ω Beyer T70 is a better fit because while it doesn't have as much apparent sensitivity, and its higher impedance allows most studio and home amplifiers to operate with less distortion than they would with 32 Ω headphones. The T70 and T70p's headphone's performance is the same; the issue is how happy the amplifier is driving it.
I'm reviewing the T70p (get it: p = portable), and the T70 should sound the same, except with less apparent sensitivity but less potential for introducing distortion into some equipment.
Because you can forget the amplifier with these T70p, that both eliminates a lot of size, weight and power cords for travel, and the savings easily can pay for your T70p.
Specifications top
Intro Specs Performance Recommendations
Technology
Around-the-ear, isolating closed headphones.
"Tesla" technology for extra efficiency:
Neodymium annular magnets
Metal diaphragm.
Impedance
32 Ω at 1 kHz, rated.
Measured Impedance
Beyer T70p measured Impedance magnitude (Ω), and phase angle versus frequency. (R&S UPL; +90º is capacitive, -90º is inductive.)
DC resistance measures 31.13 Ω.
Sensitivity
104 dB SPL at 1 milliwatt at 500 Hz.
1 mW at a rated 32 Ω is 179 mV.
At 1 volt, this would be 119 dB SPL.
At 100 mV, this would be 99 dB SPL.
Power Handling
200 mW rated.
Yikes! That's 127 dB SPL rated. 120 dB causes pain, and anything over 115 dB SPL can cause immediate and permanent hearing damage.
Frequency Range
5 ~ 40,000 Hz, no conditions specified.
THD
< 0.05%, 1 mW (104 dB SPL) at 500 Hz.
Ambient Noise Reduction
18 dB.
Earpiece Pressure
2.8 N.
Materials
Microsuede earpad and harp covers.
Plastic cups.
Stamped-aluminum yokes.
Cord and Plug
Beyer T70p plastic 90º 3.5mm plug.
Straight cord, 1.2 meters (4 feet) long.
3.5mm angled, molded plug.
¼" adapter included.
Weight
330 grams (11.6 ounces).
Quality
Made in Germany.
Included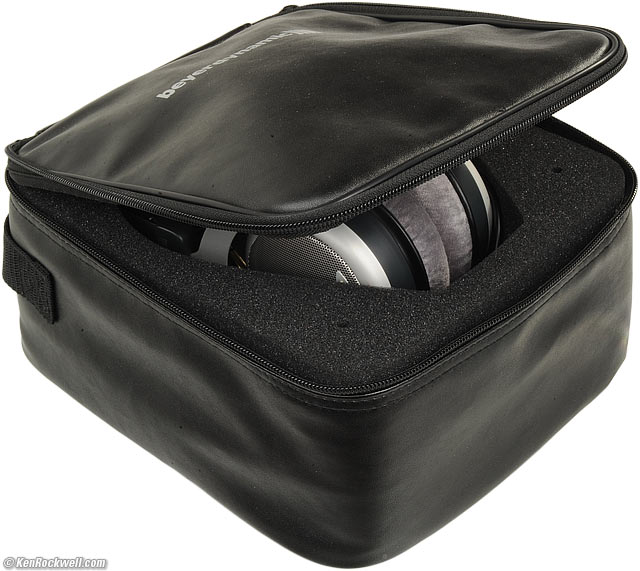 Free case, included (DT 880 shown). enlarge.
T70p headphones, Article Nr. 713.872.
¼" adapter.
Inflight adapter.
Foam-padded leather case.
Introduced
2011
Performance top
Intro Specs Performance Recommendations
Sensitivity
The T70p are the most sensitive headphones I've ever used. Even on my iPod, they easily can reach deafening levels and have more than enough sensitivity to let me hear everything in the softest classical sections.
The T70p are more sensitive than the Sony MDR-7506, and much more sensitive than the 32 Ω Beyer DT 880 and the Ultrasone Edition 8.
On my iPod and iPad, I only need set the volume to about 5/8 gain for popular music, and only 3/4 for classical and movies.
My calculations indicate that with no amplifier, the T70p should output 119 dB SPL from an iPod at 0 dBFS!
While the T70p are big headphones, since you don't need to carry an amplifier or a power supply, they can result in less carry weight than many other headphones.
They are also super-sensitive for use with the headphone jacks of portable recorders, home CD players and portable CD players.
The only potential problem is that the T70p might make audible the noise of mediocre equipment.
Sound
The T70p's sound is, present, bright and airy. It's surprisingly clean and open, especially for a closed headphone. Its sound is clearer, drier and airier as opposed to warm and smooth.
The T70p is never cuppy-sounding, as has been the bane of closed headphones.
Coloration and Balance
Compared to references like the Stax SR-007 Omega Mk II and Beyer's own DT 880, the T70p has less lower midrange warmth and slightly boosted lower treble around 9 kHz. To my ears, I often prefer shaving a few dB off at around 9 kHz with a Q of about 1.
Highs are extended and clean, if somewhat emphasized. If you like cymbal ticks, you'll love the T70p!
The T70p is a huge improvement over the DT 770. The T70p has much less upper midrange emphasis than the DT 770. The T70p doesn't squawk like the DT 770!
The T70p is much cleaner and smoother than the Sony MDR-7506. If you like massed strings, forget those Sonys, even though they are also revealing of recording defects.
Revealing
The T70p reveals noise and defects in recordings more than anything else I've ever heard. This is a blessing if you're doing quality control.
The T70p's high sensitivity and clean sound, coupled with its slight treble emphasis, makes any noise obvious, along with chair creaks, key clicking, breathing, piano dampers and pedals, spit valves being emptied, clothing rustling and people picking up their instruments before they come in.
The T70p also makes plain any noise in recordings where analog tracks are potted up and down in mixing, like in "Telegraph Road" from Dire Straits' Love over Gold, or hear guitar amplifier noise pump up and down after it gets out of a compressor in "Once Upon a Time in the West" from their Communiqué album.
It doesn't take any fancy equipment or magic recordings to hear all this through the T70p; even plugged into the headphone jack of a Sony SCD-XA777ES, the T70p let me hear new seat creaks and musicians murmuring that I'd never heard before in recordings I've been enjoying in various media since the 1970s. Even I was surprised.
Bass
T70p has smooth, deep, natural, unboosted and uncolored bass, very similar to the DT 880, bravo!
The big problem is that the T70p uses relatively light ear pressure, its earpads are thin, relatively stiff and expect a flat mating surface, so unless you just happen to have a flat head, the T70p may not always seal well. If they don't seal well, the bass leaks out.
The bass level varies wildly with head seal.
Depending on how well they seal to your head, bass may be light, but always tight and without boom.
If you don't get a good seal, you'll wind up playing then louder to try to make up for the bass loss.
Do what you can to get a good seal. I found mine improved over the course of a few weeks.
The Audio-Technica ATH-M50 seal much better, and have must stronger (but emphasized) bass. They aren't as clean overall, but for $160, are great headphones.
Isolation
The T70p have a little less isolation from outside noise than other closed headphones because, while the fuzzy microsuede pads are comfortable and cool, that's because the don't seal as well as thicker leather or vinyl.
If you get them to seal well, there is virtually no leakage of sound to the outside world.
Sony's MDR-7506 isolate a little better because they adjusted to my head better.
Ergonomics
They are comfortable for hours and hours. The big pads ride over my ears and rest on my head, not my ears, and they are deep enough that my ears don't touch anything.
Since they don't seal very well, there is often ventilation, so ears don't get warm.
The short 3.5' straight cord is perfect for iPods and desktop use.
Mine came with a curly-fry cord holder.
The plastic 90º plug has no threads for Beyer's excellent ¼" adapters.
Materials and Mechanics
Beyer claims a three-layer metallic paint job.
Micro velour headband pad and ear cushions.
Plastic L plug.
The earpieces are made entirely of plastic, which feels cheaper than the DT 880's perforated metal earpiece covers and riveted metal identity plates.
Amplification
While it sounds great on an iPod as intended (use the 250 Ω Beyer T70 if you plan to use an amplifier), I found it was even nicer on an Apogee Duet 2 than my iPod: it was even smoother and more fluid, open and awesome! Of course it's beyond ultra sensitive on the Apogee, you easily can set it to levels as high as a calculated 127 dB SPL with an unclipped sine wave.
I'd pass on any amplification with these T70p, it's just not needed. That's the whole point of their Tesla technology.
Recommendations top
Intro Specs Performance Recommendations
I prefer the tonal balance of the DT 880, but the DT 880 often begs an amplifier when plugged into iPods and doesn't isolate.
For use for quality control and ensuring that your recordings are as clean as possible, the T70p lets you hear everything.
For use as a stand-alone headphone with portable equipment, the T70p has more sensitivity than you'd ever want.
If you prefer a brighter rendition, the T70p are absolutely glorious, clean and open.
Help me help you top
I support my growing family through this website, as crazy as it might seem.
If you've found my research helpful, this free website's biggest source of support is when you use these links when you get anything, regardless of the country in which you live. Thanks! Ken.
If you find this page as helpful as a book you might have had to buy or a workshop you may have had to take, feel free to help me continue helping everyone.
If you've gotten your gear through one of my links or helped otherwise, you're family. It's great people like you who allow me to keep adding to this site full-time. Thanks!
If you haven't helped yet, please do, and consider helping me with a gift of $5.00.
As this page is copyrighted and formally registered, it is unlawful to make copies, especially in the form of printouts for personal use. If you wish to make a printout for personal use, you are granted one-time permission only if you PayPal me $5.00 per printout or part thereof. Thank you!
Thanks for reading!
Mr. & Mrs. Ken Rockwell, Ryan and Katie.
Home Donate New Search Gallery Reviews How-To Books Links Workshops About Contact