Home Donate New Search Gallery Reviews How-To Books Links Workshops About Contact
Yosemite and the Eastern Sierra
16-23 Oktober 2011
These are snaps from Dave Wyman's photo tour of Yosemite and Dave Wyman's photo tour of the Eastern Sierra. One followed right after the other.
These were shot on my Nikon D3 as BASIC JPGs with a Nikon 28-300mm VR lens. That's all I needed all week; the 28-300mm VR does everything!
Everything here is right as the JPGs came out of the D3. I set my Picture Control to VIVID and +3 Saturation. (I only shoot raw files with my LEICA M9, whose JPG and picture creation algorithms are so awful that I have to shoot DNGs and therefore use Aperture to get anything halfway decent.)
No tripods were used. Why? Anyone able to shoot a rifle well can get perfectly sharp hand-held shots with the Nikon 28-300mm VR at 1/4 second, even at 300mm!
I brought a Think Tank Speed Demon 2.0 to carry an extra Nikon 16-35mm f/4 VR on the plane from New York, but I simply popped the spare lens in my jacket pocket once I got on the ground.
I love to FART, so I only snapped about 600 frames all week, making it easy to edit everything in just an hour. Likewise, I most certainly did not bring a computer or need any spare memory cards. I only filled 15% of the one 8 GB card I brought. I spent my spare time sleeping, not staring into a computer screen. (I also had a second 32 GB in my D3 backing up every shot as I snapped them.)
When I returned home, I simply copied the 1 GB of JPGs from my CF card into my Mac, cataloged and then selected the least awful of them for publication with my 2007 copy of iView, then quickly resized and branded them in Photoshop CS5 to fit this page. I used Photoshop's distortion filter if I needed it; it's trivial to correct any distortion from either of the lenses I used. I used Macromedia Dreamweaver 8 to make this page and upload it to my website. New software is for chumps; unless something like CS5 saves me time, I don't have the time to bother with updates.
I chose Nikon over LEICA this trip for the color. Looking at previous work (as well as the shots from this same trip last year that I was too distracted by trips to Sacramento trying to straighten out some dirty politics to have gotten to publish yet), I prefer the look I get from my amped-up Nikon to the more reasonable colors I get from LEICA DNGs and Aperture.
Forget this software bunk: all I'm trying to say is that I get what I want right out of the camera, so I don't need any software to get where I need to go. Working on computers has nothing to do with photography; it's for losers. Winners get what they want in-camera and get on to the next shot — or dinner or their families.
I left my D3 in Professional Auto Exposure mode (P), auto WB with A3 trim, auto ISO, auto dynamic range and auto anything else I can find. In fact, here's my Nikon D3 setup file. To set your D3 exactly as mine was, download this file to your computer, copy it to a CF card, pop the card in your D3, hit MENU > SETUP > Save/load settings > Load, and your D3 will be a carbon-copy of mine. If you do this, you'll need to reset all the personal information to your own; my D3 puts my name, address and phone number in the EXIF of every file.
I leave everything on AUTO so I can concentrate on the picture, not on the camera. I only pull something out of AUTO if I need to. AUTO gets me closer to where I need to be faster than setting anything by hand for each shot. Far more important is to be walking around looking for the next great shot, not looking at the back of your camera.
I forgot that only use my D3 in my studio because it's too darn heavy for use in the field. If I was smarter, I would have brought my Nikon D7000 and 18-200mm VR instead, which would have given identical results and weighed half as much. Oops.
16 Oktober 2011, Sunday top
Today I flew into Yosemite from New York City via San Francisco and rental car.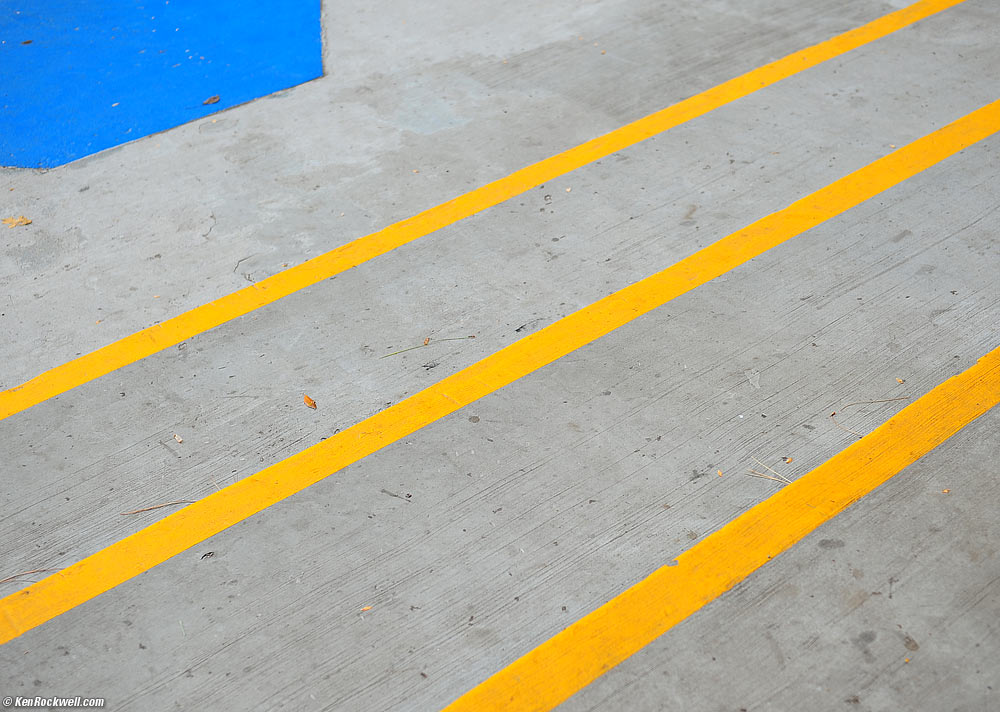 Stripes, 6:04 PM. (2007 Nikon D3, Voigtländer 40mm f/2 SL-II, Pro (P) mode chose f/2.8 at 1/30 at AUTO ISO 200.)
We met the group, had dinner, and then I hit the sack.
17 Oktober 2011, Monday top
Today we wandered around Yosemite Valley.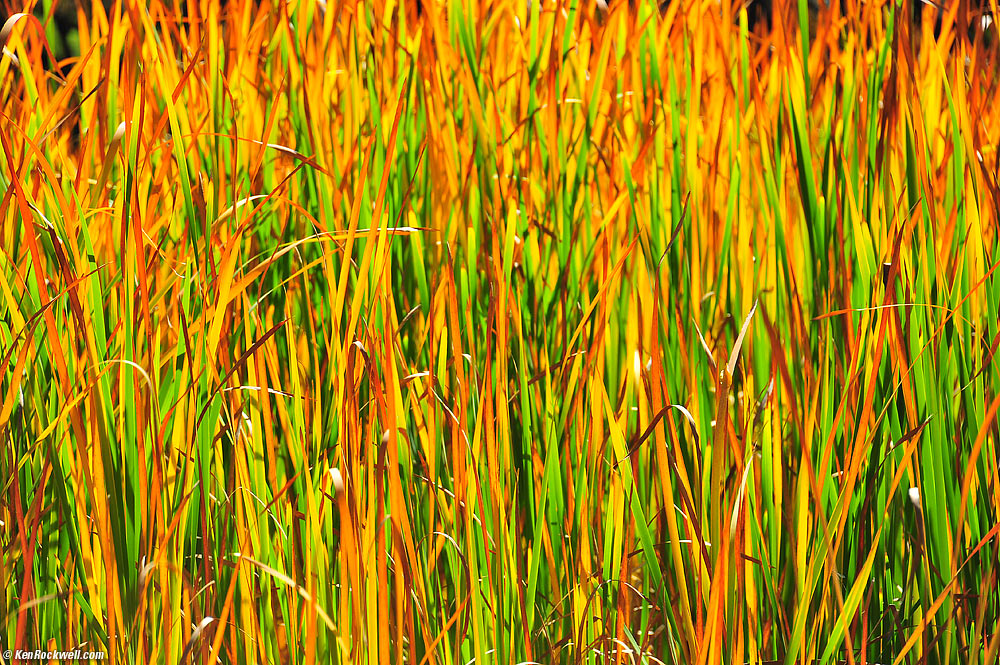 Grass, 12:17 PM. (2007 Nikon D3, 2010 Nikon 28-300mm VR at 300mm, f/8 at 1/250 at AUTO ISO 200.)
I got the luminous color because I shot into backlit grass. The sun shines through the blades, and lights it up like this.
Yosemite Cemetery, 12:36 PM. (2007 Nikon D3, 2010 Nikon 28-300mm VR at 116mm, f/5.6 at 1/125 at AUTO ISO 200.)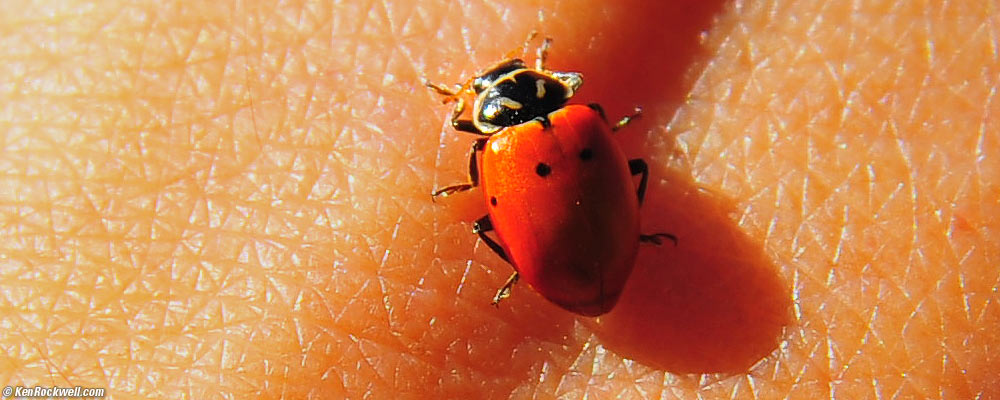 Ladybug, 3:05 PM. (2007 Nikon D3, 2010 Nikon 28-300mm VR at 300mm, f/8 at 1/250 at AUTO ISO 200.)
The 28-300mm VR does everything, including focusing to about a foot away even at 300mm. For this shot, all I did was point it at the back of my hand and crop slightly. So long macro lenses!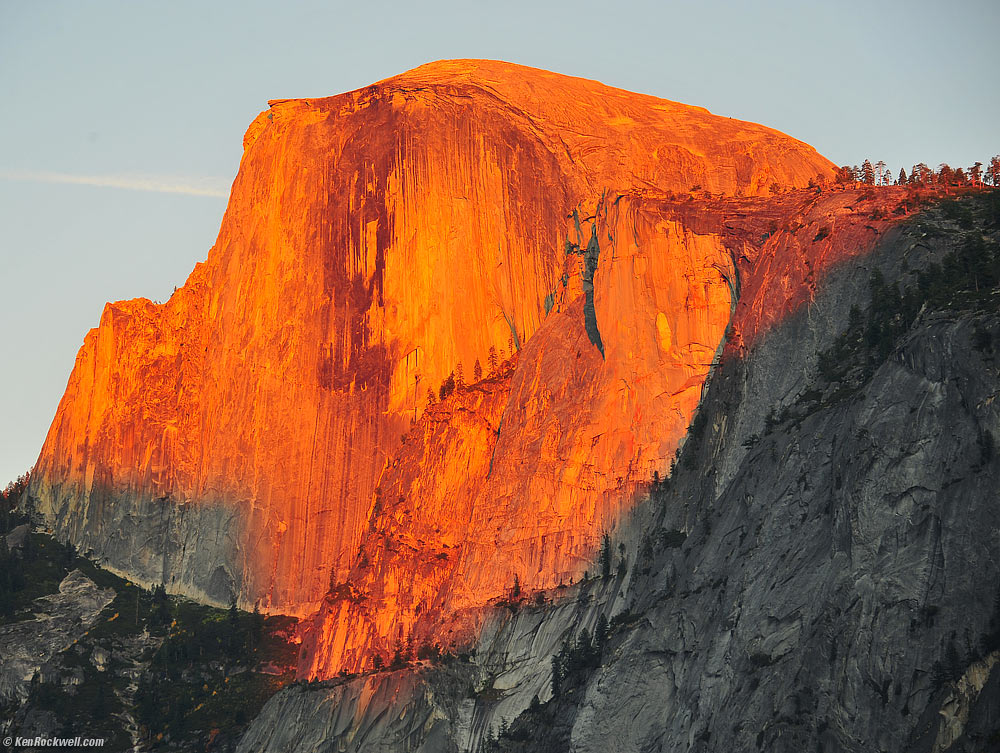 The Half Dome, 6:19 PM. (2007 Nikon D3, 2010 Nikon 28-300mm VR at 105mm, f/5.3 at 1/30 at AUTO ISO 200, no stinking tripod.)
We walked over to Stoneman Meadow after pizza at Curry Village.
Note how the shape of the orange Half Dome mirrors itself upside-down. This shot isn't about Half Dome, it's about basic shapes.
18 Oktober 2011, Tuesday top
Today we drove around outside Yosemite Valley.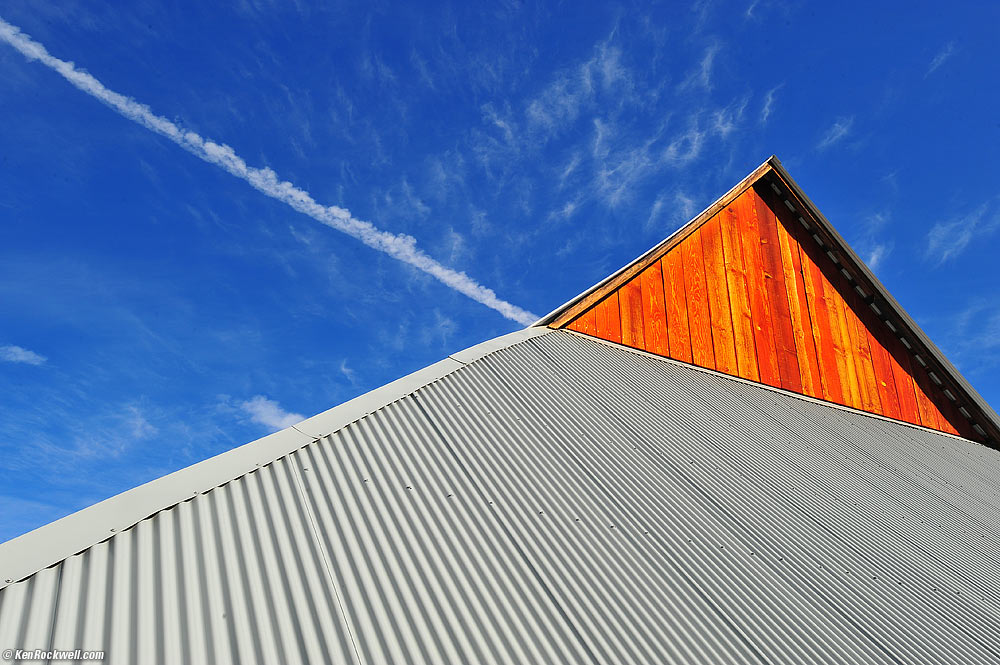 Barn, 11:00 AM. (2007 Nikon D3, 2010 Nikon 16-35mm VR at 35mm, f/16 at 1/250 at AUTO ISO 200.)
I put the contrail deliberately at the convergence of the other basic design elements.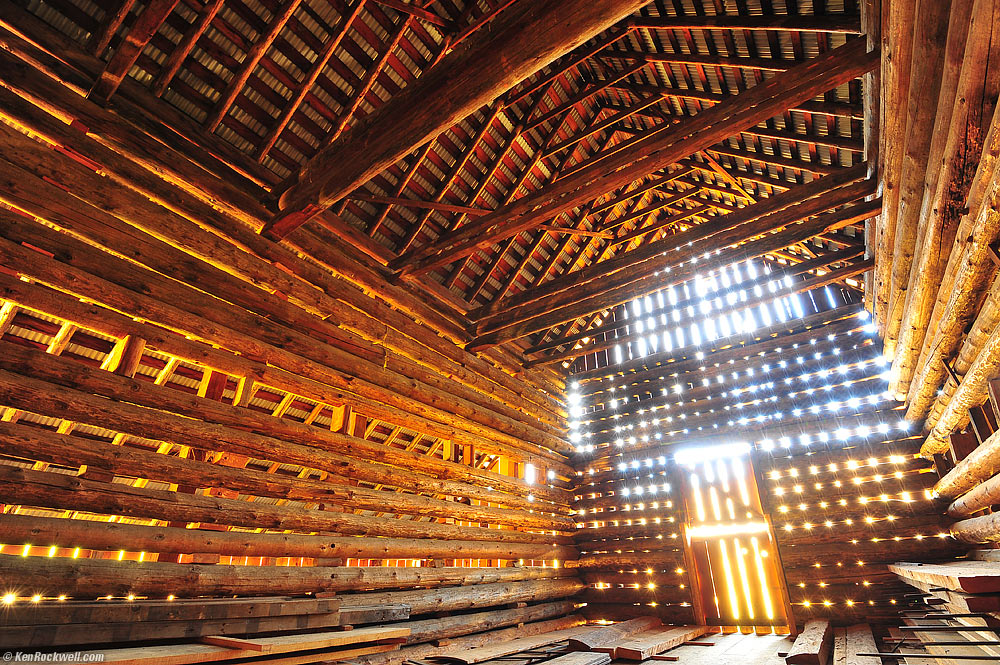 Inside the Barn, 11:06 AM. (2007 Nikon D3, 2010 Nikon 16-35mm VR at 16mm, f/8 at 16 seconds at ISO 200 (LV 1), VR off, casual use of $40 Dolica AX620B100 tripod, which easily supported my huge D3.)
Note the great 18-pointed sunstars on bright points of light. This comes from the 9-bladed diaphragm of the Nikon 16-35mm VR.
I could have shot this hand-held at f/4 at 1/4 at ISO 3,200 with VR, but since everyone else was standing around with their tripods, bringing my super-light Dolica AX620B100 tripod meant that I didn't have to carry my D3 the whole time waiting for people. In this case, the tripod only came out to hold my stuff as I stood around!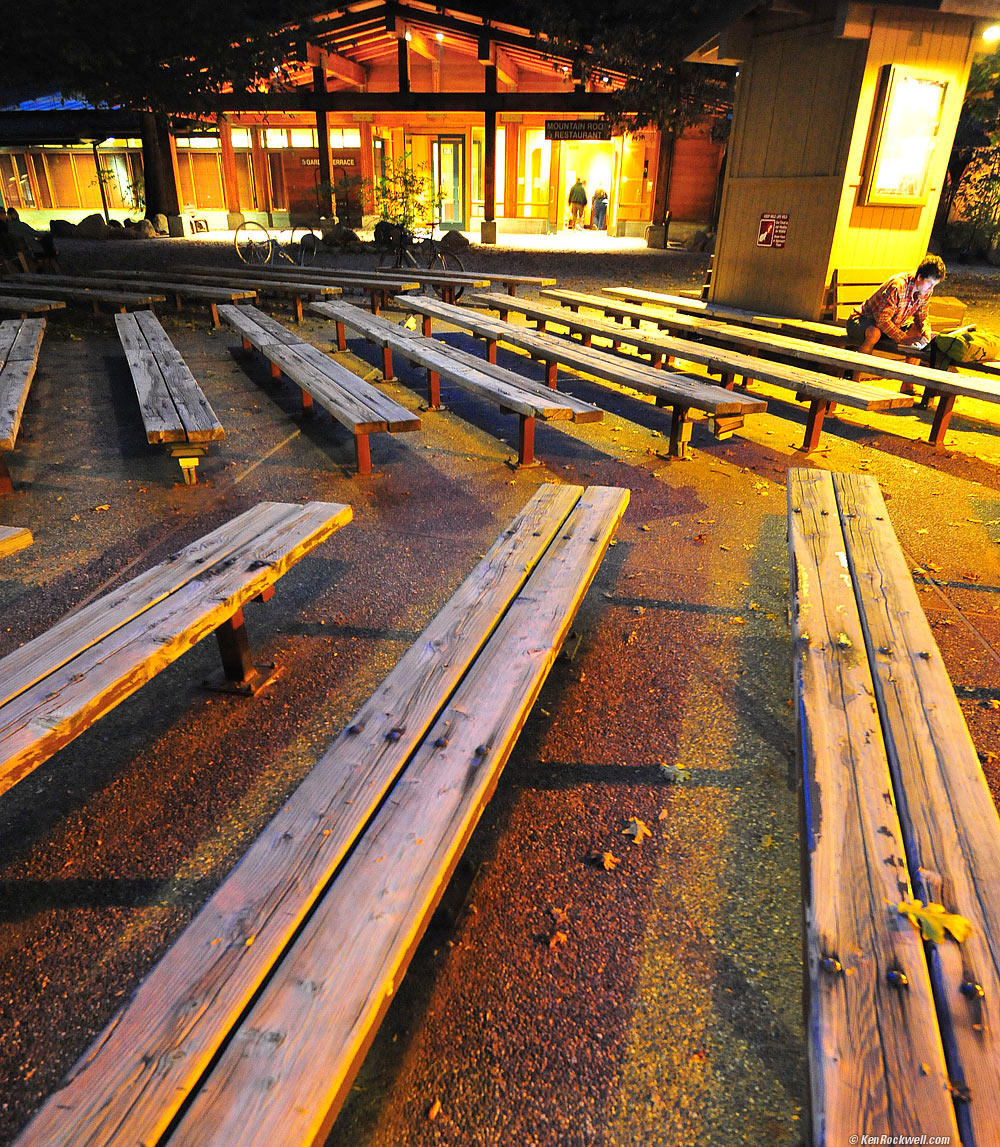 Loser, Yosemite Lodge, 6:46 PM. (2007 Nikon D3, 2010 Nikon 16-35mm VR at 20mm, f/4 at 1/4 second at ISO 6,400 (LV 0, half the light of the previous shot and most certainly no stinking tripod!)
I have no idea why some people feel it's so important to check their email when they ought to be having a life. I left my computer at home.
Here's a fast legal tip: I haven't had a real job since 2004 before Steve Jobs and his portable wonders largely eliminated most of the free world's ability to concentrate on where they are and what's around them instead of their darn smart phones in public, but I have a sinking feeling that some people are illegally being asked to check work email while on vacation. If your boss insinuates that you are responsible for checking email, even if you "enjoy it," you are entitled to at least two full hours of pay for each and every time you check in, even if it's only for a moment. Check mail twice a day, and you're due four hours — a half-day's pay. If you're on vacation and check in each morning and night, you may not be charged more than a half-day of vacation each day. Let's face it: for most people, so long as you check email and send in reports, you're doing all your work. This is also why your job is moving to India, and why if you're in India, it's moving to Bangladesh or Laos.
In other words, if the boss expects you to check mail and you're gone for two weeks, you shouldn't be charged more than one week of vacation time. Slavery was never abolished; technology and credit now let rich people enslave the rest of us far more profitably than body slavery ever did.
If you're on salary and not being compensated for reading work email while on vacation, you're a cabrón. Don't do it, get a life! Likewise, wasting hours emailing friends and family pretty much eliminates hours each day that you ought to be enjoying. Friends can wait until you get back, or next time, bring them with you.
It was amazing how many zombies were all over Yosemite, entranced by whatever was so wonderful on their smart phones instead of what was around them. When your attention is off in cyberspace staring at a screen, you aren't alive, but you're not exactly dead either. You are the undead, a zombie. Smart phones make dumb people. How is it that zombies would rather type on a 2" screen to other unseen, unheard and unfelt zombies than talk to real people around them? In Yosemite one meets others from all over the world with an astounding range of experiences from which to learn, while zombies would rather type to unseen facebook zombies they don't even know. At least windows-based devices never worked well enough for people to use them so much, while Apple makes it so simple that millions of new lives are lost to the undead every day.
Just like pepperoni, guns, television and napalm, all these high-tech doohickeys are wonderful. It's all a matter of what people chose to do with them. Personally, I haven't owned a television since I was 9 years old. I'm not very smart; the only way I've been able to accomplish anything is by applying my limited mental capacities instead of watching TV all day and night. When I got one of the first portable phones back in 1991 they were cool: when the boss called, he thought I was at work, while I actually was out screwing off. Cell phones were freedom, but today, they are shackles. Cut the cord: ditch your smart phone and pocket the $150 a month.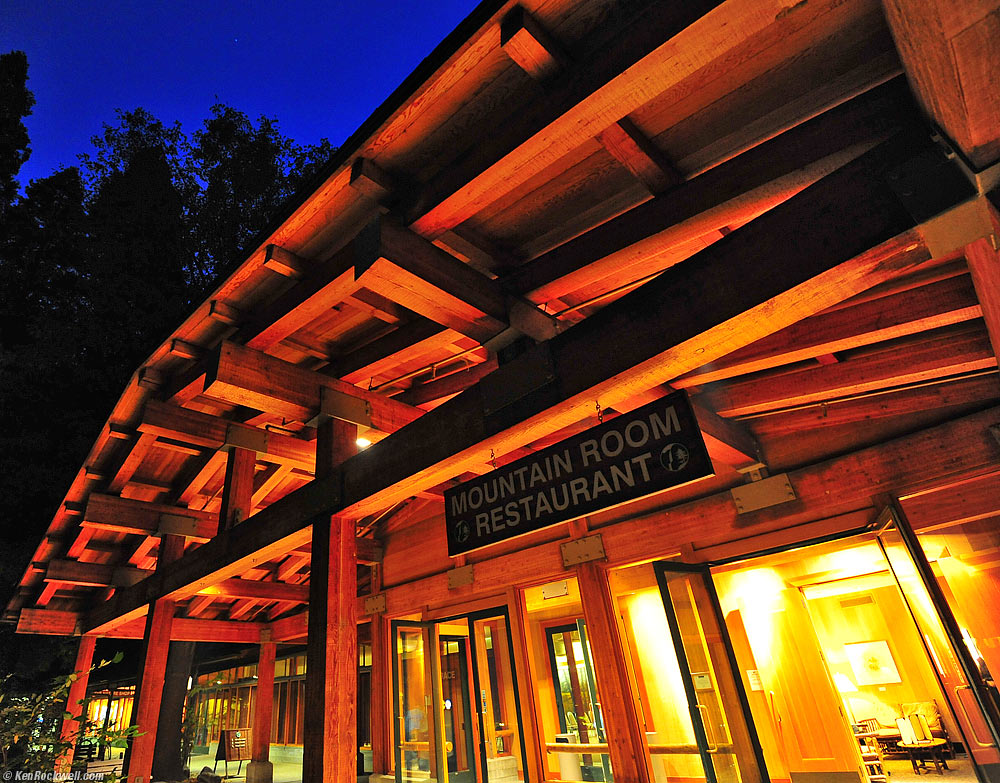 Mountain Room, 6:51 PM. (2007 Nikon D3, 2010 Nikon 16-35mm VR at 16mm, f/4 at 1/4 second at ISO 2,800, no stinking tripod.)
19 Oktober 2011, Wednesday top
Today we wandered around Yosemite Valley.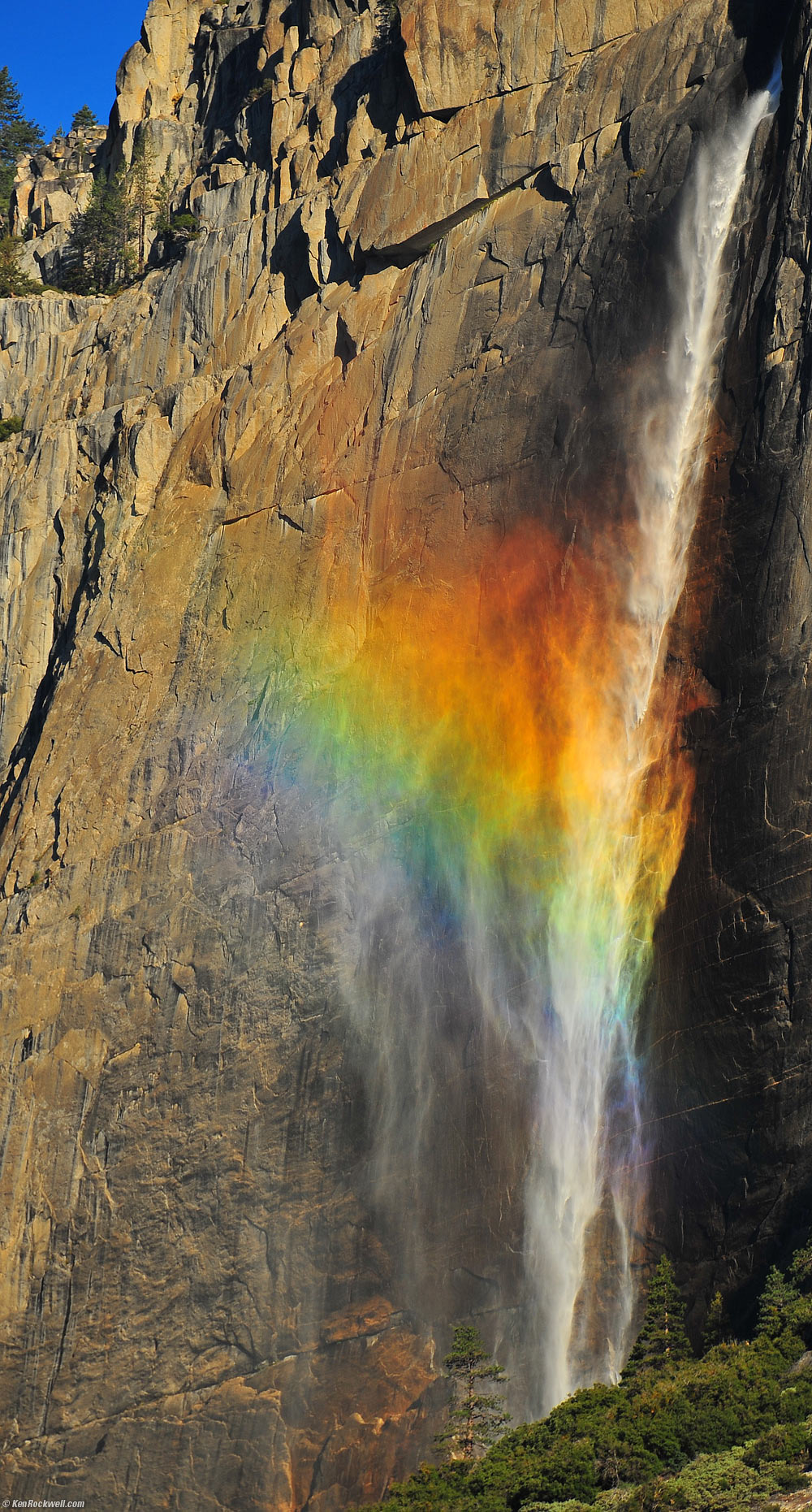 Rainbow, Yosemite Falls, 8:06 AM. (2007 Nikon D3, 2010 Nikon 28-300mm VR at 250mm, f/8 at 1/250 at AUTO ISO 200.)
I used a Hoya HD Polarizer to emphasize the rainbow. Be careful, rotated 90º it would have made the rainbow go away instead of emphasize it.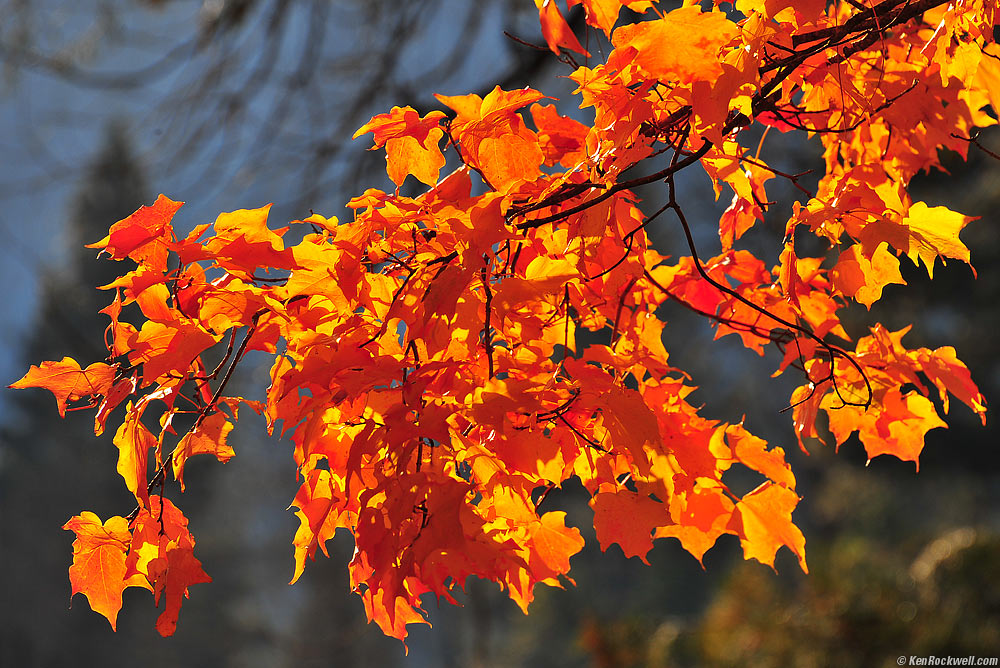 Fall Color, tree by the Chapel, Yosemite Valley, 4:46 PM. (2007 Nikon D3, 2010 Nikon 28-300mm VR at 300mm, f/8 at 1/250 at AUTO ISO 200.)
Shooting backlit leaves intensifies the color.
Note how I was careful not to chop any leaves with the edges of the frame.
That's it for Yosemite.
Home Donate New Search Gallery Reviews How-To Books Links Workshops About Contact