Home Donate New Search Gallery How-To Books Links Workshops About Contact
ROUTE 66
14 & 15 FEBRUARY 2010
(this page best viewed on Mac with Futura font activated)
12 13 14 15 16 17 February 2010 contact sheet tech data
As photographed with the Kodak Brownie Hawkeye, Flash Model. (click for 8x8" enlargements)
| | | |
| --- | --- | --- |
| >1: Barstow. | > 5: Casa del Desierto. | > 9: Dagget Pioneer Cemetery. |
| > 2: Casa del Desierto. | > 6: Bottle Trees. | >10: Newberry Springs. |
| > 3: Casa del Desierto. | > 7: Bottle Tree Farm. | > 11: Roy's. |
| > 4: Barstow Station. | > 8: Leader Dave Wyman. | > 12: Roy's. |
TECHNICAL DATA
Twelve for twelve. Not all great, but certainly all printable. This sure beats the old digital, when people used to take pictures just because they could erase the bad ones. What a dumb hobby that used to be!
I loaded a 120 spool of Kodak TMX100 into the Brownie, and threaded it onto the 620 take-up spool. Since I only had one 620 spool, I transferred the exposed film back onto its 120 spool in a motel bathroom so that I could reuse my single 620 spool the next day, and not have to worry about forgetting to ask for my spool back from the lab.
Frames 9, 10 and 11 were taken through an orange filter held over the lens. Frame 12 was taken holding the Brownie upside-down over my head and looking through its brilliant finder.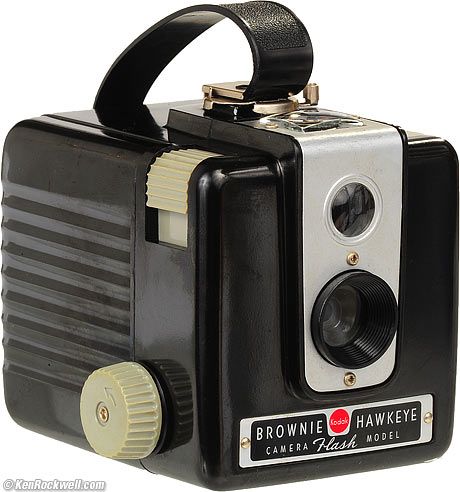 The Kodak Brownie Hawkeye, Flash Model.
My roll of film had expired ten years ago (2000), but stored in the fridge, it is obviously just fine.
I dropped it at North Coast Photo, who developed and scanned it.
What is really impressive is how these automated scans are perfect. Highlight and shadow are exactly where they need to be, better than I was ever able to print myself.
Since the automated scans automatically adjust contrast and exposure, these are perfect, even with the single-speed shutter and fixed lens of the Brownie. Frames 2, 3, 4 and 8 have deep, detailed shadows. Frame 6 is shot straight into the sun, with details present in the highlights in the bottles, which were blinding to they eye at the time.
Technically, since the shutter is fixed at 1/40 and the shutter button has a bit of a kink in it, as I feared, hand-holding often is slightly blurred from camera shake.
Also obvious is that focus is fixed at about 40 feet, and as the instructions caution, 5 feet is the closest that anything is in focus. For closer distances, I should have used a Kodak close-up lens as instructed.
Frames 1 and 4 show some distortion, but it easily corrects in Photoshop's Lens Distortion Filter with a value of +4, which is less distortion than the Canon 24-105mm L IS at 24mm, which has both more distortion and its distortion is more complex and nearly impossible to correct.
I made this contact sheet manually. I resized each scan to 256 x 256 in Photoshop. In Dreamweaver, I dropped them into a 3 x 4 table with 10-pixel CellPads. I then added links to the enlargements.
12 13 14 15 16 17 February 2010 contact sheet tech data
Home Donate New Search Gallery How-To Books Links Workshops About Contact