LaCie 300695 Firewire Hard Drive
© 2005 KenRockwell.com



About these reviews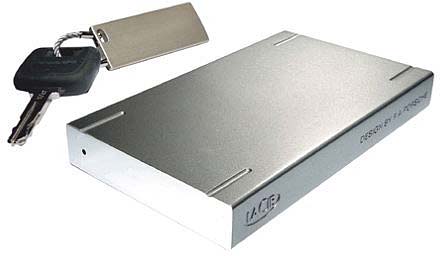 I got it here
INTRODUCTION
Time travels fast. I have two of model 300695 which is Firewire only. It's been replaced by the otherwise identical model 300766 which adds USB2 to Firewire as well as an 8MB vs. 2MB buffer. I updated my links above to the newer model, which I'm also buying. Note that this series comes in other GB capacities and RPMs, too.
You need this tiny drive for digital photography. I use it in the field to backup my digital camera images from my laptop immediately before I erase my CF cards. This way if my laptop dies I have not lost my images before I return for formal backup and archiving.
Likewise I store all the past years' images and scans that won't fit on my laptop here. This tiny drive fits right in my laptop case and is powered from the firewire cord, so no AC adapter is needed as with the larger drives. Yes, the whole thing runs off the laptop battery anywhere.
This is what I use. You can spend more to get even tinier ones and less to get physically larger ones or less data capacity. I like this one for the tiny size, self-powering and cool looks.
SPECIFICATIONS
3" x 5" x 0.65" (17 x 76 x 129 mm )
7 oz (200 g)
4,200 RPM, 2MB buffer, < 12 ms seek
Firewire 400 connection
Requires NO other power connections
Mac and PC, software included
Other Models:
LaCie 300766: USB2 and Firewire 400, 8 MB buffer.
(same 80 GB, 4,200 RPM, < 12 ms seek)
LaCie 300767: 100 GB
(same 4,200 RPM)
LaCie 300763: 60GB
(same 4200 RPM)
etc, also available in different capacities and RPMS. Personally since I'm using these for archiving and backup, not online HDTV video editing, the slowest RPM is fine for me.
PERFORMANCE
It works great. Just plug in the one cable to your Mac and it works. No drivers, no installation, no software, no CDs or anything needed: just plug it in, no power supply required. Of course I go to Mac's Disk Tools utility (Applications > Utilities > Disk Utility) to erase and name it the first time. I have no idea what's involved if you're on a windows PC.
RECOMENDATIONS
Buy one like I did. Heck, I bought two and rotate them. These also work fine for formal system backups, however these cost more compared to the heavier drives I have to plug in the wall.