Home Donate New Search Gallery Reviews How-To Books Links Workshops About Contact
How to Win at eBay:
Returns
© 2011 KenRockwell.com. All rights reserved.

Use this link to get to eBay whenever you buy and it helps me write more like this, thanks! Ken.
July 2011 top of How to Win at eBay Index of detail pages
10% of what I get over eBay is defective. Face it; it's used gear from God knows where. I usually know when I'm at risk, because it's almost always from sellers with poor feedback (99.6% and below).
The good news is that 99% of the time, just mention it to the seller, and most likely it's something he didn't realize, and he'll cheerfully refund your money. You're done. Trust me; pro sellers won't catch everything that's wrong, but they will stand behind it if something slips through.
If you want to return something, simply go back to the listing and click "Ask seller a question." A text box opens, pre-filled with the item number. Politely explain what's wrong, and every good seller I've dealt with is usually quite embarrassed that they accidentally sent out something that's not right, and eagerly asks for you to return it.
Even though standard policy is that the buyer is responsible for return shipping, twice I've had good sellers refund everything, since as they pointed out, they were very sorry that they goofed by sending out something not as described.
Returning Non-Returnable (As-Is) Items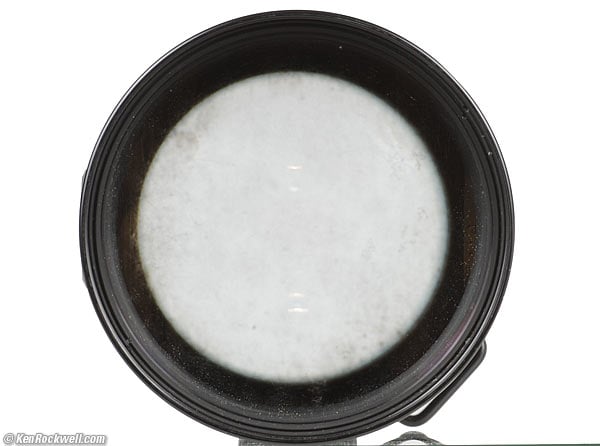 Lens choked by fungus.
It's highly unlikely that you'll have any problems, especially if you only buy from well-rated sellers.
Here's how I returned some junk sold by a low-rated Dumpster-diver who had a listing describing it as "like new," but in fact, it was an item choked with fungus from being stored someplace very wet for 40 years. I should have known better; his feedback was only about 99.3%.
It also was marked, in invisibly small letters at the bottom of the listing: "As-is. Absolutely no returns, no way!"
The item shows up, and was filled with fungus. Even though the outsides were mostly unused, it had been stored for 40 years probably under a dripping hot water heater.
I figured I was stuck, but no big deal; I shipped it off to Nikon's service department for a cleaning. Except for rust around the screw heads, it was fine. I figured one cleaning and I was set.
It came back a week later with an invoice stamped BEYOND REPAIR. I often worry that I'm too picky about condition, but when I get it in writing from the manufacturer that the item is FUBAR, I figure that it really is.
The lens is useless, and since I had it in writing, i figured it's not my opinion; it's fact.
I was genuinely curious. The item wasn't as described, but the listing clearly said NO RETURNS. AS-IS. What's the right thing to do?
I contacted eBay's customer support, and eBay was very clear: if the seller delivered something Significantly Not As Described (SNAD), it was the seller's problem, not mine. I should go ahead and return it.
The Dumpster-diver thought I was making it up, and didn't want to refund my money.
I asked eBay, and I simply clicked to file some sort of dispute in PayPal. It went back and forth a few times, eBay/PayPal looked into it and talked to both of us (and looked at my BEYOND REPAIR ticket).
PayPal sucked the money straight out of the seller's personal bank account as soon as I clicked the dispute, which is sobering. PayPal didn't even ask; as soon as I raised the issue, they preemptively sucked it out of this guy's personal funds and held onto it awaiting resolution of the issue.
After the item was returned to the seller (the seller did all he could to avoid signing for it and being a crank), PayPal eventually refunded the money.
I was in luck. eBay/PayPal's Buyer Protection actually worked for me.
Be warned: when dealing with a cranky, reluctant seller, you have to be the sort of person who's comfortable with personal threats and pushing forward actual lawsuits. This was sort of the same thing, except it was adjudicated by PayPal, not the judicial system.
You should be comfortable dealing with difficult people before you try returning something to someone who doesn't want it, and of course if the item was correctly described as "has fungus," you'd have no reason to return it. In my case it was clear because the listing said it was almost new, and I had papers proving it was worthless.
If the guy was like most sellers, it would have been no problem in the first place. With a low-rated seller who, if you read his feedback, doesn't understand that the stuff he finds out by the curb isn't always as nice as he thinks, it will be a pain returning it.
I can't say it often enough: research the seller's feedback before bidding, and when you find red flags like fine print that says no returns, don't bid.
Now that you've got what you haven't returned, how do you keep track of what's supposed to show up?
Next: Record Keeping
back to top of How to Win at eBay.
Help me help you top
I support my growing family through this website, as crazy as it might seem.
The biggest help is when you use any of these links to Adorama, Amazon, eBay, B&H, Ritz, Calumet, J&R and ScanCafe when you get anything, regardless of the country in which you live. It costs you nothing, and is this site's, and thus my family's, biggest source of support. These places have the best prices and service, which is why I've used them since before this website existed. I recommend them all personally.
If you find this page as helpful as a book you might have had to buy or a workshop you may have had to take, feel free to help me continue helping everyone.
If you've gotten your gear through one of my links or helped otherwise, you're family. It's great people like you who allow me to keep adding to this site full-time. Thanks!
If you haven't helped yet, please do, and consider helping me with a gift of $5.00.
As this page is copyrighted and formally registered, it is unlawful to make copies, especially in the form of printouts for personal use. If you wish to make a printout for personal use, you are granted one-time permission only if you PayPal me $5.00 per printout or part thereof. Thank you!
Thanks for reading!
Mr. & Mrs. Ken Rockwell, Ryan and Katie.
Home Donate New Search Gallery Reviews How-To Books Links Workshops About Contact