get it here
See Also: How to Use The SU-800 for Wireless Flash Control.
INTRODUCTION
The SU-800 is an infrared flash controller.
The SU-800 works on four selectable channels so four photographers can work in the same space with different flashes.
Each channel has three groups. You can assign flashes to any of these groups and control each group's output individually. You could have your main light on one group, the fill on the second, and a backlight on the third.
It's slipped into a hot shoe to control SB-800, SB-600 and SB-R200 flashes wirelessly. The built-in flash of the D200, D70 and D70s already does the same thing for free. Only cameras that lack a built in flash like the D2X, D2H and D2HS need the SU-800 for wireless control. The D50 needs it for wireless control, since the D50's flash isn't smart enough to do it by itself.The D200 can command multiple channels while the D70 and D70s can only talk to one channel. That means with a D70/D70s you'll still need an SU-800 if you want to set the sides of an R1C1 to different levels of light.
You used to have to buy a big SB-800 flash to do the same thing as the smaller SU-800 controller. The SB-800 was pretty big just as a remote commander. Even though the SU-800 is much smaller than the SB-800 Nikon made sure that the price is similar: the SU-800 sells for about $250.
The SU-800 was announced on November 1st, 2005.
Nikon also announced a small SB-R200 remote macro flash. The wireless control allows you to forgo all the cables which are a pain when chasing around small animals.
Nikon offers also packages that include the SB-R200 flashes and ways to attach them to your lens. The $680 R1C1 includes the SU-800 and two flashes; the $430 R1 package includes just the flashes and hardware.
See also my page on wireless flash control for more information about why I love the wireless system and how to use it.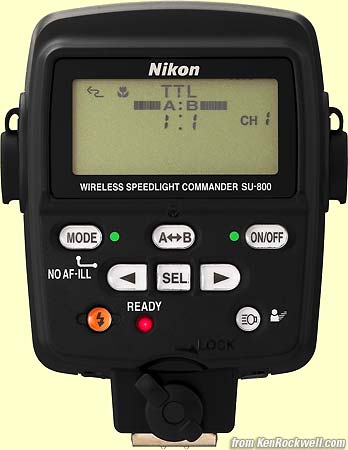 Nikon SU-800 rear control panel
SPECIFICATIONS
Transmission: Infrared 0.8 - 1.0 micron. Four channels and three groups.
Range, straight ahead: 66 feet (20 m) with SB-800 and SB-600. 12 ft (4 m) to SB-R200.
Coverage Angle: 78º horizontal and 60º vertical
AF Illuminator range: Approximately 33 feet (10 m)
Recycle time: 1 second
Battery Life: 1,200 shots
Battery: One 3V CR123A lithium
Case: SS-SU800 Soft Case (supplied)
Size: 2.7 x 3.8 x 2.3" (68 x 96 x 58 mm)
Weight: 5.6 oz. (160 g)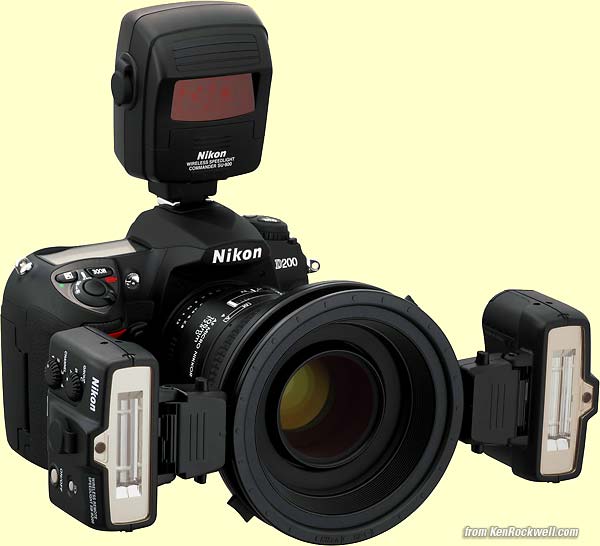 R1C1 package: two SB-R200 heads, hardware and SU-800 controller.