Home Donate New Search Gallery How-To Books Links Workshops About Contact
Nikon S1000PJ
Projector, 12MP, 28-140mm, 2,7" LCD, $430
© 2009 KenRockwell.com. All rights reserved.
Intro Specs Performance Usage Recommendations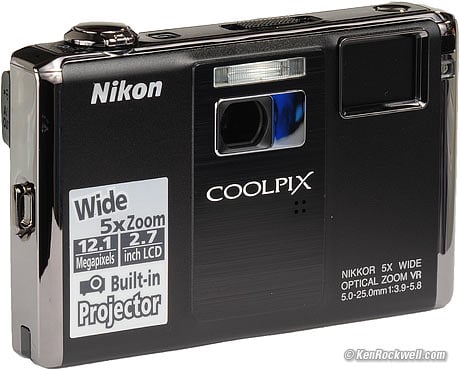 Nikon S1000PJ, about actual size. enlarge. This one came from Adorama. I'd also get it from Amazon, Ritz, Calumet or J&R. It helps me keep adding to this site when you get yours through these links, thanks! Ken.
DEAL: $208 delivered, 01September 2010 (add to cart for this price; limited-time offer)
October 2009 More Nikon Reviews
Introduction top
Intro Specs Performance Usage Recommendations
The Nikon S1000PJ is is the first pocket camera with a built-in projector.
The S1000PJ is a decent camera by itself, and with little to no additional size or weight, Nikon throws in a projector sufficient for showing people what you shot.
The projector runs on the camera's normal battery, and is very easy to use: just press the button on the top left and it shines out the top center lens. The taking lens is on the top right, both as seen from the front.
It comes with a remote control and a little stand. Good luck.

Top, Nikon S1000PJ, about actual size. enlarge.
The projector button is on the left, and the focus slider is in the middle.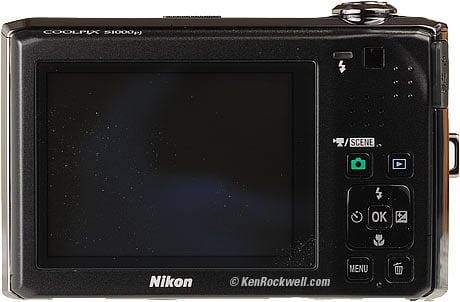 Nikon S1000PJ, about actual size. enlarge

Nikon S1000PJ, about actual size. enlarge
Specifications with commentary top
Intro Specs Performance Usage Recommendations
Sensor
12MP
4,000 x 3,000 pixels native.
5.6x crop factor. (1/2.3" CCD.)
ISO: ISO 80, 100, 200, 400, 800, 1600, 3200, 6400; Auto , Fixed range auto.
Lens
5-25mm f/3.9-5.8.
Vibration Reduction.
Similar to a 28-140mm zoom on full-frame.
Close focus to 1.2"
Video
640 x 480 @ 30 fps.
Playback LCD
2.7," full height (4:3).
Projector
640 x 480 resolution.
10 lumens maximum.
Image Size: 5" - 40" (up to 1 meter) .
Projection Distance: 10" - 7 feet (0.26 - 2m).
Battery life while projecting: 1 hour.
Power
Rechargeable Li-ion Battery EN-EL12, included.
Optional AC Adapter EH-62F.
Size
4 x 2.5 x 0.9 in. (99.5 x 62.5 x 23 mm) WHD, excluding projections.
Weight
6.292 oz (178.5g), measured with card and battery.
Nikon specifies 5.5 oz. (155 g) without battery or card.
Comes with
Rechargeable Li-ion Battery EN-EL12
Battery Charger MH-65
USB Cable UC-E6
Audio Video Cable EG-CP14
Strap AN-CP19
Projector Stand ET-2
Remote Control ML-L4
Software CD
Quality
Made in Indonesia.
Introduced
04 August 2009.
Shipping since
Late September 2009.
Price
$208 (special), September 2010.
$347, September 2010.
$430, October 2009.
Performance top
Intro Specs Performance Usage Recommendations
Projector
The projector shines out the top center orifice. The taking lens is the rectangular hole on the front right.
The projector is better than I expected, since I expected performance similar to a kid's toy. It's not much brighter, but it is more flexible.
The image is nowhere near as bright, as colorful, or as sharp as a regular digital or slide projector. Those projectors don't fit in your pocket or run on batteries, either.
The projected image is bright enough to see at small sizes during the day.
At night, on a real screen, you can get it several feet (a meter) wide and it looks OK. Not brilliant, but certainly it works a lot better than I had expected.
Used in a dark room, blacks are merely gray. Smooth areas, like the sky, can be a bit grainy.
It has a cool (bluer) color rendition. Reds are gray. This is a standard Japanese trick played last with CRT TVs: cooler (bluer) color balance looks brighter to our eyes than redder images. That's too bad, since my work demands strong yellows and reds, which this projector can't do well.
My biggest complaint are the dull colors, not the brightness.
I had no problem projecting images shot on the LEICA M9. You'll have to try your other cameras to be sure if it will play your images well from other cameras or devices.
You can zoom in, and zoom out to see 9 images at once.
There is slight pincushion in the projected images. The camera itself is amazingly free from distortion.
Camera
The S1000PJ is a pretty decent camera.
It zooms and focuses quickly.
It has no distortion: straight lines stay straight at any zoom setting. This is the first pocket camera I've ever used that does this.
Its lens is as sharp as expected for a compact. It's fine, but not as sharp as a LEICA M9.
The on-screen fonts and displays are ugly. Where does Nikon drag these up?
It's only semi-plasticy. It feels made from the same materials as a VCR. The gray chrome feels like metal, the covers feel like aluminum, and the buttons feel like plastic.
The battery and card door is all plastic with a metal catch. Oddly, when you close it, you need to slide the lock closed; it doesn't snap closed like most doors.
It's easy to figure out how to use. It has only the menus it needs.
Data
Auto ISO reads in iView, even at fractional ISOs!
Usage top
Intro Specs Performance Usage Recommendations
To project, just press the projector button on the top left.
To focus, slide the control in the middle of the top of the S1000PJ.
To advance, reverse or zoom-in, just click left-right and use the zoom control.
Recommendations top
Intro Specs Performance Usage Recommendations
The S1000PJ is a decent camera on its own. It has exceptionally low distortion if you prefer wide images that don't bow-out straight lines as do most compact cameras.
The projector is a handy feature if you often like to show friends what you've shot. I wouldn't use it to show off my portfolio, but I would use it at night to show a few people at once my baby pictures. It is a lot bigger than the built-in LCD for showing other people your work, but the colors and blacks aren't there yet.
Hey, for $430 for a very decent camera, you can consider the projector as a freebie.
If you want a Nikon and don't want the projector, check out the equally new Nikon S70, which has the same great lens with a 3.5" OLED touch-screen instead of the projector, for a little less money.
Help me help you top
I support my growing family through this website, as crazy as it might seem.
If you find this as helpful as a book you might have had to buy or a workshop you may have had to take, feel free to help me continue helping everyone.
If you've gotten your gear through one of my links or helped otherwise, you're family. It's great people like you who allow me to keep adding to this site full-time. Thanks!
If you haven't helped yet, please do, and consider helping me with a gift of $5.00.
The biggest help is to use these links to Adorama, Amazon, Calumet, Ritz and J&R when you get your goodies. It costs you nothing and is a huge help. These places have the best prices and service, which is why I've used them since before this website existed. I recommend them all personally.
Thanks for reading!
Ken
Home Donate New Search Gallery How-To Books Links Workshops About Contact