Home Donate New Search Gallery Reviews How-To Books Links Workshops About Contact
Nikon 1 System Review
Nikon's Newest Pronea
© 2011-2013 KenRockwell.com. All rights reserved.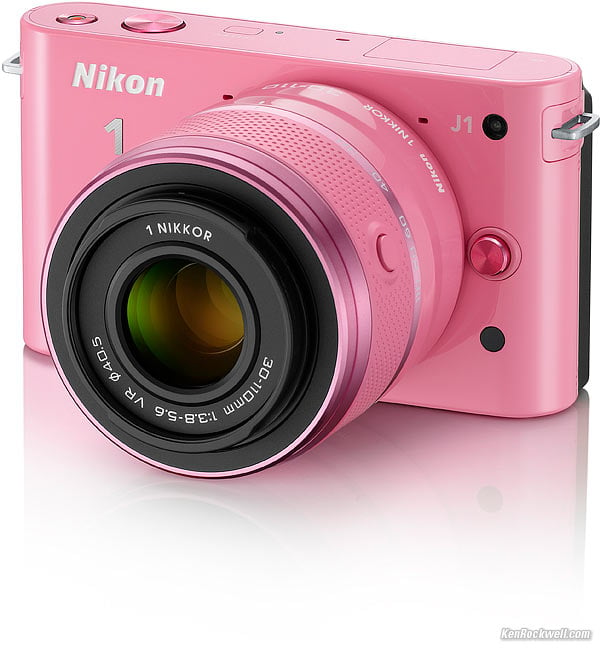 Nikon 1 J1 with 30-100mm lens. This free website's biggest source of support is when you use these links, especially this link directly to them at Adorama, when you get anything, regardless of the country in which you live. Thank you! Ken.
May 2013 More Nikon Reviews Nikon Lenses All Reviews
Introduction top
November 2011
The Nikon 1 camera system is a little-sensor (2.7x crop factor) digital replacement for the Pronea series of APS cameras of the late 1990s. 2.7x crop factor means tiny 9 x 13mm sensors, with tiny lenses and huge depths-of-field — the same as 110 film of the early 1970s.
Interesting for moms and hobbyists and the Japanese domestic market as a little camera that costs as much as a real DSLR with the performance of a compact, it won't replace DSLRs for serious pro shooters; it's a hobby camera.
The Nikon 1 system is just a way to pay more money to replace a Canon S100, although I suspect the Nikon 1 cameras will focus fast enough to shoot kid's sports. Interchangeable lenses means dirt, not a problem with cameras with fixed lenses, and there are no really wide-angle lenses for the Nikon 1; only 27mm equivalent at the widest. The Canon S100 goes wider.
Did I say tiny? 110 film has twice as much area, at 13 x 17mm.
Nikon got the aspect ratio wrong. At least 110 has a professional 4:3 ratio, while the CX (2.7x) format got it wrong at 8.8 x 13.3 mm, or the old 1.5:1 ratio that usually wastes the sides, or the top and bottom for vertical shots.
I'll let you know when I read through everything. For now, it looks like another incompatible system, just like APS, soon to be orphaned in several years. If you've already forgotten APS SLRs and their tiny but expensive dedicated lenses, don't forget about the marvelous 110 SLR systems and their expensive lenses, like the Pentax and Minolta and Rollei 110 SLRs, all of which are also orphaned today.
Nikon even had an "X" name, "IX," for their APS lenses, and these IX APS cameras also worked with regular F-mount lenses — but the special lenses work on nothing else other than APS.
I hope I'm wrong and ought to be more excited, but I've seen all this before — twice — with "stunning new formats" that offered less for more.
Sure, the Nikon 1 J1 and Nikon 1 V1 have loads of features we don't need and will never figure out, but can they take pictures?
The accessories show an F-mount lens adapter, but I see no mechanical AF coupler, suggesting it won't autofocus with conventional AF lenses, but hopefully will autofocus with AF-S lenses. Using your 70-300 VR would become equivalent to a 190 - 800mm lens.
Unlike the Pronea, the Fuji X100 and the Canon S100, the Nikon 1 V1 doesn't seem to have a built-in flash, and flash is mandatory for good people photos in most light.
I'm always underwhelmed when new things come out. It takes a while for me to warm up to new things, and then only if they are really good. It took me 20 years to appreciate the Nikon FE, for instance, but I've hated APS ever since it was first trumpeted as the new tomorrow. Right now, I'm seeing the Nikon 1 as the new APS, which was the new 110. Wow.
More Information
Nikon's press release about the cameras.
Nikon's press release about the lenses.
Nikon's press release about the accessories that only work on these new cameras.
Nikon's press fluff about the overall system.
Help me help you top
I support my growing family through this website, as crazy as it might seem.
The biggest help is when you use any of these links to Adorama, Amazon, eBay, Ritz, Calumet, J&R and ScanCafe when you get anything, regardless of the country in which you live. It costs you nothing, and is this site's, and thus my family's, biggest source of support. These places have the best prices and service, which is why I've used them since before this website existed. I recommend them all personally.
If you find this page as helpful as a book you might have had to buy or a workshop you may have had to take, feel free to help me continue helping everyone.
If you've gotten your gear through one of my links or helped otherwise, you're family. It's great people like you who allow me to keep adding to this site full-time. Thanks!
If you haven't helped yet, please do, and consider helping me with a gift of $5.00.
As this page is copyrighted and formally registered, it is unlawful to make copies, especially in the form of printouts for personal use. If you wish to make a printout for personal use, you are granted one-time permission only if you PayPal me $5.00 per printout or part thereof. Thank you!
Thanks for reading!
Mr. & Mrs. Ken Rockwell, Ryan and Katie.
Home Donate New Search Gallery Reviews How-To Books Links Workshops About Contact