The Nikon F100's Lack of Rear Dust Seals
© 2004 KenRockwell.com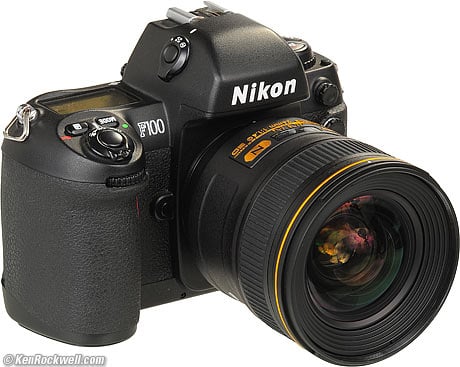 Nikon F100 and Nikon 24mm f/1.4. I'd get it here, and check here, too.
Unlike professional cameras have had for decades, the F100 has no foam rubber seals in the camera back against which the film back rests. This keeps out dust in professional cameras.
Instead the F100 just has a light block and it is open to the air. Therefor all sorts of dust wanders into the rear of the camera and can get into your shutter or worse.
Professional cameras have metal backs which are thin. These thin backs can poke into the foam rubber easily to make a nice dust seal.
The plastic back of the F100 is made much thicker, so it would require much more pressure if foam rubber was used.
Note the dust in the photos above. Professional cameras and even the EM of 20 years ago had interiors that stayed clean. Now every time I change the roll I blow out the inside to try to get rid of the dust that has wandered in. My F100 picks up a lot of dust even from being worn around my neck and rubbing on my clothing.