Home Donate New Search Gallery How-To Books Links Workshops About Contact
Nikon 45mm f/2.8 P
(2001-2006)
© 2015 KenRockwell.com. All rights reserved.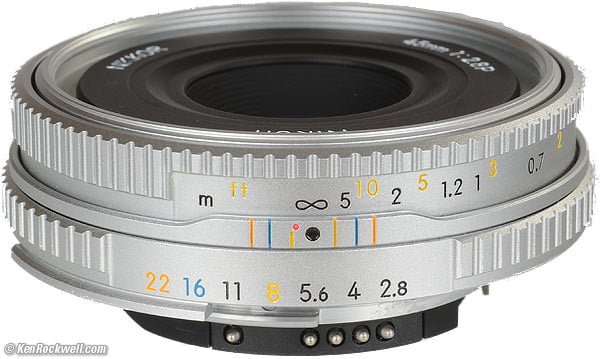 Nikon AI 45mm f/2.8 P. (FX, DX and 35mm coverage, 52mm filters, 4.2 oz./120g, 1.5'/0.45m close focus, about $400 used). enlarge. I'd get it at this link directly to them at eBay (see How to Win at eBay). Amazon may also have them.
This ad-free website's biggest source of support is when you use those or any of these links to approved sources when you get anything, regardless of the country in which you live. Camera boxes are not sealed, so never buy at retail or any source not on my personally approved list since you'll have no way of knowing if you're missing accessories, getting a defective, store demo, damaged, returned or used product. Buy only from the approved sources I use myself for the best prices, service, return policies and selection. Thanks for helping me help you! Ken.
February 2015 Nikon Reviews Nikon Lenses All Reviews
Introduction
This 45mm f/2.8 P lens is a tiny manual focus lens which works on all Nikons made since 1977. It is more of a collectible than a serious shooter's lens.
It was intended to match the cosmetics of the Nikon FM3a which was introduced a little earlier.
Compatibility
This 45mm f/2.8 focuses only manually.
It is compatible with all Nikon DSLRs.
The "P" means it also has the electronics needed to couple to every digital and autofocus Nikon for full automation, EXIF data and exposure control.
The only cameras to which it cannot couple are the pre-AI (1959-1977) cameras, for which the aperture ring is too narrow to accommodate the addition of a coupling prong. The instruction manual specifically notes this inability.
It engages Matrix metering with the FA. It works great on my D3, F3, F4, F6 and every camera I can find.
Oddly its only aperture scale is the tiny ADR (Aperture Direct Readout) scale, which is the smaller of two scales on most Nikkor lenses. Thus the finder displays in cameras like the FE, F2AS, FA and F4 show the colored numbers on silver, not white-on-black as most lenses.
History
45mm f/2.8 GN (Guide Number, 1968-1977)
Nikon made a its first 45mm f/2.8 GN (guide number) lens from 1968-1977.
It was among Nikon's cheapest lenses and had a special feature which provided automatic exposure with flashbulbs. It had an almost identical, or possibly identical, Tessar optical formula.
45mm f/2.8 AI-P (2001-2006)
This modern lens was introduced in February 2001 at the PMA trade show.
A black version was introduced in September 2001.
Oddly, this modern lens was introduced at a very high price ($450) for collectors.
Nikon made about 25,000 in silver as shown here, and 12,000 in black.
These were discontinued in 2006.
Specifications
Name
Nikon calls this the Nikon Nikkor 45mm f/2.8P.
Optics
4 elements in 3 groups.
It seems to be the classic Tessar design of 4 elements in 3 groups. Although Nikon calls this a "new Tessar-type optical design" the Tessar design was created in 1902 by Dr. Paul Rudolph at Zeiss. Maybe Nikon tweaked it a little bit based on more modern glass types, but it's still a great hundred-year-old lens design.
Diaphragm
7 rounded diaphragm blades, stopping down to f/22.
Minimum Aperture Lock
None, so be careful not to knock it, otherwise most cameras will blink "Fee" and stop metering. Most other lenses can lock their apertures at the smallest (f/22) setting to allow modern cameras to control apertures from the camera.
Close Focus
18" (0.45m).
Filter Threads
52mm, metal.
Filter
52mm NC, included and coor-coordinated.
Size
It's 0.7" long (17mm) by 2.5" (63mm) around.
Weight
4.2 oz. (120g).
Caps
Dedicated silver-painted plastic front cap and albino rear cap, included.
The front cap can fit over the hood.
Hood
HN-35 metal screw-in, included.
Also works with ancient HN-4 from the original 45mm f/2.8 GN.
Case
52mm NC, included and color-coordinated.
Fuzzy pouch, included.
Performance
I see no distortion at 10 feet (3m).
Falloff (darkened corners) back to performance back to top
Avoid f/2.8 and you'll never see any falloff in real pictures.
| | | |
| --- | --- | --- |
| f/2.8 | f/4 | f/5.6 |
| | | |
| | | |
| f/8 | f/11 | f/16 |
As I predicted in 2001, sharpness is optimized for collectors, not for photographers.
It's very sharp in the center at all settings.
As expected for an f/2.8 Tessar, it's blurry in the corners at f/2.8, if you look on-screen at 100%. It's fine for normal photos.
The corners are optimum by f/8, but still a little bit softer even at f/5.6 if you're looking for it.
My $5 Olympus Trip 35 has the same Tessar lens. The $120 Chinese plastic 50mm f/1.8 AF-D is far superior.
This classic (1902) Tessar design isn't a good for modern f/2.8 lenses. The Tessar is a simple design originally intended for uncoated lenses of around f/6.3 and slower. The Tessar lenses I've tried of f/3.5 were very good, and my Nikkor-M 300mm f/9 for my view camera is extraordinary.
At f/2.8, a Tessar design is chosen for low cost and compact size, not modern optical superiority.
Close-up performance is great, and no different from performance at infinity.
Due to the simple design, this could be Nikon's contrastiest lens ever. I haven't specifically looked for that. It also could be decent for ultra-violet use; I haven't tried.
Compared
The manual-focus Voigtländer 40mm f/2 is better-made and sharper than any of the Nikon 35mm f/2 AF-D, 45mm f/2.8 AI-P or 50mm f/1.8 AF-D.
To show this, here are crops from the top right corner of 100% FX 12MP (D3 or D700) images:
Printed full-image at this size, these would be about 42 x 28" (105 x 70cm) prints, at least as seen on most 100 DPI computer monitors.
You'll never see this much difference in actual photos among these all-excellent lenses; in this case, I shot them in a way that would exaggerate the differences as much as possible.
Usage
Unlike traditional manual focus lenses, the presence of the electronics makes cameras presume you mean to control the aperture via the camera and not the aperture ring.
On my D3, I force the camera to follow the aperture ring setting (when shooting in manual and aperture-preferred modes) by setting MENU > Custom Settings > f7 > Aperture setting to OFF (aperture ring).
It's so small that there is no fixed middle ring by which you can grab it to mount and unmount. With this tiny 45mm lens you have to grab whatever you can and jam in on and off the camera.
Recommendations
For making photographs this obsolete Tessar design is worth $50 US. It should be Nikon's least expensive lens. It's only manual focus.
Its 2001 MSRP of $450, and 2008 collectors price of $400 (presuming you have the box and all parts as new), makes it an expensive collectors' piece, not a tool for creative artists.
Buy it if you love it, but get something else if you want the best lens for photography. I'd get any 50mm f/1.8 before I got this lens.
More Information
Help me help you top
I support my growing family through this website, as crazy as it might seem.
The biggest help is when you use any of these links to Adorama, Amazon, B&H, eBay, Ritz, Calumet and J&R and when you get anything. It costs you nothing, and is this site's, and thus my family's, biggest source of support. eBay is always a gamble, but all the other places always have the best prices and service, which is why I've used them since before this website existed. I recommend them all personally.
If you find this page as helpful as a book you might have had to buy or a workshop you may have had to take, feel free to help me continue helping everyone.
If you've gotten your gear through one of my links or helped otherwise, you're family. It's great people like you who allow me to keep adding to this site full-time. Thanks!
If you haven't helped yet, please do, and consider helping me with a gift of $5.00.
As this page is copyrighted and formally registered, it is unlawful to make copies, especially in the form of printouts for personal use. If you wish to make a printout for personal use, you are granted one-time permission only if you PayPal me $5.00 per printout or part thereof. Thank you!
Thanks for reading!
Mr. & Mrs. Ken Rockwell, Ryan and Katie.
Home Donate New Search Gallery How-To Books Links Workshops About Contact