Home Donate New Search Gallery Reviews How-To Books Links Workshops About Contact
Nikon 24-85mm f/2.8-4
AF-D NIKKOR (2000-)
© 2002-2012 KenRockwell.com. All rights reserved.
Intro Specs Performance Compared Recommendations More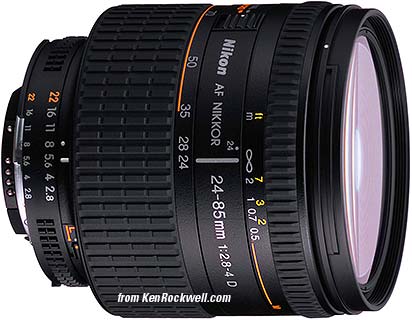 Nikon 24-85mm AF-D (FX, DX and 35mm coverage, 72mm filters, 19 oz./545 g, 0.5'/0.21 m close focus, about $670). This free website's biggest source of support is when you use these links, especially this link directly to it at Adorama or directly to it at Amazon, when you get anything, regardless of the country in which you live. Thank you! Ken.
July 2012 More Nikon Reviews Nikon Lenses All Reviews
24-85mm AFS (2002-2006)
24-85mm VR (2012-)
Introduction top
Intro Specs Performance Compared Recommendations More
This lens was introduced in 2000 and obsolesced in 2003 by the less expensive and superior 24-85mm AFS.
Oddly, as of 2008,the newer and better 24-85mm AFS seems to have been discontinued already, while this older, crummier, more primitive and more expensive lens seems to have survived. Weird.
I was intrigued by the f/2.8 speed at 24mm, unfortunately I find the lens less sharp than I need at f/2.8. I much prefer the newest 24-85 AFS instead, which is also smaller, easier to use and costs less, too!
Specifications top
Intro Specs Performance Compared Recommendations More
It's 3.1" (78mm) around and 3.2" (82mm) long and weighs 19 oz (545g).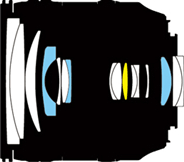 It has 15 elements in 11 groups. Two of these are some sort of aspherical elements.
It has a 72mm plastic filter thread, which is a real blunder. You can use a 72->77mm step up ring to get it to accept the standard 77mm filters, but it will vignette a little at the wide end. Otherwise, this lens is not compatible with the standard 77mm filters used by professional Nikon and Canon lenses.
It can get to 1/2 life-size in the bothersome macro mode.
The filter attachment stays put during focusing and zooming. That's good.
It has a nice nine-bladed diaphragm stopping down to f/22
Nikon Product Number: 1929.
| | |
| --- | --- |
| | |
| MTF at 24mm, 10 and 30 cyc/mm | MTF at 85mm, 10 and 30 cyc/mm |
Performance top
Intro Specs Performance Compared Recommendations More
I've tried two different samples. Both were soft in the corners wide open at 24mm. This is worse than the 28-85AF and 24-85 AFS either of which I suggest over this lens. Of course most people don't care about sharpness in the corners wide open, but this is where and how you'll see any difference if you can between these lenses.
Distortion is as bad as the 24-85 AFS , which is strong barrel at 24mm and pincushion at 85mm.
Falloff happens at full aperture and is much better stopped down one stop.
The macro mode switch is a pain. You have to preset the lens to one focal length range in order to move the switch to the macro mode. You have to move the switch out of macro mode to get to shorter focal lengths than 50mm, but you can't do that until you have prefocussed the lens to beyond about 2 feet.
AF speed is pretty good. One turn of the AF screw brings the lens from infinity to 6 feet.
Here were the Panorama Tools coefficients for you math hounds.
Compared top
Intro Specs Performance Compared Recommendations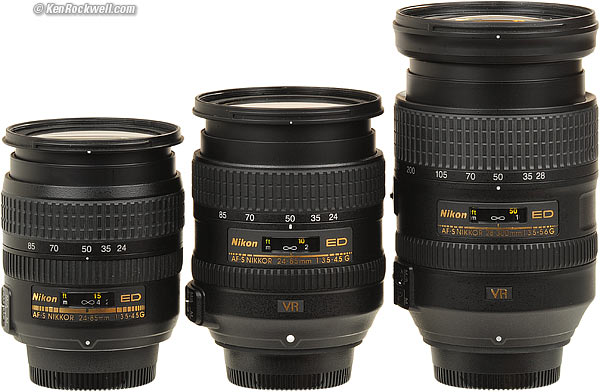 Nikon 24-85mm AF-S G, 24-85mm VR and 28-300mm VR. enlarge.
I'd forget this 24-85mm f/2.8-4 AF-D, sold today and introduced in 2000. It was never very sharp, even on film, even though it has a great 9-bladed diaphragm and works on manual-focus 35mm cameras.
The original 24-85mm AF-S G (2002-2006) is a thoroughly modern lens, with astounding identical optical performance, but lacking VR. Otherwise, it's effectively the same lens but slightly smaller and much less expensive than the newest 24-85 VR.
The 24-120 f/4 VR and 28-300mm VR are bigger, heavier and more expensive. They're just as sharp and all these lenses distort like crazy. If you need the extra telephoto range, these other lenses are wonderful, but if 85mm is enough, you'll score a bargain with this superb 24-85 G.
Avoid the earlier 24-120mm f/3.5-5.6 VR, it's a dog optically.
The 16-85mm VR is a great lens, but only for DX, not FX.
Anni

2012-

2002-2006

2000-

2010-

2010-

Filter size

72mm

67mm

72mm

77mm

77mm

AF type

AF-S

AF-S

screw

AF-S

AF-S

Instant manual-focus override?

Yes

Yes

no

Yes

Yes

Close focus

1.25'

0.38m

1.2'

0.38m

0.5'

0.21m

1.3'

0.4m

1.6'

0.5m

Max. repro ratio

1:4.5

1:4.7

1:2

1:4.2

1:3.2

Sharpness

Excellent

fair

Distortion

Heinous

Heinous

Weight

16.2 oz.

460 g

14.5 oz.

412 g

19 oz.

545 g

25.0 oz.

708 g

28.1 oz.

796 g

Price, 7/2012
Recommendations top
Intro Specs Performance Compared Recommendations More
Just get the newer and far superior 24-85 AFS instead.
I find the older 24-85 bigger, clumsier, fuzzier and more expensive. I think the only advantages of the older lens are more diaphragm blades and maybe a closer macro mode compared.
I even prefer my 15 year old AF 28-85 better.
If you get a deal on one used by all means go for it, but if buying new go for the 24-85 AFS instead.
More Information top
Intro Specs Performance Compared Recommendations More
Nikon's page on the 24-85 AF-D
Help me help you top
I support my growing family through this website, as crazy as it might seem.
The biggest help is when you use any of these links to Adorama, Amazon, eBay, Ritz, Calumet, J&R and ScanCafe when you get anything, regardless of the country in which you live. It costs you nothing, and is this site's, and thus my family's, biggest source of support. These places have the best prices and service, which is why I've used them since before this website existed. I recommend them all personally.
If you find this page as helpful as a book you might have had to buy or a workshop you may have had to take, feel free to help me continue helping everyone.
If you've gotten your gear through one of my links or helped otherwise, you're family. It's great people like you who allow me to keep adding to this site full-time. Thanks!
If you haven't helped yet, please do, and consider helping me with a gift of $5.00.
As this page is copyrighted and formally registered, it is unlawful to make copies, especially in the form of printouts for personal use. If you wish to make a printout for personal use, you are granted one-time permission only if you PayPal me $5.00 per printout or part thereof. Thank you!
Thanks for reading!
Mr. & Mrs. Ken Rockwell, Ryan and Katie.
Home Donate New Search Gallery Reviews How-To Books Links Workshops About Contact