Nikon 105mm f/1.8
© 2008 KenRockwell.com. All rights reserved.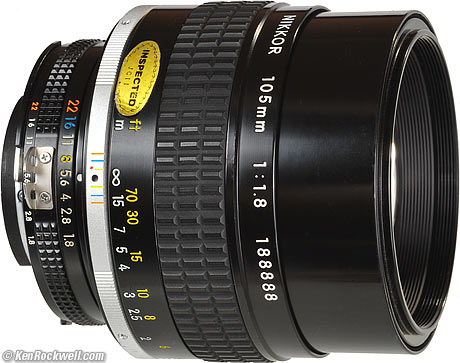 Nikon 105mm f/1.8. enlarge.
You may be able to find them used at this link to Adorama. They used to sell then new here through 2004. It helps me keep adding to htis site when you use these links, thanks!
INTRODUCTION
This is a great chubby lens.
Personally I prefer the field of view of an 85mm lens, so after ten years I converted to the far smaller 85mm f/2.0 AI-s that also takes my preferred 52mm filters. As you should know, I prefer small and light and standard sized filters.
SPECIFICATIONS
The 105mm f/1.8 has a 9-bladed diaphragm, has a built-in telescoping hood, and takes 62mm filters.
It has five elements in five groups.
Close focus is 3 feet or 1m.
It is 3.1" (78mm) around by 3.5" (88mm) long and weighs 20 oz (580g).
PERFORMANCE
The beauty of a great lens is that there isn't much to write about here. If you want it, buy it. There aren't any flaws to discuss.
It is sharp at all apertures all over.
It has the usual light falloff wide open that goes away entirely by f/4.
Oh, OK. The only problem you are likely to have is with your ability to focus manually to get all the sharpness that this lens can deliver at f/1.8. Many cameras are a little off in their focus calibration, so run tests to see if your images on film are really focussed where you thought you did. I often found cameras were a little bit off, so if you really wanted great sharp results at f/1.8 you had to tweak the offset-headed screw against which the camera mirror rests to bring everything into calibration.
How does the 105/2.5 compare to the 105 f/1.8?
I never have seen any difference between the 1.8 and 2.5 , even when making direct comparison tests. Therefore in real photography there will be no visible difference at all, save for the availability of maximum aperture and less vignetting at the same larger apertures with the f/1.8. At f/5.6 and smaller there is no difference at all. Photodo.com MTF tested slightly higher values for the f/1.8 on a machine, but these are too close to make any visible difference.
RECOMMENDATIONS
People always swooned about the 105/2.5 lens, and so I kept buying and trying the f/2.5 version to look for any difference. Humbug, the f/1.8 lens is at least as sharp at every aperture, and at f/2.5 the f/1.8 lens has far less light falloff than the the f/2.5 lens does. Photodo.com confirms that actually the f/1.8 is a hair sharper then the f/2.5 anyway.
I have not used this lens on an AF camera, so I can't report how accurately the electronic rangefinders work with it.