Minolta MD 50mm f/1.7 Test Review
© 2004 KenRockwell.com about these reviews


You can look for it used here.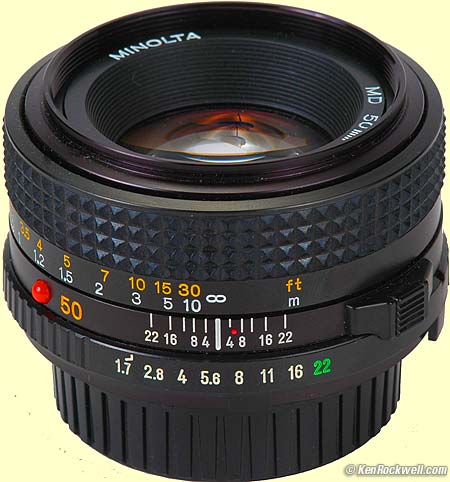 Minolta MD 50mm f/1.7
INTRODUCTION
This is a swell little manual focus lens from the 1990s.
It's very, very good, and you can get them almost for free today.
SPECIFICATIONS
It has 6 multicoated elements in 5 groups.
It extends 1.4" (36mm) from the camera lens flange and is 2.5" (64mm) around.
It weighs almost nothing: 5.8 oz. (165g).
Full click stops are at f/1.7, f/2.8, f/16 and f/22. Half stop clicks are from f/2.8 through f/16. This is weird, but typical for Minolta. Of course you may select any aperture you please.
It has a 49mm filter thread.
Close focus is 1.5' or 0.45m.
The aperture ring is plastic. The rest is all metal.
There is a lip on the front of the lens to which a dedicated lens hood attaches with a complex spring-loaded tab arrangement.
PERFORMANCE
There is no distortion.
It's very sharp at all apertures.
Color balance is neutral.
Like most slow normal lenses, it's performance is the best you can get, and it's also the cheapest lens you can buy.
RECOMMENDATIONS
This is an excellent, inexpensive and compact lens. Go get one.
You can look for it used here.