Home Donate New Search Gallery Reviews How-To Books Links Workshops About Contact
Fuji X100 Specifications
© 2011 KenRockwell.com. All rights reserved.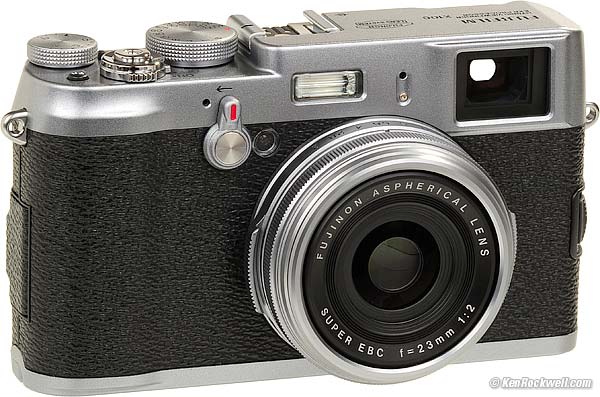 Fuji X100 (15.5 oz./440g with fixed lens, battery and card). enlarge. This free website's biggest source of support is when you use these links, especially these directly to it at Amazon, or at eBay (see How to Win at eBay) when you get anything, regardless of the country in which you live. Thanks for helping me help you! Ken.
November 2013 Fuji X100 Review More Fuji Reviews All Reviews
Type top
Fixed-lens electronic digital camera.
Optical and electronic viewfinders, and a rear LCD, any of which may be used for shooting and for playback.
Sensor and ISO top
Sensor
12.2 MP CMOS.
23.6x15.8mm.
3:2 aspect ratio.
Custom-designed microlenses for optimum coupling to the X100's lens.
Image Sizes
4,288 x 2,848 pixels.
Also
M: 3,072 x 2,048
S: 2,176 x 1,448
and 16:9 cropped modes for no good reason:
L: 4,288 x 2,416
M: 3,072 x 1,728
S: 1,920 x 1,080
Swung Panorama-Mode Sizes
180° Swing
Camera held vertically: 7,680 x 2,160
Camera held horizontally: 7,680 x 1,440

120° Swing
Camera held vertically: 5,120 x 2,160
Camera held horizontally: 5,120 x 1,440
ISO
Fixed ISO
ISO 200-6,400, also LOW 100 and HIGH 12,800.
Auto ISO
Auto ISO, runs from the ISO set above to a selectable maximum of ISO 400, 800, 1,600 or 3,200.
Auto ISO starts boosting ISO at a selectable minimum shutter speed of 1/4, 1/8, 1/15, 1/30, 1/40, 1/60, 1/80, 1/100 or 1/125.
Image Stabilization top
Exactly like the LEICA M9, the Fuji X100 ensures great results in low light by using a fast f/2 lens and high ISOs of ISO 3,200 and above when needed.
This not only stops camera shake, but the much higher high shutter speeds freeze subject motion, unlike the optical-shift systems used by Nikon and Canon, or the sensor-shift systems of Sony and Olympus.
Also better than Nikon and Canon's systems, the Fuji X100's system is silent, and never needs to lock or stabilize; it's always active.
Video top
720/24p only. Fixed format and compression.
10 minutes per shot maximum.
S - T - E - R -E - O sound from built-in microphones spaced 1.75 " (45mm), but strong low-frequency cut-off.
No external mic input.
H.264 coding saved as . MOV files.
1.2 MB file size per second of run time.
All three displays show the shutter speed, f/stop and ISO in the Futura font, which is quite a surprise.
There is an eye-sensor to activate the rear LCD or viewfinder automatically.
Finders: Optical and Electronic
All multi-coated glass.
Eye point: 15mm.
Dioptometric adjustment range: -2 ~ +1 diopter.
Optical Viewfinder (OVF)
0.5x magnification.
90% coverage.
Electronic superimposed white LCD graticule with parallax correction.
AF zone shown in white; turns green (focused) or red (not able to focus).
Shutter, aperture and ISO shown along bottom in Futura font.
Exposure compensation bar graph vertically on left side.
There are two modes of display with the optical finder. The mode described above, and a second "custom" mode wherein you may select any of these options to display or not:
Graticule (9 or 24 boxes).
Virtual horizon, turns green when level.
Focus scale with calculated depth-of-field.
Histogram
Aperture, Shutter and ISO
Exposure Compensation scale
Meter pattern (Photometry)
Flash mode
White Balance
Film Simulation mode
Dynamic Range
Frames remaining
Image size and quality
Battery Level
In the examples in my user's guide, I've got these all turned on, which is their default in the Custom mode.
Electronic Viewfinder (EVF)
600 x 800 pixel (1,440,000 RGB dots).
0.47" LCD, viewed through multicoated optics.
The same two modes above (standard and custom) are set the same way, You may select different custom options for each of the optical and electronic finders.
The image in the EVF is delayed about 1/12 of a second (80 ms) from reality.
Rear LCD
2.8" diagonal.
Uncoated plastic cover.
320 x 480 pixels (460,000 RGB dots).
Three modes: the same two above (standard and custom), and a third that throws up even more junk without a picture.
The EVF and rear LCD custom modes are set together; the optical finder's custom mode may be set by itself.
Autofocus top
Reactive autofocus reads focus directly from images from the sensor.
49 areas (7x5 array), manually or automatically selected when using EVF or rear LCD. Each AF area may be enlarged or reduced in size!
For sanity's sake when using the optical viewfinder, limited to 25 areas (5x5 array) and the size doesn't change.
White-LED AF illuminator.
Lens and Diaphragm top
Permanently attached, fixed lens.
The lens moves in and out a few millimeters inside the outer barrel to focus.
Focal Length
23mm f/2.
Sees the same angle-of-view with the X100's sensor as a 35mm lens sees with a full-frame sensor or on 35mm film.
Optics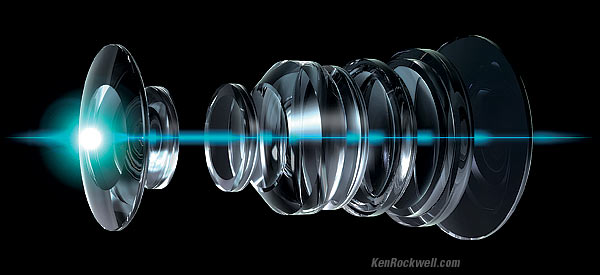 Fujinon 23mm f/2 ASPH. huge. Light comes from left, sensor on right.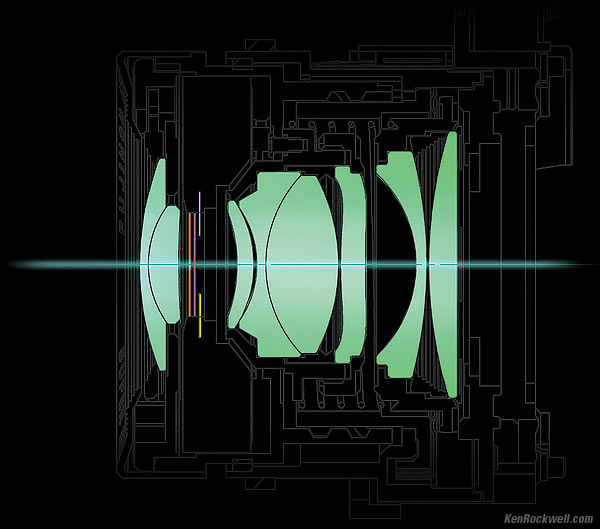 Fujinon 23mm f/2 ASPH. bigger. Light comes from left, sensor on right.
8 elements in 6 groups.
One element, the sixth element, is a glass-molded aspheric with two aspherical surfaces.
Super EBC (Electron-Beam Coated) multicoating.
Except for the aspherical element, this FUJINON seems like an homage to the world's first high-speed wide angle lens, the Nikon W-NIKKOR•C 35mm f/1.8 of 1957, right down to the 9-bladed diaphragm and the same extra-large rear element:
Nikon W-NIKKOR•C 35mm f/1.8 (1957-) and its internal diagram. click to enlarge.
Even without an aspherical element, the 1957 Nikon W-NIKKOR•C 35mm f/1.8 for Nikon rangerfinder cameras is still faster, creates better sunstars and has far less distortion than the Fuji lens. How time flies.
Close-Focus Distances
AF: 0.8 meters (2.6 feet).
MF: Contiuous down to Macro mode limit.
Macro Mode
Fuji specifies that Macro mode covers 2.0 meters down to 0.1 meters (6.6 feet down to 4 inches).
Macro mode really only focuses as close as 0.135 meters (5.3 inches).
Diaphragm
9-blade rounded.
Electronically-controlled.
Stops down to f/16 in full click-stops via the aperture ring
Settable in third-stops by flicking the rear control lever.
Neutral-Density Filter
Selectable in-lens 3-stop (8x or 0.9 D log10) neutral-density filter.
Light Meter top
256 zone meter, spot, and average.
Shutter and Release top
Electronic leaf shutter.
1/2,000 sync.
1/4 - 1/1,000 in Program mode.
To 30 seconds in other modes.
To 60 minutes (3,600 seconds) in Bulb.
To 1/2,000 only at f/4 and smaller.
To 1/4,000 only at f/8 and smaller.
"Time" mode on dial is really only a way to set shutter speeds from 1/4 to 30 seconds.
Remote Release
Standard threaded cable release!
Self Timer
2s or 10s.
Only found as a menu option.
To stop, tap shutter halfway or hit DISP-BACK.
Continuous Shooting
The continuous mode isn't: it free-runs the camera at one fixed focus and exposure setting at up to 5 FPS for a second or two, but then the X100 locks-up for about 15 seconds while the camera chews on the data and writes it out the card!
Flash top
Built-in.
1/2,000 sync.
Hot shoe. Must be activated in a menu for use with non-Fuji flash.
TTL hot shoe only for Fuji EF-20 or EF-42 flashes.
Different contacts than Nikon, Canon or LEICA.
No PC sync terminal; use a hot-shoe adapter if you need one.
Fuji menitons a Flash Commander Mode to control its external flashes on page 70 of its USA Owner's Manual.
Data Storage top
20 MB internal.
SD, SDHC or SDXC (UHS-I) card slot.
Only Sandisk and FujiFilm cards are recommended. Fuji won't guarantee anything if you use Lexar or any other card.
Data Communication top
Mini HDMI.
USB 2.0.
Firmware top
v2.01 November, 2013
v1.3 May, 2012
Power and Batteries top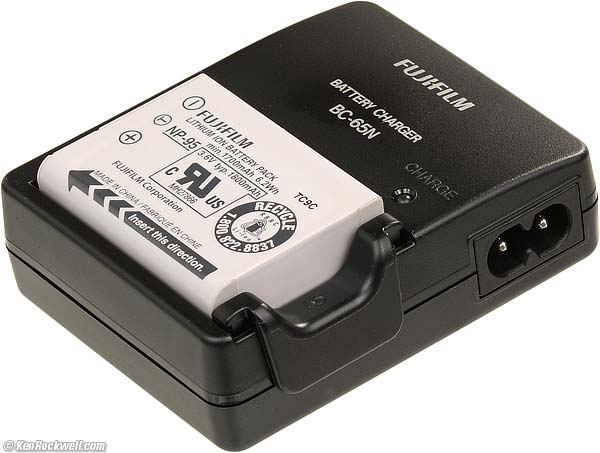 Fuji BC-65N Charger, A7002 Dongle and NP-95 Battery.
NP-95 Battery, Li-Ion, 3.6V 1.8 AH.
Rated 300 shots, actually gives 450-650 for me.
(Cheap NP-95 copy bought over eBay has about two-thirds the capacity for one-seventh the price.)
Fuji BC-65N Charger:
Input: 100-240 VAC, 50-60 cps, 0.2 A
Output 4.2 VDC, 650 mA.
The A7002 dongle is the screwy piece of plastic on the end that does not lock, easily falls off, and without which won't charge the battery.
Charger requires bringing a separate power cord.
Size top
74.4 x 126.5 x 53.9 millimeters HWD.
2.9 x 5.0 x 2.1 inches HWD.
(Minimum thickness: 31.0mm / 1.2in.)
Weight top
15.515 oz. (439.8g) actual measured, with battery and card.
Irreplaceable metal lens cap weighs 0.395 oz. (11.2g).
Battery weighs 1.360 oz. (38.5g) when removed from X100.
(Cheap NP-95 copy bought over eBay weighs 1.030 oz. (29.2g) and has about half to three-quarters the capacity.)
Charger and dongle weigh 2.140 oz. (60.7g). Cord is separate.
Environment top
0 - 40º C (32 - 104º F) operating.
10 - 80% RH, operating, non-condensing.
Quality top
Made in Japan.
Fuji's brochure cautions that they reserve the right to move production elsewhere, so get your X100 now before they offshore it to the lowest bidder.
Charger and battery made in China.
Packaging top
Fuji is so silly. They tried to copy the LEICA's M9 boxing, except that they forgot the most important part: the sanitary thin brown outer box that protects the delicate inner boxes seen here from germs and fingerprints. As the LEICA is handled in the course of transport to its rightful owner, the LEICA's inner box stays safe and clean. In the case of the Fuji X100, nothing protects the box seen here from anything.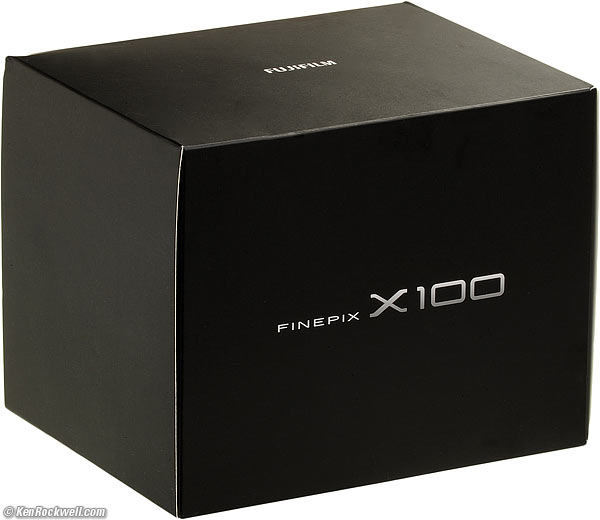 Fuji X100 box.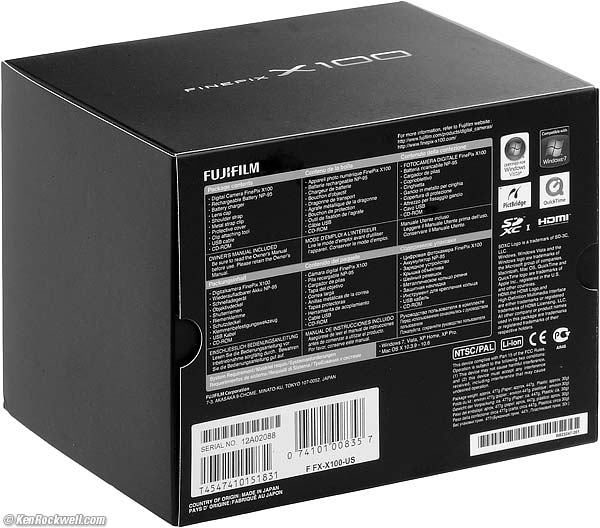 Rear, Fuji X100 box. make legible.
The box holds two more boxes: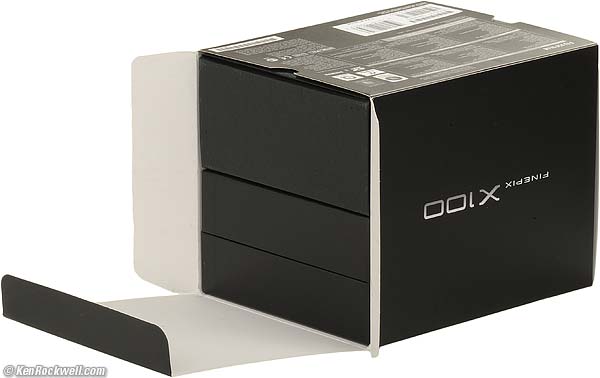 Fuji X100 box.
These two boxes are the charger and fluff box, and the camera box: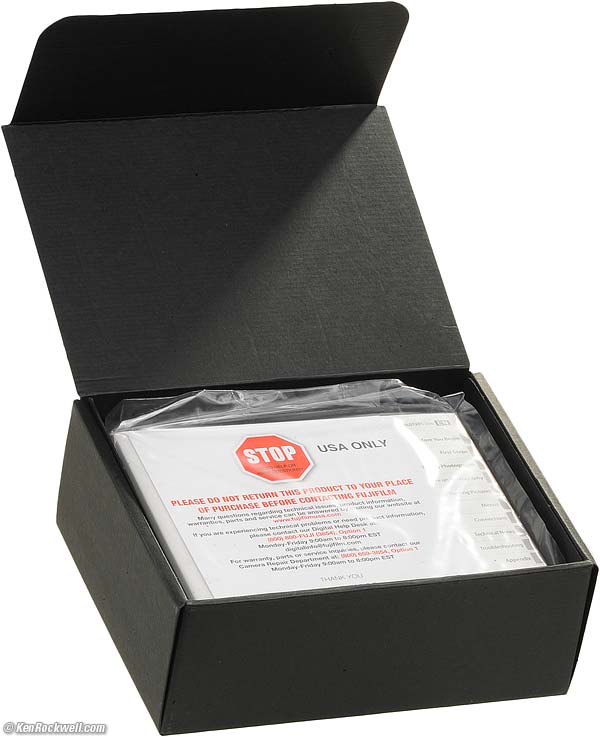 Fuji X100 charger, cords and battery sub-box.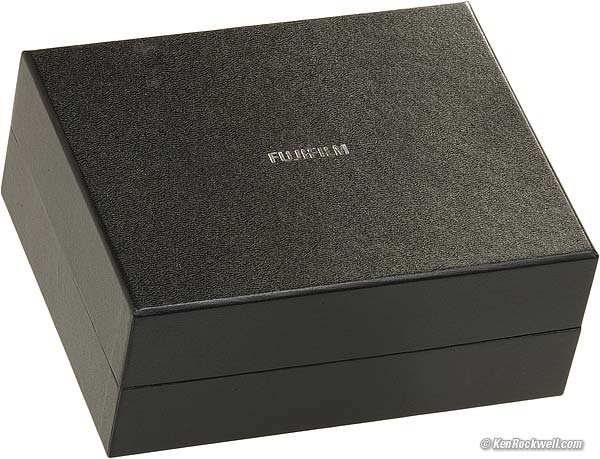 Fuji X100 camera sub-box.
Inside the camera box is the X100: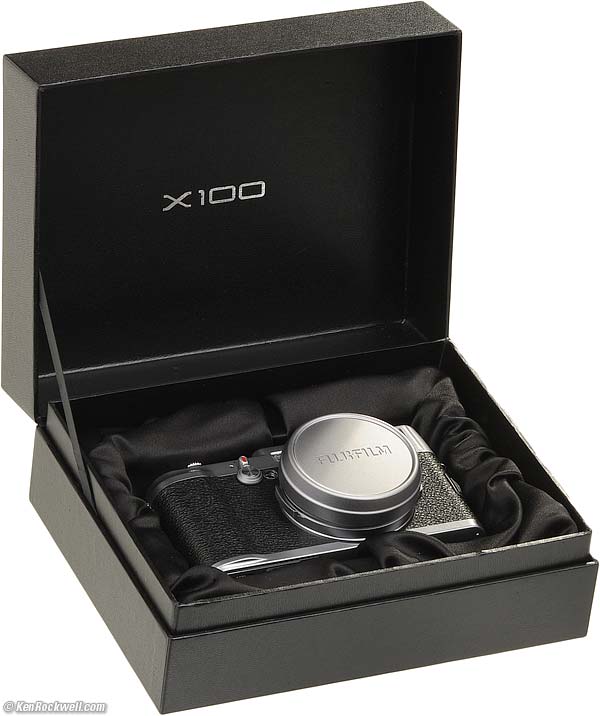 Fuji X100 nestled in its box. enlarge.
This box nestles the X100 in ladies' underwear. The formers are cardboard, not foam, so I don't know how well it really protects the X100 against damage in shipment.
The X100 rests in a thin foam envelope, which I removed for this photo.
The box is cute, but I'd much rather Fuji gave us a neoprene sleeve or something useful for day-to-day use, instead of this useless show box. It's exactly like the useless show-box Sennheiser includes with their HD 800 headphones, as opposed to the useful Ledersack included by Ultrasone with their Edition 8 headphones. Utility is the real luxury; showboxes are only to entice people who aren't really going to buy it anyway.
Fujifilm Order Number top
16128244.
Announced top
Development announcement 20 September 2010.
Available top
First samples hit the streets May 2010.
It was very hard to get for months, but was in-stock by Janaury 2012.
Discontinued top
It was available new in July 2013, and gone by November 2013. (The black special edition is still available as of November 2013.)
Price, USA top
2011 May: $1,199.95 list and selling price at introduction.
The X100 was so much in demand that used ones sold for about $1,300 on eBay for much of 2012.
In July 2013, the X100S replaces the X100, so the X100 sold for $900 new or $600 used (see How to Win at eBay).
In November 2013, $850 new or $600 used (see How to Win at eBay).
More Information top
Help me help you top
I support my growing family through this website, as crazy as it might seem.
The biggest help is when you use any of these links when you get anything, regardless of the country in which you live. It costs you nothing, and is this site's, and thus my family's, biggest source of support. These places have the best prices and service, which is why I've used them since before this website existed. I recommend them all personally.
If you find this page as helpful as a book you might have had to buy or a workshop you may have had to take, feel free to help me continue helping everyone.
If you've gotten your gear through one of my links or helped otherwise, you're family. It's great people like you who allow me to keep adding to this site full-time. Thanks!
If you haven't helped yet, please do, and consider helping me with a gift of $5.00.
As this page is copyrighted and formally registered, it is unlawful to make copies, especially in the form of printouts for personal use. If you wish to make a printout for personal use, you are granted one-time permission only if you PayPal me $5.00 per printout or part thereof. Thank you!
Thanks for reading!
Mr. & Mrs. Ken Rockwell, Ryan and Katie.
Home Donate New Search Gallery Reviews How-To Books Links Workshops About Contact