Home Donate New Search Gallery Reviews How-To Books Links Workshops About Contact
Contax G2
(1996-2003)
© 2014 KenRockwell.com. All rights reserved.
Intro Specs Performance Recommendations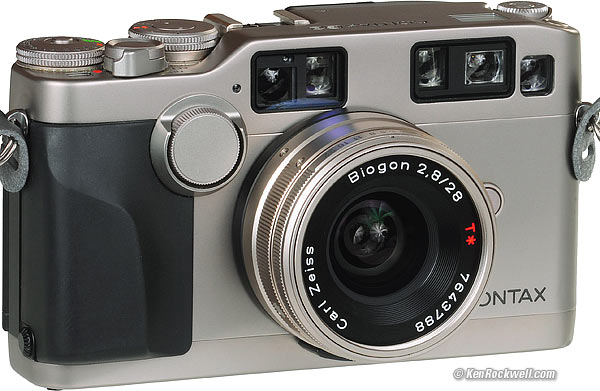 Contax G2 and Zeiss Biogon 28mm f/2.8 in titanium (Contax G mount, 21.4 oz./605g with two CR2 cells and film, but no lens, body only about $400 used. It also comes in black). enlarge. I bought mine at this link directly to them at eBay (see How to Win at eBay).
This free website's biggest source of support is when you use any of these links to approved sources when you get anything, regardless of the country in which you live — but I receive nothing for my efforts if you take a chance and buy elsewhere. I get no government hand-outs and run no pledge drives to support my research, so please always use any of these links to approved sources for the best prices, service and selection whenever you get anything. Thanks for helping me help you! Ken.
March 2014 Contax Reviews LEICA Fuji Better Pictures All Reviews
NEW: Contax G2 User's Guide, in plain English.
The Contax G2 Compared to the Leica M7
Shooting the Contax G2 Digitally
Rangefinder versus SLR cameras
Introduction top
Intro Specs Performance Recommendations
The Contax G2 is the world's most advanced rangefinder camera. It is a superbly refined electronic, autofocus 35mm camera with the world's best optics. It also offers auto exposure, auto loading, advance and rewind, and TTL metering for both flash and ambient light.
When new, the Contax G2 was a rich-man's travel and vacation camera. The G2 and 45mm f/2 lens sold as a promotion for the equivalent of $1,700 (more than a new top-of-the-line Nikon F5), and the other basic small lenses sold for the equivalent of about $650 each. Today, a Contax G2 sells used for less than a new Nikon D5000.
The modern, smooth, autofocus Contax G2 system is significantly more advanced and refined than the 1950s-based manual focus LEICA system of today.
The Contax G2 is a joy to use and shoot. It is tight, precise and fast. Autofocus and metering just work, and the film advances quietly and smartly after each shot. I wish the LEICA M9 were this refined.
The optics of the Contax G2 are equal or superior to Leica lenses, and far superior to Nikon or Canon lenses.
Part of this is due to the Contax G2's design allowing rear lens elements to get closer to the film plane than in Leica, which allows lens designers more freedom to design better wide lenses, For example, the Contax G Zeiss 21mm f/2.8 has much less distortion than the LEICA ELMARIT-M 21mm f/2.8 ASPH, and both are much better than SLR lenses.
The Zeiss lenses are extraordinary. When you shoot 25MP-equivalent resolution scans from NCPS as I do, the results are much sharper than I get from my Nikons. The Zeiss lenses are clearly superior at large print sizes, with far less distortion.
The G2 is a lot more than you'd expect. Even if it's technical performance wasn't so fantastic, you'll be won over by its superb ergonomics.
Even though I laughed at the weirdly translated Contax motto of making a "camera that works" (thank goodness), I realized that the Contax G2 (and Contax 645) have exactly the controls we need in the places we need them, making it easy to shoot the G2 where other cameras make it difficult.
For instance, the AE Lock, focus, film advance, shutter speed, aperture and even the bracketing controls all have their own dedicated single-purpose dials. There are no menus and no holding one button while spinning another. With the G2, you just shoot. The G2 even has both analog and digital focus scales in the viewfinder!
Contax has always been the best. When Ansel Adams shot 35mm, he shot Contax, not Leica. Sadly, Contax went out of business in the 1950s. Zeiss bought the rights to the name. In the 1990s, Zeiss licensed the name to Japan's Kyocera, who make the current-day Contax cameras.
The Contax pretends it's German by using DIN fonts on the camera, but it is 100% Japanese, just like the girls you'll see illustrating the users' manual.
The G2 is a solid, precise camera that is super-easy to use, lightweight and fun to carry and shoot, and gives extraordinary results.
When I got mine, I burnt through my first test roll in 40 minutes I was having so much fun. The G2 is so good you want to pick it up and shoot it just for the joy of it.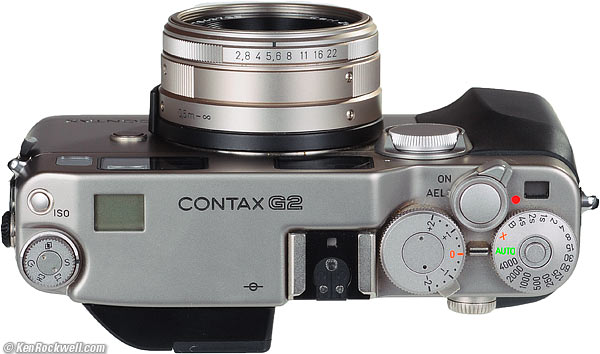 Top, Contax G2 and Zeiss 28mm f/2.8. enlarge.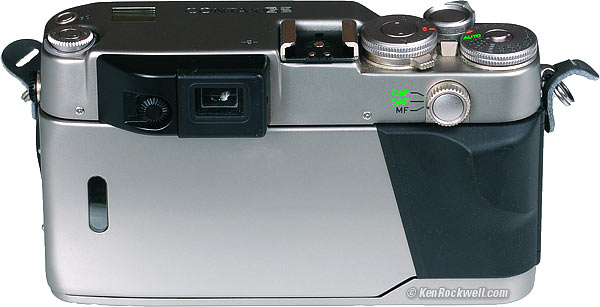 Rear, Contax G2. enlarge
Specifications top
Intro Specs Performance Recommendations
Type
Electronic 35mm film (24x36mm) rangefinder camera.
Electronic autofocus.
Motorized advance and rewind.
Lens Mount top
Contax G; not compatible with anything else.
Autofocus top
There are two AF systems: a coarse, high-speed active infra-red system that instantly gets pretty good focus even in total darkness, and so long as there is light (LV 3-19), a second passive high-precision AF system gets perfect focus. These two systems get great focus almost instantly most of the time.
A motor in the body focuses each lens via a mechanical screw.
The lens position resets for each shot!
Shutter top
Front, Contax G2. enlarge.
Focal plane, multi-blade vertical metal.
Auto: 16s - 1/6,000 sec.
Manual settings: 4s - 1/4,000 and bulb.
Bulb: Counts-up seconds on frame counter LCD. Counts up to 59 and resets to count up again. This is almost useless because that LCD is unlit.
Bracketed Manual: The bracketing function can call up a range from 8s - 1/6,000 as it needs to.
Maximum shutter speed with flash (sync speed): 1/200 marked, 1/180 actual.
PC flash sync terminal.
Remote release only with electronic Cable Switch L, not with standard cable releases.
10 second self-timer.
Metering top
Measured off gray shutter curtain.
Lower center-weighted TTL.
Range:
Rated: LV 1~19 (f/2 lens).
Rated LV 3~19 with 16mm lens (f/8) and external meter port.
It reads to much lower levels in practice.
Frame Rate top
4 FPS (CH) or 2 FPS (CL).
Finder top
The finder is a big peephole with dioptometric adjustment from -2D to +0.3D.
It pokes out for easy viewing without having to push your nose against the back of the G2.
90% coverage.
It changes magnification with lens choice:
Lens

Finder
Magnification

90mm

114%

45mm

57%

35mm

44%

28mm

35%
Power top
Two CR2 3V Lithium.
Rated 80 rolls 24-exposure.
ISOs and CFNs seem to be nonvolatile, remembering their values even if you remove the CR2 batteries.
Size top
5.5 x 3.2 x 1.8 inches (139 x 80 x 45mm) WHD.
Weight top
21.360 oz. (605.5g), as I measure it with batteries and 36-exposure film, but no lens, strap or caps.
This is halfway between the LEICA M7 (22.2 oz/631g ) and LEICA M9 (20.9oz/593g).
Contax specifies 19.2 oz (560g) stripped naked, with no batteries, film or anything.
Colors top
Champagne Titanium, standard.
Black, less common.
Accessories top
Cable Releases
You need the Cable Switch L, which comes in several lengths.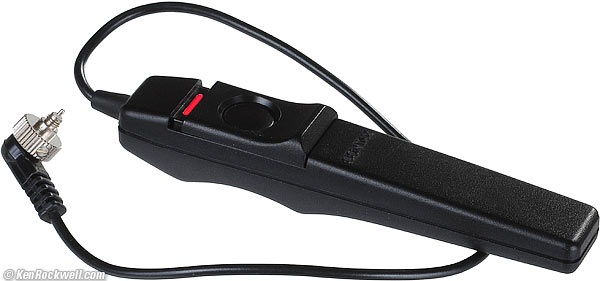 Contax Cable Switch L.
Red means LOCKED in the FIRE position, used for long exposures.
Standard releases don't work. Through an odd coincidence they do screw-in and sort of work, but because it's an electronic, not mechanincal contact, it is flakey. If you use a standard release, you'll often get multiple shots instead of the shot you wanted.
Auxiliary Power
Use a GP-1 adapter in the camera to replace the CR2 batteries.
Then use a P-8, which you can keep in your pocket, to hold 4-AA cells.
4-AA alkaline cells are only rated for 25 rolls of 24-exposures!
There also was a 4-D cell adapter.
Honestly, my G2 works great at -5ºC (25ºF) with the CR2s, so I'm not buying any of these external battery packs.
GA-1 lens adapter
The GA-1 will let you stick Contax SLR lenses on the G2.
Why?
You'll have no focus ability other than manually setting the distance scale on the lens, so good luck!
This adapter does trigger the correct finder display for 28, 35, 50, 60 and 85mm, presuming you remember to set the adapter manually as yo mount the SLR lenses.
You will get TTL metering.
You can use the G2's electronic rangefinder to measure the distance, but you still ned then to set that on the SLR lens' focus scale.
GD-2 data back
The GD-2 does not record the aperture, because the G2 never has any idea of the lens' set aperture.
It will guess based on the difference in the TTL reading versus the input from the external light meter sensor used with the 16mm f/8 Hologon lens.
It can record all data on first two frames.
Never-Ready Cases
GC-21 and GC-22 cases:
The GC-21 case holds a G2 camera.
The GC-22 case holds a G2 with a data back.
The GC-212 is an optional long-front cover for use with the 90mm lens.
Performance top
Intro Specs Performance Recommendations
The G2 just shoots.
It's the fastest, easiest, smoothest rangefinder camera ever designed.
Likewise, the Zeiss lenses are the best on earth. Zeiss also makes lenses for the satellites that can read the numbers off golf balls from space. Leica doesn't.
Ergonomics
The G2 is designed to shoot. It has everything you need, and nothing you don't. Everything is where you need it. There are no junk features, menus or custom functions to get in your way.
The top LCDs (frame counter, focus and ISO) are unlit. You can't see them in the dark.
The exposure compensation dial has a deeper detent at "0," making it easy to set it by feel.
The shutter button has an Iffy half-press position. It's hard to keep it half-pressed and not make a shot. No big deal; AEL and focus lock have their own buttons.
The remote release (Cable Switch L) has no half-pressed position, but it doesn't need one, either.
The shutter dial has a lock button to get in or out of AUTO or X. Otherwise, it spins 360.º

Top, Contax G2. enlarge.
Finder top
The Contax G2 has the best viewfinder ever put in a rangefinder camera.
Why? Because it zooms as you change lenses, so it always has the perfect size.
Not only does it correct for parallax, it is unique in correcting for different magnifications at different distances. Unlike Leica or anyone else, I always get perfect framing at any distance.
By comparison, with a 90mm lens at infinity, the LEICA M9 has a small, reduced (0.68x) finder image, and covers as much as shown by the M9's 75mm frame lines! The Contax G2 gives perfect framing, and enlarges the 90mm-framed image to 1.14x so I can see what I'm doing.
I never can get the G2's finder perfectly sharp, regardless of the diopter adjustment. It is a very complex finder with a lot of prisms.
The finder has healthy barrel distortion at 28mm and mild pincushion at 90mm.
I find the LCD backlight too bright in dark conditions. It does vary with ambient light, and it's perfect in the daytime and most of the time.
There is a + and a - to show exposure compensation, or if the G2 is about to make a + or - bracket.
When setting Exposure Compensation, the finder only shows + or - (no digits), so you set the exact amount by feel. It's easy, and at zero, there is a mechanical detent and the + and - marks go away in the finder.
The finder shows manual or automatically-set shutter speeds.
The manual meter is an up and a down arrow, both of which show at perfect exposure.
There is an in-finder analog focus distance scale. You also can get a digital focus distance display as covered in using the AF system.
The analog focus scale reads backwards, with infinity on the left and 0.5 meters on the right.
The 0.7m and 0.5m parts of the analog bar graph turn off when using the 90mm or the 35-70mm zoom, since they only focus to 1m.
Metering and Exposure top
Exposure is measured through-the-lens, as reflected from the gray shutter curtain.
The camera's only way to alter exposure is with shutter speeds. The G2 has no control over apertures. The G2, like Leicas, has no clue of your set aperture, so you won't ever need to see it in the finder. Apertures are always set manually, which is easy to do, even by feel in the dark, with dedicated aperture rings on every lens.
The lens is always stopped down to the taking aperture manually, meaning that the G2 compensates for all filters and any inaccuracies in diaphragm calibration.
Light is measured before the shutter opens; it doesn't read off the film during exposure (except for the TTL flash meter).
Only with the 16mm lens, the exposure is measured from a hole on the outside of the G2 body.
The lower-center-weighted TTL meter is perfect. There is no matrix or evaluative system, so you'll need to be good with exposure locking and compensation with slide film. Know your Zone System.
I get the best results setting an ASA (ISO) one-third of a stop faster, or ISO 64 for ISO 50 film like Fuji Velvia 50.
In Auto, the meter reads from 16 seconds to 1/6,000 regardless of your set f/stop or filters.
The meter is only specified to read down to 2 seconds at ISO 100, but reads much lower.
It reads to 16 seconds at ISO 400, but the meter's own self-noise limits it to 11 seconds at ISO 800 and 1.4 seconds ISO 6,400.
16 seconds at f/2 at ISO 100 is LV -2.
16 seconds at f/2 at ISO 400 is LV -4.
For longer times, read wide-open and calculate longer times in your head for a stopped-down lens.
Flash top
Live TTL of-the-film metering with any Contax TLA flash.
1/200 (actually 1/180) sync.
In AUTO, the G2 uses anywhere between 1/60 and 1/200 as it sees fit.
Flash exposure works well with flash as the only source of light, but fill-flash works poorly. Contrary to Contax' claims in their users' manual, fill-flash gives arbitrary results.
Film Economy, Loading and Handling top
I get 37 frames on a 36-exposure roll.
The G2 loads fast: pop open the back, pull the leader to the right, and you're done. The G2 auto loads and immediately advances past the first two wasted frames that I could shoot with simpler cameras.
I could load and shot a whole roll in the G2 before I'd even finish loading my LEICA M7.
The G2 rewinds a 37-exposure roll in 15 seconds.
Since the G2 can run at 4FPS, single shots are advanced instantly. There is no half-second of groaning as in a LEICA M9; with the G2, snap and you're already set for the next shot.
Power and Current Draw top
I get about 10-20 rolls of 36 on a pair of tiny CR2s. I tend to crank the AF in and out a lot by pressing the MF button in AF-S mode to be sure I've hit the right distance; I'd probably get twice the battery life if I simply pointed and shot.
The G2 uses all the power a CR2 has in it. When the G2 says it's dead, it's dead, unlike other cameras that go dead with unused energy in the batteries.
The battery warning icon on the top LCD isn't very helpful, since I rarely look at the top LCD. I can be shooting, and all of a sudden, I'm completely dead.
There is no in-finder warning.
With batteries that test as only 10% on the ZTS tester, they will read OK at ON, and then show a warning after a few shots.
Measured current drains:
OFF: 16.5uA.
IDLE: 22.5uA, in AEL with LCD and meter off.
Meter ON: 75mA.
Shutter Open (bulb or longer exposures): 90mA.
AF operation, and opening and closing of shutter: 300mA or more (peak).
Continuous running CH mode (no film): 600mA.
CR2s are rated for 700- 850mAh, which means figure about 10 hours open at BULB.
Recommendations top
Intro Specs Performance Recommendations
Get one.
The G2 is one of the best 35mm cameras ever made, and today they are bargains.
Lenses
Another great thing about the G2 is that every lens is wonderful.
Contax makes only a few lenses for the G2, they are exactly what you need, and their performance is the best there is in 35mm.
Another benefit of the unique Contax G mount is that there is no third-party garbage floating around. When you shoot a Contax G2, you'll always have Zeiss power shooting for you, You'll never be tempted by junk from Sigma, Voigtländer or Tamron.
In fact, the biggest problem is that these Zeiss lenses are so extraordinary that Leica users try to convert them for use on Leicas, forever removing them from the ability to work on the superior Contax G2 or future COntax G3 full-frame digital.
Straps
The best strap to use is Leica's regular strap.
It's just the right size and weight, it comes on and off in an instant, and it can't fail and drop your camera unexpectedly.
The Future
The Contax G2 is a far better performing camera than the LEICA M9.
I welcome the day when Kyocera comes back from out of nowhere and astonishes us with the Contax G3 Digital full-frame camera.
Kyocera stills hold the trademark license from Zeiss.
My LEICA M9 would hit the big blue donations bin at Goodwill so fast that it would be deafening.
More Information
Ken Rockwell's Contax G2 User's Guide
The Contax G2 Compared to the Leica M7
Shooting the Contax G2 Digitally
Rangefinder versus SLR cameras
Help me help you top
I support my growing family through this website, as crazy as it might seem.
If you find this as helpful as a book you might have had to buy or a workshop you may have had to take, feel free to help me continue helping everyone.
If you've gotten your gear through one of my links or helped otherwise, you're family. It's great people like you who allow me to keep adding to this site full-time. Thanks!
If you haven't helped yet, please do, and consider helping me with a gift of $5.00.
The biggest help is to use these links to Adorama, Amazon, Calumet, Ritz, J&R and when you get your goodies. It costs you nothing and is a huge help to me. eBay is always a gamble, but all the other places have the best prices and service, which is why I've used them since before this website existed. I recommend them all personally.
Thanks for reading!
Ken
Home Donate New Search Gallery How-To Books Links Workshops About Contact
2010 March 20 E100G roll 8347:
90 chrome 761 best. 775 almost as good. Black 792 worst, but still mostly OK.