Casio EX-F1
60 FPS !
© 2008 KenRockwell.com. All rights reserved.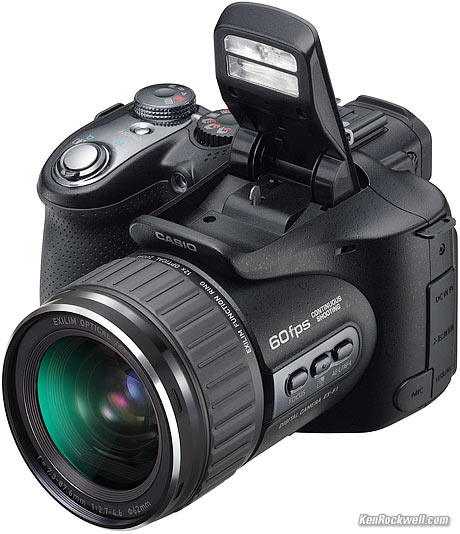 Casio EX-F1. enlarge. Casio isn't allowing any legitimate dealer to sell it online. It's in stock at Adorama for about $999.95, but you have to phone (888) 876-1580 to get it. Their SKU is ICSEXF1B.
More Casio tests.
April 2008
The $1,000 EX-F1 was introduced at the beginning of 2008 and became available in March 2008. The EX-F1 claims to shoot at a real 60 full-resolution still-frames-per second, as well as stereo HDTV movies. It also can run at 1,200 FPS in a movie mode, which is insane. It has a 12x zoom and shoots at 6 Megapixels at 60 FPS, more than adequate for great prints of any size.
The EX-F1 has a 60 frame buffer, and can run from 1 FPS to 60 FPS at full 6MP resolution. (It can run even faster at reduced resolution!) That means it shoots at up to 360 MP/s, which is over three times the pixel rate of the $5,000 Nikon D3 (109 MP/s) and the $5,000 Canon 1D Mk III (100 MP/s). The Nikon and Canon have longer continuous shooting times, but the EX-F1 still beats them on frame rate and temporal-spatial resolution product. (Multiply the frame rate by the resolution to get pixel rate: 10 MP at 10 FPS = 100 MP/s, for instance.)
The EX-F1 is not a DSLR (It has no reflex mirror or direct viewing), but it may or may not be suitable for sports. I can't wait to see. Of course you're going to need potent software to sort through all the images!
But wait - the EX-F1, like many Casios, can run in a continuous buffer mode, so that it is recording images continuously, so it will save the images captured just before you press the shutter! This compensates for our own cognitive delay!
A very clever built-in sorting mode allows you to see the images quickly after they are captured, and save the ones that are relevant. This just eliminated the need for exotic sorting software!
It has an automatic shutter which can be set to shoot when hand shake stops, or a smile happens. I can't wait to try this one!
The traditional xenon flash runs at up to 7 FPS, and the continuous LED light works at up to 60 FPS.
This potentially opens up new avenues in practical ultra-high-speed photography. I'd doubt this is fast enough for anything other than traditional powder-based weapons design, but I know I've never been about to shoot above 60 FPS with anything. Hollywood movies are only projected at 24 FPS.
At above 60 FPS, the EX-F1 shoots at reduced resolution: 512 x 384 @ 300 FPS, 432 x 192 @ 600 FPS and 336 x 96 @ 1,200 FPS.
The maximum shutter speed is 1/40,000.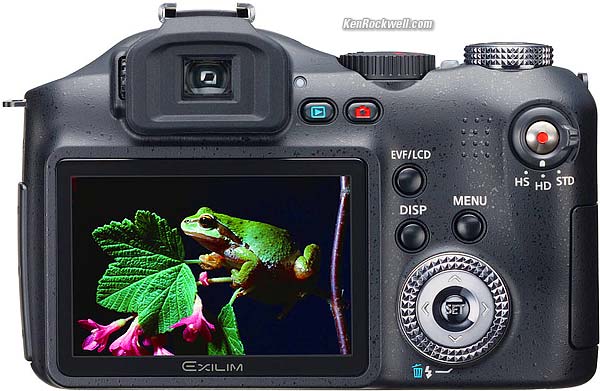 Casio EX-F1
Lens: 12x optical zoom 7.3~87.6mm f/2.7~4.6, or as we say in TV, 7.3x12. 35mm still photo equivalent: 36~432mm.
Optics: 12 elements in 9 groups, including an aspherical element.
Filter Size: 62mm.
Shutter: CMOS electronic and mechanical: 1~1/2,000 in program and aperture priority modes. 1 minute to 1/40,000 in manual and shutter-priority modes, which is way beyond any digital still camera from Canon or Nikon even at eight times the price.
ISO: Auto, 100, 200, 400, 800 and 1,600.
Optical Viewfinder: NO.
Image Sensor: 6MP; larger 1/1.8" size.
Stabilization: Moving sensor.
Still Image Sizes: 2,816 x 2,112 native. Also many other smaller sizes.
Still Image File Formats: RAW and JPG.
Moving Image Formats: Standard 640 x 480 @ 30 FPS, also 720p and 1080i 16:9 HDTV. High-speed movies at 512 x 384 @ 300FPS, 432 x 192 @ 600 FPS and 336 x 96 @ 1,200 FPS.
Movie File Format: MOV H.264. Don't laugh: I know a Hollywood time-lapse cinematographer who delivers his work to studios for incorporation into major motion pictures as MOV files.
More Information: Casio.
PLUG
If you find this as helpful as a book you might have had to buy or a workshop you may have had to take, feel free to help me continue helping everyone.
It also helps me keep adding to this site when you get your goodies through these links to Ritz, Amazon and Adorama here, here and here. I use them and recommend them personally .
Thanks!
Ken