Canon EOS-1D Mark-II Test Review
© 2004 KenRockwell.com
about these reviews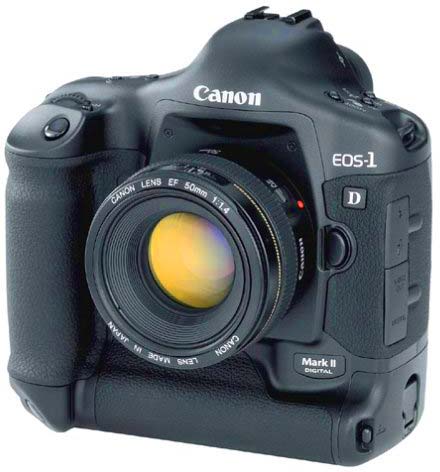 INTRODUCTION
Announced February 2004 at PMA, this is the hottest pro digital camera from Canon in 2004. The 1Ds and 1Ds-II are less popular due to their higher costs.
I prefer the 20D for it's lighter weight and three-for-one pricing, but that's personal. The 20D makes the same quality images. If you're a full time pro, fine, but if you're paying for this yourself I'd suggest the 20D for one third the price.
SPECIFICATIONS
8.5FPS, 1.3x magnification factor, 8MP, $4,500
PERFORMANCE
Like most things from Canon it works great. It's more difficult to operate than the Nikons for me, a big drawback. Although it would get easier with experience, Canon still uses cryptic icons for important basics like file size instead of being to the point as Nikons are.
Watch the flash performance. My friends own several 1D-MkIIs and they HATE the poor flash exposure control almost to wanting to go back to Nikon. The flash performance they find worse than the obsolete Nikon D1X they used to use, which really bothers them. This means they always have to tweak with the flash settings to get a decent result. By comparison the Nikon D70 is much better than the D1X.
RECOMMENDATIONS
This is what you use to shoot sports professionally with Canon in 2004. If not, the 20D for a third the price offers 100% of the image quality and 60% of the frame rate for 33% of the price.
I prefer the metering and weight of my cheap little Nikon D70 for what I do. To each their own.