Home Donate New Search Gallery Reviews How-To Books Links Workshops About Contact
Tektronix 764
Digital Audio Monitor (1995-2009)
© 2012 KenRockwell.com. All rights reserved.
Intro Specs Usage Measurements More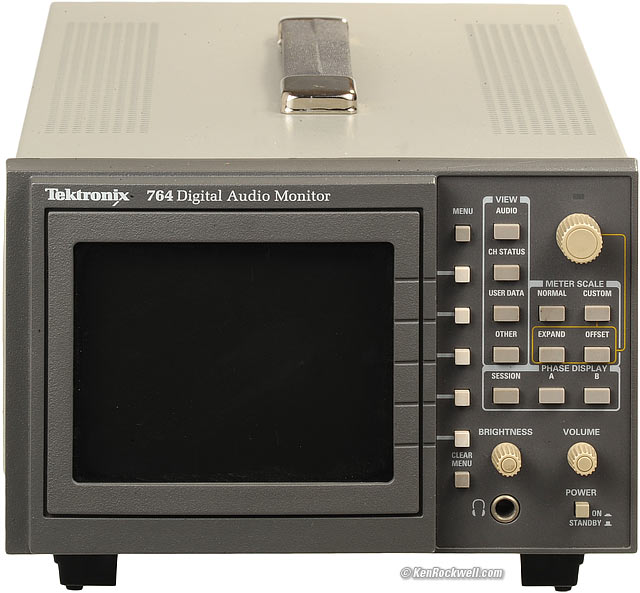 Tektronix 764. enlarge.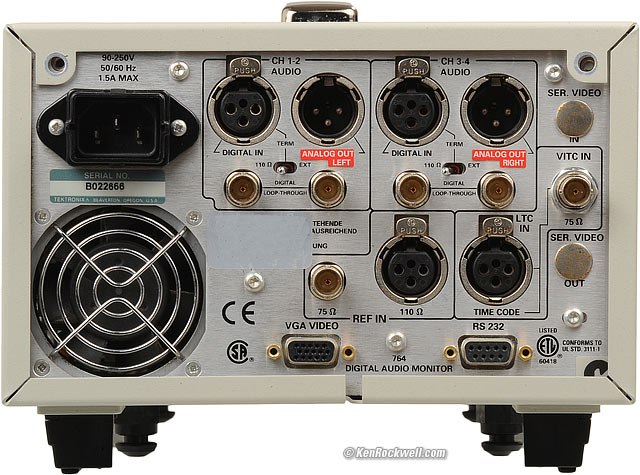 Back, Tektronix 764. enlarge. This free website's biggest source of support is when you use these links, especially this link directly to them at eBay (see How to Win at eBay), when you get anything, regardless of the country in which you live. Thanks! Ken.
March 2012 Audio Reviews All Reviews
Introduction top
Intro Specs Usage Measurements More
The Tek 764 is an extremely popular and practical digital audio monitor. It fits in any of the Tektronix 1700Fxx half-rack slide-in cases along with the Tek waveform monitors.
It sold for $5,000 - $7,000 new, and sells for about $300 used today.
If you are only monitoring two channels, the third and fourth channels can be set to look at the sum and difference of the first two channels.
It is an incredibly handy device for monitoring the real levels you're putting into or getting from a recording. It reads and logs many kinds of peak, PPM, average and VU levels, with enormous flexibility. It's easy to change the scales with dedicated front-panel buttons, and reads to fractions of a dB on the bar graphs.
Not shown in my studio-strobe photo above is that all the function lables above the buttons are backlit with LEDs when selected. The 764 is designed for use in dark studios.
You can set it to read the real (interpolated) levels of the actual audio signals represented by your digital data, or dumb it down to read only the (non-interpolated) digital sample values to match less-advanced meters.
Its headphone jack is loaded with plenty of level, and the volume control is fast, precise and tracks extremely well.
This 764 is unbeaten in being a very flexible real-time level and phase monitor, as well as identifying and logging peaks, clips and errors. It reads subchannel codes and has a Lissajous display, complete with auto level control. It also displays how many bits are active, up to 24.
It has a very high quality, 0.5% linear, 5,000 K monochrome raster-scanned CRT display. Tek paid extra for the linear CRTs so that the lines stayed straight, something a regular CRT would not have done
There is also a VGA output. Plug it into any VGA display, and you'll get the most glorious real-time color display you've ever seen.
Options
The 764 had two options available.
Option 02, analog audio line output, was extremely popular. It presents analog audio at the read male XLR connectors instead of the loop-through AES output. We at Tek developed this when customers demanded it after having to feed audio back into the rack from the headphone jack.
A less popular option is option 01, the ability to monitor digital audio embedded into a SMPTE 259M serial digital video signal.
Cases
The 764 is shipped without any sort of case. Your choices are:
Plain metal sleeve for use in custom installations: 1700F00
Dual Rack-Mount Case Room for two 764s): 1700F05.
Portable Case with Handle and Feet: 1700F02.
History
"764" comes from adding "4" to the model number of the prior Tek analog audio monitor from the 1980s, the Tek 760.
I was the Tektronix salesman in Hollywood, hired for the 764's introduction in 1995. I personally sold a zillion of these along with companion analog or digital video waveform monitors.
Professionals bought these by the pallet load, especially for use in monitoring television audio. The 764 lets inexperienced people see and automatically log if channels are muted, clipped or out of phase, leading to cancellation on mono TVs.
The only complaint we had was from very high-end mastering applications, where people spent hundreds of thousands of dollars making an NC25 (very, very quiet) studio, and discovered that the 764 has a cooling fan! These folks then mounted the 764 in the machine room and brought a remote VGA monitor back into the studio. Others mounted a fan remotely and plumbed a hose. Tek secret: being so crazy about reliability, we ran an 764 in our lab for a few years in our lab without a fan to see what would happen, and it ran fine. Don't do this today, because while Tek services the 764 in 2012, they aren't making any more, so be careful with what you have.
The only design flaw, which was obvious when I sold them new and loaned my sample out, is that the front-panel controls use plastic shafts, so the knobs break off. Tek can still replace these in 2012.
The 768
The 764 was replaced in the 2000s by the Tek AMM 768. Tek made and showed secret prototypes of an eight-channel version of the 764 with a color LCD in the early 2000s, but Tek decided not to make it since it cost as much as two 764s, so it wasn't worth it. The Tek AMM 768 came out after I left Tek in 2004.
Specifications top
Intro Specs Usage Measurements More
See the Tektronix 764 Sales Flyer.
Usage top
Intro Specs Usage Measurements More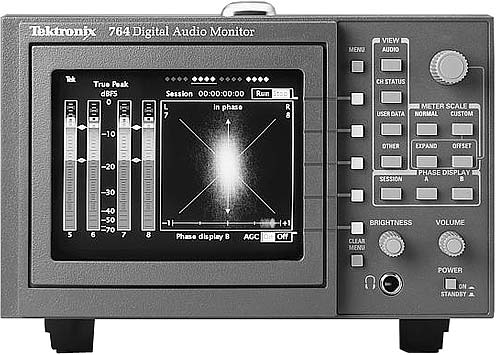 Power is universal, 90-250 VAC 50-60 Hz.
Be sure to run it in a case. If you don't,not only might you kill yourself with high voltage, it won't meet EMI and RFI requirements.
Always be sure to use the two screws at the back of each case that keeps the 764 from sliding out. My photo at the top is missing these screws, don't do this! If you don't and carry it around in the portable case, it will slide out from the front and fall on the ground!
It accepts two AES XLR and/or coaxial digital (BNC, easily adapted to RCA) stereo pairs, thus it monitors 4 channels of audio. Digital audio inputs are passive loop-through, meaning the 764 can be inserted in a signal line and pass the signal unaltered — even with its power off. If you're a consumer, you'll use an RCA to BNC adapter, and be sure to use a 75 Ω terminator on the loop-through output to terminate the line.
There's a trick service mode buried in the menu system which lets you read levels to a hundredth of a dB.
Since it's a real CRT, it will burn-in and burn-out. Keep the brightness down if you're not using it.
As a piece of top-notch professional broadcast gear, it's designed to be left running 24/7/365 for decades on end.
Measurements top
Intro Specs Usage Measurements More
Headphone Output
Unloaded: 8.32v @ 0.0025% THD.
600 Ω: 6.459v 0.0025%.
300 Ω: 5.545v 0.0025%.
1.9406 dB drop at 600 Ω = 150.2 Ω output source impedance.
3.524 dB drop at 300 Ω = 150.11 Ω output source impedance.
Balanced Outputs
13.705v @ 0.003% THD (unloaded?).
Channel Tracking
±0.05dB.
Gain control is via a control voltage from a knob that doesn't spin. There is what works like a low-pass filter on the control signal from the knob, so audio level takes a fraction of a second to catch up to the knob's position.
"Zero" on the volume knob is -64 dB maximum audio attenuation, not infinite.
As Measured with the R&S UPL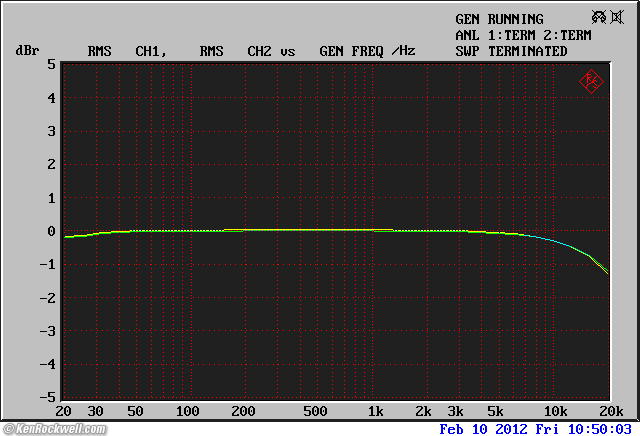 Frequency Response, Headphone output, 200 kΩ load.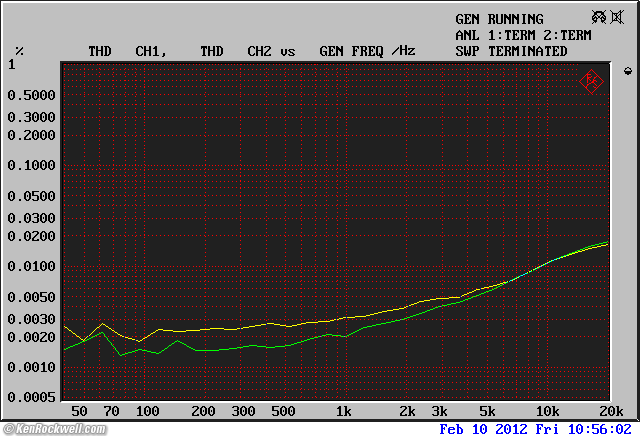 THD, Headphone output, 0 dBFS at full volume (8.32 V RMS), 200 kΩ load.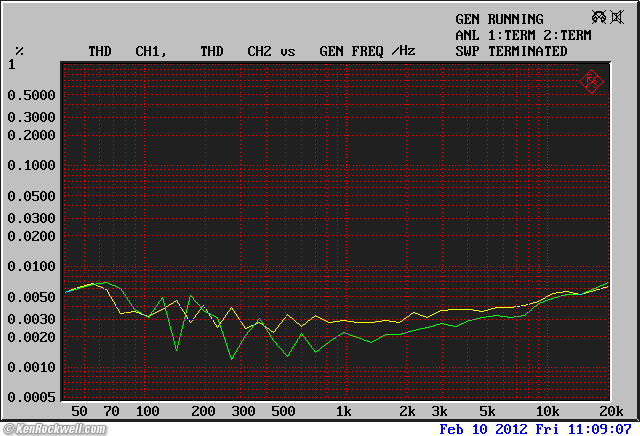 THD, Headphone output, 600 Ω load at 1 V RMS.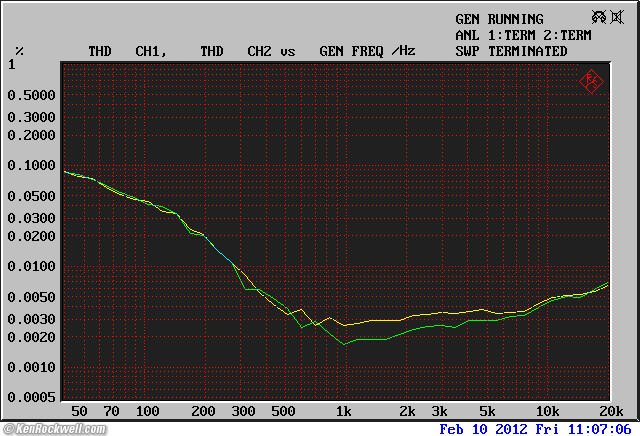 THD, Headphone output driving Beyer DT880 (600 Ω) at 1 V RMS.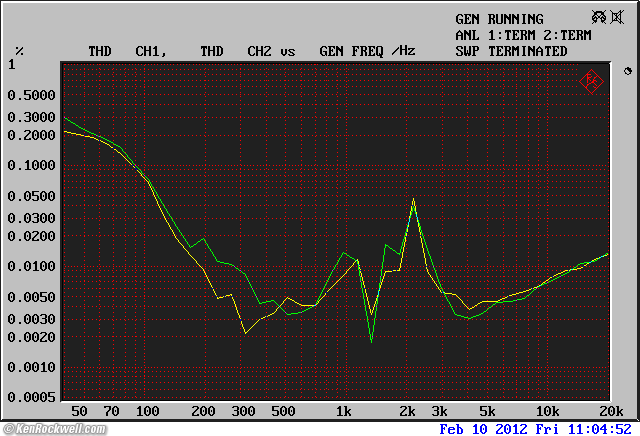 THD, Headphone output driving Ultrasone Edition 8 (32 Ω) at 100 mV RMS.
As expected for its 150 Ω source impedance, low-frequency THD climbs.
More Information top
Intro Specs Usage Measurements More
Service Manual: part number 070-8810-00.
Help me help you top
I support my growing family through this website, as crazy as it might seem.
The biggest help is when you use any of these links to Adorama, Amazon, eBay, Ritz, Calumet, J&R and ScanCafe when you get anything, regardless of the country in which you live. It costs you nothing, and is this site's, and thus my family's, biggest source of support. These places have the best prices and service, which is why I've used them since before this website existed. I recommend them all personally.
If you find this page as helpful as a book you might have had to buy or a workshop you may have had to take, feel free to help me continue helping everyone.
If you've gotten your gear through one of my links or helped otherwise, you're family. It's great people like you who allow me to keep adding to this site full-time. Thanks!
If you haven't helped yet, please do, and consider helping me with a gift of $5.00.
As this page is copyrighted and formally registered, it is unlawful to make copies, especially in the form of printouts for personal use. If you wish to make a printout for personal use, you are granted one-time permission only if you PayPal me $5.00 per printout or part thereof. Thank you!
Thanks for reading!
Mr. & Mrs. Ken Rockwell, Ryan and Katie.
Home Donate New Search Gallery Reviews How-To Books Links Workshops About Contact