Home Donate New Search Gallery Reviews How-To Books Links Workshops About Contact
Bose CineMate
Self-Powered TV/Movie Sound System
© 2013 KenRockwell.com. All rights reserved.
Intro Specs Performance Usage Recommendations More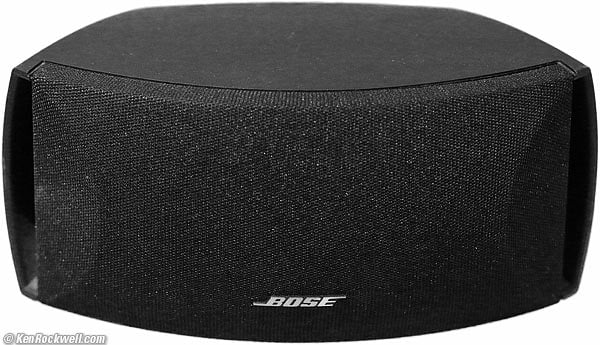 One of two included main speakers. Each contains two small full-range drivers angled to the sides, measures about 8"(20 cm) wide and weighs about 3 pounds (1.2kg). The complete system includes a subwoofer with internal amplifiers for everything and sells for about $500 new or about $250 used, if you know How to Win at eBay.
September 2013 Audio Reviews Bose Reviews All Reviews
Introduction top
Intro Specs Performance Usage Recommendations More
The Bose CineMate II is a complete sound system for movies, DVD, Blu-Ray, Netflix and TV. I use this in my kid's TV room, and their DVDs and Netflix always sound astoundingly good.
The complete Bose CineMate II system includes two small main speakers, one woofer module, one small remote control receiver, one small infrared remote control, and a set of plug-in speaker cables. The bass module houses three power amplifiers and the magic DSP that reproduces 5.1 sound from the two small speakers.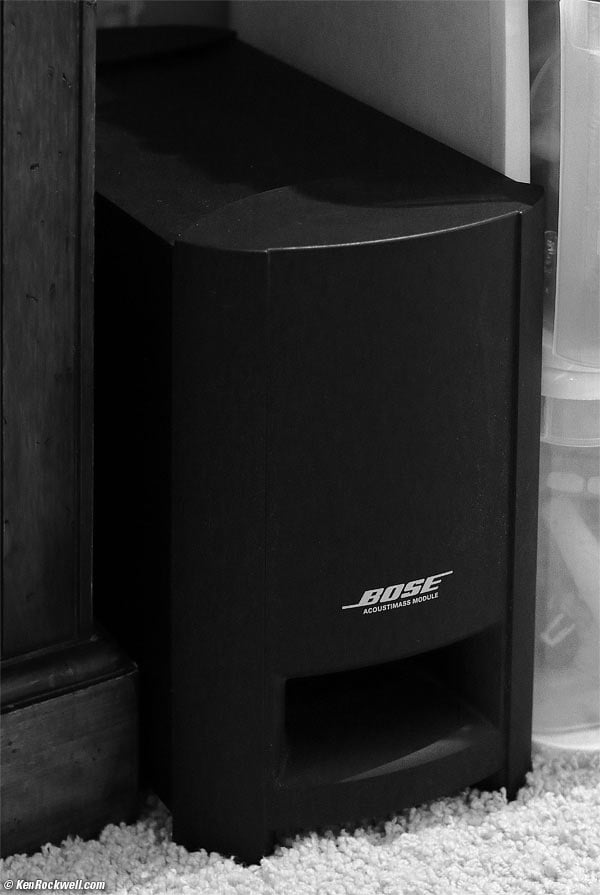 The Bose CineMate Acoustimass Module (woofer), about 8.75" wide by 14.5" tall by 19.125 " deep and 23 pounds (about 22 x 37 x 48 cm and 11 kg). Inside it are the power amplifiers and processors.
| | |
| --- | --- |
| | |
| | Remote receiver (Interface Module), about 3"/8cm wide. |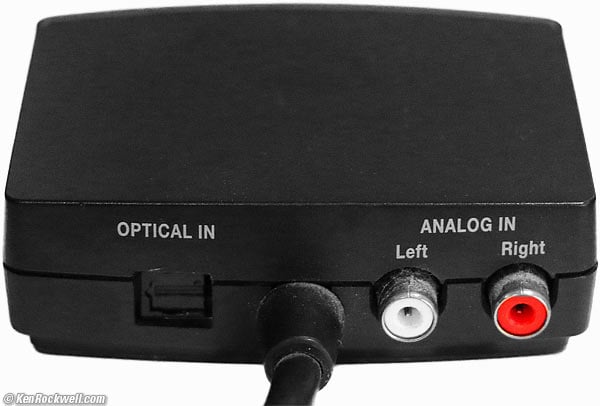 Rear of remote receiver, showing the two inputs. The TOSLINK input decodes 5.1 if you want.
Because the speakers are separate, they produce far more enveloping sound than any sound bar, and the CineMate is much less expensive. The CineMate system sounds fantastic for cinema, with exceptional dialog clarity, enveloping spatial sound and strong, clean bass. You can spend a lot more and get a lot less!
The CineMate system excels for anywhere you want great sound with no installation hassles. It sets up in seconds. Plug the woofer into the wall, plug the remote receiver cord into the woofer and place the receiver under your TV. Put each main speaker on a shelf on either side of your screen, and plug the speaker wires into the back of the woofer. Plug either a stereo RCA cord or a TOSLINK cable from your TV or player into the back of the remote receiver, and you're done.
I place my speakers on the furniture; you're welcome to buy stands or brackets and install them more formally — but that's optional. I don't bother.
Versions
There are two versions.
The version I own and show here is the CineMate II, introduced about 2005. It has the tiny remote control.
The newer CineMate GS Series II, introduced in about 2009, uses even smaller "Gemstone" (GS) speakers and includes a giant universal remote control no one will ever figure out.
As far as I know, they are otherwise the same systems and either works with either remote control.
I am reviewing the original CineMate II here.
Specifications top
Intro Specs Performance Usage Recommendations More
Cable lengths
Speaker cables (special connectors): 15 feet (4.6 m).
Remote Receiver (special connector): about 6 feet (2 m).
Power cord (standard): 8 feet (2.5 m).
Sizes
Speakers
3.5"H x 7.875"W x 5.25"D (87 x 199 x 136 millimeters) HWD.

Woofer (Acoustimass module)
14.5" x 8.75" x 19.125" (367 x 222 x 485 millimeters) HWD.
Weights
Speakers
2.7 lb (1.2 kg) each.
Woofer (Acoustimass module)
23.3 lb (10.6 kg).
Quality
Made in North America (sunny México.)
Power Consumption
Power Consumption is the power drawn from the wall, not the power delivered to the speakers.
When playing at normal levels, the entire system draws only about 10 watts of power from the wall, perfect for people running from solar power on a sailboat, for instance.
Rated
300 W Maximum.
Actual Measured Power Consumption
Less than 100 milliwatts when plugged in, but turned off.
8.6 watts (150mA) when on, but not playing.
12 watts (180 mA) when playing mezzo forte (medium loud).
15 to 20 watts when played forte (loudly).
25 watts when played Fortissimo (very loudly).
75 watts (1 A) maximum average power consumption when playing music as loud as it would go — which was deafening.


Performance top
Intro Specs Performance Usage Recommendations More
Bose does what it does very well. As expected, the CineMate II system is voiced perfectly for cinema. Voices are extremely clear, making it easy to hear subtle nuances in dialog.
Spatially, the sound floats all over as it should. Rear-panned sound doesn't usually go behind you, but it's still far better than any sound bar I've heard.
The bass is strong and solid, and there is plenty of room to turn it up further with the level knob on the woofer.
The clear dialog and solid and not-too-thumpy bass is perfect for movies. It's voiced like many cinema venues.
It's trivial to plug an iPod or any other music course into it as well. It plays super-loud and has great bass, but it's not great for Hi-Fi eyes-closed careful music listening. It has some distortion audible in much of the range on pure tones, possibly added deliberately as part of the efforts to clarify dialog, and the voicing isn't great for serious music — but if you're having a party, it runs circles around any iPod dock.
Crossover is about 150 Hz.
The woofer is smooth, strong and solid down to 41 Hz. It covers the complete traditional music range evenly. Bass notes are wonderfully disctint, each with its own pitch and they sound staccato (detached and separate) if played staccoto. This is much better than many other home subwoofers that just boom the same note all the time due to too much resonance.
Usage top
Intro Specs Performance Usage Recommendations More
Installation
Installation and the remote control is simplicity itself, as covered above. I pop the speakers close to the side walls, far away from my screen, for the widest sound. Bose suggests not letting them get too far away from your screen. In any case, leave the speakers pointed straight ahead, don't point them towards the center of the room. Bose intends for the sound to bounce all over.
Only one input can be used. The CineMate automatically selects whichever you're using: either the stereo RCA inputs or the TOSLINK connector.
There is plenty of cable provided. Bose is generous, but you will need to provide your own TOSLINK cable if you use one.
Operation
There is only one input, either the RCA or TOSLINK input (use only one). To switch among different sources, feed your CineMate from your TV or other device that selects what you're watching. If this source also controls the volume, you could turn up the volume with the CineMate remote and then use only your main remote.
There are no decoding mysteries; plug-in a TOSLINK cable (not included) and the CineMate system figures out if it's stereo or 5.1, and decodes it accordingly without you having to screw with anything. If it's 5.1, DSP synthesizes phantom center and rear speakers.
The biggest weirdness is that the CineMate's remote control system cannot be programmed to respond to your existing remote control. Therefore you always have to use the Bose remote control to set the volume or turn it on or off, meaning you now have one more remote control to have to find just to change the volume.
If you get the larger Bose universal remote, it can be programmed to control most of the rest of your system so you can throw away your other remotes, but I don't know of anyone who has actually been able to figure out how to do this. Therefore, I prefer the tiny remote that I can understand.
Recommendations top
Intro Specs Performance Usage Recommendations More
I love our CineMate system. I don't know about you, but I don't have a weekend to spend stringing wires, bolting speakers to the wall and screwing around with a hundred idiotic menu options on a receiver just to get it to sound right. I just plugged in our CineMate, and it sounds great!
Sure, you can pay more for something like the Acoustimass 16 we also own, and you'll get somewhat better sound — but you'll spend at least a weekend trying to install it (or pay someone to) and configure a receiver get it to go. The CineMate is ideal for just installign and enjoying big sound immediaitly.
If you've found my research helpful, this free website's biggest source of support is when you use those or any of these links when you get anything, (especially these links to the CineMate at Amazon or at eBay) regardless of the country in which you live — but I receive nothing for my efforts if you buy elsewhere. I'm not NPR; I get no government hand-outs and run no pledge drives to support my research, so please always use any of these links for the best prices and service whenever you get anything. Thanks for helping me help you! Ken.
More Information top
Intro Specs Performance Usage Recommendations More
Bose's Cinemate II owner's manual
Bose's Cinemate Series II GS owner's manual
Help me help you top
I support my growing family through this website, as crazy as it might seem.
The biggest help is when you use any of these links when you get anything, regardless of the country in which you live. It costs you nothing, and is this site's, and thus my family's, biggest source of support. These places have the best prices and service, which is why I've used them since before this website existed. I recommend them all personally.
If you find this page as helpful as a book you might have had to buy or a workshop you may have had to take, feel free to help me continue helping everyone.
If you've gotten your gear through one of my links or helped otherwise, you're family. It's great people like you who allow me to keep adding to this site full-time. Thanks!
If you haven't helped yet, please do, and consider helping me with a gift of $5.00.
As this page is copyrighted and formally registered, it is unlawful to make copies, especially in the form of printouts for personal use. If you wish to make a printout for personal use, you are granted one-time permission only if you PayPal me $5.00 per printout or part thereof. Thank you!
Thanks for reading!
Mr. & Mrs. Ken Rockwell, Ryan and Katie.
Home Donate New Search Gallery Reviews How-To Books Links Workshops About Contact