iPhone 5S Audio Quality

I'd get the iPhone 5S at Amazon or at this link directly to them at eBay (see How to Win at eBay).
This ad-free website's biggest source of support is when you use those or any of these links to approved sources when you get anything, regardless of the country in which you live. Buy only from the approved sources I use myself for the best prices, service, return policies and selection. Thanks for helping me help you! Ken.
January 2017 audio reviews   Apple   headphones tube amps all reviews
Introduction
These are measurements of the 3.5mm analog audio output of the iPhone 5S playing signals in its Music app.
Few people realize that Apple iOS devices have some of the best audio digital-to-analog converters and low-impedance headphone amplifiers available at any price.
Here are some quick measurements of my iPhone 5S made in my laboratory with a state-of-the-art Rohde & Schwarz UPL audio analyzer.
Frequency Response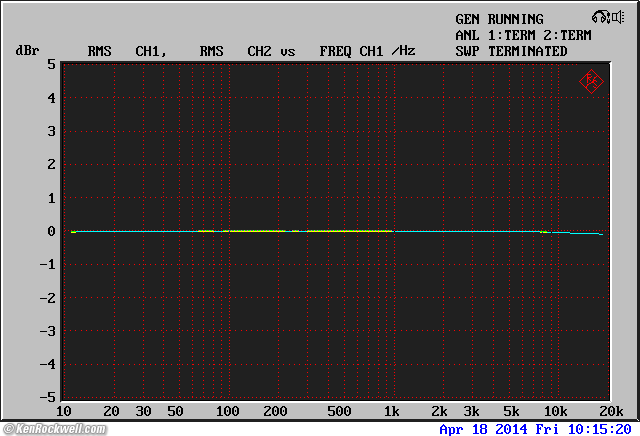 As you can see, frequency response is ruler-flat from at least 10 Hz to over 20,000 Hz.
Let's increase the vertical sensitivity by five times and see if we can see anything amiss: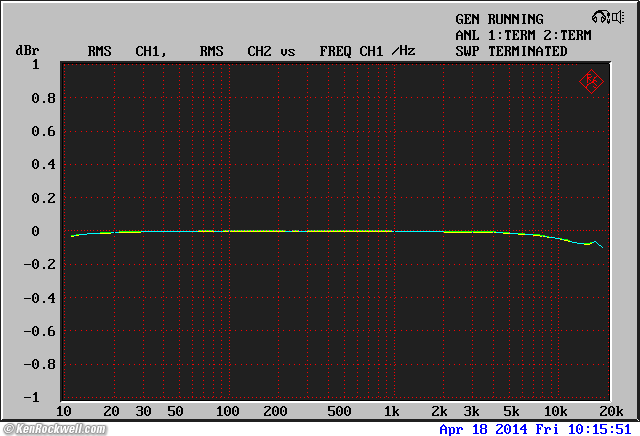 Nope, still flat.
Let's increase the sensitivity again by five: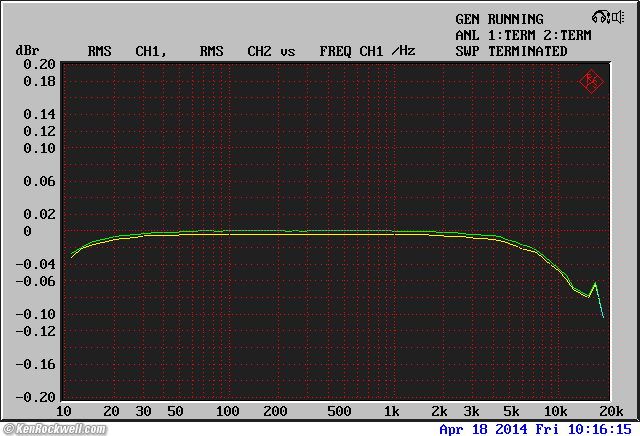 Wow, this is as flat as audio devices get. The iPhone still has flatter response than most audio analyzers!
Harmonic Distortion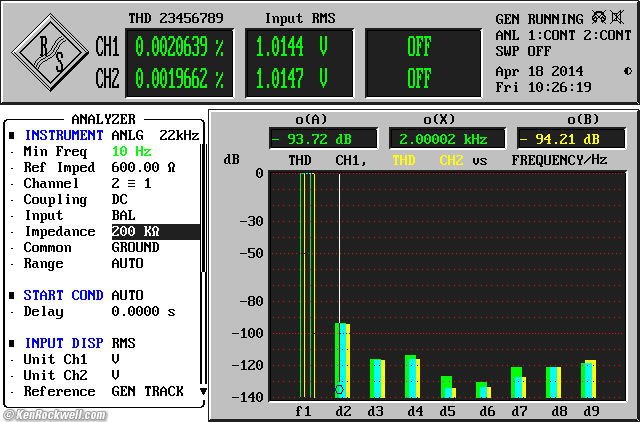 0.002% THD and harmonic distortion components at 1 kHz at 0 dBFS into 200KΩ at maximum output level.
The harmonic distortion is mostly second-order, just like a tube amplifier. Bravo!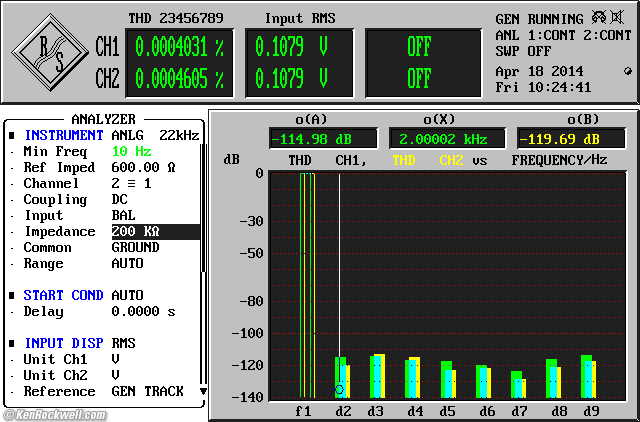 0.00043% THD and harmonic distortion components at 1 kHz at -20 dBFS into 200KΩ at maximum volume setting.
Wow, almost nothing in audio is this clean: 0.00043% THD is unheard of. This is at -20 dBFS where much of the music lies.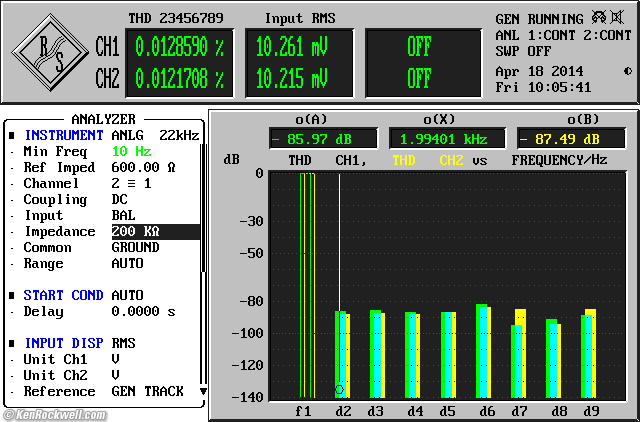 0.0125% THD and harmonic distortion components at 1 kHz at -40 dBFS into 200KΩ at maximum volume setting.
This is at a very low recorded level; a level so low that almost nothing is recorded this low except for some sections of classical music, and the THD is still well below any audible level with actual music.
The measurements above are into a 200kΩ load, meaning this is what you'll see using the iPhone 5S as a line-level source into your HiFi system.
Let's see what it does driving 300Ω typical for a very high quality home headphone: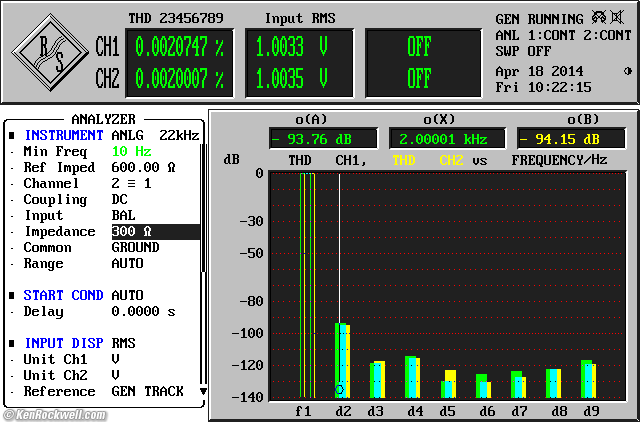 0.002% THD and harmonic distortion components at 1 kHz at 0 dBFS into 300Ω at maximum output level.
The THD is just as low as into 200kΩ and harmonic distortion again is mostly second-order, just like a tube amplifier. Bravo!
Into 32Ω
I didn't make measurements here into 32Ω, but when I have, it's also extremely good.
The iPhone 5S has an output source impedance of an ohm or so, making it better than most exotic headphone amplifiers with higher output source impedances.
Higher output source impedances lead to frequency response imbalances caused by the varying real impedance of actual headphones with frequency, and also leads to low-frequency distortion when driving real headphones.
The ultra-low output source impedance of the iPhone 5S is so low as to stop any of these potential problems.
Analysis & Recommendations
As expected, the analog audio output of the iPhone 5S is extraordinarily good. Apple has more smart people and more resources than any other audio company on the planet, so as we see when it comes to audio engineering, the iPhone easily outdoes many so-called "audiophile" products.
For enjoying music, you will probably get poorer performance if you waste your time and money with outboard DACs or headphone amplifiers; the iPhone already has the best there is.
Why do commercial audio magazines tout external DACs and amplifiers? Because that what their advertisers are trying to sell!
The only reason to get an outboard headphone amplifier for use with the iPhone 5S is if you have high-impedance (100Ω or greater) headphones which may require more voltage output than the 1V RMS from iOS devices. In this case, you still don't need a DAC; the analog output from the iPhone will probably be better than that from an outboard DAC.
© Ken Rockwell. All rights reserved. Tous droits réservés. Alle Rechte vorbehalten.
Help Me Help You
I support my growing family through this website, as crazy as it might seem.
It cost me over $3,000 to have my UPL calibrated, and the UPL sold for $50,000 when new. These reviews aren't cheap for me.
The biggest help is when you use any of these links when you get anything. It costs you nothing, and is this site's, and thus my family's, biggest source of support. These places always have the best prices and service, which is why I've used them since before this website existed. I recommend them all personally.
If you find this page as helpful as a book you might have had to buy or a workshop you may have had to take, feel free to help me continue helping everyone.
If you've gotten your gear through one of my links or helped otherwise, you're family. It's great people like you who allow me to keep adding to this site full-time. Thanks!
If you haven't helped yet, please do, and consider helping me with a gift of $5.00.
As this page is copyrighted and formally registered, it is unlawful to make copies, especially in the form of printouts for personal use. If you wish to make a printout for personal use, you are granted one-time permission only if you PayPal me $5.00 per printout or part thereof. Thank you!
Thanks for reading!
Mr. & Mrs. Ken Rockwell, Ryan and Katie.