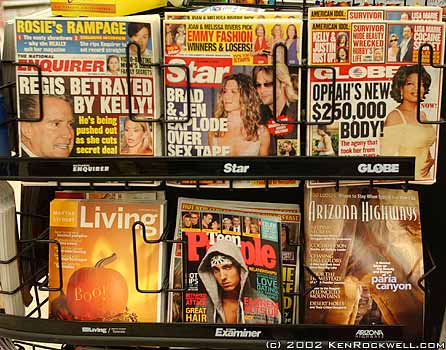 Grocery Check-Out, Prescott, Arizona © 2002 Ken Rockwell.com. All rights reserved.
Ahh, there is culture in the backwoods of Arizona. On my way out to dinner I stopped to get some chocolate milk for tomorrow's breakfast. Lo and behold, next to The National Enquirer, The Star, Globe and The National Examiner, instead of my favorite Weekly World News you'll see the current issue of Arizona Highways instead. Arizona Highways is a class act. Every issue is packed with some of the best large-format landscape photography reproduced to extremely high standards with 200 line screens.
I applaud the folks of Arizona for having such pride in their state. Seeing little things like this make me chuckle and are the whole point of a road trip.
<< Back Home Gallery How-To Links Workshops About Contact Next >>