Home Donate New Search Gallery Reviews How-To Books Links Workshops About Contact
Route 66
07 08 09 February 2014
08 February 2014, Saturday top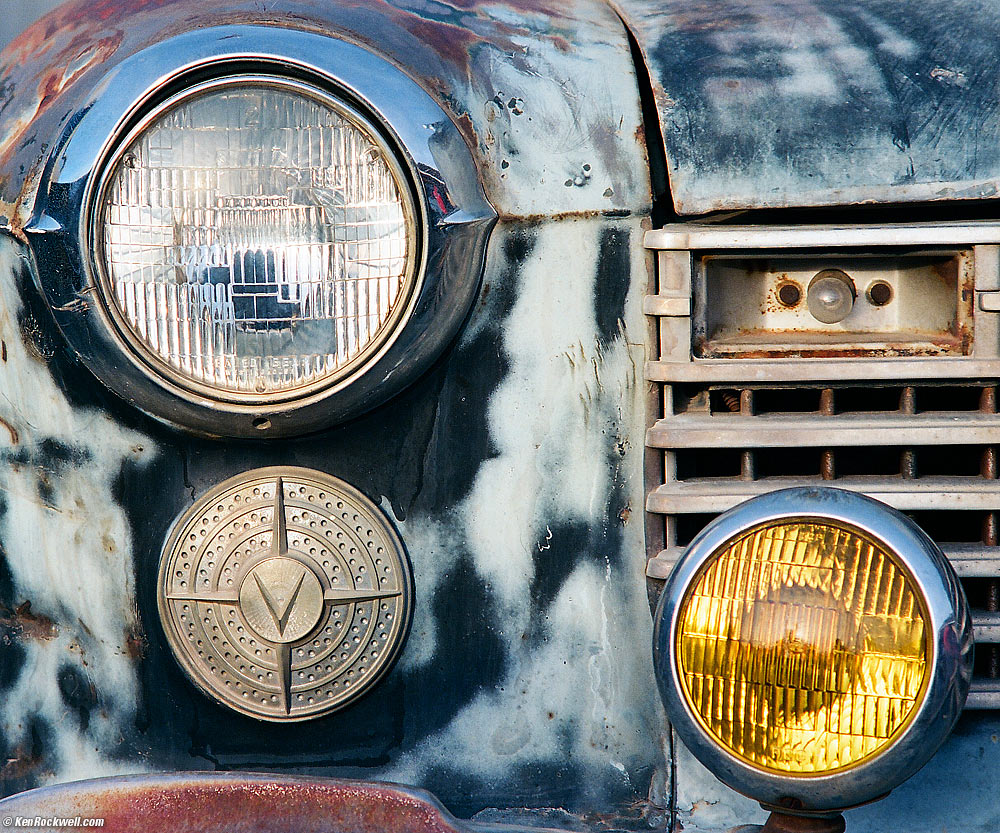 Route 66, 7:15 AM. (Year 2000 Nikon S3, Gossen Digisix light meter, 1957 10.5 cm (105mm) f/2.5 Nikkor, Kodak Ektar 100, NCPS process and scan, Athentech Perfectly Clear.)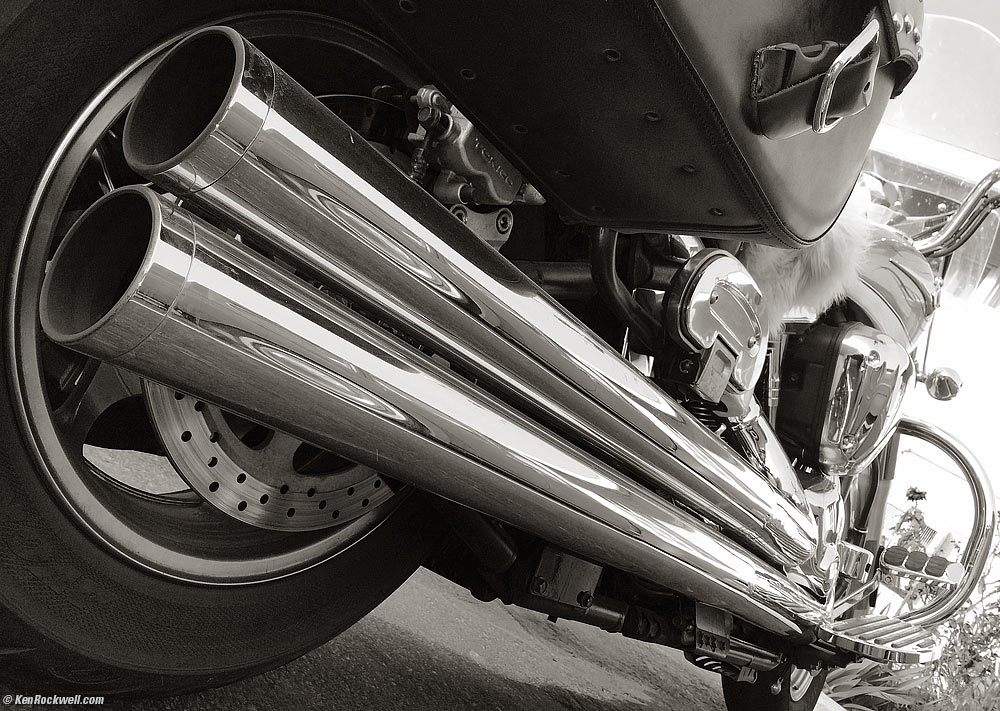 Scooter Pipes, 7:38 AM. (Apple iPhone 5S, f/2.2 at 1/228 at ISO 40, split-toned print.)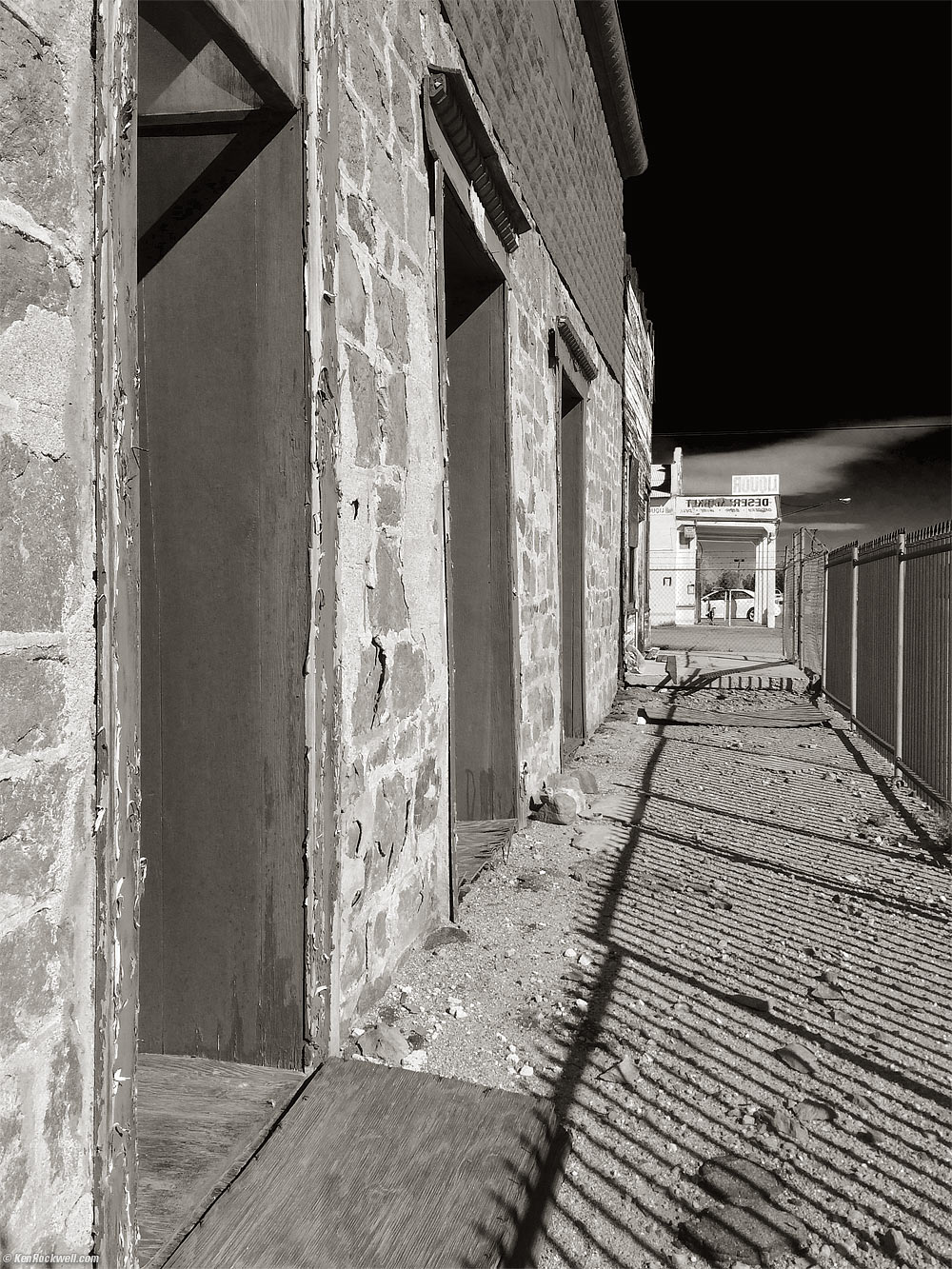 Doors, Daggett, California, 10:04 AM. (Apple iPhone 5S, f/2.2 at 1/3,731 at ISO 32, split-toned print.)
I flipped the negative so the photo reads from left to right.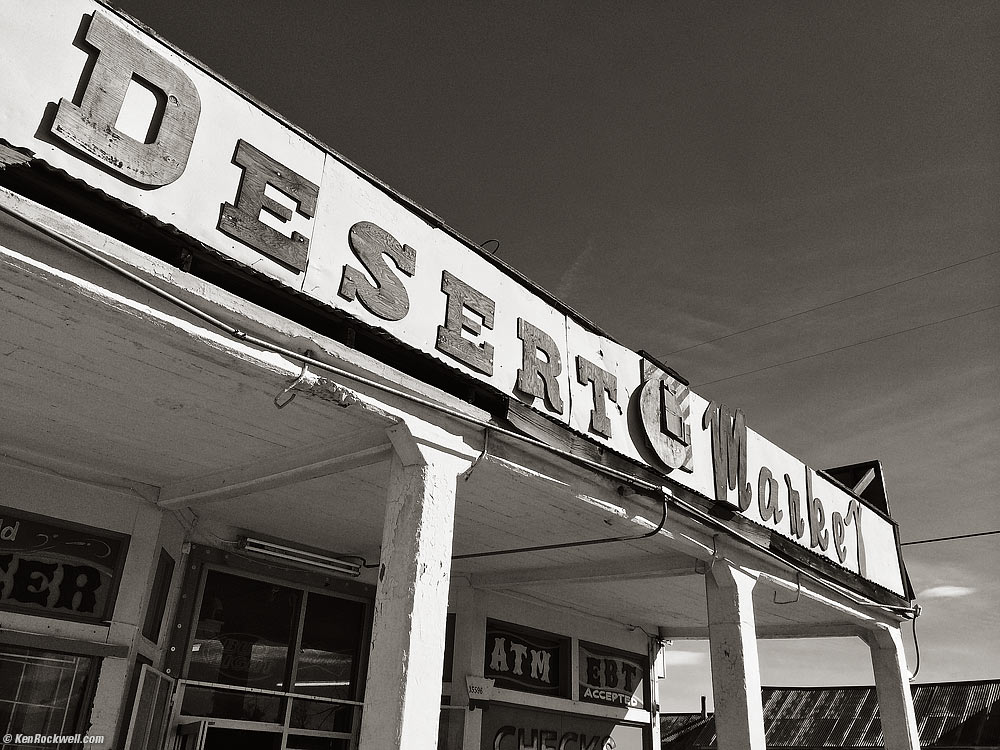 Desert Market, Daggett, California, 10:06 AM. (Apple iPhone 5S, f/2.2 at 1/4,566 at ISO 32, split-toned print.)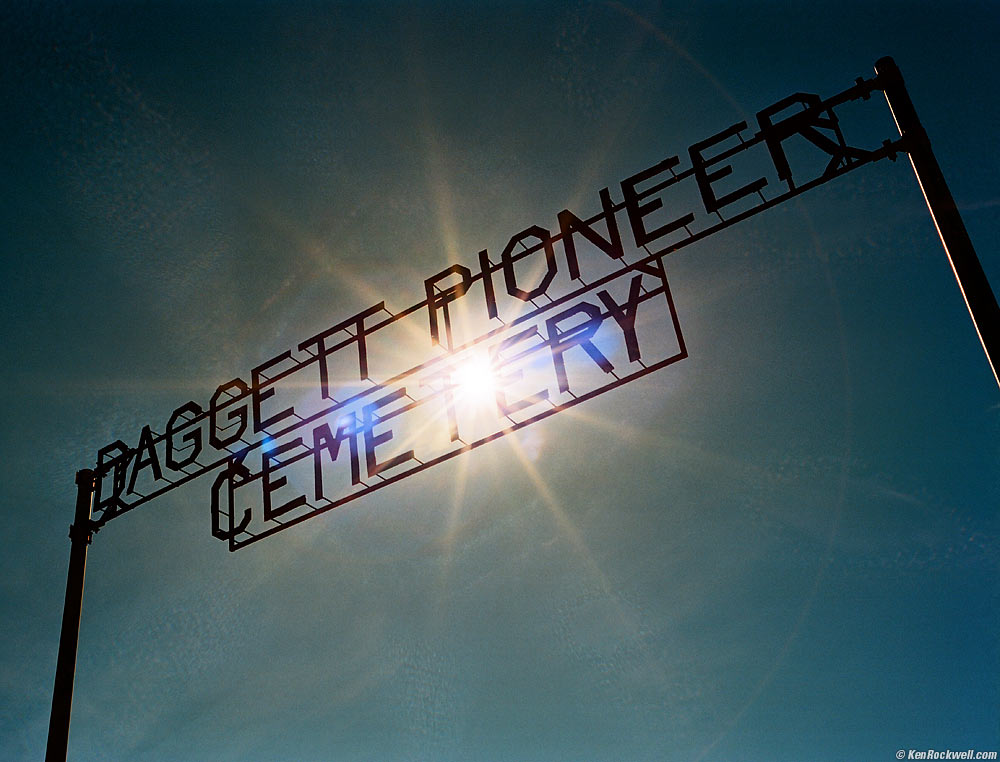 Daggett Pioneer Cemetery, 10:15 AM. (Year 2000 Nikon S3, Gossen Digisix light meter, 1957 3.5 cm (35mm) f/1.8 W-NIKKOR•C, Kodak Ektar 100, NCPS process and scan, Athentech Perfectly Clear.)
I knew the 9-bladed diaphragm of the 3.5 cm (35mm) f/1.8 W-NIKKOR•C would give a good sunstar, so I shot this picture of the sun behind the sign at about f/11.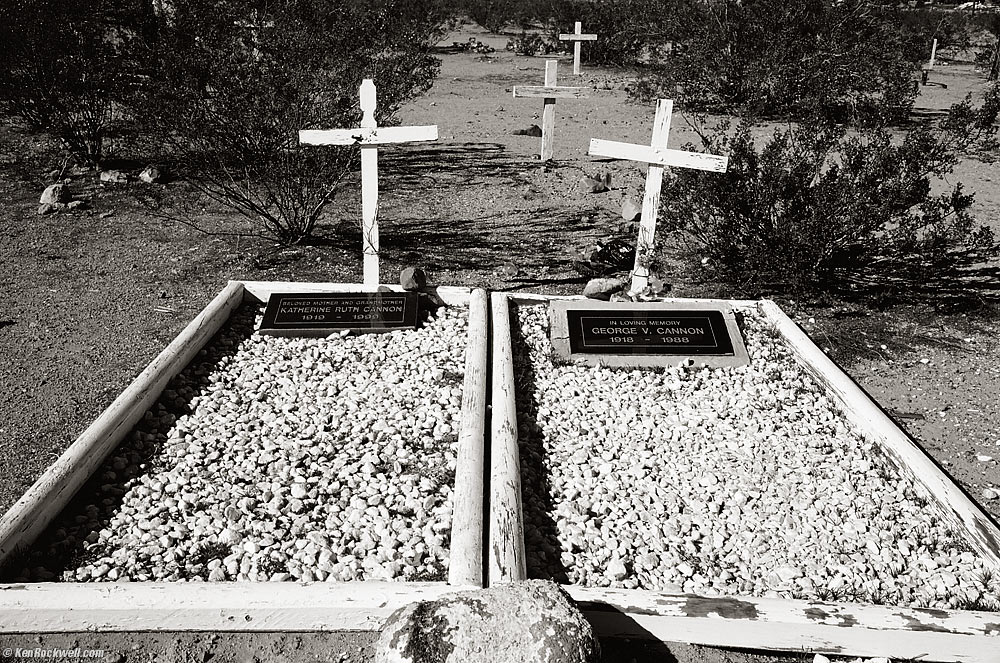 Graves, Daggett Pioneer Cemetery, 10:27 AM. (Year 2000 Nikon S3, Gossen Digisix light meter, 1957 3.5 cm (35mm) f/1.8 W-NIKKOR•C at f/11, Kodak Ektar 100, NCPS process and scan, Athentech Perfectly Clear, split-toned print.)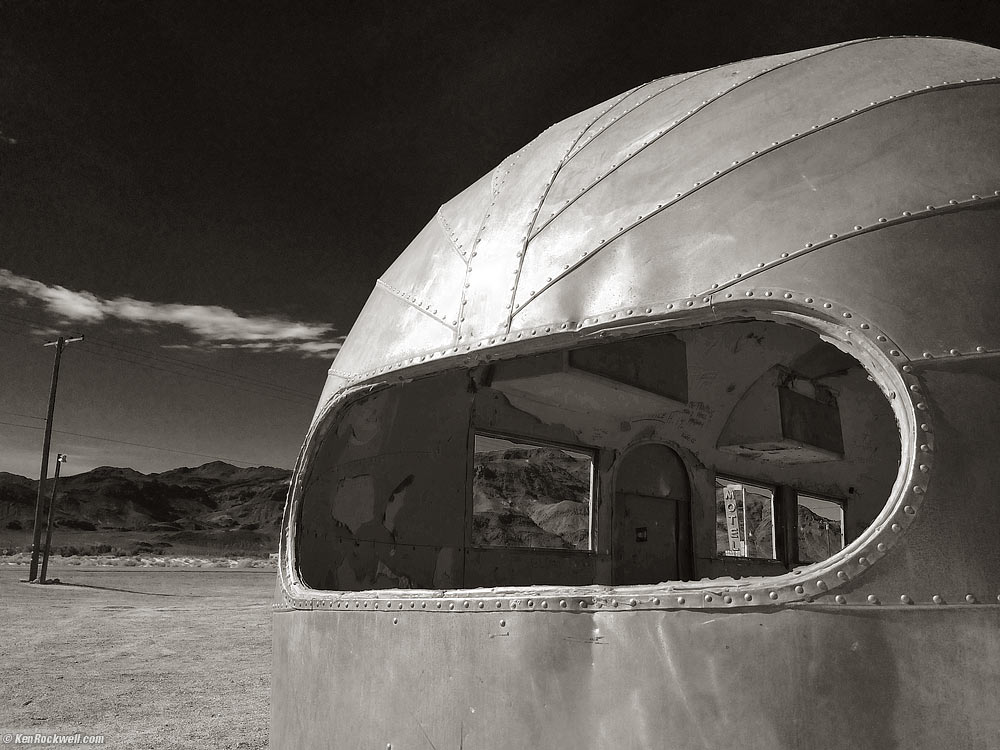 Motel Sign Seen Through Airstream, 11:15 AM. (Apple iPhone 5S, f/2.2 at 1/4,566 at ISO 40, split-toned print.)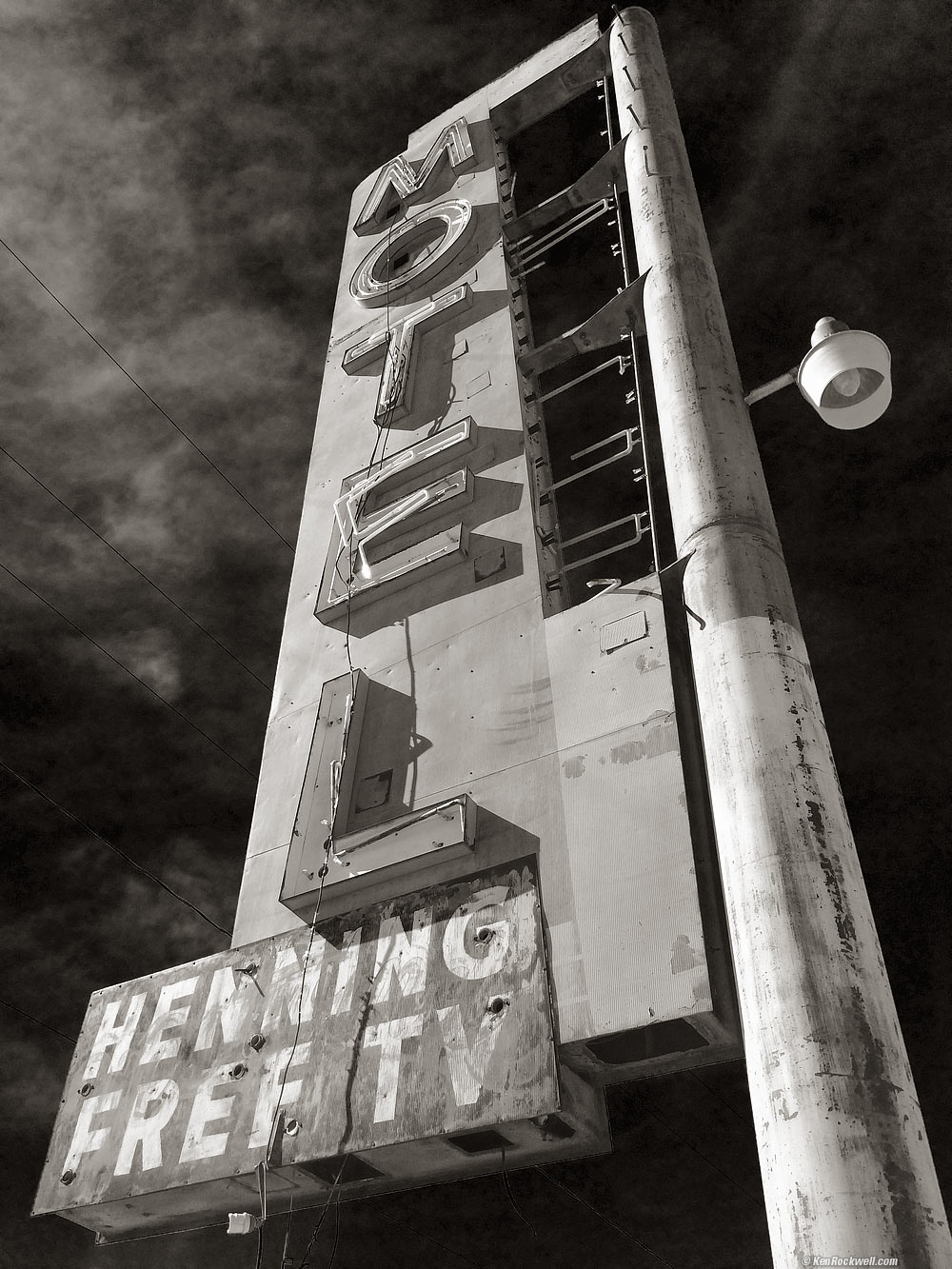 Motel Henning, 11:46 AM. (Apple iPhone 5S, f/2.2 at 1/3,165 at ISO 40, split-toned print.)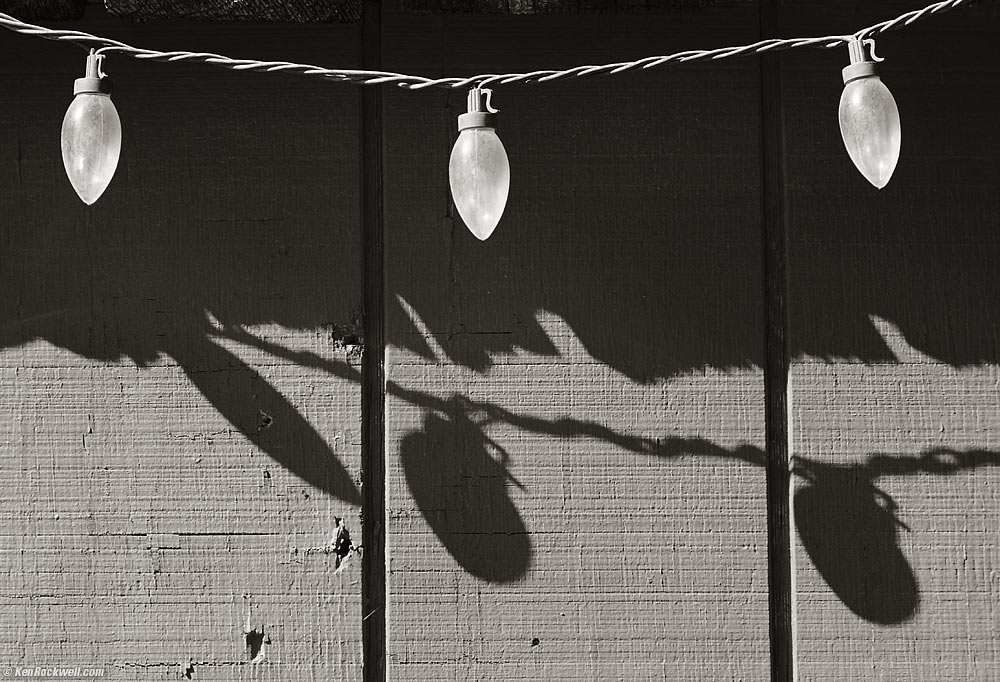 Three Bulbs, Bagdad Cafe, 11:55 AM. (Year 2000 Nikon S3, Gossen Digisix light meter, 1957 10.5 cm (105mm) f/2.5 Nikkor, Kodak Ektar 100, NCPS process and scan, Athentech Perfectly Clear, split-toned print.)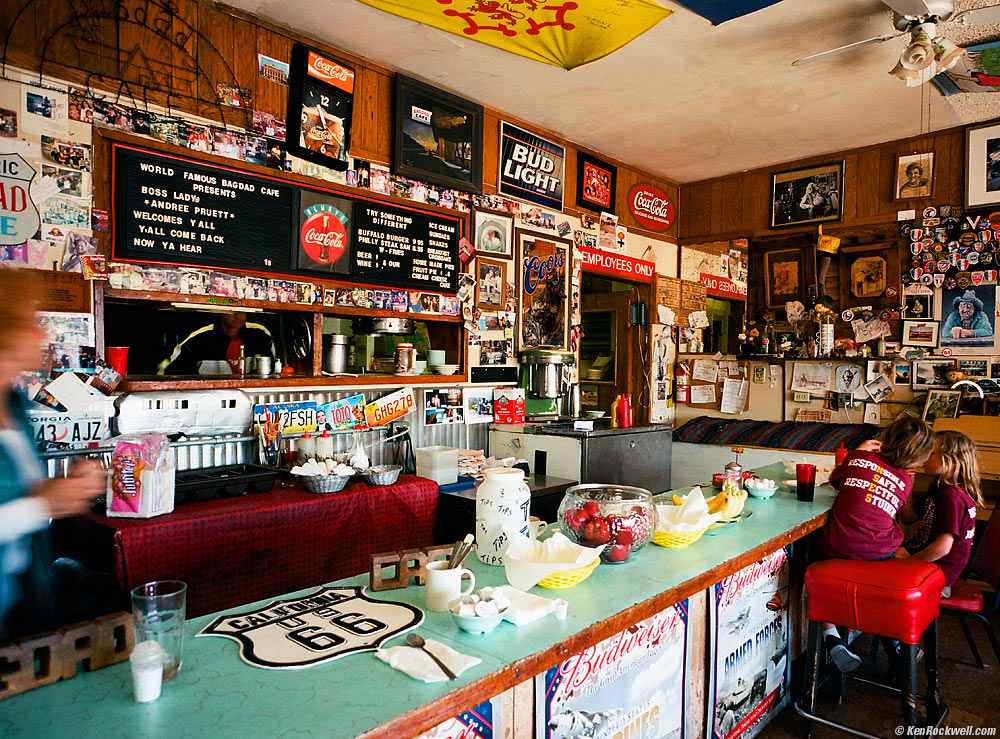 Bagdad Cafe, 12:11 PM. (Year 2000 Nikon S3, Gossen Digisix light meter, Voigtländer SC Scopar 21mm f/4, f/4 at 1/15 hand-held, Kodak Ektar 100, NCPS process and scan, Athentech Perfectly Clear.)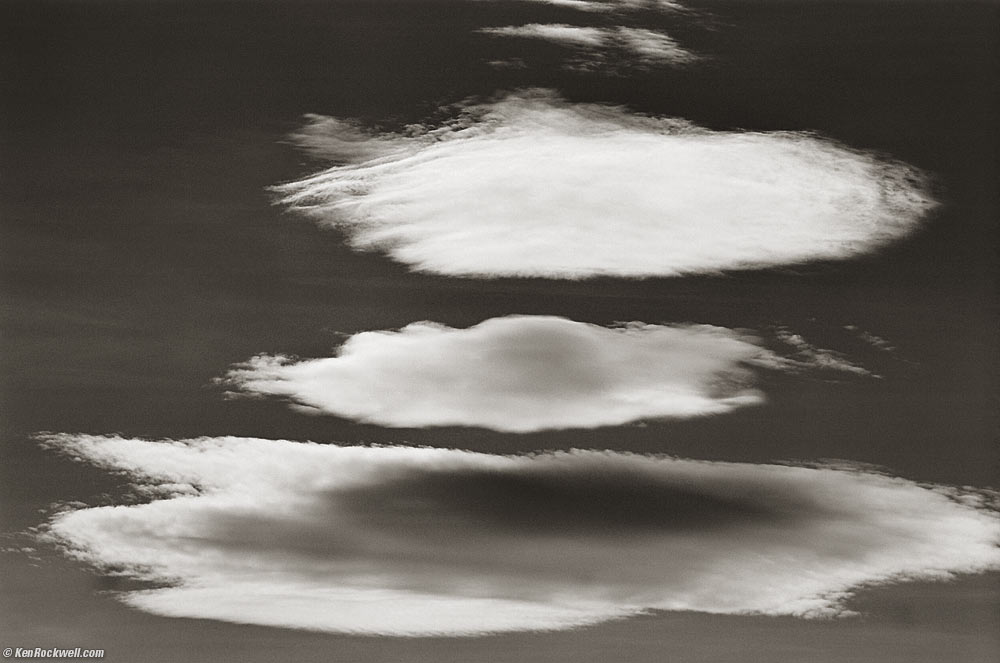 The Three Clouds, Pisgah Crater, 1:26 PM. (Year 2000 Nikon S3, Gossen Digisix light meter, 1957 10.5 cm (105mm) f/2.5 Nikkor, Kodak Ektar 100, NCPS process and scan, Athentech Perfectly Clear, split-toned print.)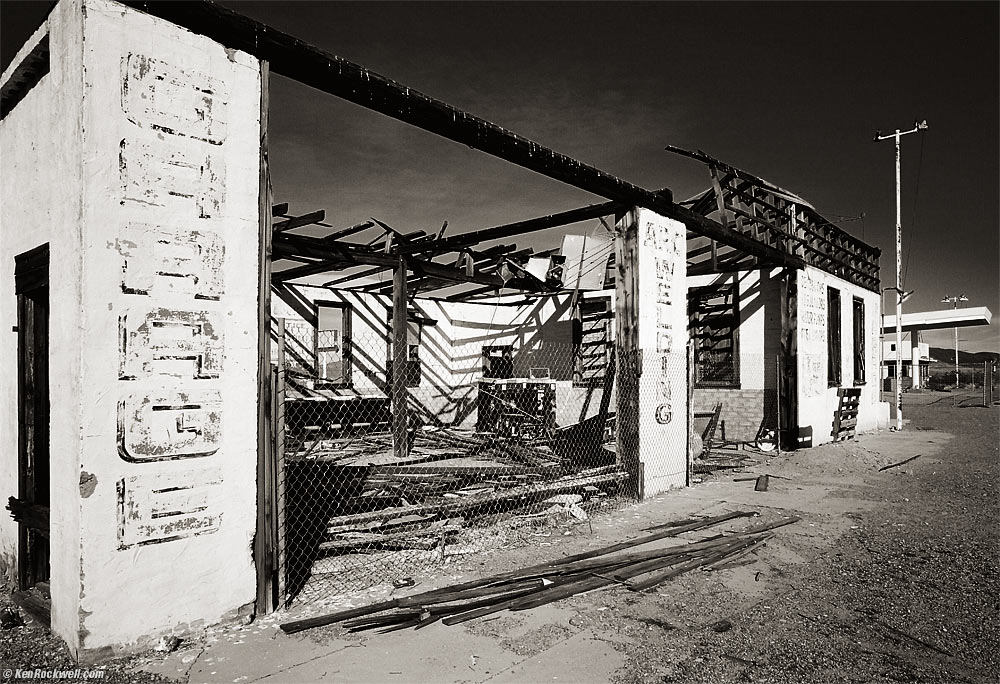 Garage, 2:23 PM. (Year 2000 Nikon S3, Gossen Digisix light meter, Voigtländer SC Scopar 21mm f/4, Kodak Ektar 100, NCPS process and scan, Athentech Perfectly Clear, split-toned print.)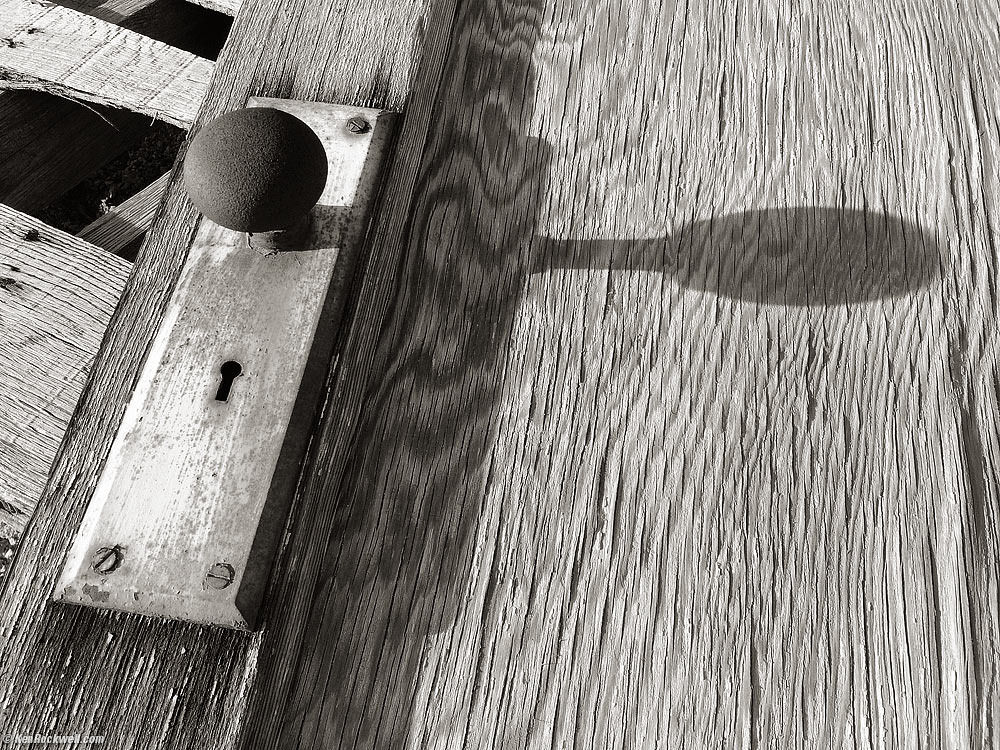 Shadow, 3:45 PM. (Apple iPhone 5S, f/2.2 at 1/1,208 at ISO 32, split-toned print.)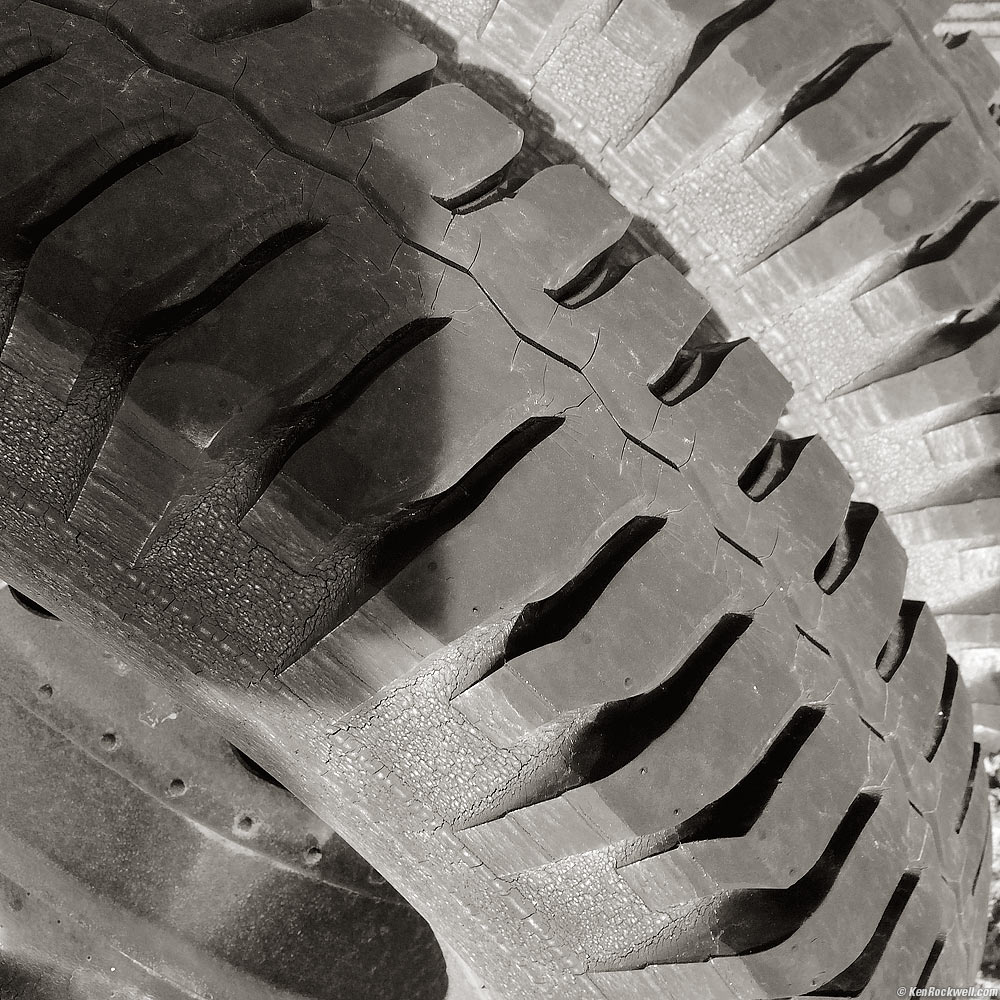 Tires, 3:53 PM. (Apple iPhone 5S, f/2.2 at 1/120 at ISO 40, split-toned print.)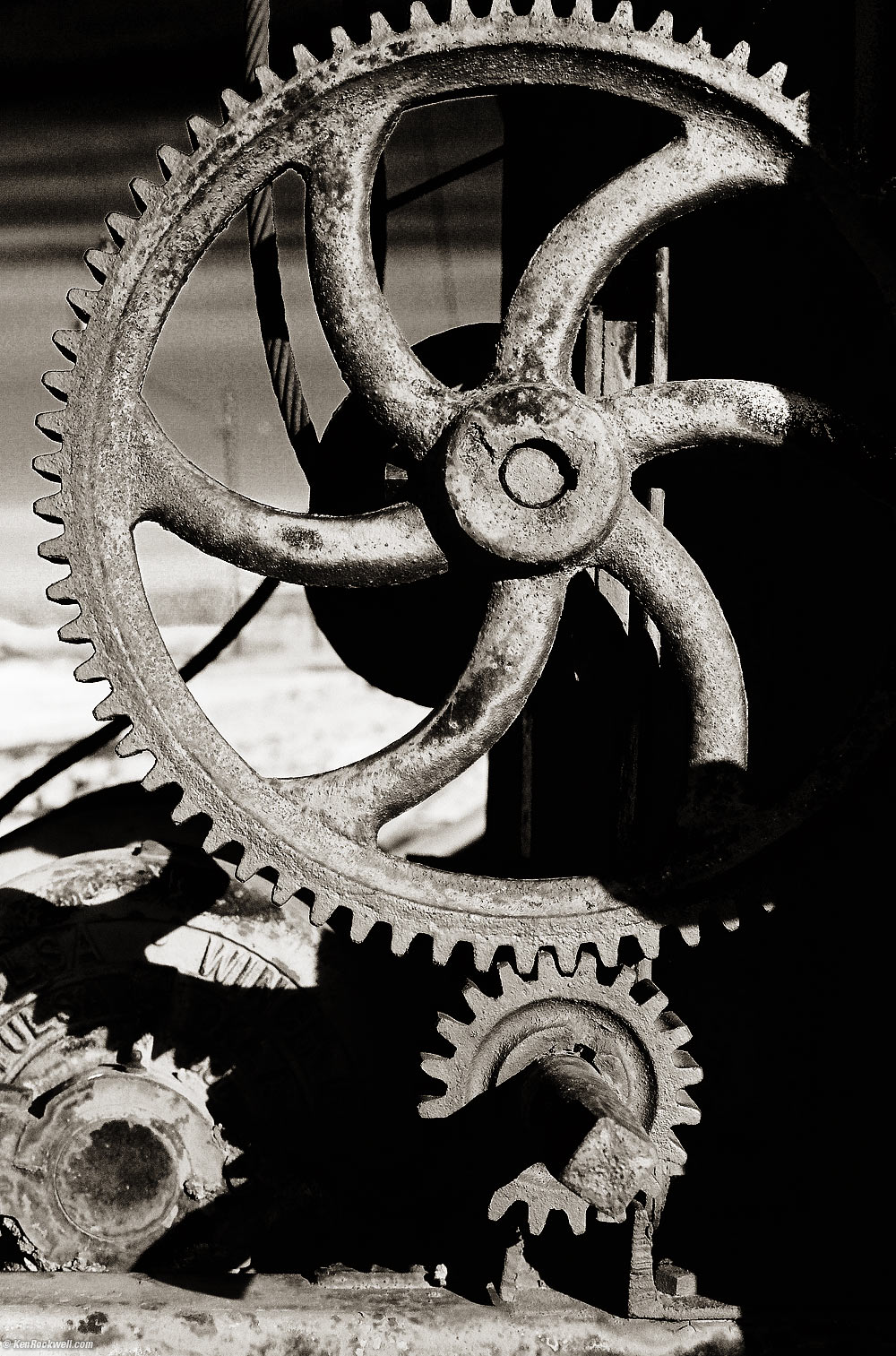 The Mother Gear, 4:00 PM. (Year 2000 Nikon S3, Gossen Digisix light meter, 1957 10.5 cm (105mm) f/2.5 Nikkor, Kodak Ektar 100, NCPS process and scan, Athentech Perfectly Clear, split-toned print.)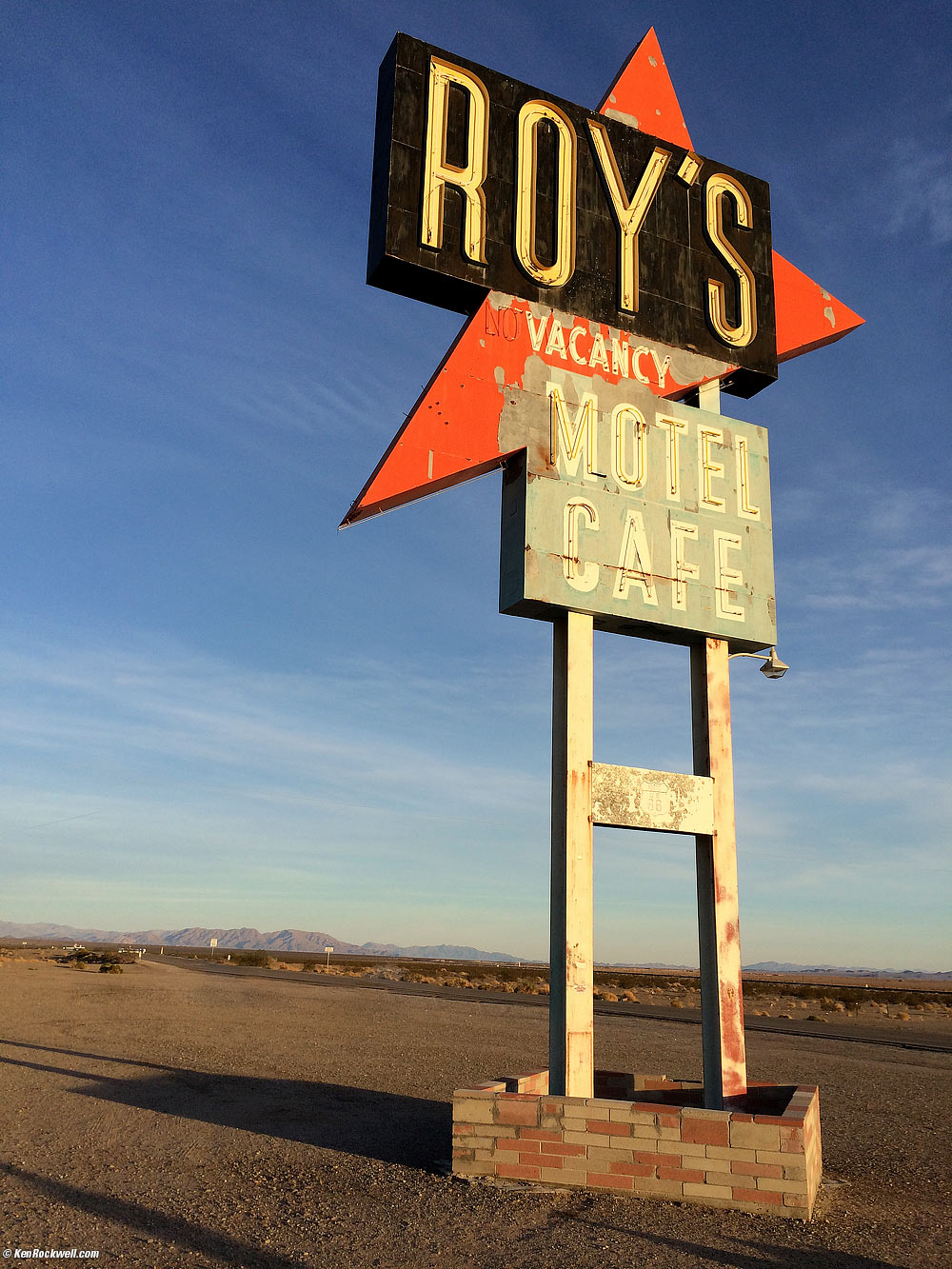 Roy's, 4:50 PM. (Apple iPhone 5S, f/2.2 at 1/1,172 at ISO 32.)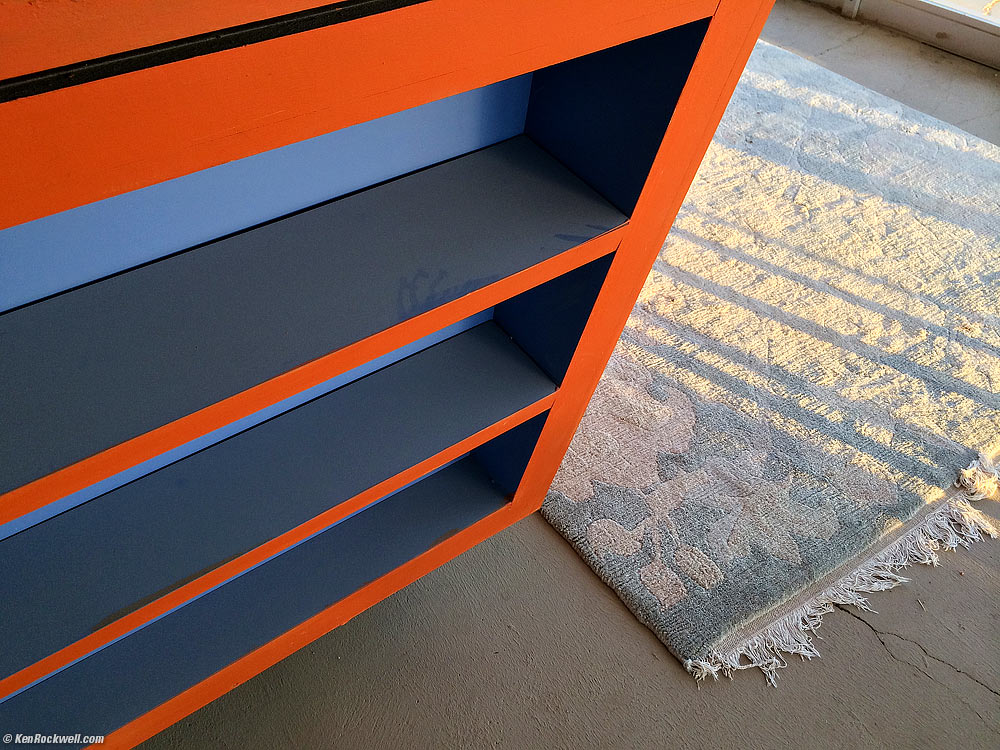 Roy's, 4:57 PM. (Apple iPhone 5S, f/2.2 at 1/120 at ISO 64.)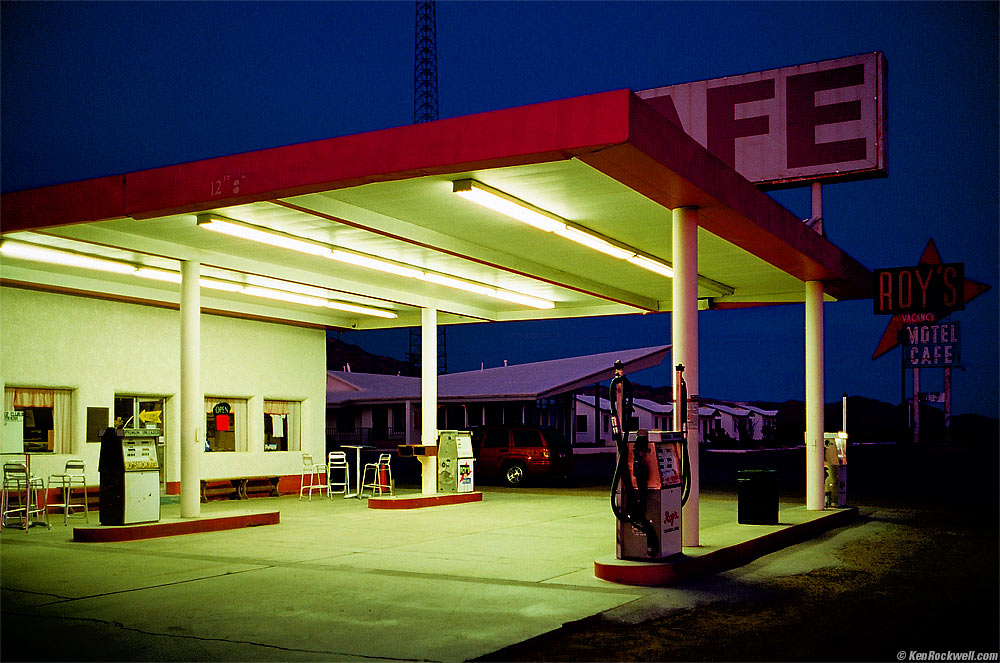 Roy's at Dusk, 5:30 PM. (Year 2000 Nikon S3, Gossen Digisix light meter, 1957 3.5 cm (35mm) f/1.8 W-NIKKOR•C, Kodak Ektar 100, NCPS process and scan, Athentech Perfectly Clear.)
That's all for today. NEXT ->> 09 February 2014, Sunday
Home Donate New Search Gallery Reviews How-To Books Links Workshops About Contact